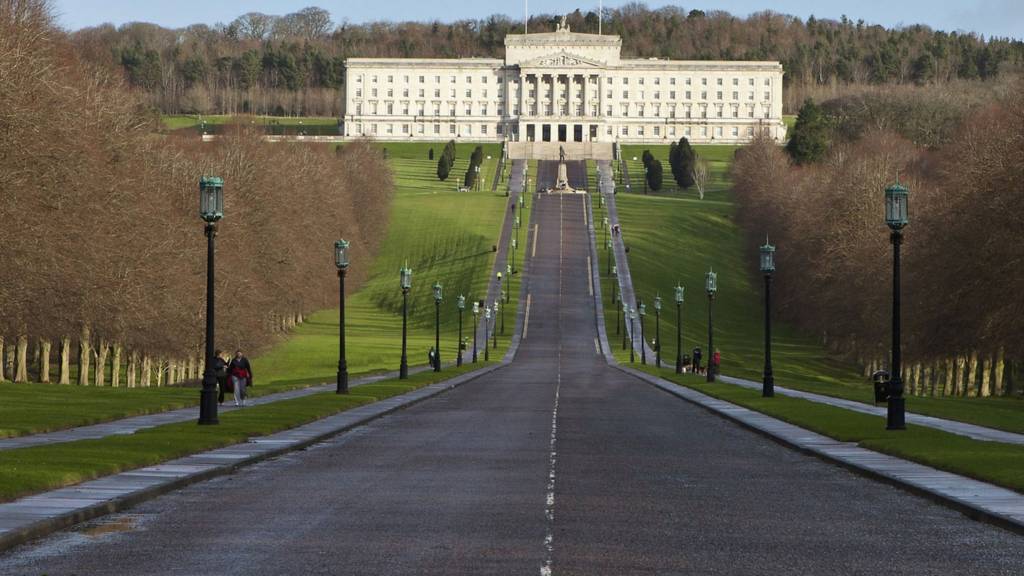 Live
Stormont as it happened: 26 May 2015
That's all from Stormont for today.

Join us tomorrow morning at 10am for live coverage of the Assembly's Education Committee.

The bill is defeated on a cross-community vote.

97 Members voted, of which 58 voted aye [59.79%]

39 Nationalists voted, of which 0 voted AYE [0%]

50 Unionists voted, of which 50 voted aye [100%]

Eight others voted, of which eight voted aye [100%]

Speaker Mitchel McLaughlin calls for tellers and the voting process begins.

Mr Storey rejects claims made by Sinn Fein speakers regarding financial losses they had said would be suffered by groups including families with children, and adults, and children with disabilities.

"The supplementary payments scheme would have provided full protection for all current claimants in each of these groups," he says.

Social Development Minister Mervyn Storey rises to reply to the debate.

"There has been no contrived crisis," he says.

"Welfare will come to Northern Ireland, but it won't be this bill that will introduce it," the minister says.

Mr McCallister says the bill does not do enough to help people: "All the evidence we have points to early intervention, in dealing with welfare and economic inactivity".

"We will not help educational underachievement while we cut £2m of the community and voluntary sector when we cut early years," he says.

Education Minister John O'Dowd, making an intervention, says his department is spending somewhere in the region of £260m per annum on early-years interventions".

'Huge weight of responsibility'

Independent MLA John McCallister says "being in government has to be about much more than the car and the photo-op".

"Being a minister should bring with it an enormous opportunity to change things and to improve the lives of our citizens, but it must also carry a huge weight of responsibility of being in government and having to make those tough, unpopular decisions sometimes" he says

Independent MLA Claire Sugden says she is frustrated that MLAs have "an opportunity to shape legislation that will affect people's lives on a day-to-day basis and that's all going to be threatened and undermined because of where we find ourselves this evening".

She likens the Assembly to a theatre, saying - "the audience, who are the people of Northern Ireland, are heckling us. In fact, they're not heckling us, they've left the auditorium because they don't care anymore because they're so frustrated with us.

"We are no further forward with welfare reform tonight as when we heard the first reading of this bill," she says.

Mrs Foster says that "because it is an enabling bill, its defeat would remove the power from this Assembly to improve welfare benefits for at least, I would say, two years".

"Dump this bill," she says, "and welfare recipients would be worse off, that is a fact".

She says Sinn Fein and the SDLP are "removing the only mechanism the Assembly has to improve welfare payments".

If the bill fails, she says, "£604m of cuts would have to be made to vital, frontline public services, the services that the most vulnerable in our community need and rely upon".

DUP Finance Minister Arlene Foster says it was after its Ard Fheis (the party's annual conference) that Sinn Fein decided to change its position on welfare reform.

"Whatever happened in Londonderry, Sinn Fein has reverted to type and walked away from the implementation of an agreement they signed up to, which begs the question, did they not understand what they signed on the 23 December 2014? " says Mrs Foster.

Mr McCrea talks about difficult decisions, citing the example of healthcare, the cost of which is increasing by 6% per annum, while "our income is increasing by 1%" a year.

"It is not possible, politically, to go and close hospitals or go and close other buildings," he says, "it is not possible to take decisions like that, unless you have cross-party support".

"The minute you take a tough decision, you get your head in your hands," he says.

'Something fundamentally amiss'

Basil McCrea of NI21 says "I don't understand what has gone so badly wrong".

He says there is something "fundamentally amiss with our political process if after months of discussions we can't come to some form of agreed position".

Mr McCrea says Sinn Fein have talked repeatedly about their mandate and that the Conservatives have no mandate here.

"Mandates are all very well, but if you don't have any money, you have to go and talk to people in a particular way," he says, adding, "If Northern Ireland was self financing, we can do what we want. But where we get a subvention of £10bn out of £20bn that we spend, then you have to go and talk to people in a correct way".

Mr McNarry says the Assembly "continues to punish the very people that each of us seeks to protect".

He dismisses Sinn Fein suggestions of co-operation with the Scottish and Welsh governments, stating that those administrations have already adopted the welfare reforms.

David McNarry of Ukip says that if you ask people what they voted for in the general election they will says "it was not for a crash at Stormont".

He refers to the Executive as a "cowboy coalition".

"This Executive is proving itself to be a failed entity," Mr McNarry says.

Mr Agnew says his party cannot support the bill.

He describes it as "a bill that seeks to punish the poor to pay for the excesses of the rich"

Green Party MLA Steven Agnew says his persistent argument regarding welfare reform has been that "the figures do not add up", and his party remains opposed to the bill.

He says people have been told who is to be protected, but no-one has been told "who is to be worse off".

Mr Allister says Sinn Fein is "quite happy to bankrupt Northern Ireland, to be self-fulfilling in their affirmation that Northern Ireland is a failure. How better to do it, financially, than to bankrupt it".

"We are at a point of a reality check that shows the welfare reform project in freefall and now hurtling towards irredeemable budgetary crisis," he says.

He goes on: "Within days and weeks it is quite clear that the budgetary arrangements necessary to govern in this part of the United Kingdom are not going to be possible as a consequence of the killing of this bill tonight".

'Chickens coming home to roost'

The TUV leader Jim Allister says "What we are witnessing here today is the fact that the chickens are coming home to roost in terms of the failure of mandatory coalition"

"For years it has been promised to us as the panacea of local government. That it is the essential and only workable system of government, and yet today it stands utterly exposed as that which reeks of failure".

Referring to a potential £2m a week of accruing welfare penalties, Mr O'Dowd says "that money is not being wasted".

"That £2m is going into the purses and the wallets of citizens out there," he says, "Carers are receiving that money, people with disabilities are receiving that money, the long-term sick are receiving that money and they're using it to survive on".

Mr O'Dowd says some MLAs who support welfare reform hide behind the statement, "we have to do it, we have to make the hard choices".

He says, "we have to make hard choices, but politics is always about options. You always have an option in politics and it's up to each individual member and party to make decisions about where they want to go".

He says if people support welfare reform "they have a duty to come out, front and centre and support it".

Sinn Fein's John O'Dowd says "seven years or eight years ago when the Executive was reformed and the agreements were in place, no-one would have guessed what would have brought this Assembly or Executive to the brink would have been an issue like welfare".

He says there is nothing in statute imposing a deadline to resolve the issue today.

'Anything but honourably'

Mr Farry says Sinn Fein and the SDLP have acted "anything but honourably" in relation to Stormont House Agreement, adding "the fact is the parties have welched" on the deal.

He says the SDLP was trying to "have it both ways" by submitting amendments after they had signed up to an agreement.

MLAs are debating the final stage of the controversial Welfare Reform Bill.

The bill was first debated at Stormont in 2012, but the parties could not agree to implement the proposals.

The Executive parties met Secretary of State Theresa Villiers in December 2014 and agreed a deal that included a package mitigation measures, which became the Stormont House Agreement.

However, Sinn Fein withdrew its support for the bill in March.

Sinn Fein and the SDLP signed a petition of concern ahead of today's debate, meaning the legislation will not get the necessary cross-community support.

Green Party leader Steven Agnew has also signed the petition.

Last week, First Minister Peter Robinson warned that the Assembly could not survive the scenario that would unfold if the Welfare Reform Bill was not approved.

Stephen Farry of Alliance says "people need to be very clear about what they are doing tonight".

The employment and learning minister says some MLAs would rather see people suffer than have their fingerprints on the bill.

SDLP leader Alasdair McDonnell says his party regarded the Stormont House Agreement "neither as comprehensive, nor as decisive, nor as complete as we would have wished".

"There were big gaps that we needed to deal with," he says, complaining that amendments his party brought at earlier stages of the bill were dismissed by a petition of concern.

Mr McDonnell says his party is willing to engage in genuine negotiation.

"This is a critical day," says Ulster Unionist Danny Kennedy, "a proper political and financial crisis".

Regional Development Minister, Mr Kennedy criticises the "class warriors" he predicts will walk thought the "no" lobby at the end of the debate.

'Red, white and blue cuts'

Stewart Dickson of Alliance says Sinn Fein, the SDLP and the Greens are delivering "full-blooded, red, white and blue Tory cuts".

He says the parties opposed to the bill have "just gone and chucked out all the concessions" won from the Westminster government.

Ulster Unionist Ross Hussey says Sinn Fein "talk about power sharing but they don't want to share power".

He accuses the party of reneging on the Stormont House Agreement.

Mr Hussey says there are four extra votes for the Conservatives at Westminster because Sinn Fein do not take their seats.

Mr Nesbitt talks about mental health issues and how "our higher rates are directly causally linked to the Troubles".

He says MLAs are about to break their word to people with mental health problems.

Ulster Unionist leader Mike Nesbitt says that if Charles Dickens were alive he would find the Assembly "ripe material for his latest novel".

"What strange, and challenging, and disappointing times they are," he says.

Mr Attwood refers to claims by a junior Treasury minister that the chancellor is meeting Whitehall departments over possible short-term adjustments that he can announce in the emergency budget in July.

If there are no such discussions happening with the Northern Ireland Executive, he asks, "what does it say about London's high-handedness?"

Mr Atwwod asks if this is "not a breach of the devolved arrangements - that 42 days out from an emergency budget, London is having conversations with London departments, but it appears that it is silent when it comes to conversations with the Northern Ireland government or Scottish or Welsh governments?"

The SDLP MLA welcomes minister Mervyn Storey's proposal for independent advice for those claiming universal credit.

He says he would prefer that it were codified in primary legislation, or regulation as "a statutory right to independent advice is always a position of strength, because it guarantees it in primary law".

Mr Attwood cites a report from the Institute for Fiscal Studies (IFS) that warns unprotected UK government departments, including Justice and the Home Office could face cuts of around a third.

He says passing the Welfare Reform Bill risks sending the message that "we are going to go quietly when it comes to the scale of what the chancellor is proposing".

The SDLP's Alex Attwood picks up the debate on Welfare Reform, praising the impact of the SNP - "the most effective government on these islands, and a very effective electoral and political machine."

"We should be as close to them as we can on issues of common interest, in order to maximise our impact on the thinking of a Conservative government in London".

But, he says there are some things the SNP could learn from Northern Ireland, in terms of welfare mitigation.

The DUP's Gregory Campbell says the delays and "possible derailing" of welfare reform puts at risk "thousands of jobs" at the Ballykelly and Maze sites and "tens of thousands" of potential jobs through the non-devolution of corporation tax.

The former MOD site at Ballykelly is the intended site for the new headquarters for the Department of Agriculture (DARD).

"I think it is a nonsense to start to play off welfare reform against DARD headquarters," Mrs O'Neill says.

Basil McCrea of NI21 asks the minister about the number of staff at AFBI (the Agri-Food and Biosciences Institute) who have applied for the voluntary exit scheme.

She says AFBI has received 246 applications.

Ulster Unionist Roy Beggs asks how the scheme can go ahead if there is no funding for the exit scheme due to Sinn Fein's opposition to welfare reform.

"The scheme is going forward as is at the present moment in time," Mrs O'Neill replies

Agriculture Minister Michelle O'Neill is now answering questions from MLAs.

In reply to a question from the DUP's William Irwin, the minister says she hopes to be in a position later this year to introduce legislation for compulsory Bovine Viral Diarrhoea testing.

The SDLP's Alex Attwood begins his contribution by wishing the first minister "a very full recovery".

Turning to the Welfare Reform Bill, he says it is worth noting the approach the Scottish National Party has said it will take to the new Conservative government.

He says its leade,r Nicola Sturgeon, has said she would "attack the scale and speed of austerity" and "work up an alternative to austerity".

"If that's not a pathway to what we should be doing, whatever we think about welfare, in the next 42 days, in terms of our engagement with the British government, we are ill serving not just those on welfare in Northern Ireland, but all the people of Northern Ireland," Mr Attwood says.

"We can't continue with the raiding of the block grant," she says, "we need more powers to grow the economy and we need to create more jobs".

She finishes by saying "either you sit here and accept what the Tories give you, or you stand up for the people that elect you".

Sinn Fein's Michelle O'Neill asks why the minister brought the bill "when he knew fine rightly it wouldn't be agreed upon".

She asks "where is the bedroom tax paper? Where is the agreement on a disability scheme?"

"Despite the fact my party have flagged up the concerns we have and the issues we need to see addressed, that hasn't been forthcoming," says Mrs O'Neill.

She says "at the end of the day, we need to work together, face down the Tory austerity agenda and do it together".

Mr Wilson says anyone who would contemplate giving further fiscal powers to the Northern Ireland Assembly "and to people who bury their heads in the economic sands" would be "out of their skull".

"Why would you hand fiscal powers to people who clearly can't even handle the powers they have already?" he adds.

'Undermining credibility'

Mr Wilson, a former finance minister, warns the lack of progress on welfare could undermine the credibility of the Assembly.

On the penalties for non-implementation of welfare reform and the cost of running a parallel system, he says "the one thing we can't allow is for this festering sore to remain here".

Mr Wilson says the fact that Sinn Fein MPs have not taken their seats in Westminster, "where welfare reform has its genesis" shows that "abstentionism is more important than protecting the vulnerable".

He says anyone who thinks the Conservatives will make further concessions on welfare for Northern Ireland, now they are governing alone, is "living in a fantasy world".

Sammy Wilson of the DUP begins the second part of today's debate on the final stage of the Welfare Reform Bill.

On the lack of consensus over the changes to welfare, he says:

"We are moving into uncharted waters. We don't know constitutionally where this could lead us. We don't know politically where this could lead us."

"The one thing we do know is financially, the consequences of this have been spelt out and spelt out very clearly by the finance minister," he says.

During the lunchtime break the Speaker, Mitchel McLaughlin, agreed to resume the Welfare Reform Bill debate at 2pm.

First minister's questions will be taken at another date.

The Speaker Mitchel McLaughlin suspends the Assembly until 2pm.

He says he will confer with party representatives to decide whether to continue the debate at 2pm during the time set aside for first minister's questions.

These have been deferred owing to Peter Robinson's illness.

Agriculture Minister Michelle O'Neill is due to answer questions on issues including the rural development programme, micro loans and the Welfare of Animals Act at 2.45pm

Sinn Fein's Alex Maskey, says his party will "hold dearly" to its fundamental policies, which he says received a mandate from "a wide number of people" at the general election.

Describing Sinn Fein as "an anti-austerity party", he says decisions are made "on a national and collective basis".

The DUP's Gregory Campbell says representatives from other UK jurisdictions have told him they wish they had Northern Ireland's social security system.

The East Londonderry MLA says Sinn Fein are "not using Karl Marx economics, but Groucho Marx economics".

Mr Campbell says there is likely to be a Conservative government for the next five years and holding up a pound coin, he refers to the block grant and says, "People ask why we can't go it alone. It's 50bn of those".

'Mitigations could be lost'

Mr Ford says that "if we don't now pass this bill, all we agreed in the Stormont House Agreement potentially falls".

"Do members of this Assembly really want to see that?" he asks.

Sinn Fein are leaving those dependent on social security benefits in a worse position, Mr Ford says.

Alliance's David Ford says while his party opposes many parts of the bill, they will nonetheless support its passage.

"The reality is, welfare powers are not devolved in any meaningful sense", he says.

"People in Northern Ireland pay UK taxes and get UK social security benefits", Mr Ford adds.

The justice minister, speaking from the back benches, says:

"We cannot do all we would wish to do. We have to live within the administrative possibilities, we have to live within the financial realities".

Mr Beggs warns that there could be thousands of compulsory redundancies across the public sector if the Assembly does not pass a budget.

He says he heard of the petitions of concern both in March and today "with bemusement".

The East Antrim MLA says Sinn Fein's "southern dog wagged the northern tail".

Ulster Unionist Roy Beggs says the benefits system should see "the sick, the disabled, the working poor and families all protected".

He says people "should be better off in work than on benefits".

Mr Beggs says this is "the most difficult and controversial bill" that the Assembly has debated in recent times, and his party does not favour of all its contents.

"There is no money tree," he says.

Mrs Kelly says it is not too late for the parties to get around a table "and thrash out all of the concerns we have" with regard to welfare reform.

She says her party is "fed up with the side deals" between Sinn Fein and the DUP.

The SDLP's Dolores Kelly says the "attack on the most vulnerable" is "morally unjustifiable".

She says MLAs have "a gun to our heads", and that the British government should remove the threat of fines

Mrs Kelly also wishes Mr Robinson a full and speedy recovery.

The deputy first minister says Sinn Fein will not support a bill which does not protect "children with disabilities, adults with severe disabilities, families with children, and the long-term sick".

He says there is "still time for the parties and the British government to change tack".

Mr McGuinness says he has twice asked the Secretary of State, Theresa Villiers, what the effect on Northern Ireland will be of £25bn in cuts he says will be announced in July.

"She refused point-blank to tell me," he says.

"This is bigger than the issue of welfare," Mr McGuinness.

He says "eye-watering " cuts to be brought in by the Westminster government will result in the loss of thousands of jobs in vital frontline services".

The deputy first minister says the bill does not represent the measures agreed at Stormont Castle.

Paula Bradley of the DUP says some very difficult and unpopular decisions have had to be made.

She says some of those in the chamber are "completely arrogant" to believe that the economic situation does not apply to Northern Ireland.

The minister says there is a limit to what can be done.

"We need to strike a balance between welfare and other services," he says.

'Affordable and deliverable'

"I believe our approach is fair, legal, affordable and deliverable," Mr Storey says.

The minister refers to "the package of mitigating measures" agreed with HM Treasury.

He addresses concerns about universal credit and the "bedroom tax".

The Social Development Minister, Mervyn Storey begins the debate on the Welfare Reform Bill by wishing the first minister well.

He says the bill is "a concept and a contract with individuals and families who are unable to work".

Mr Storey says the time for debate is over and it is "time for decisions".

Speaker Mitchel McLaughlin announces that OFMDFM Question Time will be deferred until a later date due to the illness of the first minister.

He wishes Peter Robinson "a speedy and full recovery".

Welcome to Democracy Live's coverage of the Northern Ireland Assembly starting at 10.30.

Today, we have one main item of business, the debate on the final stage of the Welfare Reform Bill.

It is expected the bill will be vetoed as both Sinn Fein and the SDLP have signed a petition of concern.

Stay with us for what promises to a fascinating debate.