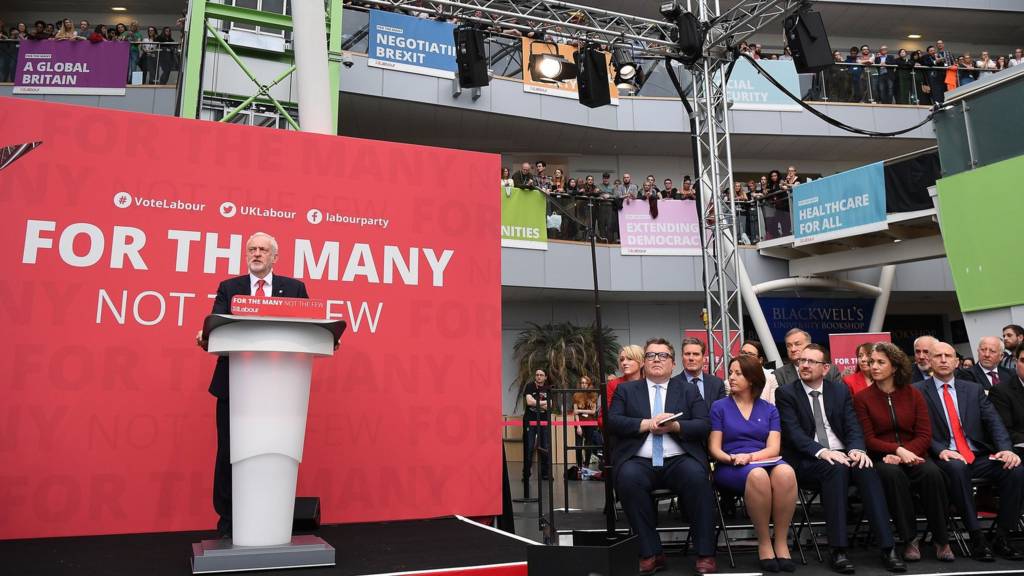 Summary
Labour and Plaid Cymru manifestos
Labour plans water nationalisation...
...more childcare and "excessive pay" levy
45p tax rate from £80,000, 50p from £123,000
Plaid aim to seize Brexit gains for Wales
Lib Dems promise cash for entrepreneurs
BBC's Chris Mason brings you the day's highlights

BBC political correspondent tweets:

Off your head? Student shaves political allegiance into hair

President (elect) of Hull University Liberal Democrats tweets:

Labour manifesto: Who gets what and when?

Why Labour doesn't explain nationalisation costs

The New Statesman has been getting its head around the Labour's manifesto number crunching. It writes: 

Under Labour's fiscal rule, it has to balance day-to-day spending and aim for an operational surplus by 2022. That is to say, it can't spend more on the regular functions of government than it takes in through tax. But it can borrow for infrastructure spending. To put it in real terms - Labour can't spend money it doesn't have to pay doctors and nurses, or teachers. But it can borrow money - up to £250bn until 2027 - to build a new school or hospital.

Taking something into public ownership counts as infrastructure spend - just as Gordon Brown's nationalising of the banks during the financial crisis did – under Labour's rule, which is why the party doesn't need to provide a revenue stream to do so. Just as spending on a new hospital secures a capital asset, so does nationalising something.

The counter-argument is that infrastructure spending creates jobs and improves productivity, but nationalising something merely changes whether those jobs are private or public. The Labour leadership's view – and the one that would be tested if they won – is that by putting these assets into state hands, you unlock higher productivity and better job growth. (And, in the case of water companies, you gain tax revenue, as Labour's shadow chancellor, John McDonnell, believes these companies are engaging in tax avoidance.)

And that's why Labour hasn't provided a cost for its renationalisation programme – and why, under its own fiscal rule, it doesn't need to.

Callers give PM their policy ideas

Also during the phone-in, Mrs May defended the Tories' record on disability benefits, declined to rule out tax rises and said details on senior citizens' bus passes would come in the manifesto. 

And some were keen to suggest their own policy ideas  to the prime minister. 

John, 72, suggested she divert some of the foreign aid budget into support for owners of diesel cars like himself to switch to electric models made in the UK. 

David told the PM the Blue Badge parking scheme should be extended to people on the autistic spectrum. 

And Patricia wanted politicians to say immigration was the "main reason" for NHS queues and school place shortages.

Twitter followers quiz May

The prime minister has been answering questions from Twitter followers and people on the Conservative's mailing list during a "telephone town hall" event. 

She was confronted by one fan of Labour's manifesto, Jim, who told her: "With things like the minimum wage, the NHS, schools and so on, unless you are very careful you are going to find a significant swing to Labour on those issues." 

But Theresa May said Jeremy Corbyn's manifesto pledges were "a very long wish list" and it would be "ordinary working people who pay the price".

Corbyn's policies take stride to left

Jeremy Corbyn stunned his party hierarchy by becoming its leader. Now he has shown how he hopes to change the country. 

It is his manifesto, very much his manifesto, with some senior members of the shadow cabinet still in the dark about the precise details about the big decisions on tax this morning. 

And his manifesto represents a break from the political direction of travel that has dominated British politics for years - moves towards higher, not lower tax, a bigger, not smaller state, a move from what Labour had considered the centre ground. 

One senior Labour figure told me you wouldn't expect him to do anything other than paint on a big canvas. 

But it's the public who will decide if the picture is to their taste next month.

Free childcare 'a bold promise'

Branwen Jeffreys

Education Editor

It is a bold promise to parents - 30 hours of free childcare for all two, three and four-year-olds in England by 2021.

At the moment the poorest two-year-olds get 15 free hours of childcare a week in term time.

All three and four-year-olds can already get 15 free hours and, under existing Conservative plans that is due to increase to 30 hours for working parents from September.

So Labour's proposals go much further, with all parents - in work or not - entitled to 30 hours by the end of the next parliament.

Read more from Branwen here.

In pictures: Babies, bridges and selfies

Image caption: Jeremy Corbyn holds eight-month-old Toby Nutter, from Leeds

Image caption: Theresa May delivers a speech to workers at a company in Stoke-on-Trent

Image caption: Liberal Democrats leader Tim Farron greets supporters during a visit to Portsmouth

Image caption: SNP leader Nicola Sturgeon takes a selfie with a supporter after giving a speech in South Queensferry, with the backdrop of the new Queensferry Crossing

Image caption: Leanne Wood, leader of Plaid Cymru, poses for pictures at the launch of her party's election manifesto in Rhondda

What role does education play in way people vote?

Landslides are rare, says veteran psephologist

Veteran psephologist tweets:

Severn toll abolition 'not a huge surprise'

Nick Servini

Political editor, Wales

In truth it was not a huge surprise that one of the parties has pledged to scrap the Severn crossing tolls, says BBC Wales' political editor.

Corbyn denies plans are 'dangerously left wing'

Jeremy Corbyn tells Labour supporters in the West Yorkshire market town of Pudsey that there has been "enough welfare for the wealthy" and it was time for something different.

The Labour leader warned against five more years of the Conservatives "cutting services, not caring about all of our children, not caring about the damage they do to our national health services and going on and on giving out tax relief to those who do not need it".

Mr Corbyn also defended his manifesto plans, rejecting suggestions the proposals in it were "dangerously left-wing".

He said: "It comes to something when the mainstream media say building housing is a dangerous left-wing, extreme thing to do." 

More homes, he said, would create jobs, children would do better in school and it would save the £9bn in benefits that went to private landlords.

McCluskey 'can't see Labour winning'

Unite leader Len McCluskey has reportedly said he is "not optimistic" about Labour's chances and cannot see them winning power on 8 June.

Politico quoted Mr McCluskey - a key ally of Jeremy Corbyn - as saying a Labour victory would be "extraordinary" given the position the party found itself in and what he said was the hostility of the media towards the party.

Quote Message: In terms of the imagery of Jeremy, that's a huge task. He's got now just under four weeks to try to see if you can break through that image and it's going to be a very, very difficult task...Whether that breakthrough can happen, we'll wait and see. I'm not optimistic, but we'll wait and see...The scale of the task is immense. People like me are always optimistic … things can happen. But I don't see Labour winning."

In an interview with the website, the Unite leader suggested that if Labour emerged with 200 seats - which would be about 30 fewer than in 2015 and would constitute the party's worst electoral performance since 1935 - it would represent a success.  

Quote Message: I believe that if Labour can hold on to 200 seats or so it will be a successful campaign. It will mean that Theresa May will have had an election, will have increased her majority but not dramatically."

Labour: We can't reverse benefits freeze

The shadow foreign secretary, Emily Thornberry, has said Labour cannot reverse the benefits freeze, despite leader Jeremy Corbyn's earlier comments which seemed to suggest otherwise.

"I don't think we can reverse it entirely and we shouldn't be promising things that we can't afford," she told BBC Radio 4's PM programme.

'All or nothing' for Labour on tuition fees

Sean Coughlan

BBC News, education correspondent

Scrapping tuition fees in England is the biggest and most expensive proposal in Labour's £25bn worth of pledges for education. 

Instead of fees rising to £9,250 per year in the autumn, Jeremy Corbyn is proposing a complete handbrake turn in saying that university tuition should not cost students anything. 

It's a bolder step than Labour's previous leader, who two years ago opted for a halfway house of cutting fees to £6,000 - and then was accused of pleasing no-one. 

This is Labour going for an all-or-nothing approach - asserting free education as a fundamental principle - and creating the starkest choice in university policy for two decades. 

It's a direct appeal to younger voters - with surveys suggesting that students are more likely to vote Labour. 

Read more from Sean here.

Plaid Cymru's 'defend Wales' message

BBC Wales' Bethan Lewis talks through Plaid Cymru's "action plan" for the general election.

Plaid Cymru: Offer a 'positive post-Brexit' plan

The World at One

BBC Radio 4

The Welsh nationalist party, Plaid Cymru has launched their manifesto, promising to get the best possible deal for Wales after Brexit.

Adam Price, Plaid Cymru's shadow finance secretary, explained to Radio 4's The World at One that people are very "receptive" to the party's ideas of offering a "positive post-Brexit plan". 

He says they are suggesting things like "being able to set regional rates of VAT which could help the tourism industry" in Wales.

Labour 'indistinguishable' from Tories on Brexit

Lib Dem Brexit spokesman Nick Clegg says Labour have failed to address the main issue facing the country.

"The Labour party now, give or take a few very subtle distinctions, is completely indistinguishable from the Conservative position on Brexit," he says. 

"The Labour party don't want to give the British people a final say on the final Brexit deal. They don't want to see the UK continue to participate inside the single market. They want to bring an abrupt end to freedom of movement, just like the Conservatives do, which will be very damaging to London. 

"If you are looking for something different, then on this issue which looms over everything now in British politics - Brexit - the only party taking a different, and a more positive, approach to the future are the Liberal Democrats."

Tories and Labour 'like chalk and cheese'

Laura Kuenssberg

BBC political editor

It's chalk and cheese in plenty of places. The biggest gap we've seen between the two parties for quite some time.

This is Jeremy Corbyn's 21st Century version of Old Labour - more tax, more spending, more state control, nationalisation in four areas of industry. These are big bold changes that he wants to introduce. His calculation is that the frustrations of Britain in 2017, in his view, mean the electorate are ripe and ready for something that's very different.

Ed Miliband moved a couple of dainty steps to the left, and he lost by doing that. Jeremy Corbyn is taking a big stride to the left so it's a challenge.