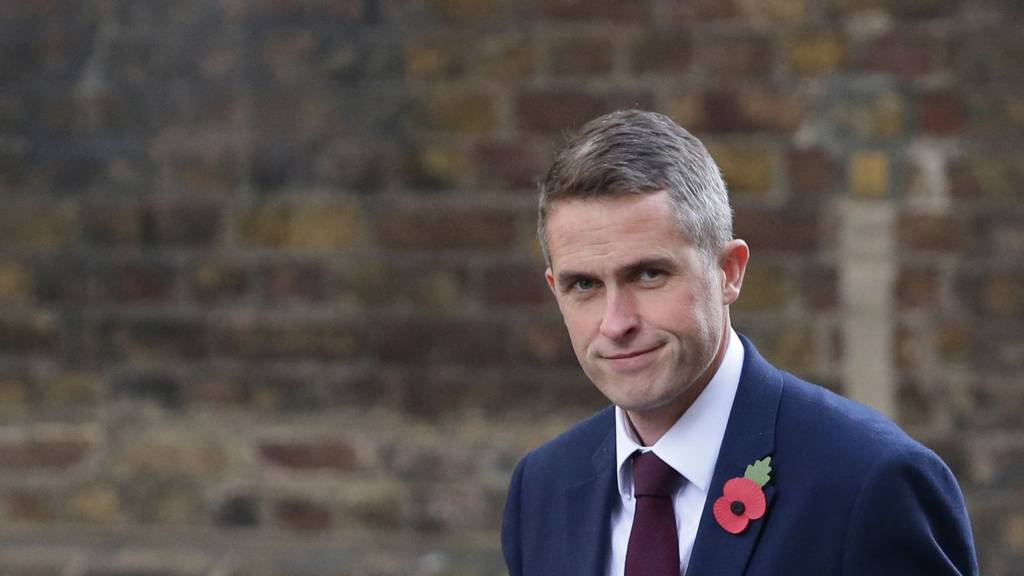 Recap: Williamson succeeds Fallon at defence

Theresa May did not waste any time in appointing a replacement for Sir Michael Fallon. Here is how the main developments unfolded:

Sir Michael Fallon quits as defence secretary on Wednesday evening saying he had failed to live up to the expected standards after allegations about his conduct
Chief Whip and key ally of Theresa May, Gavin Williamson, is the surprise choice as new defence secretary on Thursday morning
Mr Williamson's deputy Julian Smith is promoted to be the new chief whip, with Esther McVey as his deputy
Mr Williamson comes in for some criticism about his lack of ministerial experience and military background - some Tory MPs are reported to be "furious"
Others point out that he is a "talented" and capable figure who will master his new brief quickly

Thanks for joining us - you can follow the latest developments in the House of Commons and House of Lords with BBC Parliament Live.

Williamson 'seen as a Machiavellian figure'

The World at One

BBC Radio 4

His pet tarantula probably doesn't help but Gavin Williamson's "Bond villain" image points to deeper concerns about his Machiavellian tendencies, says the BBC's Deputy Political Editor John Pienaar.

"It is being pointed out that he advised Theresa May to dispense with the services of Sir Michael Fallon and there he is seconds later stretching out comfortably behind the defence secretary's desk," said Pienaar.

So a reshuffle that was meant to be "seemless" has "turned out to be anything but that".

Williamson played 'pivotal role' in DUP deal

The World at One

BBC Radio 4

Democratic Unionist MP Jeffrey Donaldson said Gavin Williamson played an "absolutely critical" role in brokering the deal that is keeping Theresa May in power at Westminster.

"He was a key person as far as the DUP was concerned. He came to Belfast, spent time with us.

"Gavin Williamson played a pivotal role in delivering a majority for the government in the House of Commons."

Why Williamson bought a tarantula

The World at One

BBC Radio 4

Kate Moody, who sold Gavin Williamson his pet tarantula, said the MP had thought it would be a "great addition" to his office when he was appointed chief whip.

She recalls Mr Williamson joking that he was having a "mid-life" crisis when he bought Cronus, a red-legged Mexican tarantula, saying "it was a sports car or a tarantula and the tarantula won".

She was quoted in a BBC Radio 4 Profile programme.

'Absolute fury among Tory MPs'

The World at One

BBC Radio 4

Tim Shipman, political editor of the Sunday Times, said there was "absolute fury" among Conservative MPs at the appointment of Gavin Williamson as defence secretary, with one minister saying "he has looked after himself".

Shipman said Theresa May owed Mr Williamson because she would not have become prime minister if he had not rallied Conservative MPs behind her bid.

But he had been "desperate" to get out of the whips office and get control of a department of his own.

Williamson backed by former soldier MPs

The World at One

BBC Radio 4

Two Conservative MPs with a military background have given their backing to new defence secretary Gavin Williamson.

"This guy's got ability. He will start slow but he will accelerate," said Colonel Bob Stewart.

Johnny Mercer, a former army captain, said Mr Williamson's lack of military experience did not matter and could even be an advantage as it would give him "strategic oversight".

Williamson should have advised PM to to appoint someone else - Tory MP

The World at One

BBC Radio 4

Conservative Sarah Wollaston - one of the more independent-minded MPs - said part of the role of being chief whip was to advise the prime minister who was the "most suitable and experienced" candidate for a ministerial job.

And, she added, Gavin Williamson should "reflect" on whether other candidates, such as Penny Mordaunt or Tobias Ellwood, would have been better suited to the role of defence secretary.

Watch: More allegations to come?

PM carries on with duties at Number 10

Image caption: Theresa May earlier welcomed Benjamin Netanyahu to Downing Street

Downing Street has said Gavin Williamson was not involved in discussions about the reshuffle following Sir Michael Fallon's resignation, as chief whips often are, amid claims he effectively appointed himself.

"Gavin Williamson was an excellent and hard-working chief whip and the prime minister thinks he will make an excellent defence secretary," said the PM's official spokesman.

He declined to say whether any further allegations about Sir Michael's conduct had been raised with Theresa May prior to his resignation, saying the former defence secretary had set out the reasons for his resignation in his letter on Wednesday to Mrs May.

Asked if Sir Michael had set a new bar for behaviour requiring ministerial resignation, the spokesman said Mrs May took any allegations of misconduct seriously but each case would be looked at individually.

Mrs May ignored questions about her enforced cabinet reshuffle as she welcomed Israeli prime minister Benjamin Netanyahu to Number 10.

PM 'will be feeling frustrated'

Baroness Anne Jenkin, a Conservative peer and a good friend of Theresa May, told 5 live's Emma Barnett: "She must be feeling incredibly frustrated at a time when this country needs leadership on so many other fronts. She must be frustrated beyond description that this behaviour is taking up so much time and energy in the Westminster village."

Baroness Jenkin added that, because of the person she is, Theresa May wouldn't have witnessed the kind of behaviour that is reputed to have gone on: "She is not the sort of person who gossips. Yes, women gossip about where they get their nails done – and I am making a generalisation here – but she's not the sort of person who would have gone down to the now infamous Sports and Social Club.

"I think it is the sort of people who hang about late, drinking and that, who have got themselves into trouble.

"If you are an MP for a far, far off place, and you're in London, and you're bored and away from your family, that's where it starts to happen I think."

Watch: Mark Carney on the interest rate rise

No 10 on the Green and Garnier investigations

Asked whether they have a timeline for the expected conclusion of their investigations into both Damian Green and Mark Garnier, Downing Street only said to expect it in "due course".

Watch: Laura Kuenssberg on Tory MPs' reaction

Some MPs are 'furious' at Gavin Williamson's appointment as defence secretary, the BBC's political editor says.

Watch: UK interest rates double to 0.5%

Watch: Update on Westminster sex and harassment allegations

Watch: Foreign affairs select committee chairman on new defence secretary

Edwina Currie: Researchers 'fall in love with MPs'

Edwina Currie has said that while there are cases of unwanted attention and harassment at Westminster "a lot of it is consenting adults falling in love".

The former Conservative minister said: "Do people think women are 'fainting violets', that 'we women are not capable of saying no?'"

In an interview with BBC Radio 5 Live's Emma Barnett, Ms Currie said that often it is a case of the "researcher falls in love with an MP" and "sometimes it's not reciprocated... it's a minefield".

She said that in parliament you were dealing with people who are passionate about what they do and that enthusiasm for the job spills over.

She also claimed that people shouldn't go to parties and get drunk and then "not be in a position to protect yourself".

"Sometimes you have to take responsibility for your own actions," she added.

Watch: BBC political editor on Fallon and his replacement

Jo Coburn

Daily Politics presenter

Boris Johnson has no doubts about his past conduct

Boris Johnson has said Sir Michael Fallon has a "record to be extremely proud of" as defence secretary.

"He has left our great armed services in very good shape as we go forward to build global Britain," said the foreign secretary.

Sir Michael said his conduct had "fallen short" of the required standards after allegations of inappropriate sexual behaviour, as he announced his resignation on Wednesday.

Asked by the BBC if his behaviour has always been of a standard expected of cabinet ministers, Mr Johnson replied: "You bet."