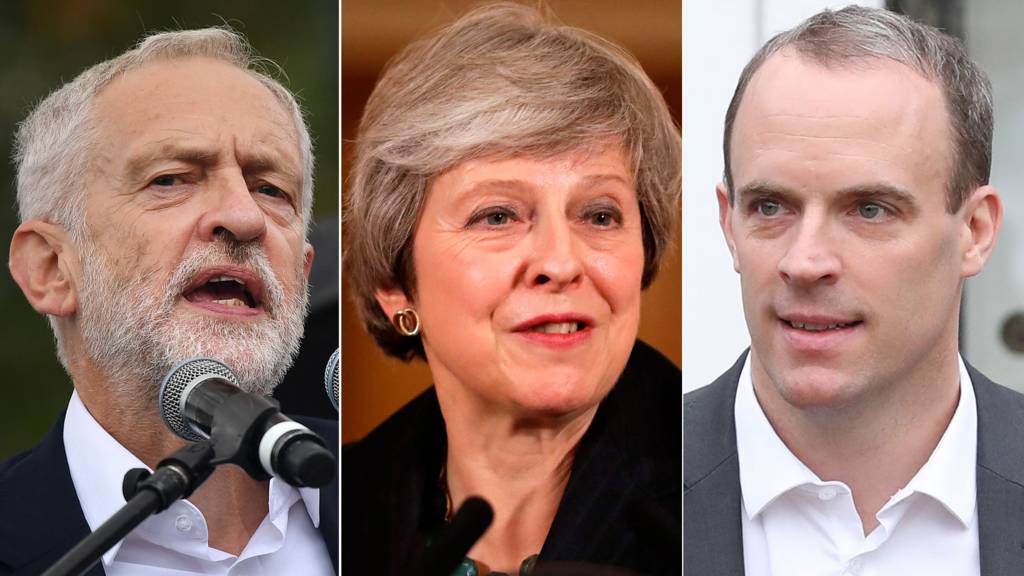 By John Campbell

BBC News NI Economics & Business Editor

Theresa May and Jeremy Corbyn have been out and about, setting out their stall on Brexit. We've also heard from the former Brexit secretary who resigned last week and Sir Graham Brady, the Tory MP who knows more than anyone how close the prime minister is to facing a no confidence vote. Here are some key lines:

Theresa May told her critics that getting rid of her as PM would not make delivering Brexit any easier
The prime minister said negotiations were still taking place on the long-term relationship between the UK and the EU with a "critical" seven days ahead
Labour leader Jeremy Corbyn insisted he could strike a better deal in time for the UK's departure from the EU, and described another referendum as "an option for the future" - but not for today
Dominic Raab, who quit as Brexit secretary last week, said the UK was being "bullied" by the EU
And as for how many letters from Tory MPs have been submitted calling for a no confidence vote in Theresa May? We still don't know. 1922 Committee chairman Sir Graham Brady said the magic number of 48 had not been reached, but would not reveal the current total. Even his wife doesn't know, he told BBC 5 Live.

Transition must end by December 2022 - EU

Adam Fleming

Brussels reporter

The European Commission has proposed 31 December, 2022 as the ultimate end date for a possible extension to the post-Brexit transition or implementation period, according to a diplomatic note of a meeting between Michel Barnier and EU27 ambassadors in Brussels this afternoon.

The EU's chief Brexit negotiator Michel Barnier also said that the UK is still pushing for a Chequers-style free trade area in goods with a common rule-book to be included in the political declaration on the future relationship.

There was a divide between member states that want an ambitious trading relationship with the UK and those who want Britain's access to the single market to be more constrained.

The UK wants to maintain the status quo on internal security, which is also "a problem," ambassadors were told.

The final political declaration could be between 14 and 20 pages long.

Spain raised serious concerns about Gibraltar, which officials fear could grow in the coming days.

Michel Barnier said the political situation in the UK was "volatile."

A diplomat said the message from the EU's Brexit negotiators to the member states was "keep a lid on your concerns for now and we'll deal with them in the negotiations on the future relationship.".

The European Council is also planning to issue conclusions which will go alongside the withdrawal agreement and the political declaration when they are endorsed at the special summit next week.

The New York Times has taken a quizzical look at how Theresa May could be ousted as prime minister.

Quote Message: In a secret location, the chairman of a panel called the 1922 Committee was collecting poison-pen letters from rebels within Mrs May's Conservative Party, calling for her to be removed as leader. The number of letters is secret except to the chairman, Graham Brady, but once their number reaches 48, the committee — also known as "the men in gray suits" — can demand a vote of all 315 Conservative members of Parliament. If she doesn't win half the votes, she will be forced to resign. This is the way political death comes in Britain, speedily and stealthily."

SNP will vote against Brexit plan

Nicola Sturgeon has confirmed her SNP MPs will vote against Theresa May's Brexit deal.

The First Minister rejected claims her Westminster MPs could abstain on the vote in the House of Commons.

The SNP leader told the BBC's Andrew Marr Show it would be "deeply irresponsible" for any MPs to endorse the prime minister's agreement, published last week.

And she revealed she will be heading to London to talk to opposition parties about alternatives in the coming days.

The SNP has 35 MPs at Westminster. Labour has said it will oppose the draft agreement in the crunch Commons vote, and the DUP - which props up the Tory government in key votes - has also criticised the proposals.

Dodds: Brexit deal is 'dangerous'

More from the DUP's Nigel Dodds, who has described the draft withdrawal deal as "dangerous".

"This deal would place a trade border in the Irish Sea, subject us to EU rules without any power to influence or change them and binds us to the EU with no unilateral ability to leave. Indeed, Northern Ireland is part of the EU customs union not the UK's."

Damian Green: Leadership talk 'absurd'

Former first secretary of state Damian Green is an ally of Theresa May, so it's no surprise that he is strongly against any challenge to her leadership.

Quote Message: If you step back, we are at the absolute crunch point of the most important negotiations this country has had for decades. I think saying that what the country now needs - let alone the Conservative Party, look at it on a national basis - to say that what the country now needs is a leadership election and a change of leadership, is absurd. From the country's point of view, I think that's exactly the wrong way to go."

DUP wants 'a better deal'

Copyright: House of Commons

The Democratic Unionist Party, whose 10 MPs give Theresa May vital support in key votes, is not happy about the draft agreement, saying it could create a new border down the Irish Sea by making Northern Ireland follow different trade rules to the rest of the UK.

Deputy leader Nigel Dodds said: "I understand why some people fear a 'no deal' scenario.

"But the choice is between this very bad deal and the right deal.

"With MPs on all sides of the House pointing to the dangers for the Union of the Withdrawal Agreement, it is clear that it is time to work for a better deal which does not undermine the integrity of the United Kingdom."

How a Tory contest would affect Brexit

Catherine Haddon, of the Institute for Government think tank, said the 25 November EU summit would probably have to be postponed if May loses a vote of confidence.

She would still be prime minister until a new Tory leader was elected, unless she resigned and handed over to a caretaker PM.

"It would have implications for the negotiations because we don't know what the position of the new prime minister would be," Ms Haddon told BBC News.

Appointing a caretaker PM would be "quite problematic" because the party is divided and would be unlikely to agree on a suitable candidate.

The whole Tory leadership process takes about two months, although they could shorten it, but they would "have to say to the EU, and the public, we will come back in January and try to get through the leadership contest between now and then".

That would take us even closer to the 29 March, the scheduled departure date, and make it even tighter to get the required Brexit legislation through Parliament in time.

Tory MPs will be conscious of the time pressure and if she survives this week then the chances of her being ousted are reduced, argued Ms Haddon.

She could face another "pressure point" when MPs vote on the deal, which might lead to another attempt to get her out.

If she won a vote of confidence it would "strengthen her hand quite considerably," she adds.

What will happen this week?

The BBC's Europe editor tweets...

Cable: Referendum 'opened a can of worms'

Liberal Democrats leader Vince Cable says former Prime Minister David Cameron "opened a can of worms" that can't easily be closed when he called the referendum in 2016.

Sir Cable said the whole issue of Europe was divisive and the "least damaging" way forward now would be to go back to the people, put the question before them and come to a "clear decision".

The case would be made on facts rather than promises, as it was a few years ago, he said.

Asked if he thought Mrs May would keep her job, Sir Vince said: "I think so."

He said she had shown courage and character but that does not avoid the fact she made a terrible decision to set a series of red lines that could not be met.

Corbyn's meeting with May was 'very short'

Tory rebels 'seem a bit deflated'

ITV News political correspondent tweets:

Listen: Farage and Campbell clash over referendum

Rob Watson

BBC political correspondent

This time next week Theresa May hopes to be in Brussels finalising her Brexit plan with EU leaders.

In the meantime she's fighting off challenges at home not just to that plan but her very leadership.

Her message to hardline Brexiteers within the Conservative Party - getting rid of me won't make Brexit any easier.

So far those Brexiteers have yet to muster the numbers against her for a vote of no confidence, though that could come any minute or any day.

Whatever happens, whether she survives any leadership challenge or not, the Conservative party now seems in a state of open civil war over Brexit with unforeseeable consequences for Britain's departure from the EU.

Whittingdale: We look like a government in disarray

The World This Weekend

Radio 4 programme

John Whittingdale, a former culture secretary, is one of the Conservative MPs who have submitted a letter calling for the prime minister to stand down.

"When you have a succession of resignations of the numbers that we have seen, not just this week, but when the Chequers Agreement was published, it does look like a government in disarray and it's very hard to reach any other conclusion.

"But that is because we are pushing ahead with a deal that commands very little support in the Conservative Party, is opposed in Parliament and certainly on the basis of my discussions with my own constituents, commands virtually no support in the country."

Tory grassroots: May 'should stay - for now'

The World This Weekend

Radio 4 programme

Another Conservative association chair, councillor Tom Ashton of the Boston and Skegness association where people voted overwhelmingly for Brexit, says Mrs May should stay - for now.

"I wouldn't support a leadership challenge at this stage," he said.

"I feel she deserves the chance now to bring the deal that she's speaking of before Parliament.

"But if you cannot get a deal through, then I think it'll be up to party colleagues in Parliament to consider their options," he added.

The BBC's Andrew Marr clashes with Baroness Chakrabarti, Labour's shadow attorney general, during a discussion about Brexit.