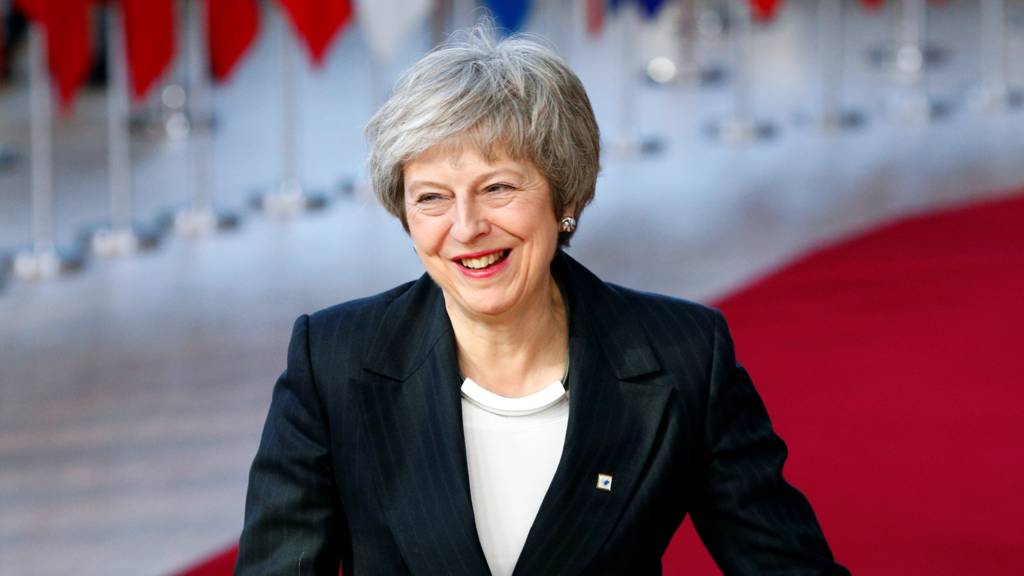 Text of EU summit conclusions on Brexit

UK withdrawal deal 'not open for renegotiation'

1. The European Council reconfirms its conclusions of 25 November 2018, in which it endorsed the Withdrawal Agreement and approved the Political Declaration. The Union stands by this agreement and intends to proceed with its ratification. It is not open for renegotiation.

2. The European Council reiterates that it wishes to establish as close as possible a partnership with the United Kingdom in the future. It stands ready to embark on preparations immediately after signature of the Withdrawal Agreement to ensure that negotiations can start as soon as possible after the UK's withdrawal.

3. The European Council underlines that the backstop is intended as an insurance policy to prevent a hard border on the island of Ireland and ensure the integrity of the Single Market. It is the Union's firm determination to work speedily on a subsequent agreement that establishes by 31 December 2020 alternative arrangements, so that the backstop will not need to be triggered.

4. The European Council also underlines that, if the backstop were nevertheless to be triggered, it would apply temporarily, unless and until it is superseded by a subsequent agreement that ensures that a hard border is avoided. In such a case, the Union would use its best endeavours to negotiate and conclude expeditiously a subsequent agreement that would replace the backstop, and would expect the same of the United Kingdom, so that the backstop would only be in place for as long as strictly necessary.

5. The European Council calls for work on preparedness at all levels for the consequences of the United Kingdom's withdrawal to be intensified, taking into account all possible outcomes.

Labour frontbencher Angela Rayner says holding another referendum could "make us more divided".

The EU27 Brexit talks over dinner have ended, the European Council tweets. Theresa May left before the talks began.

EU leaders Donald Tusk and Jean-Claude Juncker are to give a press conference now.

Is date for new trade ties a backstop remedy?

Laura Kuenssberg

BBC political editor

Our political editor writes:

Sources have confirmed that one of the ideas being considered in Brussels to improve the controversial backstop is a start date for the future trade relationship between the UK and the EU beyond Brexit, rather than trying to agree an end date for the Irish border guarantee.

Tory MPs have demanded changes to the divorce agreement with the EU over the backstop, to make it clear that it could not last for ever, and the UK could terminate the arrangement on its own.

The idea of a start date for the relationship beyond Brexit is only one of the ideas being discussed by the EU and the UK.

Spain preparing for possible no-deal Brexit

The Spanish government says it has drawn up contingency plans for a no-deal Brexit, but for now it is not divulging details, to avoid "unnecessary alarm".

Foreign Minister Josep Borrell, speaking in Madrid, said ministries were working on the basis that Spain would guarantee the rights that UK citizens living in Spain currently enjoy, "if the rights of Spaniards in the UK are guaranteed".

In 2017 an estimated 310,000 UK expats were living in Spain, the fact-checking website fullfact.org reported.

That is the largest group of UK expats in the whole of the EU - the next largest contingents are in Ireland and France.

Mr Borrell said UK expats would simply have to register as foreign residents. Spain is also negotiating an accord with the UK to let expats keep their right to vote in local elections, he said.

The impact of Brexit on Gibraltar has become a thorny issue between Spain and the UK. It nearly torpedoed the withdrawal deal agreed at the last Brexit summit in November.

For more on countries' no-deal Brexit plans, read this BBC roundup.

Dutch PM: I have the highest admiration for May

Theresa May began her bid to solve the Irish border problem, which MPs say is a roadblock to backing her deal with the EU, on Tuesday.

Her efforts started with a meeting with the Dutch Prime Minister Mark Rutte.

Two days later, she is back in his company again - having survived a confidence vote in her leadership.

And he has nothing but praise for her. "She's a great leader," he tells BBC's Newsnight.

EU leaders are discussing Brexit over a seafood supper, the Politico news website reports.

Well, fishing is proving to be an important issue in Brexit...

Starter: Shellfish à la nage with baby vegetables

Main course: Steamed fillet of cod with a watercress coulis, crushed potatoes and leeks

Dessert: Chocolate and almond dessert, praline cream with dried fruit.

Watch: Ed Balls and Michael Gove go wild

Warning: You may want to look away now

Berlusconi 'lights candles for UK to stay in EU'

Italian ex-PM Silvio Berlusconi says he lights a candle every evening in the hope that the UK will hold a new referendum and vote to stay in the EU.

Right-winger Berlusconi was in power between 1994 and 2011. Read our profile of him here.

Reports: PM suggested start date for future trade deal

Sky News political editor tweets:

Pictures: Hugs for Theresa May at summit

Pictures from Brussels appeared to show a warm reception for Mrs May, as she returned to the EU fold to seek assurances over the Irish border.

There were hugs from France's Emmanuel Macron, Luxembourg's Xavier Bettel and a word in the ear from European Commission President Jean-Claude Juncker.

Earlier, the Irish PM Leo Varadkar, pictured below, said measures to avoid customs checks on the island of Ireland if there's no trade deal - known as the backstop - are not up for negotiation.

Theresa May has just left the summit of EU leaders in Brussels.

She made no comments to the media, but got straight into her car.

The other 27 leaders will now discuss Brexit, the European Council spokesman says.

The Economist front page: Very rocky

BBC planning editor tweets:

Eight life lessons from David Dimbleby

Early nights, an open mind and having fun - pearls of wisdom from David Dimbleby, whose 25-year tenure on BBC Question Time comes to an end later tonight.

Austrian chancellor: No deal would be worse for UK

Austrian Chancellor Sebastian Kurz says he can sympathise with Mrs May, and praised her negotiation skills.

What was going on in committee room 14?

When Sir Graham Brady revealed the outcome of the vote on Theresa May's leadership last night, it wasn't only the result that had TV viewers transfixed.

The venue and atmosphere of table banging and roaring approval didn't pass without comment.

Our colleagues have been busy finding out more about committee room 14 and what gives it its other-worldly aura. Read about it here.

May's options 'running out fast'

Laura Kuenssberg

BBC political editor

Our political editor says:

"It feels like there are three people in this relationship: the EU, which doesn't want to budge; two different sides of the Conservative Party; and Theresa May stuck in the middle of all three...

"She'll be pleading to be flexible on the trickiest part of the [Brexit] compromise, but the tone from the EU top brass is that there is nothing straightforward about making a change.

"Publicly admitting that she will step down before the next election tells us that for Theresa May her options are running out fast."

Brexit lessons from Canada deal?

EU diplomats have told Reuters news agency that an addendum attached to the EU trade deal with Canada (Ceta) could be a model for appeasing MPs hostile to Theresa May's Brexit deal.

Ceta was blocked at the last minute in 2016 by left-wing politicians in Belgium's Wallonia region, who demanded extra safeguards.

Reuters recalls that the fix was a 12-page "Joint Interpretative Instrument" - an EU document explaining how the Ceta deal would work.

The Ceta deal was only approved after nearly eight years of negotiations.

Brexit 'puts 70,000 Belgian jobs at stake'

Belgium's Prime Minister Charles Michel says Brexit threatens 70,000 jobs in Belgium "if there is no good agreement that protects our economic interests and our citizens".

He promised to be vigilant to ensure "stability and responsibility".

Research by the House of Commons Library shows that in 2017 the UK's total exports to the rest of the EU were worth £274bn. Total imports from the EU were £342bn.

The EU accounted for 44.5% of the UK's exports and 53% of the UK's imports.

UK imports from Belgium were 4.4% of total imports, and exports to Belgium were 3% of the total.