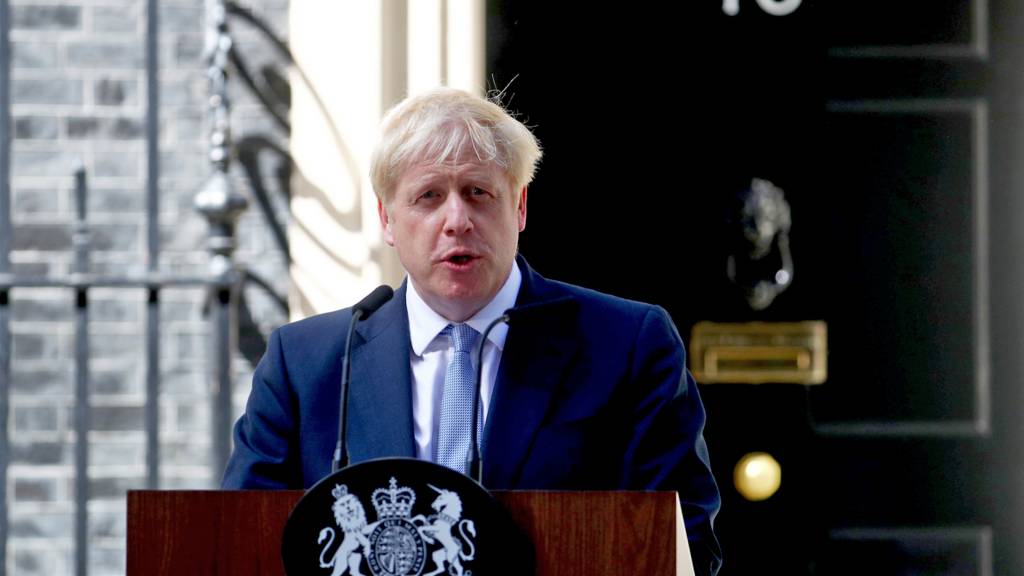 Boris Johnson in major overhaul of top ministers
Read our main story here | Who's who in the new cabinet? | Do his tax and spending plans add up? | He outlined his aims - but what's in the in tray? | Can he deliver Brexit in 99 days? | Follow us on Twitter @BBCPolitics and @BBCParliament
Candidates arrive for Lib Dem announcement

Live from the Lib Dem event

Jessica Parker

BBC political correspondent

Back to the Lib Dem leadership race, and the stage is being set as we speak.

The chairs are being lined up and at 16:00 BST we will find out if the winner is Jo Swinson or Sir Ed Davey.

Jo Swinson has been the bookies' favourite, but Ed Davey has had a good campaign.

Image caption: BBC political correspondent Jessica Parker waits for the result at the Lib Dem event

Ideologically there is no great schism. They certainly have a unity of purpose - they want another referendum and want the UK to remain in the EU.

Perhaps this is more about who can cut through and capitalise on the latest successful election results.

Over 100,000 Lib Dems have been voting and they have been allowed to vote up until 13:00, but while Jo Swinson is the favourite, in politics unexpected things can happen.

Leadership hopeful thanks Sir Vince

Duncan motion 'signal of upset' in Tory Party

Jonathan Blake

BBC political correspondent

We are starting to see the signals that Boris Johnson, if he does win the leadership contest, will face a tough task to keep his party in line.

Just as staunch Brexiteers made life difficult for Theresa May, those who oppose a no-deal Brexit in any circumstances will do the same.

The scale and the organisation of this rebellion, if you can call it that, against pursuing a no-deal Brexit is yet to become clear.

But it is a chance for those in the government at the moment to have their say and fire a warning shot before he is in the job.

The debate Duncan wanted

BBC political editor tweets...

Breaking

Duncan quit to push for emergency vote

BBC political editor tweets...

Elphicke has whip suspended

As the Conservatives await the announcement of their new leader, one of their members has had the whip suspended.

Charlie Elphicke, the MP for Dover, is alleged to have assaulted one woman in 2007 and a second woman twice in 2016.

The former government whip is due to appear at Westminster Magistrates' Court in September.

By having the whip of one of its MPs suspended, it reduces the government's working majority in the Commons to just two.

That could be reduced again next week if they lose the Brecon and Radnorshire by-election.

Lib Dem MEP: 'Nailbiting stuff!'

MEP for the South West tweets ahead of result...

Streeter: Cable shows 'good and decent people' have place in politics

Tory MP tweets...

Umunna: Libs Dems have 'unity of purpose'

Lib Dem MP Chuka Umunna cannot vote for the next leader of the party as he joined too late - moving from Change UK, and previously Labour, to the party last month.

However, he said both candidates would make good prime ministers.

He told BBC News: "I think this is a key moment in our country.

"You have a situation where we have a dysfunctional economy... and we have got big inequality, and people are struggling."

He said that voters "look at two main parties consumed with division" and they want a "solution".

Mr Umunna adds: "Our leadership contest is a good advert for what we can do for the nation.

"There is a unity of purpose, and unless you can come together and run yourselves effectively, you cannot run the country [that way]."

Away from the Lib Dems, it's an important day in another leadership contest - the one that will decide the next prime minister.

All ballots in the Tory race need to be in by 17:00 BST, with the winner - Boris Johnson or Jeremy Hunt - to be announced on Tuesday morning.

A few months ago, the position of Lib Dem leader looked more like a rebuilding job than anything else.

But after storming European election results at the end of May, everyone in the party is far more optimistic.

The came second overall with over 20% of the vote, and won 16 on the 73 seats up for grabs.

Earlier that month, the party also surprised with huge gains in the local elections.

They ended the night with 1,352 councillors - still in third place behind the Tories and Labour, but gaining more than 700 since 2015 and taking control of 10 more councils.

Farron wishes candidates luck

The former Lib Dem leader says he is proud of both MPs

Moran thanks Cable for 'calm, kind leadership'

Lib Dem MP tweets...

Analysis: A close call in the 'other' leadership race

Jonathan Blake

BBC political correspondent

The other leadership contest may have gone slightly under the radar in recent weeks, but Ed Davey and Jo Swinson have been taking part in hustings up and down the country trying to win votes.

Ms Swinson is widely seen as the frontrunner, but it's a close call, and in policy terms, there's really not a huge amount between them.

Ed Davey makes a lot of his record on climate change and the environment - his experience of working on that issue in the coalition government. Jo Swinson, on the other hand, says she's a fresh face - and as a dynamic female leader she'll better be able to cut through in the media.

It'll come down to whether Lib Dem members prefer a more experienced, older hand or a newer, younger figure, less associated with some of the controversial decisions made by the coalition.

What is Sir Vince Cable's legacy?

Image caption: The 76-year-old Sir Vince is stepping down with his party on the rise

Expectations were low when Sir Vince Cable became Lib Dem leader in July 2017.

The party was still in the political wilderness after its hammering in the 2015 general election.

It hadn't made the progress it had hoped for in 2017's snap poll, and Tim Farron had quit suddenly as leader amid uncomfortable questions over his views on faith and homosexuality.

MPs weren't exactly queuing up to replace Mr Farron - Sir Vince was elected unopposed. He inherited a party that seemed to be going nowhere, fast.

Almost two years later, the picture couldn't be more different. His successor will take over a party with a real spring in its step and genuine optimism about the future.

So how did the turnaround happen and how much credit should the outgoing leader get for it?

A key figure in the Conservative-led government, Sir Ed Davey became energy and climate change secretary in 2012.

Like his rival, Sir Ed also had an unplanned break from Parliament. In 2015 he was defeated in his Kingston and Surbiton seat after 18 years as an MP, but won it back from the Conservatives in 2017.

He says a vote of no confidence in the government could prevent a no-deal Brexit - something he describes as the "nuclear option".

In such a scenario, Sir Ed says he would push for the Lib Dems to form a temporary government with other parties.

"That would just be a temporary government for one purpose and one purpose alone - to pass the legislation for a people's vote," he said, making the case for another public vote on the issue.

Like Ms Swinson, he has ruled out working with Jeremy Corbyn - but he's said he would be willing to work with other Labour MPs, including Yvette Cooper.

Jo Swinson has been Sir Vince's deputy for two years and speaks for the party on foreign affairs.

In the 2015 general election she lost her East Dunbartonshire seat to the Scottish National Party, but won it back two years later.

She has served in government before - as a business minister in the coalition.

On Brexit, Ms Swinson wants to block a no deal - an outcome she compares "to planning for your house to burn down". She says some Conservative MPs would support her, when faced with a "disastrous" outcome for the country.

Ms Swinson has ruled out joining forces with Labour to form a government, describing leader Jeremy Corbyn as a "Brexiteer". Instead, she wants to work informally with MPs from all parties.

If she wins, Jo Swinson would become the first female leader in the Lib Dems' 31-year history.

New leader announcement at 16:00 BST

Image caption: Sir Ed Davey and Jo Swinson

Welcome to today's BBC Politics live page, where we will be bringing you all the news as the new leader of the Liberal Democrats is announced.

The contest to replace Sir Vince Cable is between the party's current deputy leader, Jo Swinson, and former Energy Secretary Sir Ed Davey.

The pair have been campaigning for weeks, discussing their anti-Brexit views, desire for a further referendum and call for action on climate change.

This afternoon at 16:00 BST, we will find out which one gets to try and put their plans into action.