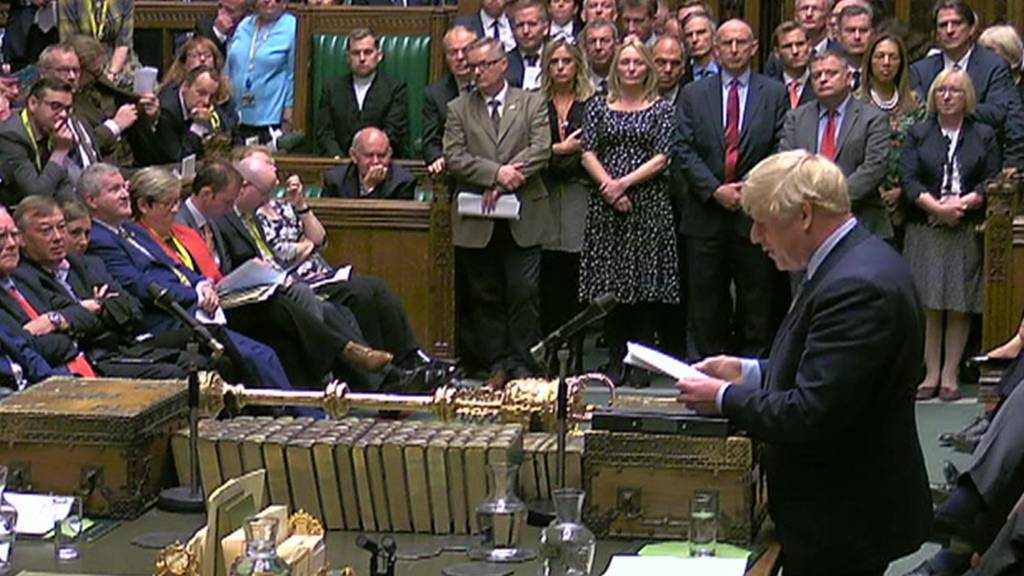 Opposition furious as defiant PM demands election
Read our main story | Follow us on Twitter @BBCPolitics
After a busy and sometimes acrimonious day, we are now ending our live coverage.

In summary: What happened today

The House is now adjourned - and here are the highlights of today in Parliament:

MPs were back at work for the first time since 9 September - when Parliament was suspended for five weeks by Boris Johnson.

They came back early after the suspension was cut short by the Supreme Court, which ruled Mr Johnson was "unlawful" to suspend Parliament.

On the first day back:

Boris Johnson told MPs the Supreme Court was "wrong" to make a judgement on a political matter

Labour's Jeremy Corbyn told the PM he was "not fit for office" and should have resigned after the Supreme Court's verdict
Tory MPs broke into sustained applause - something rarely seen in the Commons - after Mr Johnson's attack on the opposition leader, sparking anger on the Labour benches
As the tone in the house became increasingly acrimonious, MPs criticised the prime minister and others for the language used in the house - such as "surrender" - which they say can incite violence.

Creasy asks Rees-Mogg to promise domestic abuse victims the law will happen

Labour's Stella Creasy - who has been campaigning for the Domestic Abuse Bill to get through Parliament - waves a piece of paper listing the order of business for tomorrow.

"This piece of paper sends a very strong message to every victim of domestic violence in this country that yet again, when it came to being able to use the time in this place to do something decent, that has cross-party consensus, this government said no," she says.

The Domestic Abuse Bill was one of several proposed laws which were put on pause when Parliament was suspended.

MPs had hoped it could be back on the schedule soon once Parliament had resumed.

"Can I ask the leader of the House to just do something decent tonight and tell domestic abuse victims that we are going to have this legislation," Ms Creasy says.

Mr Rees-Mogg replies: "This bill was going to be a major part of the Queen's Speech.

"It is a bill the government is deeply committed to, the prime minister is personally committed to."

He says it's of "great importance".

Rees-Mogg refuses to admit 'constitutional coup' comments

Leader of the House Jacob Rees-Mogg responds to his shadow, Labour's Valerie Vaz, who asked him about comments he reportedly made calling the Supreme Court judgement a "constitutional coup".

Mr Rees-Mogg says the comments - reported by the press - were attributed to him in a Cabinet meeting, which he says are "confidential".

He refuses to admit if he said it, and instead says he reiterates the government's position: "I have the highest respect of course for the judiciary and the independence of our courts, but I must say I strongly disagree with this judgement".

Also addressing whether Parliament will go into a recess for the Conservative Party conference, Mr Rees-Mogg says it "seems fair" to have a recess of three days.

'We must dial down the rhetoric' - deputy Speaker

Deputy Speaker Lindsay Hoyle tweets that "threats to MPs are growing and they are very real."

"We must dial down the rhetoric and take the vitriol out of the debate - even in these most testing times."

Tomorrow's papers give their verdict...

Some of Wednesday's papers are in - and unsurprisingly all of them are leading on today's events.

Rees-Mogg will 'bear in mind' Domestic Abuse Bill

Jacob Rees-Mogg says the Domestic Abuse Bill - along with the Animal Welfare Sentencing Bill - are "both very important acts coming before the House".

He says he will bear them in mind when bringing a statement on Commons business tomorrow.

MPs cross that Domestic Abuse Bill not on schedule

Some MPs have expressed fury after seeing the schedule for what's happening in the Commons tomorrow.

When Parliament was suspended, many unfinished bills (proposals for laws) were discarded - but they can now come back into play.

MPs were expecting to be able to debate the Domestic Abuse Bill - and some are disappointed that it's not on tomorrow's agenda.

Labour MP calls for review of 'limits of language' in Parliament

Labour MP Seema Malhotra asks the Speaker whether there is any capacity for a "formal review about the limits of language" that can be used about MPs in the chamber.

"Experience has shown that raising it again and again in the chamber is not enough," she says.

"And yet if we can have other rules about how we conduct ourselves, could you advise the House as to whether there is any capacity to review the language used so that we can create other ways in which calling a colleague a traitor could be ruled out of order?"

Mr Bercow replies that he was not aware of the word "traitor" being used in the chamber, and that he would already regard that as "unparliamentary" language.

Debate on democracy planned for Thursday

Jacob Rees-Mogg, who is leader of the House of Commons, sets out the agenda for tomorrow.

First there will be a motion to approve adjournment for the Conservative Party conference next week.

That will be followed by a general debate on the principles of democracy and the rights of the electorate, he says.

Rees-Mogg statement on Commons business

Jacob Rees-Mogg is now speaking - he's set to make a statement on Commons business.

However he begins with a comment on what MPs have been discussing for the last few minutes - the language which is used in Parliament.

He says he doesn't usually speak about the abuse he receives because it's mild compared to that received by some MPs, particularly by women and ethnic minorities.

Corbyn calls for cross-party meeting on language

Labour leader Jeremy Corbyn calls on Speaker John Bercow to call together the leaders of all parties to issue a joint declaration "opposing any form of abusive language or threats".

"We have to treat each other with respect," Mr Corbyn says.

He says, if MPs don't, then people on our streets "feel emboldened" to be violent.

Mr Bercow says he's "very open to convening a meeting of senior colleagues" and will take the suggestion very seriously.

'We must use words which are pacifying, not inflammatory'

John Bercow says he treats what Anna Soubry has said with the greatest respect.

He says he's well aware of the threats that Ms Soubry has been subjected to.

"Each and every one of us has a responsibility to weigh his or her words and try to make the arguments... with care and if possible with eloquence... but in terms which demonstrate respect".

Members must use words which are pacifying, not inflammatory, Mr Bercow adds.

Swinson reports threats to her child to police

BBC chief political correspondent reports Liberal Democrat leader Jo Swinson says she has today reported a threat to her child to the police.

Visibly upset Anna Soubry adds to pleas about language

Anna Soubry, of the Independent Group for Change, is visibly emotional as she speaks to her colleagues about the seriousness of using inflammatory language.

Appearing to be in tears, she says: "I'm 62. I've been around, and I've seen quite a lot of stuff in my life. It takes a lot to reduce this honourable member to tears.

"It gives me no pleasure saying that. I'm not alone tonight. There are others I believe who have left the estate, such has been the distress."

She adds: "The language that is used is incredibly important. Whatever side of the debate you are one, when you use words like surrender... traitor and treason. There is a direct consequence."

After a pause, she adds: "It means my mother receives a threat to her safety. It means my partner receives a death threat."

Johnson walks out of Commons chamber

After three hours of questions, Mr Johnson has walked out of the chamber.

Speaker Mr Bercow, who was taking a point of order as the prime minister began to leave, told Mr Johnson: "I think it would be a courtesy to stay for the point of order if the point of order relates to the matter with which we've just been dealing. Go and sit down."

But Mr Johnson ignored the request and left.

In case you missed it earlier - this is the exchange that has prompted outrage among many MPs in the Commons this evening.

MPs criticise PM over language

Copyright: UK Parliament/Jessica Taylor

Labour's Matt Rodda tells the Commons he is "saddened by the tone of debate" tonight.

He's just one of several MPs who have made such criticisms tonight.

Earlier Paula Sherriff told the PM she was unhappy with the "inflammatory" language used, and cited the death threats regularly received by MPs and also the murder of Jo Cox.

Tracey Brabin also asked Mr Johnson to "moderate his language", mentioning the death of Ms Cox.

Responding to her point, Mr Johnson replied that the "best way to honour the memory of Jo Cox and indeed the best to bring this country together would be, I think, to get Brexit done".

Ms Cox's widower, Brendan Cox, tweeted that he feels sick at Jo's name to be used in this way.

'Will the ERG vote for your deal?'

Labour MP Clive Efford says he was "stunned" that members of the Conservative Party applauded Mr Johnson "like a returning hero" earlier - despite the court finding that he had acted unlawfully.

"It's absolutely shocking and the public will make their own minds up about that."

Mr Efford - who is against a no-deal Brexit - asks: "My question is, will the ERG vote for it?"

He's referring to the European Research Group - the group of Brexiteers who opposed Theresa May's deal.

Mr Johnson replies: "I think that we will get a deal that will command the support of the whole House."

PM asked to meet families of child abuse victims

Labour MP Luke Pollard asks the PM to meet the families of the victims of Vanessa George - the paedophile nursery worker who was released from prison earlier this month.

Mr Pollard says he asked the PM to step in and prevent the release of Vanessa George, but she was released while Parliament was shut down.

The PM says he will "certainly undertake to meet the families".