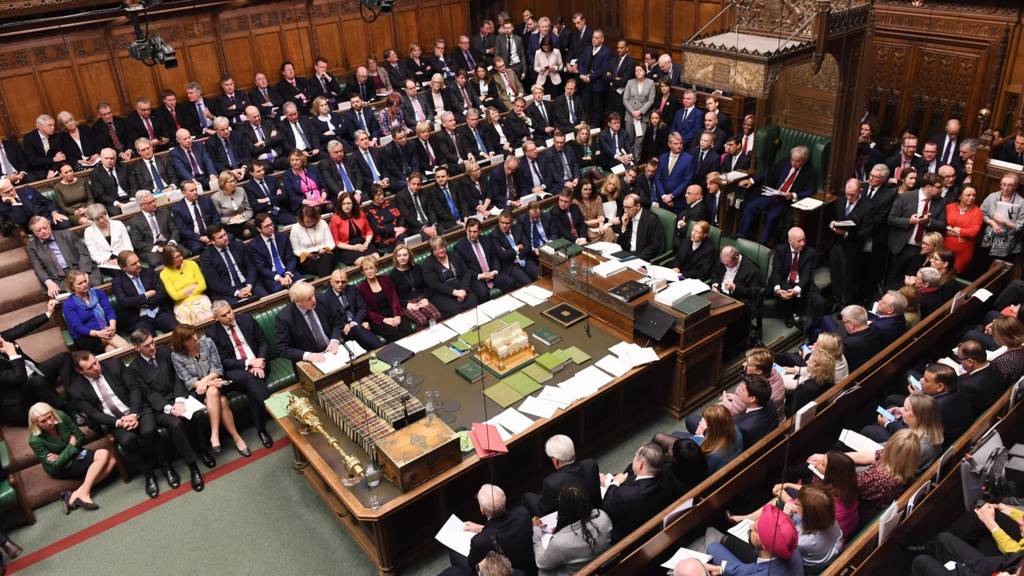 By Daniel Kraemer

BBC Political Research Unit

'Relief' at People's Vote march

It had been billed as a march to give confident voice to those who want the Brexit debate put back to the people, but as crowds set out on the People's Vote march, the nervous chatter was how the MP Oliver Letwin's amendment might be their only hope.

The mood: resolute, anxious, even pessimistic.

This long-planned event provided a noisy soundtrack to government attempts to bring the Brexit argument to an end before the march reached its destination.

Pictures from inside the Palace of Westminster were relayed to the vast crowd watching on a big screen erected on Parliament Square outside.

And then the moment when it was clear there would be no Brexit deal today. It was less a moment for rejoicing, more a sense of relief.

The long march that the protesters hope will lead from one people's vote to another will go on.

What the final destination looks like, for those on all sides of the argument, that remains frustratingly unclear.

Blackman: Labour mustn't allow deal to pass

The SNP's deputy Westminster leader, Kirsty Blackman, says Scotland will "never forgive the Labour Party" if the deal brokered by Boris Johnson with the EU gets through Parliament.

Brexit battle 'far from over'

Norman Smith

Assistant political editor

Far from the do or die moment of clarity that Boris Johnson had sought, today has ended in defeat, confusion and a possible further delay to Brexit.

Rebel Tories, the DUP and the opposition parties formed an unlikely alliance to force Boris Johnson to seek a further Brexit extension to avoid no deal.

This prompted a furious prime minister to abandon the vote on his deal and instead to send MPs home, a move designed to underscore his belief that his meaningful vote had been made meaningless.

Mr Johnson is now under a legal obligation to write to the EU to ask for more time, but the PM remained defiant. It was confirmed that the government would bring back the deal for another vote on Monday.

Significantly, the leader of today's revolt, Sir Oliver Letwin, has suggested he would now be ready to back the PM's deal - giving the PM hope that from the ashes of today's defeat he could yet resurrect his Brexit deal.

But it remains far from straightforward. The parliamentary numbers are daunting and until the EU has actually received Mr Johnson's letter and agreed to an extension, Mr Johnson's opponents will remain wary.

The battle between the PM and Parliament would seem very far from over.

Benn: PM must send letter

Labour MP Hilary Benn says it's "clear" the PM must send a letter tonight asking the EU for a Brexit delay.

Westminster atmosphere 'quite frightening'

Mairead McGuinness, vice-president of the European Parliament, says the European Council could decide "very close" to the 31 October Brexit deadline whether to allow a delay.

She describes the atmosphere at Westminster as "quite frightening".

UK 'needs radically different deal'

Labour's Laura Pidcock says her party is committed to letting the people have their say on Brexit. The UK needs a "radically different deal", she adds.

UUP: 'Wrongs foisted on NI by Johnson deal must be corrected'

The Ulster Unionist Party leader, Robin Swann, has urged Parliament to "engage and co-operate to ensure that the wrongs that would have been foisted on the people of Northern Ireland through Boris Johnson's deal are corrected".

He says: "The Prime Minister has demonstrated that his word is certainly not his bond. If the DUP should learn anything from this debacle, it is that they should never rely on the word of Mr Johnson.

"While they were feting Mr Johnson on the national stage, they took their eye off the ball and he mugged them.

"In doing so the prime minister was able to produce a deal which is hugely damaging to the economic and constitutional integrity of the United Kingdom .

"If the PM is in anyway sincere about serving the best interests of all four corners of the United Kingdom he should be engaging all the parties in Northern Ireland."

Baker: PM didn't pull vote

Tory MP Steve Baker says the PM will "comply with the law" and sign a letter requesting a Brexit delay. Boris Johnson "did not pull the vote", he adds. Any one MP could have shouted "No" in Parliament and there would have been one, Mr Baker says.

Downing Street 'frustrated'

There's "real frustration" in Downing Street because ministers think they could have won a straight for/against vote on the PM's deal, says Newsnight political editor Nick Watt.

There should be clarity later tonight on whether Boris Johnson will sign a letter to the EU requesting a Brexit delay, he adds.

Sinn Féin: 'Westminster antics do nothing to allay Brexit fears'

Sinn Féin President Mary Lou McDonald says that the "antics and bluster" at Westminster "will do nothing to allay the Brexit fears of workers, business or farmers".

In a statement, she adds: "Today we have witnessed more farce and dysfunction in the British 'House of Chaos'.

"What happened today has nothing to do with Ireland, our interests, our economy or our agreements. No one should be under any illusion about that.

"The majority of the people of the north did not consent to Brexit.

"It is being foisted on them against their democratic wishes.

"Sinn Féin will continue to work to defend Ireland from the worst impacts of Brexit and ensure there will be no hard border, no unionist veto and that the Good Friday Agreement will be protected."

Baker: MPs have 'shifted the goalposts' in Commons

Steve Baker, chairman of the pro-Brexit European Research Group, says Remain MPs "have shifted the goalposts" in the House of Commons.

Speaking after the vote on the Letwin amendment, which effectively forces Boris Johnson to ask for a further Brexit extension, Mr Baker says MPs "have denied the PM the opportunity to fulfill the conditions of the Benn Act and avoid writing the letter asking for a delay".

He adds: "The remain side of the argument are chucking our constitution out the window in order to try and overturn a legitimate democratic result.

"If only we were not opposed by people who have refused to accept the referendum result we would not be here."

Just to let you know that a special edition of Newsnight will be on BBC Two from 17:50 BST. Guests include Labour's Laura Pidcock and Conservative Steve Baker. You can also watch the programme here.

Home Secretary: 'Brexit debate is never excuse for abuse'

Home Secretary Priti Patel has thanked police who helped MPs leave Parliament this afternoon.

She said in a tweet: "We all have strong opinions re: #GetBrexitDone but that is never an excuse to intimidate or direct abuse to others."

For the first time this century, MPs sat in the House of Commons on a Saturday to debate the new version of the Brexit deal.

A key amendment from MP Oliver Letwin was passed by MPs, which means that any support MPs give to the Brexit deal is withheld until legislation to implement it has been passed by MPs and Lords.

So what happens now?

The BBC's senior elections and political analyst Peter Barnes has put together a series of flowcharts to illustrate the possible next steps in the Brexit process.

MPs vote to delay Brexit: What just happened?

On the day of a planned vote on Boris Johnson's Brexit deal, MPs have backed an amendment which effectively forces the PM to ask for a further delay on leaving the EU.

Having déjà vu? Here's what happened and how we got here explained.