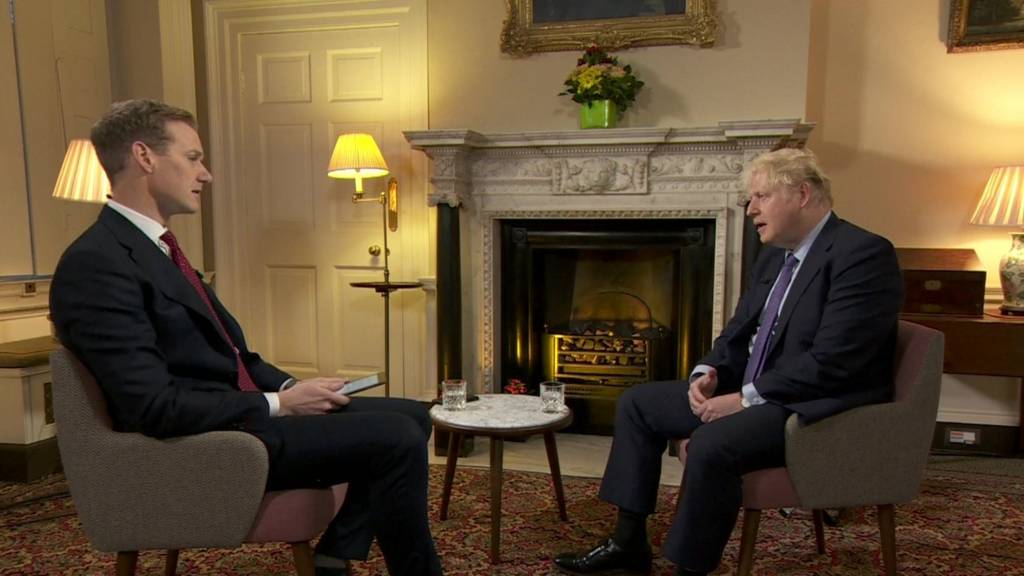 As it happened: MPs debate Queen's Speech
Follow us on Twitter @BBCPolitics | PM: Replace Iran nuclear deal with 'Trump deal' | What is in the PM's deal with the EU?
House of Commons

Parliament

Foreign Secretary Dominic Raab is now making a statement on the Iran nuclear deal.

Lib Dem: Make flights 'green and sustainable'

House of Commons

Parliament

The Liberal Democrats' spokeswoman for transport, Munira Wilson, says the government "must ensure there are attractive alternatives" to air travel domestically in the UK, especially when it comes to rail.

But she accepts there are places, like the Isle of Man, where it is not possible.

However, Ms Wilson makes a plea for the government to make sure domestic flights are "green and sustainable".

Transport minister Paul Maynard says his department is already looking at "alternative power sources" and working on other sustainable transport.

SNP: 'This is about democracy'

BBC Politics Live

BBC2's lunchtime political programme

Hopping over to BBC Politics Live for a moment...

In response to Boris Johnson's letter this morning, rejecting the Scottish government's plan for an independence referendum, SNP Westminster leader Ian Blackford said that following the election, "the SNP has 80% of the MPs for Scotland" and "45% of the vote".

It "isn't a good look" for the prime minister to say the people of Scotland aren't going to get what they voted for, he adds.

"My message to the people of Scotland is we've got to make sure we're clear that we're not going to take this, that this is about democracy.

"There is a majority for independence in the Scottish parliament."

Mr Blackford added: "There are demonstrations which are happening up and down Scotland. There was one in Glasgow last weekend, 80,000 people that were on that march. There's one in Inverness next weekend.

"Boris Johnson is not going to win this fight."

Lucas: Stop bailing out polluting companies

House of Commons

Parliament

Caroline Lucas - the Commons' only Green MP - says there needs to be "rapid changes to high carbon sectors like aviation".

She says to the minister that "instead of bailing out polluting companies every time there is a crisis" the government should be "developing plans" to diversify the industry, such as retraining air workers and increasing investment in rail.

Transport minister Paul Maynard says the government is "working hard on how to diversify the plane market", adding his department is "full of good ideas".

Labour: Avoid 'debacle' of Thomas Cook response

House of Commons

Parliament

Shadow transport secretary Andy McDonald says it is agreed across the House that Flybe is "a great British brand" and "provides a vital lifeline".

He says there is "clearly a case for government intervention", but called for them to "learn lessons from their inept response to Thomas Cook" - the holiday company that collapsed last year.

"We can't have a repeat of that debacle," says Mr McDonald. "Flybe workers and passengers deserve better."

But he also warns against the government "simply feathering the nest of a new consortium" looking to take over the company, adding: "Surely they knew scale of the financial challenges?"

Finally, he attacks the reports that the government may cut air passenger duty to help the sector.

"Slashing [the tax] makes a mockery of the government's supposed commitment to climate emissions and will only benefit a wealthy minority," says the shadow minister.

"I hope he will assure the House the government accepts it responsibilities to protect the planet."

In reply, transport minister Paul Maynard says the government is "working hard to find what it can do to help and support the company", but says he will not provide a "running commentary" while his boss, the transport secretary, is holding talks with Flybe.

However, he does attempt to reassure those with climate concerns, saying the government is wedded to its targets on emissions, and is "acutely conscious air travel has a vitally important role to play".

Minister won't comment on air tax cut rumours

House of Commons

Parliament

The minister adds that he will not make any comment on rumours the government could offer a cut in air passenger duty to Flybe to help it through a difficult time.

Issues around taxation like that are matters for the Treasury, he adds.

Minister: Flybe has 'key role in connectivity'

House of Commons

Parliament

Transport minister Paul Maynard is answering the urgent question on Flybe.

He first stresses that the troubled airline "remains a going concern and flights continue as scheduled".

He says it has a "key role in connectivity".

But Mr Maynard says it is a commercial matter "and the government does not comment on financial affairs" of companies.

"We are working very hard but there are limits on what we can do," he adds.

"But be in no doubt we understand the important role it plays."

House of Commons

Parliament

We are heading over to the Commons now where, after Justice Questions, there will be an urgent question about the future of troubled airline FlyBe.

This will be followed by a statement on the Iran nuclear deal by the Foreign Secretary Dominic Raab.

Latest on the Labour leadership race

On Monday, the contest completed its first stage with five candidates making it through the initial selection by MPs and MEPs.

Our political correspondent says a meeting of Labour's governing body today will discuss the right of all candidates to get access to the contact details of party members - so they can have an equal change of reaching out to them for support.

Rebecca Long Bailey is the candidate closest to grassroots, Corbyn-supporting organisation Momentum and there are concerns that will give her an advantage.

Speaker urges caution over Brexit bongs

The prospect of Big Ben bonging on the day we leave the EU has taken a hit after a statement from the Commons Commission.

Earlier, Boris Johnson told the BBC the government was "working up a plan so people can bung a bob for a Big Ben bong" - making it sound like crowdfunding was on the cards to raise the £500,000 it is estimated to cost.

But the commission - the supervisory body of the House's administration - says it has been warned going ahead with it "could result in huge costs to the public purse".

To get Big Ben sounding, the mechanism to make it bong would need to be brought back and tested, and a temporary floor would need to be built - then removed.

But it would also delay the ongoing conservation work by up to four weeks.

Speaker of the Commons and chairman of the Commission Sir Lindsay Hoyle said: "The Commission believes it is important to weigh up the costs this would involve if Big Ben is to chime on 31 January.

"You are talking about £50,000 a bong.

"We also have to bear in mind that the only people who will hear it will be those who live near or are visiting Westminster."

Flybe could get short-term loan from government

More on the troubled airline...

In Boris Johnson's interview with the BBC this morning, was asked about the troubled airline Flybe and any possible government intervention.

He told BBC Breakfast: "It is not for the government to step in and save companies that simply run into trouble."

However, our business editor, Simon Jack, believes that may be exactly what the government plans to do.

He says they are discussing a package of measures that could include a short-term loan to Flybe.

This would be twinned with the plans reported earlier to cut air passenger duty on domestic routes across the industry.

Simon Jack adds: "The government is very aware that it's hard to make the environmental argument for cutting airline taxes, and I'm not clear how it intends to counter those, but there is a proposed package that seeks to do this.

"I've also learned that conversations with the company will be continuing this afternoon and any solution that can be reached would require the current owners to invest tens of millions of additional capital."

A quick diary note for you as we start to focus more on events in Parliament this afternoon:

After Justice Questions, there'll be an Urgent Question in the Commons on what support the government has made available to Flybe, its passengers and the regional airports which facilitate many of its routes.
After that, Foreign Secretary Dominic Raab will make a statement on the Iran crisis and the state of the beleagured nuclear deal

Bowing to the inevitable on Iran deal?

Jonathan Marcus

BBC Diplomatic and defence correspondent

Treaties and agreements usually have dispute mechanisms to allow one party to challenge another if they think the terms of the deal are being broken. But that is not the situation with the Iran nuclear agreement.

One major party - the US - has already abandoned it, reimposing crippling economic sanctions against Tehran. For its part Iran has taken a series of steps to breach the deal's constraints. So the deal exists but in a kind of limbo - abandoned or largely abandoned by its two most important signatories.

In invoking the dispute mechanism, the Europeans are taking the first formal step towards writing its obituary. They insist they will stand by it for as long as it exists and that they want a better deal - one that the US can support.

But it is very hard to see Iran accepting a more restrictive agreement that will include constraints on its missile programmes and maybe also its regional behaviour.

And it is equally hard to see President Trump lifting the sanctions - not least when he believes - with protests against the regime under way - that his maximum pressure campaign is working.

The European decision to invoke the dispute process may be a final bowing to the inevitable. The nuclear agreement is in a critical condition and slowly slipping away.

What happened this morning?

Most of this morning's headlines have stemmed from a 30-minute BBC Breakfast interview with Prime Minister Boris Johnson.

If you missed any of it, here are the main points:

You can watch the interview back on iPlayer or listen to it on BBC Sounds.

And in the last few minutes, the government has formally rejected a call from Scotland's first minister, Nicola Sturgeon, for a second independence referendum.

SNP warns against abandoning Iran deal

Image caption: The SNP's Alyn Smith alongside his party leader Nicola Sturgeon

The SNP is warning Boris Johnson against abandoning efforts to revive the Iran nuclear deal after comments he made in his interview on BBC Breakfast.

The prime minister said the current deal should be replaced with a "Trump deal".

The SNP's Alyn Smith says the remarks are "yet another worrying sign of the Tory government's shift towards falling in line with the Trump administration".

He adds: "Rather than reading from the Trump White House script, the UK government must instead ramp up efforts to fully de-escalate tensions in the region, and work with our European and international allies to bring Iran and the US back to the table to revive the Joint Comprehensive Plan of Action (JCPOA).

"We cannot allow events in the region to tip over the edge and descend into all-out conflict. This is the time for engagement, diplomacy and leadership - not for a lurch towards isolationism."

Sturgeon: PM's response is predictable but unsustainable

Scottish First Minister Nicola Sturgeon has responded to Boris Johnson's refusal to grant the power needed for a Scottish independence referendum.

In a trio of tweets, she says: "Tories are terrified of Scotland's right to choose - because they know that when given the choice we'll choose independence.

"Tories have no positive case for the union - so all they can do is attempt to deny democracy. It will not stand.

"The problem for the Tories is the longer they try to block democracy, the more they show the Westminster union is not one of equals and fuel support for independence. This response [is] predictable - but also unsustainable and self defeating. Scotland will have the right to choose.

"Scottish government will set out our response and next steps before the end of this month - when we will also again ask Scottish Parliament to back Scotland's right to choose our own future."

Veganuary 'top tips' to help PM change his mind

In the closing moments of this morning's interview, the prime minister said he was not taking part in Veganuary - a challenge to go vegan for the first month of the year - because it required too much concentration.

He also said veganism was a "crime against cheese lovers".

The team behind the Veganuary campaign is now calling on its supporters to help the PM see the light.

Analysis: PM challenges Trump to prove he's a 'deal-maker'

Vicki Young

Chief Political Correspondent

Mr Johnson sidestepped talking about the Royal Family this morning, but he could not sidestep the issue of Iran.

Boris Johnson said it did not matter that the UK was not briefed ahead of the US killing of Iranian General Qasem Soleimani - and that there was no reason why the UK should have expected to be.

This was slightly surprising.

Many people feel that because there are British troops in Iraq, where the killing happened, that maybe it would have been usual for the US to speak to their closest ally about it first.

And then there's the issue of the Iran nuclear deal.

Boris Johnson suggested that maybe there could be a change to the Joint Comprehensive Plan of Action (JCPOA) on Iran, an accord signed in 2015 which agreed to limit its sensitive nuclear activities in return for lifting crippling economic sanctions. The US pulled out of the deal in 2018.

Downing Street said later this morning that the prime minister didn't mean the nuclear deal should be scrapped.

But Mr Johnson made a bit of a challenge there to President Trump - saying he thinks of himself as a bit of a deal-maker, so here's the chance to live up to that.

PM rejects Sturgeon's request for Scottish independence referendum

The UK government has formally rejected a call from Scotland's First Minister, Nicola Sturgeon, for a second independence referendum.

In a letter, Prime Minister Boris Johnson said a referendum would "continue the political stagnation Scotland has seen for the past decade".

And he said Ms Sturgeon had previously pledged that the 2014 referendum would be a "once in a generation" vote.

Ms Sturgeon has said she wants to hold a referendum later this year.

She made a formal request last month for the UK government to transfer powers to the devolved Scottish Parliament in Edinburgh that would ensure any referendum is legal.

The request came after Ms Sturgeon's SNP won 48 of the 59 seats in Scotland in the UK general election.

'Dispute mechanism' over Iran deal triggered

Copyright: AFP/Getty Images

It appears the reports we saw earlier were right...

The Iran nuclear deal from 2015 - to stop the country's alleged efforts to develop a nuclear weapon - allowed for a dispute mechanism to be triggered if one of the parties thought the other wasn't living up to their obligations.

Now, the European powers who signed up to the deal have gone ahead and triggered it after Iran took a further step back from its commitments.

The country has suspended all limits on its production of enriched uranium, which can be used to make reactor fuel but also nuclear weapons.

Iran said it was responding to sanctions reinstated by the US when it withdrew from the accord in 2018.

But France, Germany and the UK said they did not accept Iran's argument.