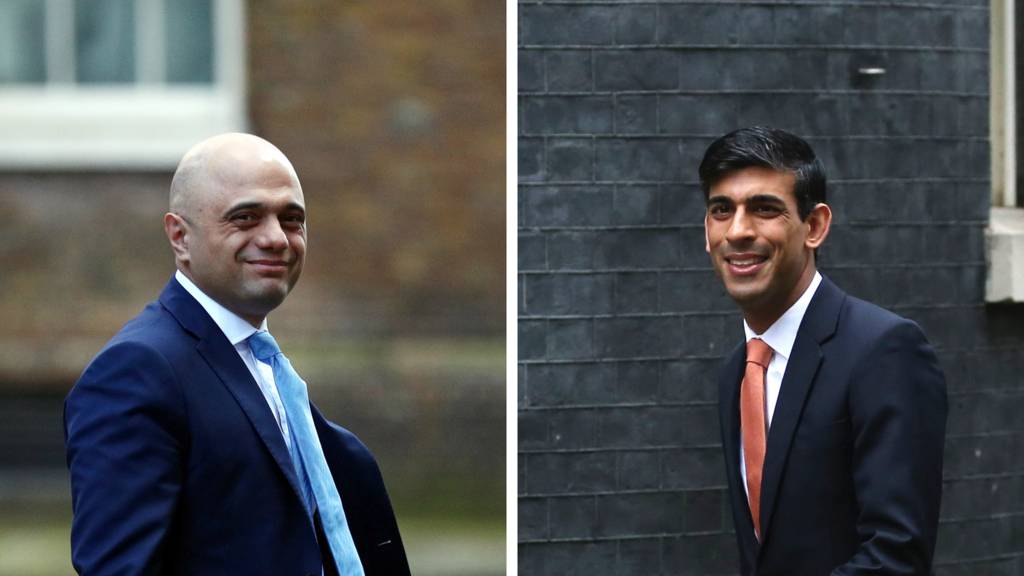 A rather straightforward cabinet reshuffle turned into a day of surprises in Westminster.

We are drawing our live page to a close, but here are some of the highlights from a busy day:

You can check out Boris Johnson's new cabinet in detail here.

Thanks for reading and have a good evening.

More appointments from No 10

Image caption: Lord Goldmsith adds to his existing roles in the government

In a new run of appointments from No 10, Lord Goldsmith stays on as a minister for the environment and international development, but adds minister for the Foreign Office as another string to his bow.

Nigel Adams moves from the culture department to become a joint minister for the Foreign Office and international development.

Baroness Sugg will now split her time between her existing role as a joint parliamentary under secretary at international development to take up the same position in the Foreign Office.

The announcement from Downing Street also confirms Kit Malthouse will stay as a Home Office minister, and Conor Burns will remain an international trade minister.

It is about power and where it resides

Vicki Young

Chief Political Correspondent

Sajid Javid was presented with an offer that, you could say, he had to refuse.

Now, whether Downing Street knew or not is another matter. Did they want this all along? It is hard to say.

But there is no doubt that trouble had been brewing for quite a while.

It was not just about personalities.

Yes, there were briefings going back and forth, appearing in the newspapers, some from those in No 11, some from those in No 10, and there was clearly a problem in relations.

But obviously this restructuring, this idea you will have a central pool of advisors so that No 10 and 11 work more closely together, that isn't just about the characters. It is about power and where power resides.

Of course, there have been tensions between prime ministers and chancellors for a very long time. We have seen it numerous times in the last few decades.

But this was of a different level and, in the end, Sajid Javid realised he couldn't carry on in those circumstances.

So we now have the meteoric rise of Rishi Sunak, who is taking over as chancellor just four weeks before a Budget.

Sunak pays tribute to 'good friend' predecessor

The new chancellor tweets...

Corbyn: 'Government in chaos'

Labour leader Jeremy Corbyn has echoed the words of his shadow chancellor when commenting on today's government reshuffle.

Speaking in Manchester, he said it had been a "record collapse of a government".

He added: "Boris Johnson became prime minister in July. At that time, as far as I can remember, Philip Hammond was Chancellor of the Exchequer.

"We then had Sajid Javid [and] we've now got the third Chancellor of the Exchequer in less than six months.

"This is a government in chaos."

Candidate calls for Labour leadership race to be postponed

Image caption: Rosena Allin-Khan is running to be deputy leader of the Labour Party

One of the candidates for Labour's deputy leadership is calling for the race to be postponed.

Rosena Allin-Khan says those running for leader and deputy were supposed to get data on members tomorrow so they could contact them before voting starts.

However, the contenders have now been told they won't get the lists until Saturday - despite paying £5,000 for them - and they won't include all members.

The MP for Tooting says she was told it was possible some people might be given their online ballot before the candidates can get in touch with them, which she calls "unfair and ridiculous".

She adds: "Every candidate's team raised concerns about this today.

"It is my belief that the ballot should be postponed until all the data is processed and each campaign has had a decent amount of time to access it.

"Otherwise, the most well-known candidates will have an unfair advantage."

Shock resignation poses challenge for Javid's successor

Faisal Islam

BBC Economics Editor

There was no hint of what was to come from the lips of Chancellor Sajid Javid.

He had been reassured of his future in post, when I spoke to him 48 hours ago.

He was planning not just the Budget, but also a Spending Review, and a finance white paper involving negotiations with the EU over the ongoing access of UK finance to the EU.

His team had signalled the Budget was going to be a significant new chapter in UK economic policy. The first Budget of this government and its healthy majority, able to plan its own long term strategy.

However, there had been a strange series of last minute reorganisations regarding the chancellor's traditional round of interviews on the GDP figures.

Who is in Boris Johnson's new cabinet?

There have been lots of ins and outs in today's reshuffle.

But who are the new, and returning, faces of Boris Johnson's top team?

Walker praises former boss in new role

Robin Walker has been promoted to become a minister in the Northern Ireland Office, having served as a parliamentary under secretary.

But in a tweet celebrating his new role, he also praises former Northern Ireland Secretary Julian Smith, who was sacked earlier today and replaced with Brandon Lewis.

More junior ministers announced

Image caption: James Brokenshire comes back into government as a Home Office minister

Another raft of reshuffle appointments have come through from No 10.

James Brokenshire returns to government after being ousted as housing secretary last summer, to serve as a minister in the Home Office.

Chloe Smith gets a promotion from a parliamentary secretary in the Cabinet Office to a full blown minister.

Jeremy Quin moves from the Cabinet Office to become a minister in Defence, while Helen Whately moves from the cutlure department to become a health minister.

Robin Walker stays in the Northern Ireland Office, but has been promoted from parliamentary under secretary to minister.

Always expect the unexpected

Laura Kuenssberg

BBC political editor

It is no secret that there have been - as there so often are in government - tensions between those powerful next door neighbours in Downing Street.

There was some bad blood between No 10 and No 11 over briefings, and the expectation management of the day-to-day politics between the two sides has not always gone smoothly in recent weeks.

But when the day of this reshuffle began - always an important moment in any government - few would have expected or predicted it would have turned out quite like it did.

And as with any reshuffle, when moving the furniture of government around, it is sometimes wise to expect the unexpected.

IN FULL: Javid's resignation letter

In case you struggle to read the small print, here is the letter in full:

Dear prime minister,

It has been a privilege to serve as Chancellor of the Exchequer. Since being elected as the MP for Bromsgrove 10 years ago, I have had the huge honour of holding several ministerial roles - running five departments, including two of the great offices of state.

While I am grateful for your continued trust and offer to continue this role, I regret that I could not accept the conditions attached to the reappointment. It is crucial for the effectiveness of the government that you have people around you who can give you clear and candid advice, as I have always sought to do. I also believe that it is important as leaders to have trusted teams that reflect the character and integrity that you would wish to be associated with.

The government you lead has an enormous opportunity in the coming years to transform our country. Millions of people have given their renewed trust in a Conservative government to move on from the divisions and distractions of recent years, and lead us forward into a decade of social and economic renewal. We must not waste a moment in delivering on that promise.

As you know, the agenda we have been developing over the last seven months is one that I have long supported. From maintaining strong public finances, investing in infrastructure, protecting our environment, recruiting 20,000 police officers, and boosting housing and skills so the next generation can have the opportunities they deserve.

I would urge you to ensure the Treasury as an institution retains as much credibility as possible. The team there has impressed me with the energy and intellect they have brought to delivering the shifts in policy that I have led. They are among the very best public servants we have and I hope they can continue to play a central role in driving an economic agenda that puts people and place at its heart.

My biggest hope is that this government will bring the country together, and help to level the playing field so that stories like mine are not exceptional or lucky. While it is of course disappointing that I will no longer be in the position to see this vision through as one of your cabinet ministers, I am very optimistic about our country's future. You and the government you lead will continue to have my full support from the backbenches.

I am very much looking forward to spending more time with my family, and to continuing to serve the people of Bromsgrove.

Yours ever,

Sajid Javid

Javid resignation letter

BBC political correspondent tweets...

Penny Mordaunt back in government

Image caption: Penny Mordaunt makes a return to government

A string of new appointments for more junior roles has just been announced by Downing Street.

Former Defence Secretary Penny Mordaunt has made a return to government, becoming the Paymaster General in the Cabinet Office.

She was sacked by Boris Johnson when he took over in July 2019, after just three months at defence.

Former party chairman James Cleverly has also been shifted into a new role as a minister for both the Foreign Office and the Department for International Development.

Christopher Pincher has taken over as a minister in the housing, communities and local government department.

And Andrew Stephenson has been appointed transport minister for the government.

Baroness Fall: 'PM calls the shots'

David Cameron's former deputy chief of staff says she does not believe No 10 knew Sajid Javid would resign when they told him their plans this morning.

Speaking to BBC News, Baroness Fall says reshuffle days are "all about a fresh face for government" but the chancellor stepping down is "now the central story".

She says: "I find it strange this wasn't ironed out in the couple of days before and the choice wasn't made then as it has blown up a day that should be about the new cabinet."

Baroness Fall does say there was a "possibility" that Rishi Sunak was not promoted in the rest of the reshuffle "just in case something went wrong".

But she does not follow others in Westminster in blaming the PM's chief adviser.

"Dominic Cummings works for Boris Johnson," she says. "He is the prime minister, he calls the shots."

Times columnist: Cummings must have known Javid might go

Another foreign minister is out

Heather Wheeler has left her job at the Foreign Office, our East Midlands political editor Tony Roe says.

She had been in the job since July last year.

Amanda Milling becomes Conservative Party chairwoman

In a surprise move, Tory MP for Cannock Chase Amanda Milling, who held the post of deputy chief whip, has been appointed as the new Conservative Party chairwoman.

The position had been held by James Cleverly since July last year.

No guarantee from Downing Street on Budget date

Our correspondent, Nick Eardley, has been in a briefing with No 10 after all of today's twists and turns.

The spokesman thanked Sajid Javid for his work as chancellor, and said his successor, Rishi Sunak, will carry on with the preparations for the Budget.

However, he would not confirm if it will still go ahead as planned on 11 March, saying: "Preparations have been carried out already and will continue at a pace."

The PM's spokesman also confirmed reports that the two separate teams of special advisers at No 10 and the Treasury will merge into one to jointly advise the new chancellor and the prime minister.

The new unit will ultimately be accountable to the PM.

But Downing Street said the Budget will be written by Mr Sunak and he had already been involved in his former job as Chief Secretary to the Treasury.