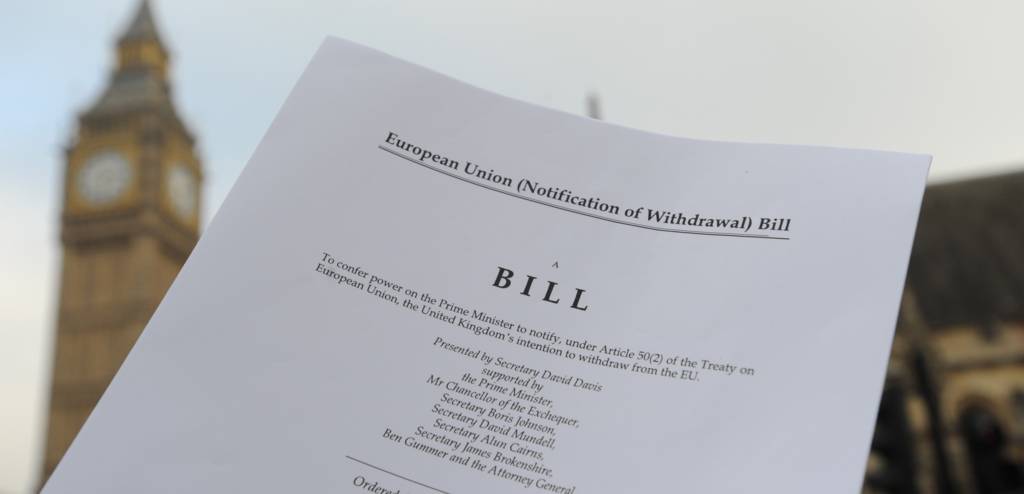 And there ends the day in the House of Lords.

Peers will be back tomorrow at the earlier than usual time of 11am to resume debate of the bill.

Do join us then. Goodnight. 

'A rock or a hard place vote'

Brexit Bill

The last speaker of the evening, Crossbench peer Lord Malloch-Brown now gets to his feet.

He acknowledges that he is standing between "those of you who are still here and your beds".

He uses his "graveyard slot" to argue that Parliament should be offered a vote on the final Brexit deal that amounts to more than "a rock or a hard place vote".

Finkelstein: Soft Brexit is the worst of both worlds

Brexit Bill

Conservative Lord Finkelstein notes that Nick Clegg was calling for a referendum on the EU "long before Ukip" and that both the Lib Dems and Labour voted to hold the referendum.

Addressing both parties he says "It is immensely good of them to insist that this be regarded as a Tory referendum but really we won't hear of it. You deserve your day in the sun too." 

He attacks those calling for "a soft Brexit" arguing that allowing domestic regulations to be created by a body to which the UK does not belong is "the worst of both worlds".

Pidding: Brexit wounds can be mended by moving forward

Brexit Bill

People are "fed up" and want their politicians to listen argues Conservative Baroness Pidding.

She says it would be "an act of considerable arrogance" to "frustrate" the will of the British people by using "parliamentary gymnastics".

She asks what precedent it would set if Parliament "ignored results it didn't like".

She acknowledges that the referendum "exposed a country divided" but argues that the "wounds" can only be mended by "moving forward".

'We are where we are'

Brexit Bill

Lib Dem peer Lord Lee of Trafford says that the referendum campaign contained "exaggerations and untruths" and that some voters may not have understood the implications of their vote. 

"That is true of all elections" he says.

He suggests that 16-18-year-olds should have been given the vote "but we are where we are". 

He tells peers that he cannot support his own party's position of holding a referendum on the final Brexit deal.

"That is why I am sitting so far away from my chief whip" he says. 

'Surely there can be no argument'

Brexit Bill

Crossbench peer Lord Judge says the question posed at the referendum "was a simple one" and "we know the result".

He argues that both Parliament and the public, through the next general election, will get a say on whatever deal comes out of negotiations.

However, he says that on the issue of whether or not the government should be allowed to trigger Article 50 - "surely there can be no argument".

'Water under the bridge'

Brexit Bill

Labour's Lord Parekh notes that previous speakers have questioned the legitimacy of the referendum result on the grounds that only 37% of the electorate supported remain or because "lies were told" during the campaign.

That, he says, is "water under the bridge" and urges peers to focus on what happens next. 

He argues that the 52% to 48% result of the referendum commits the UK to leaving the EU but that the public does not want to lose the rights and standards gained as a result of being an EU member. 

Blencathra: Peers' opinions on Brexit are utterly irrelevant

Brexit Bill

Conservative Lord Blencathra tells peers that their opinions on whether or not it is a good idea to leave the EU are "utterly irrelevant".

He admits to not being an expert on the EU or trade but says he does know about the British electorate.

He warns that seeking to "thwart them" would "unleash a firestorm".

Foulkes: I will oppose Brexit by any means possible

Brexit Bill

Brexit will be "a total disaster" and "I will oppose it by any means possible" begins Labour's Lord Foulkes of Cumnock. 

"We've got a long way to go and you ain't seen nothing yet" he warns ministers.

He notes that the referendum was advisory and that "only 37%" of the electorate supported leaving the EU.

Even Murifield Golf Club needs a two-thirds majority in order to change its rules to admit women he says

Carlile: Amending bill would bring Parliament into disrepute

Brexit Bill

The non affiliated peer Lord Carlile of Berriew argues that if the House of Lords insists on significantly amendments to the bill it would "bring Parliament into greater disrepute than it already is".

He opposes holding a second referendum: "that sounds like enjoying punishment and wanting more".

However he suggests that if Parliament considers a final deal to be "to the detriment" of the national interest it would be right to reject the deal.

Peer 'almost ostracised' for voting Brexit

Brexit Bill

Conservative Lord Sterling of Plaistow says he was "almost ostracised" when he told friends at dinner parties that he was voting for Brexit.

Now, however, he argues that more and more people and businesses are saying "I think we can handle this".

He believes the prevailing attitude of mind is "let's get on with it".

'The glimpse of an ankle'

Brexit Bill

Former ambassador to the EEC (European Economic Community) Lord Hannay of Chiswick accuses the government of failing to provide sufficient detail on its Brexit plans.

He describes the prime minister's Lancaster House speech as akin to lifting "a small part of the veil in which the government has shrouded its policy".

However, he adds that "we have not yet seen much more than the glimpse of an ankle".

'It is astonishing people will put stamps on these diatribes'

Brexit Bill

Conservative peer Baroness Wheatcroft says the referendum released "a wave of intolerance".

She tells peers that when she campaigned for a remain vote her "actual and virtual" postbag was filled with "irrational hostility" calling her "slut, whore, harlot and much worse".

"It is astonishing people will put stamps on those diatribes."  

She argues that Brexit will be catastrophic and says she could not explain or justify supporting the bill to her granddaughter.

Parliament needs to 'take back control'

Brexit Bill

Labour's Baroness Armstrong of Hill Top fears that a populism which rejects diversity is becoming "the driver of politics". 

She says she is proud to have been born in Sunderland "but it is monocultural".

We don't have many migrants in the North East, she says, but adds that people "believe what they read about migrants and they're frightened".

She hopes that Parliament will "take back control" of the process of leaving the EU and that it will do so in a way that "celebrates diversity".

'Ssshhh...'

Conservative MP tweets

Did she say that?

BBC journalist and PA's political reporter tweets

Lord Howell: single market is no longer relevant

Lord Howell of Guildford "can't see the point at this point in trying to amend" the bill. 

He says that "unilateralism" towards allowing EU migrants to stay in the UK will not work, and that EU partners must also promise a similar deal for British nationals in Europe. 

He also claims that the EU has "not been a good place for services industries" in recent years, as decreasing communication costs and the internationalisation of production have led to a "decreasing relevance of the single market". 

These kind of trade agreements do not meet the "fluid, new conditions" of global trade. 

Bill speeds its way to become law

HS2 Bill

House of Commons

Parliament

Earlier today in the Commons, MPs accepted the changes made by the Lords to the HS2 Bill, which is now set to become law. 

It will give ministers the ability to begin work on the line between London and Birmingham. This first phase of the £56bn scheme - which will eventually run to Manchester - is expected to take a decade to build.

The government accepted limits on the number of properties and land that could be compulsorily purchased to make way for HS2. 

A House of Lords committee had recommended that powers be restricted to what's needed for the project - rather than the wider development and regeneration opportunities.