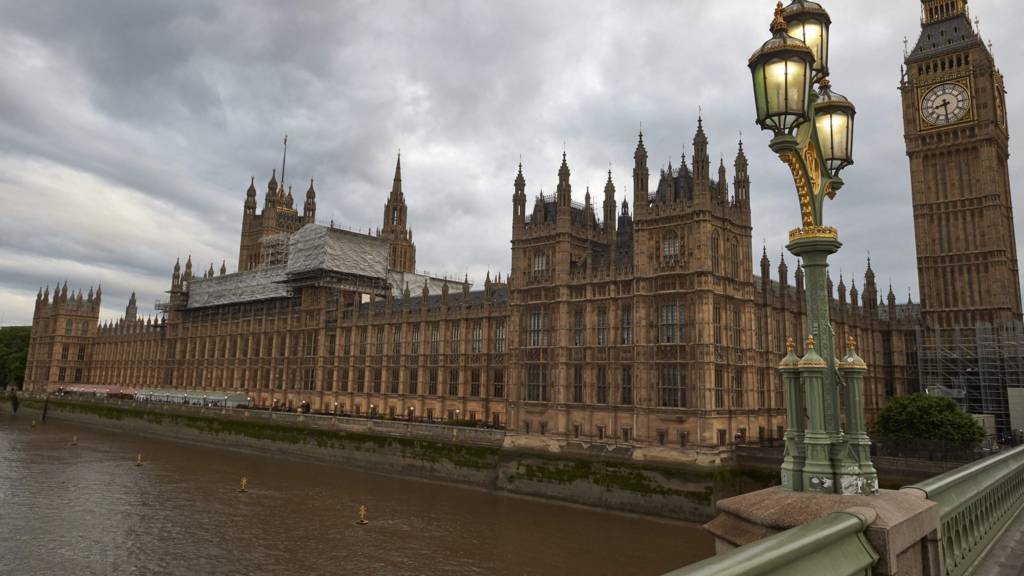 Queen's Speech: MPs vote for government's agenda
You can watch BBC Parliament on Freeview channel 131. Follow us on Twitter @BBCParliament. For a summary of the Queen's Speech, look at this bill-by-bill guide
Summary
Day began with questions to Culture, Media and Sport ministers
Business Statement unveils forthcoming business
Statement on decision on Fox's Sky takeover bid
MPs and peers debate Queen's Speech
Queen's Speech: MPs vote pass government's programme

The minority Conservative government has survived its first major Parliamentary test after its Queen's Speech cleared the House of Commons.

MPs voted in favour of the government's proposed legislation - which was stripped back after the Tories lost their majority - by 323 to 309.

The Democratic Unionist Party's 10 MPs had agreed to support the measures as part of a deal with the Tories.

Labour's attempt to add some of its policies to the Queen's Speech failed.

Nearly 50 MPs defied Labour leader Jeremy Corbyn by backing an amendment calling for Britain to stay in the single market and customs union after Brexit, proposed by pro-Remain MP Chuka Umunna.

It was defeated by 322 votes to 101, majority 221, but despite orders to abstain from Mr Corbyn, who has committed to leaving the single market, some 49 Labour MPs opted to back the amendment, revealing divisions within the party over its Brexit strategy.

House of Commons

Parliament

The adjournment debate comes to a close and that brings to an end a busy week in the House of Commons.

MPs will return on Monday at 2.30pm for Home Office questions.

Minister 'reassured' by temporary plan

Queen's Speech debate

House of Commons

Parliament

Health Minister Philip Dunne responds to the debate, saying that he is reassured by the work of the local clinical commissioning group to put in place a temporary plan to provide high standards of patient care and safety.

End of business in the Lords

The House of Lords adjourns, and will return on Monday for questions to ministers at 2.30pm.

Kettering MPs describes local problems

Adjournment debate

House of Commons

Parliament

Mr Hollobone says the draft sustainability plan for Northamptonshire is "simply not good enough" as it does not put enough funding into facilities allowing people to be treated closer to where they live so that they don't have to come into the hospital.

He says this would be more cost-effective, better for the patients and would take pressure of Kettering General Hospital.

Rumours about Labour MPs being sacked from shadow posts

PoliticsHome editor and political editor of the Daily Mail tweet

Debate on Kettering hospital begins

Adjournment debate

House of Commons

Parliament

Speaker John Bercow says that MPs not wishing to hear Philip Hollobone "expatiate on the merits of his local hospital" in his adjournment debate should leave the chamber quickly and quietly.

He says that those remaining can enjoy the Kettering MP's "Einsteinian intellect and Demosthenesian eloquence".

Resignation from Labour's top team

Former Labour frontbencher resigns

Queen's Speech promises 'broad reform' - minister

Queen's Speech debate

Health Minister Lord O'Shaughnessy responds to the day's debate for the government, insisting that contrary to the "gloomy" tone of some peers this afternoon the Queen's Speech is not just a Brexit prospectus but a "commitment to broader social reform".

He says the government wants to create the "safest health service in the world" and it recognises the "pressure public service workers are under".

However, he adds, he can't support Labour's solution, which he describes as "free things for everyone".

Who in Labour voted for Umunna's amendment?

Political editor, Daily Mail, tweets

Queen's Speech passes

BBC political editor tweets

Breaking

MPs approve Queen's Speech

Queen's Speech debate

House of Commons

Parliament

After six days of debate, MPs vote to approve the government's legislative agenda for the next two years in its Queen's Speech by 323 votes to 309, a majority of 14.

Labour accuses government of 'holding down' public sector pay

Queen's Speech debate

Labour spokesman Lord Hunt of Kings Heath focuses his concluding comments on the NHS, saying his party would treat the government's promises on mental health "with a touch of scepticism until we see the money ringfenced and actually spent on mental health".

He then turns to a wider point about staffing the service, pointing to the confusion on Wednesday over reports on changes to public sector pay.

"The government cannot artificially hold down the pay of public sector workers year after year," he warns.

Totting up the numbers

BBC political correspondent and editor tweet

What's the Humble Address?

Parliamentary reporters tweet

Some Labour MPs vote with Umunna

BBC political editor and chief reporter for PoliticsHome tweet

It appears that while the Labour frontbench abstained on Chuka Umunna's amendment several Labour MPs voted with him.

We'll find out who later on - but in the meantime, political journalists will be trying to find out who those rebels were...

MPs vote on the Queen's Speech

Queen's Speech debate

House of Commons

Parliament

After two amendments are defeated MPs now vote on the Queen's Speech itself.

The motion being voted on reads:

Quote Message: That an Humble Address be presented to Her Majesty, as follows: Most Gracious Sovereign, We, Your Majesty's most dutiful and loyal subjects, the Commons of the United Kingdom of Great Britain and Northern Ireland in Parliament assembled, beg leave to offer our humble thanks to Your Majesty for the Gracious Speech which Your Majesty has addressed to both Houses of Parliament."