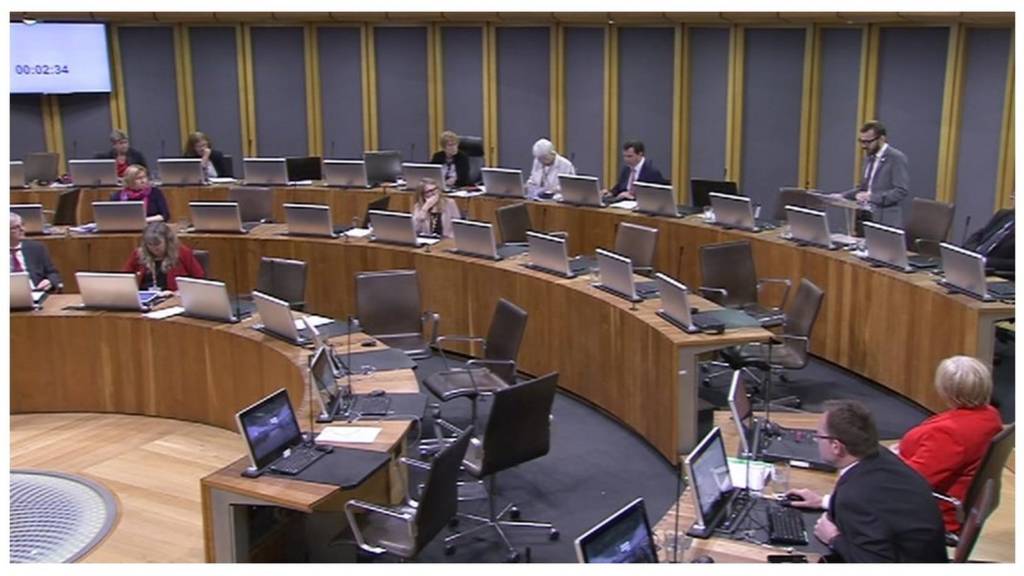 Youngest AM Jack Sargeant calls for 'a kinder politics'
Summary
Jack Sargeant says he will build on his dad Carl's legacy by playing his part in delivering "a kinder politics".
Economy, Infrastructure and Skills Committee
Plenary begins at 1.30pm with Questions to the Cabinet Secretary for Education
Questions to the Cabinet Secretary for Health and Social Services
Debate on the Economy, Infrastructure and Skills Committee report: Post Legislative Scrutiny of the Active Travel (Wales) Act 2013
Welsh Conservatives debate - School Standards
United Kingdom Independence Party Debate - Upland Livestock
Short Debate: Improving our democracy and political debate: Why Wales must lead the way in creating and delivering a kinder politics
That's it from the Siambr for today.

Senedd Live returns on Tuesday 25 September.

'Build on my dad's legacy'

Jack Sargeant says he "entered this Assembly during the hardest of times for me and my family.

"Back then, I pledged to my constituents, people in the Labour Party and indeed to people across Wales, that I would play my part in delivering a kinder politics, and build on my dad's legacy.

"He embodied kinder politics with his ability and willingness to never be a bystander and always strive to work cross party. He called out bullying when he saw it and supported people through their difficulties.

"I intend to do the same. To build a kinder politics, not just in politics itself, but kindness in life too."

His father Carl Sargeant was found dead in November, four days after being sacked from the Welsh Government amid allegations of inappropriate behaviour towards women.

'Creating and delivering a kinder politics'

The topic chosen for the Short Debate by Jack Sargeant (Alyn and Deeside) is "Improving our democracy and political debate: Why Wales must lead the way in creating and delivering a kinder politics".

'New model of support for land managers'

Rural Affairs Secretary Lesley Griffiths urges people to respond to the consultation on Support for Welsh farming after Brexit, which closes at the end of October.

She proposes that the entire UKIP motion is deleted and replaced with:

1. Believes the result of the Brexit referendum and resulting trade challenges for Welsh upland agriculture mean we must look to the future, not the past, in developing a new model of support for land managers.

2. Notes the results of various scenario planning exercises for post-Brexit agriculture in Wales, all of which predict a difficult future for sheep farming in the uplands should the UK leave the single market and customs union.

3. Supports the Welsh Government's intention to create a programme, to include upland farmers, addressing the issues noted above with two large and flexible schemes: an Economic Resilience scheme and a Public Goods scheme.

'Adequate support whilst building on high animal welfare and environmental standards'

Plaid Cymru's Llyr Gruffydd criticizes UKIP for being "irresponsible for using such inflammatory language" in its motion.

He reiterates that Plaid Cymru supports remaining in the EU as a means of retaining single market status but, in the event of leaving the EU and losing single market membership, calls on the Welsh Government to provide upland sheep farms with "adequate support whilst building on high animal welfare and environmental standards".

'Achieve a greater return'

Conservative Andrew RT Davies - who once described himself as "19 stone of prime Welsh beef" - encourages the Welsh Government to work with the UK Government "to secure a change in the distribution of the promotional levy income and, by doing so achieve a greater return, particularly for the Welsh sheep industry and Hybu Cig Cymru, the organisation responsible for the development, promotion and marketing of Welsh red meat".

The topic chosen by UKIP for their debate is upland livestock.

David Rowlands proposes that the National Assembly for Wales:

1. Believes that sheep, which have previously been referred to as woolly maggots, should be returned to Welsh hillsides.

2. Regrets that the decision to remove grazing rights from the Welsh uplands has resulted in huge damage to the Welsh uplands, wildlife and general environment.

3. Calls on the Welsh Government to remove any incentives that encourage the removal of livestock from upland areas and, instead, provide incentives for those areas to be repopulated with livestock

'Don't ignore the positives in this summer's GCSE results'

Education Secretary Kirsty Williams calls on AMs "not to ignore the positives in this summer's GCSE results", but instead to welcome:

a.that the proportion of pupils being awarded top grades at A*-A in GCSE and A-levels has increased;

b.an increase of 50 per cent in the number of entries for GCSE Science, with more entries gaining A*-C;

c.an increase in A*-C in GCSE Mathematics and Mathematics-Numeracy when recognising best outcome obtained by 16-year-olds across November and summer series; and

d.that 76.3 per cent of A-Level pupils gained A*-C, the highest since 2009.

UKIP's Michelle Brown refers to the chief inspector of schools' comment that major steps forward in Welsh education will not be seen until reforms are fully in place after 2022.

Estyn boss Meilyr Rowlands said parents would not see significant improvements until a new curriculum is rolled out.

Michelle Brown expresses concern over the "stagnation until 2022".

In the most recent international Pisa tests, Welsh pupils scored lower than those in any other part of the UK.

'Attract a highly skilled workforce'

Llyr Gruffydd proposes the Plaid Cymru amendments, which call on the Welsh Government to provide "enough investment in education to ensure that the whole education workforce receives sufficient training of a high standard" and "to ensure that the pay and conditions on the whole education workforce attracts a highly skilled workforce".

GCSE attainment of A*-C grades 'the worst since 2005'

The topic chosen by the Welsh Conservatives for their debate is school standards.

Suzy Davies proposes that the National Assembly for Wales:

1. Regrets that the GCSE attainment of A*-C grades in Wales for summer 2018 were the worst since 2005.

2. Expresses concern over school standards, given the number of Welsh schools placed in special measures by Estyn and in receipt of warning notices from Welsh local education authorities.

3. Calls on the Welsh Government to invest more in education to address the funding gap per pupil between England and Wales.

Two recommendations rejected

Economy Secretary Ken Skates sets out the response by the Welsh Government to the post legislative scrutiny report of the Active Travel (Wales) Act 2013.

The response can be seen in full here.

Two recommendations are rejected, including that "as the Board should be monitoring progress on the Action Plan, membership should not include members of the Welsh Government, or their officials".

The Welsh Government says that "the presence of the Cabinet Secretary and Welsh Government officials was essential for meaningful exchange and collaboration across partners to support implementation of the Active Travel Act and increase levels of active travel in Wales."

'Quite depressed' reading Welsh Government's response

Lee Waters says he was "quite depressed" reading the Welsh Government's response to the report as it "makes you think they are doing it all, they've got it cracked".

He says, "the first rule of change is acknowledging where you're failing".

'Gone backwards by some measures'

Plaid Cymru's Adam Price says there was "widespread consensus" among AMs about the Active Travel (Wales) Act 2013, but "the implementation is the problem", adding "we've gone backwards by some measures".

'Leadership from Welsh Government should be strengthened'

Committee chair Russell George (Montgomeryshire) presents the report which has 24 recommendations.

The first recommendation is that "the Committee considers a lack of strategic leadership at both Welsh Government and local authority levels to be responsible for the lack of progress made to date. The ambition of the Act cannot be realised through the actions of a few dedicated cycling/transport officers alone. Leadership from the Welsh Government should be strengthened, and it's expectation of leadership at local level made clear".

Post Legislative Scrutiny of Active Travel (Wales) Act 2013

Labour AMs acknowledge concern about safety

Two Labour AMs, Jane Hutt and Julie Morgan, acknowledge concern among the public about the safety of the controversial scheme to dump mud from a nuclear plant off the coast of Cardiff.

Cardiff North AM Julie Morgan asks why the site was chosen "when its only two kilometres from the shore", and what the benefits to South Wales were.

"There is concern about the safety in Cardiff," she says. "We should do all we can to explore to whatever ends we can to if necessary reassure people, if it is safe.

"I'm anxious that any further scientific evidence that could be obtained is obtained," she says.

Vale of Glamorgan AM Jane Hutt questions the lack of an environmental impact assessment (EIA), and says constituents had raised concerns about "inadequate sampling of deeper layers of mud".

Energy firm EDF, which is behind the £19.6bn plan to build Hinkley Point C, and Natural Resources Wales, insist the mud has been fully tested to internationally agreed standards.

'Ongoing legal challenge'

Cabinet Secretary for Energy, Planning and Rural Affairs Lesley Griffiths says she is unable to comment on the marine licence for the dredging and deposit of material from Hinkley Point C due to an ongoing legal challenge.

Topical Question: Hinkley Point mud

Neil McEvoy (South Wales Central) asks: "Will the Cabinet Secretary support the scientists seeking answers from Magnox Ltd as to the number and extent of cooling pond accidents at Hinkley Point A that could have resulted in significant amounts of uranium and plutonium in the mud being dumped by EDF in Cardiff Bay?"

About 300,000 tonnes is to be dredged from the seabed near the building site and deposited in the Cardiff Grounds, a mile off the coast of the Welsh capital.

Image caption: The new Hinkley Point C is being built by EDF at a cost of nearly £20bn

Carwyn Jones has said there is "potential" for a fresh referendum on Brexit, but only if a general election is held and the result is inconclusive.