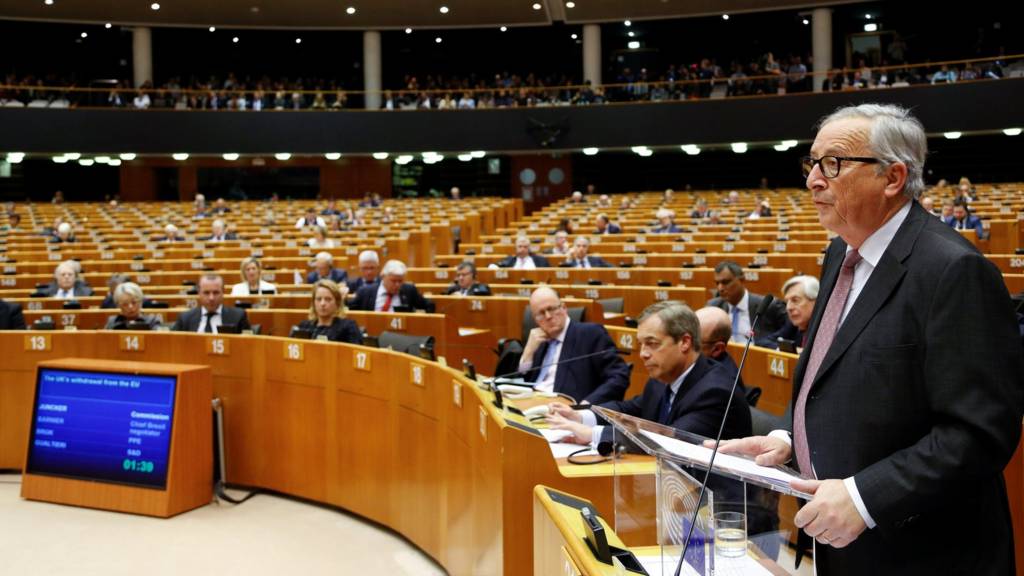 MEPs react to Brexit votes
A guide to how European Parliament plenary sessions work is available here.
Summary
MEPs debated call from UK Parliament for Brexit deal to be renegotiated
Michel Barnier told them Irish border backstop plan cannot be changed
MEPs also debated alleged breaches of the EU's core values in Hungary
Earlier: Speeches marking International Holocaust Remembrance Day
However, that's where we leave our coverage of the European Parliament for today.

MEPs' next plenary sitting is next month, between the 11-14 February.

MEP: Hungary would not even get into EU today

Debate on Hungary

European Parliament

Brussels

Luxembourg centre-right MEP Christophe Hansen says Hungary would "not even meet the accession critieria" if it applied to join the EU today.

The list of EU values it has breached is "long and well known" and "action" is now required, he says.

He suggests that reducing or suspending EU funds could be used as a "backstop" to ensure EU fundamental values are accepted.

MEP: Orban 'in battle with EU institutions'

Debate on Hungary

European Parliament

Brussels

A Hungarian Green MEP, Benedek Javor, says the rights of Hungarian citizens have been undermined over the last ten years.

Viktor Orban, he says, is engaged in a "battle against the European institutions" - and calls on the EU to take the matter seriously.

German Christian democrat Ingeborg Grassle says Hungary has problems with fraud, corruption and public procurement.

She says things have been "getting worse since 2012" and this "cannot be tolerated in a European country".

Hungary 'is stalling for time' - Dutch MEP

Debate on Hungary

European Parliament

Brussels

Dutch Green MEP Judith Sargentini says things in Hungary "have only got worse" since the European Parliament called for action last September.

Ms Sargentini was the lead MEP - or 'rapporteur' - who drafted the assembly's report which called for disciplinary measures to be taken.

Since then the CEU has left the country, homelessness has been made illegal and a new court has been set up that is overseen by the justice minister, she says.

She says Hungary is "stalling for time" over the prospect of disciplinary proceedings, and calls on Romania - which recently took over the EU's rotating presidency - to "start a real process".

Hungary and the EPP group

Image caption: Manfred Weber has led the EPP group since 2014

MEPs belonging to Mr Orban's Fidesz party sit in the centre-right EPP group, which has come under pressure to kick them out.

The EPP group eventually decided to vote against the Hungarian government in September, calling for disciplinary action to be taken.

However MEPs from Forza Italia, some Bulgarians, a few Germans and others gave their backing to Viktor Orban – along with most British Conservative MEPs.

Despite this, the EPP's group's German leader, Manfred Weber, has obtained Mr Orban's support for his bid to be the next president of the European Commission.

MEP: Stop the 'combat' with Hungary

Debate on Hungary

European Parliament

Brussels

Hungarian MEP Tamás Deutsch, from the governing Fidesz party, accuses the European Parliament of wanting "combat" with Hungary ahead of this May's European elections.

He says the debate today has only been added to the agenda at the request of the "left-wing liberal majority" in the assembly.

He accuses the European Parliament of wanting to deprive member states of their rights to protect their borders and wanting to "beat Hungary over the head".

EU 'determined to make best use of powers' - Timmermans

Debate on Hungary

European Parliament

Brussels

European Commission deputy chief Frans Timmermans tells MEPs that the EU still has concerns about corruption, the treatment of Roma and changes to the judiciary in Hungary.

The Commission, he says, is "determined to make best use" of its powers to instigate disciplinary proceedings against countries not respecting EU values.

On the move of Central European University to Vienna, he says it is unprecedented in the history of the EU that an academic institution has been "forced to leave" its host country.

However, he says the European Parliament has not yet had a chance to have the disciplinary action it proposed discussed by EU leaders.

MEPs debate respect for values in Hungary

MEPs have now been joined by Frans Timmermans to debate EU concerns about alleged breaches of the EU's core values in Hungary.

Last September, the European Parliament called on the EU to take unprecedented disciplinary action against the country over attacks on the media, minorities, and the rule of law.

Hungarian Prime Minister Viktor Orban accused the MEPs of "blackmail" and "serious factual misrepresentations".

Further action under the procedure requires the support of the other national governments.

MEPs start debate on violence against politicians

That's the debate on Brexit finished.

Next up this afternoon is a short debate about the "climate of hatred and physical violence" against elected politicians.

Pawel Adamowicz, the liberal mayor of the Polish city of Gdansk, died earlier this month after being stabbed at a charity event.

Left-wing Italian MEP Eleonora Forenza and her assistant were attacked by an Italian far-right group in Bari in September last year.

Farage: EU 'have humiliated' Theresa May

Brexit debate

European Parliament

Brussels

Former UKIP leader Nigel Farage says the chances of a second referendum have decreased, but the chance of the UK leaving without a deal have gone up.

He says this is because of the way EU politicians have been talking about the UK, and accuses them of "humiliating" Theresa May.

He adds that "many" in the UK will conclude that "we're dealing with fanatics".

Current UKIP leader Gerard Batten, who recently switched to the anti-EU ENF group in the Parliament, says the "best thing that can now happen" is for the UK to leave without a deal.

If the UK Parliament stops this from happening, this will have "profound consequences" for faith in British democracy, he adds.

Reaction from EU was 'inevitable'

Brexit

The BBC's Europe correspondent, Damian Grammaticas, says that both Jean-Claude Juncker and Michel Barnier say the deal was agreed with the UK government, and is not up for renegotiation.

But, both have said that they are up for more discussions, and are "trying to persuade UK MPs" to come round to the deal.

BBC chief political correspondent Vicki Young says that this kind of reaction from the EU was "inevitable".

"Are they just coalescing and agreeing around a fantasy?" she asks of the Conservative party, "it makes them feel good, but what is going to happen when reality bites?"

She says that arrangements and legal additions to the backstop may not be enough to some Brexiteers when the next round of votes take place in two weeks' time.

"We know there are dozens of ministers willing to resign" over preventing a no-deal Brexit, she says - and 14 February, when the next votes are due to take place, could prove to be "high noon".

Green MEP: 'Will of British people has changed'

Brexit debate

European Parliament

Brussels

Green MEP Molly Scott Cato tells MEPs that the "will of the British people has changed".

She says a "majority" of UK citizens believe their future is best served inside the EU, and a chance to stay in "must be given back to the people".

Left-wing GUE group leader Gabriele Zimmer says her group will be standing behind "the withdrawal agreement as negotiated".

She says she hopes that talks between Theresa May and Jeremy Corbyn will inject "some movement into the situation".

Verhofstadt: MPs have not given May 'clear mandate'

Brexit debate

European Parliament

Brussels

Belgian Guy Verhofstadt, who is the Parliament's chief Brexit spokesman, says the UK Parliament has not given a "clear mandate" to Theresa May.

He repeats a line he has used previously, that Brexit has become a problem for the whole EU having previously been a "cat fight within the Conservative party".

He calls on Theresa May and Labour leader Jeremy Corbyn to "discuss content" during their meeting today rather than just "eating biscuits and drinking tea".

Watch: Barnier rejects alternative arrangements to backstop

Tory MEP: There is now 'clearer road ahead'

Brexit debate

European Parliament

Brussels

Ashley Fox, who leads the British Conservative MEPs, says now is "not a moment for rhetoric".

Last night's votes in Westminster mean there is now a "clearer road ahead if we choose to take it", he says.

He says that the "backstop in its current form" will not avoid a hard border but will create it if it means a deal cannot be agreed.

Reapeated "ad neasum" that the deal cannot be amended will not avoid this outcome, he says.

He calls for talks to explore whether "time limits and exit mechanisms" can provide a way out of the dispute over the backstop issue.

Watch: Juncker calls for clarity from MPs

Gualtieri: EU has already conceded on backstop

Brexit debate

European Parliament

Brussels

Another member of the steering group, Italian social democrat Roberto Gualtieri, says the "risk of no-deal has increased".

He says replacing the backstop with so-called 'alternative arrangements' is "not a workable option".

He says it is also worth pointing out that the EU has already agreed to change its original backstop proposal, to allow the whole of the UK to stay in a customs union [rather than just Northern Ireland].

This was "not an easy concession", he says. He adds that the only alternative to avoid the need for a backstop is for the UK to ask for a closer relationship with the EU.

German MEP: Backstop 'was British proposal'

Brexit debate

European Parliament

Brussels

The first MEP to speak is German Christian democrat Elmar Brok, who sits on the European Parliament's Brexit steering committee.

He suggests this this is the "third or fourth time" that the UK side has proposed changing the Irish border backstop plan, and "nothing new" has been put forward by MPs.

He adds that the backstop plan was a "British proposal" made during the negotiations.

"You in London have to sit down and talk to each other," he says.