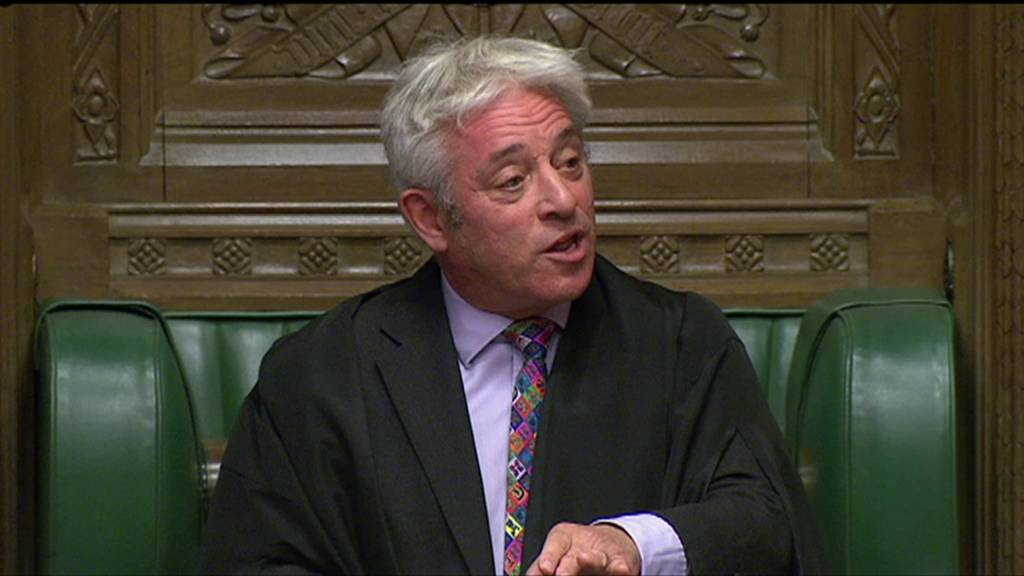 By Chris Morris

Reality Check correspondent, BBC News

House of Commons

Parliament

MPs have finished their business for the day.

But debates on the Queen's Speech are continuing in the Lords.

House of Commons

Parliament

The Commons has now begun an adjournment debate about further education provision in St Austell.

Government publishes Brexit bill

No 10 is pushing for a three-day timetable for MPs to scrutinise the legislation, which could make the PM's deal law.

Here's the Withdrawal Agreement Bill - all 110 pages of it

BBC political correspondent tweets

Withdrawal Agreement Bill presented to the Commons

House of Commons

Parliament

It was only a short moment, but the Withdrawal Agreement Bill that could turn Boris Johnson's deal into law has been presented to the Commons.

Another historic moment to come?

Head of Research Services, House of Lords library, tweets

EU's patience 'tested' in event of amended treaty

Chief political correspondent, the Daily Telegraph, tweets...

Raab makes statement on Harry Dunn

House of Commons

Parliament

The foreign secretary makes a statement about the ongoing case of the 19-year-old, who died after a collision with a car owned by a US diplomat's wife.

Sheppard: Government has a 'Halloween fetish'

House of Commons

Parliament

The SNP's Tommy Sheppard calls on Michael Gove to say "what is he not telling us".

He wants to know why the minister "continues to commit hundreds of civil servants and waste hundreds of millions of taxpayers' money on an objective we have consistently ruled out".

Mr Sheppard says the PM has acted with "all the enthusiasm of a petulant schoolboy" in asking the EU for an extension to Brexit - but he has done it.

So he wonders whether all the planning is based on an expected refusal from the bloc.

The SNP MP also pushes Mr Gove on why 31 October is so important.

"How come this date... has become elevated to extent it has?

"This government has a Halloween fetish. The only reason it matters... is to save face for this prime minister."

He adds: "It is a rum day indeed when the government is more concerned with the vanity of the prime minister than making good legislation."

Trickett: UK 'on edge of precipice'

House of Commons

Parliament

Labour's shadow cabinet office minister John Trickett says a no-deal Brexit would be a "disaster", and the government has put the UK "right on the edge of the precipice".

He asks Mr Gove to keep Parliament abreast of the meetings of his no-deal planning committee - which the minister says will now be daily.

But Mr Trickett also makes a dig at his opposite number.

"The idea was [Mr Gove] tried to avoid such a outcome, rather than make a no-deal possible," he says.

"But his statement today fills me with foreboding.

"It appears [the government] really do think 31 October is a date this House will accept."

He adds: "MPs have repeatedly shown there is no will in this House to turn for a no-deal. It will not happen."

Mr Trickett concludes that the government is trying to "blackmail and bully" MPs into voting for the PM's deal with the threat of no-deal.

Parliamentary Labour Party meet

BBC political correspondent tweets...

Gove: 'Orderly exit put in doubt'

House of Commons

Parliament

Michael Gove says the government "is determined to do everything we can to leave with a deal".

He says the deal negotiated by Boris Johnson "gives this House opportunity to honour the votes of 17.4m people" and allow the UK to leave "on time and in an orderly fashion".

But Mr Gove claims voting for the Letwin amendment on Saturday "put an orderly exit in doubt".

He says officials have told him plans for a no-deal Brexit must now "intensify".

"No-one would be happier than me to turn off those preparations and stand down planning for a no-deal," adds Mr Gove.

"But if we are to be certain... we have to vote for the prime minister's deal."

Gove makes no-deal Brexit statement

House of Commons

Parliament

The Chancellor of the Duchy of Lancaster makes a statement to the Commons about no-deal Brexit planning.

What will happen with Brexit in the next few days?

The British government and the EU have agreed a new Brexit deal, but will it get through Parliament?

Burning the midnight oil?

BBC political editor tweets...

Proposed Brexit bill timetable 'not good enough'

House of Commons

Parliament

The SNP's Pete Wishart expresses his concerns over the government's proposed timetable for the withdrawal agreement bill, which he calls "not good enough".

The draft legislation is expected to run to over a hundred pages, he says.

"How on earth are we going to have the chance to assess that properly?" he asks.

Rees-Mogg confirms attempt to pass Brexit bill in three days

House of Commons

Parliament

Commons leader Jacob Rees-Mogg makes a statement on the parliamentary timetable for this week.

He confirms that the government will try to pass all stages of the Withdrawal Agreement Bill (WAB) in the Commons this week, before the end of the scheduled sitting on Thursday.

That will start with the second reading of the bill tomorrow, he confirms.