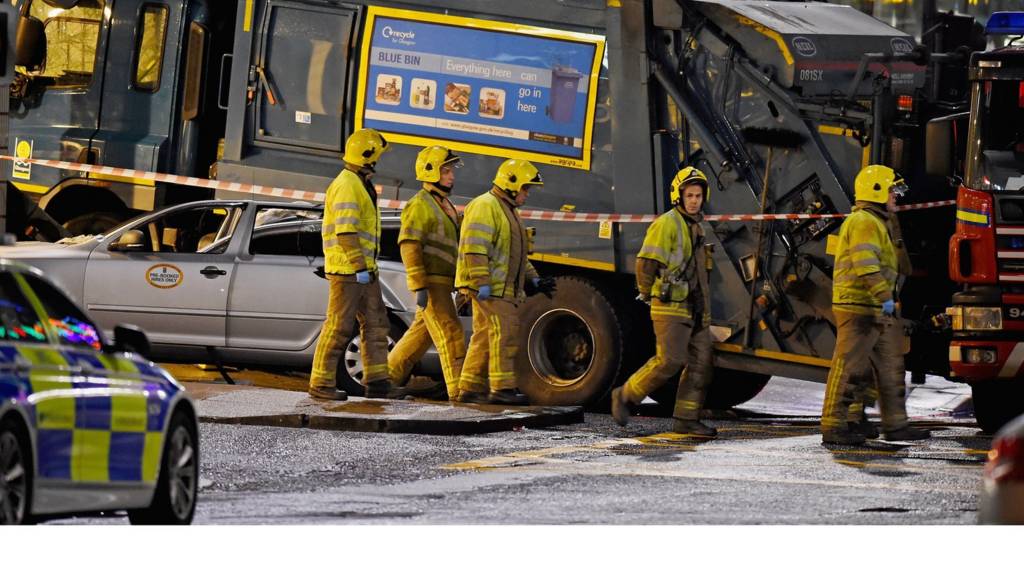 Rachel Grant

BBC Scotland news

That is all for today's Scotland Live.

Join us again from 07:00 on Tuesday.

Reporting Scotland is on BBC One Scotland.

Cromarty Firth harbour plan thrown out

Plans to have been thrown out by the Scottish government.

Global Energy Global - who own the Nigg Fabrication Yard - wanted their own harbour and had applied for a Harbour Revision Order last year.

BBC Scotland Weather

Latest

BBC Scotland Weather tweets: "Hi all, Gillian here. Cloudy & breezy tonight, with outbreaks of rain, heaviest Argyll, NW H'lands and N&W Isles. Drier in East. Mild, 6-8C."

Warmer seas could change North Sea catch

Fishing in the North Sea is likely to change as the water temperature warms over the next 50 years, a study suggests.

Fish such as haddock and cod will decline as the North Sea warms by a predicted 1.8 degrees, according to the report published in the journal Nature Climate Change.

But other species such as John Dory, red mullet, sardines and squid could shift their range into UK waters.

Consumers wishing to eat locally-caught fish will need to change their diet, say researchers.

Airport firm in talks bid to prevent further strikes

Talks are to be held in a bid to prevent further strike action at Scottish local airports.

A 48-hour walkout was staged by security staff at 11 airports operated by Highlands and Islands Airports (Hial) last week as part of the industrial action, which saw flights cancelled at Dundee airport.

Hial bosses said they would make a formal offer to "resolve this issue as quickly as possible".

Anti-Islamic graffiti on gurdwara condemned

The Scottish government has condemned those who wrote in Glasgow.

Members of the Sikh community discovered the green paint with the Islamaphobic message next to a Nazi swastika sign.

Alex Neil, cabinet secretary for social justice, communities and pensioner's rights, said: "There is no place in Scotland for the religious hatred and intolerance that we have seen expressed in the graffiti on the gurdwara.

"Acts like this only reveal the ignorance of a few individuals who do not respect or appreciate Scotland's rich diversity. We will not let them speak for us."

Fatal campsite crash driver found guilty

A man has been found guilty of causing the death of a pensioner by driving dangerously with his girlfriend sitting on his knee.

Nathaniel Cooper was teaching Kylie Johnston how to drive when the couple lost control of his car and crashed into Andrew MacKay at East Balthangie campsite in July 2013.

Cooper, 30, of Inverbervie, was found guilty following a trial, while Johnston, 26, pled guilty to the charge.

Loch Ness group targets wind farms

A campaign group has been set up to around Loch Ness.

Save Loch Ness says more than 30 miles (48km) of wind turbines are either in the pipeline or already approved on land around the loch.

The group wants all wind farm developments in the Loch Ness area to be stopped.

Andy Coulson perjury trial date put back

Andy Coulson, the former editor of the News of the World, is to stand trial in Scotland on a charge of perjury next month.

His trial had been due to begin at the High Court in Edinburgh next week, but new date of 11 May was fixed at a preliminary hearing.

The charge relates to the trial of socialist politician Tommy Sheridan and his wife Gail at the High Court in Glasgow in December 2010.

European record

@Team_Scotland

Team Scotland tweets about Jo Butterworth's efforts at the SA Throws and Jumps Grand Prix in Livingston: "Athletics: Huge congrats @Jo_shuni - European record of 20.03 in F51 club at Scottish Athletics Throws GP Livingston!"

Boys' golf crown for Porter

Carnoustie golfer Will Porter is "over the moon" to be crowned 2015 Scottish Boys Champion.

The 17-year-old defeated Bathgate's Ross Callan 4 & 3 in the 36-hole final in Dunbar on Saturday.

"It's cool to be on the winner's list with some good names," said Porter.

"I've looked at what Ewen (Ferguson) and Bradley (Neil), the past two Scottish Boys winners have since achieved, and that can only give me confidence."

Bearsden's Ferguson won in 2014, while Blairgowrie's Neil, who competed at the Masters in Augusta, was the 2013 champion.

Major fire at former Dundee hospital

Fire crews are battling a blaze at the old Strathmartine Hospital building in Dundee.

Firefighters were called at about 14:00 after the fire broke through the roof of the hospital, which has been disused since 2003.

Two appliances from the McAlpine Road fire station and two from Blackness Road were sent to the scene.

The blaze has caused extensive damage to the roof of the property. It is not yet known if there are any injuries.

Married Murray to begin clay season

Russell Fuller

BBC tennis correspondent

The newly married Andy Murray will fly out to Barcelona within the next 72 hours to begin his preparations for the clay court season.

But Murray's prospective new assistant coach Jonas Bjorkman won't be able to join him for at least another week, as the 43-year-old has made it through to this weekend's semi-final of Sweden's version of Strictly.

Season-ending injury for Scott

Edinburgh and Scotland centre Matt Scott has been ruled out for the rest of the season after undergoing surgery on a shoulder injury.

His club says it is too early to say how it might affect his availability for the Rugby World Cup in September.

Scott has had injuries to both shoulders in the past year and missed the start of the season after surgery.

The 24-year-old's latest injury, to his left shoulder, was picked up in the final game of this year's Six Nations.

Student goes missing after night out

Police want to trace a man who was seen speaking to a student who went missing from a Glasgow nightclub.

Karen Buckley, 24, disappeared from Sanctuary nightclub on Dumbarton Road on Saturday night.

Copyright: Police handout

At about 01:00 she told friends she was going to the toilet but did not return or take her jacket.

She was then seen on CCTV talking to a man outside the club, before leaving and walking towards Church Street.

Police are particularly keen to speak to the man seen in conversation with the 24-year-old, who they believe may be able to help with their inquiries.

Ford backs swift Edinburgh recovery

Hooker Ross Ford knows Edinburgh must correct flaws in their game in order to beat Newport Gwent Dragons in Friday's European Challenge Cup semi-final.

The Murrayfield side lost 34-3 at home to Munster on Saturday in the Pro12.

Image caption: Ross Ford

"The weekend was not ideal by any stretch of the imagination but we know we're a good team when we perform well," Ford told BBC Scotland.

"We've got an opportunity to go out and train and rectify the things that need to be done."

Alan Solomons' Edinburgh side triumphed 23-18 at London Irish to secure their place in the last four of the competition.

Car clocked speeding at 130mph

Two men have been reported to prosecutors after a police speed check detected a car travelling at speeds of about 130mph in the Highlands.

Police said the car was spotted on the A832 near Achanalt at about 12:55 on Sunday.

A 40 year-old man has been reported to the procurator fiscal in connection with driving offences and a 36-year-old man, said to be the owner of the car, was also reported.

Police said the car was being used on the road without insurance and an expired MOT.

'Despicable' cancer centre break-in

A would-be thief has attempted to from a cancer support centre in Inverness.

Copyright: Maggie's Highlands

Authorities have described the incident at Maggie's Highlands Centre, near Raigmore Hospital, as "despicable".

A safe was stolen but it was recovered after the male suspect was disturbed by two security officers at about 00:10 on Sunday.

The suspect was seen leaving the area on a black and grey mountain bike, heading towards Culcabock Road.

A crowd of about 200 protestors have gathered at Faslane naval base. They've been spread between the two main gates here.

We're at the south gate and police, so far, have taken a step back and allowed the protestors carry on with their demonstration.

But just a five-minute drive from here, police officers with specialist cutting equipment have begun to try to free some of the protestors who have blockaded themselves across the road and chained themselves to each other.

That's a slow process at the moment and is taking about 40 minutes; and in one case two and a half hours just to release one person from this chain.

Police Scotland say they've made about 15 arrests.

Rowing boats destroyed by vandals

Vandals have destroyed rowing boats brought to a regatta in Dumfries by a visiting club from Aberdeen.

They were parked on a trailer at the Nithsdale Rowing Club on Nith Avenue overnight between Friday and Saturday.

Police said three boats had been damaged - two of them beyond repair - and the cost to replace or fix them would be about £6,000.

Scottish swimmer Michael Jamieson: First time racing in London since 2012! British Champs & World Champ qualifiers start tomorrow!

Copyright: Michael Jamieson

Death risk over life ring thefts

The theft of life rings from river banks in Stirling could have "potentially fatal consequences".

Stirling Council fisheries staff have reported a sharp increase in the number of life preservers going missing from river banks around the city.

Some of the rings have been replaced four times in as many weeks.

Copyright: Stirling Council

Trident - Your views

Text using 80295

Anon: The anti-nuclear crowd doesn't quite understand that nuclear disarmament only works if it's everyone who is disarming. The last country who gave up its nuclear weapons was invaded by Russia.

Man jailed for Burntisland murder attempt

A knife attacker who tried to murder a man weeks after he was freed from prison has been given an indeterminate jail sentence.

Craig Donaldson, 31, admitted attempting to murder Patrick Feeley on 23 April 2014 at a house in Somerville Street, Burntisland, in Fife,

Donaldson stabbed Mr Feeley in the neck following an argument.

The judge ordered he must serve three years and nine months in jail before he can apply for parole.

Arrests at Faslane naval base

Police Scotland have made 15 arrests as an estimated 200 protestors take part in today's 'scrap Trident' campaign at the Faslane nuclear base on the Clyde.

Police are continuing to cut people free who've chained themselves across entrances.

More protestors have chained themselves to each other across the south gate as police with cutting equipment work to free the others.

'Reducing the welfare state'

Suzanne Allan

BBC Scotland

Scottish Conservative Party leader Ruth Davidson, campaigning in Edinburgh, said only her party could deliver on the key issues facing the country.

She said: "The SNP and Labour like to claim they represent Scotland. But when it comes to reforming welfare, bringing back powers from the EU, on public spending, immigration and - most importantly - on keeping our UK together, it's the Scottish Conservatives which best represent the majority view.

"The facts bear it out: the Scottish Conservatives stand with Scotland."

Ms Davidson added: "We've been very clear about where we need to have further spending reductions in terms of cutting the costs of government going after aggressive tax avoiders and, yes, reducing the welfare state.

"You know we want to be spending less on welfare because we want more people in work and not having to ask for welfare".

is dominating the start of the third week of the election campaign in Scotland.

The Scottish Lib Dems said they would "balance the books" while the SNP outlined its support for businesses and Scottish Labour promised an end to austerity.

Vandals target Clackmannanshire church

Vandals have caused hundreds of pounds worth of damage at Tillicoultry Congregational Church.

Furniture, a wall and play equipment were smashed in the garden at the rear of the High Street church between Tuesday and Friday of last week.

Two boys aged between 11 and 15, one with short red hair and the other with collar-length black hair, were seen within the play area around the time it happened.

New album makes Lulu want to shout

Scottish singer Lulu is celebrating 50 years in show business with a UK tour and new album that she has written with the help of her younger brother.

Lulu told BBC Breakfast about the making of her first album in 10 years, Making Life Rhyme.

Who will call the shots in a hung Parliament?

Martin Rosenbaum

Editor, Radio 4's Campaign Sidebar

With numerous parties expected to win seats, it is not easy to check all the permutations for forming a coalition or how a minority government could get its legislation through.

But mathematicians have a tool for working out how power is distributed under such circumstances: it's called the Banzhaf Power Index.

Click here to read the full story.

Man's body found in Portsoy

The body of a 36-year-old man has been found at a property in an Aberdeenshire village.

Police said "unknown substances" were also found at the address in Portsoy, but they were of no risk to the public.

Emergency services were called to the residential property in Soy Avenue at about 23:00 on Sunday.

Specialist teams from the Scottish Fire and Rescue Service and the Scottish Ambulance Service also attended.

Dragons target Edinburgh win

Newport Gwent Dragons head coach, Kingsley Jones, says his side will "give it everything" at Edinburgh in Friday's European Challenge Cup semi-final.

His promise came after Dragons beat Pro12 title holders Leinster at home on Sunday, going down 22-8 with 30 minutes left on the clock before fighting back to secure a stunning 25-22 victory.

Edinburgh go into Friday's meeting having been humbled 34-3 at home to Munster in the Pro12.

Rangers boss: 'We can still do better'

Rangers boss Stuart McCall has urged his side to cut out sloppy mistakes as they head for a "thrilling" Championship season finale.

They beat Raith Rovers 4-0 on Sunday to stay third, behind Hibernian on goal difference. Whoever finishes second will face one fewer play-off games.

"I think we can still do better," McCall told BBC Radio Scotland.

"I thought there were periods in the second half where, because it was 2-0, we were a bit sloppy and casual."

Election - Your views

@bbcscotlandnews

Euan Anderson: Hung UK Parliament: Looks increasingly likely SNP will call shots, as long as Scots back them in big numbers forecast @BBCScotlandNews #SNP

Adventurer ready for North Pole rugby

Dumfries-born polar adventurer Jock Wishart is about to embark on his latest challenge.

Three years after rowing there, he will trek to the Magnetic North Pole with 14 rugby players.

Their aim is to play the most northerly game of rugby sevens in the sport's history in temperatures that could reach minus 50 Celsius, in a bid to raise £300,000 for Wooden Spoon, rugby's charity for children.

The team will haul 60kg sleds with all their kit, players will trek 12 hours a day for six days, on a 100 mile trek from Resolute Bay to the magnetic pole.

As well as being physically and mentally ready, he said the players needed to respect the hostile environment.

"We would rather they be scared than be over-confident," he said.

"Because once you are scared then you listen and once you listen then you achieve."

Anti-Trident protesters continue Faslane blockade

Police have been using cutting equipment to release anti-Trident protestors who have blocked the south gate into the Faslane base.

The blockade, which is part of a series of events organised by Scrap Trident, is due to last until 15:00.

It is aimed at focusing attention on the UK's nuclear deterrent in the run up to next month's general election.

Groups of protesters chained their hands together inside pipes ahead of the shift change at the base.

The protestors say they want to see the Trident system of submarines - which each carry 40 nuclear warheads - scrapped and the money used instead for humanitarian work and peacekeeping.

Trident is up for renewal in 2028 and decision on its future is due in 2016. The Conservatives and Labour say they're committed to renewing the fleet, but the SNP and Greens want to see it scrapped.

The Liberal Democrats have suggested reducing the number of submarines from four to three.

Scotland not exempt from cuts - Labour

Labour's Ed Balls has told the BBC he could not guarantee that Scotland would be exempt from spending cuts if he became the next Chancellor.

But he said he believed policies such as the proposed tax on properties worth more than £2m would benefit Scotland.

Mr Balls was speaking to BBC Radio 4's Today programme ahead of his party's manifesto launch.

The SNP's John Swinney said the "revelation" demolished Labour's Scottish campaign strategy.

Airport passenger numbers soar

The number of passengers travelling from Glasgow and Edinburgh airports showed a large increase in March.

Glasgow reported 606,117 people travelling through the airport last month, a 14% increase on the same period in 2014.

Edinburgh Airport reported a 6.8% rise, to 791,975 passengers.

For Glasgow it was the airport's 25th consecutive month of growth and its busiest March in seven years. International traffic grew by 22.3%.

This was mainly because of strong demand for European destinations, the airport said.

Lib Dem pledge on NHS funding

Willie Rennie says the NHS in Scotland would benefit from £800m through the Lib Dems' economic plan.

Speaking during a visit to manufacturing company in Kirkintilloch with candidate Jo Swanson, the Scottish party's leader said: "It's because our plan to balance the books is one with a heart as well a brain.

"The Conservatives want to cut too much, taking us back to 1960's levels of public spending. The SNP want to borrow even more than Labour, recklessly putting at risk the decent funding of public services.

"Liberal Democrats have been first out the blocks in setting out how we would deal with the deficit."

SNP: Borrowing to increase

Reevel Alderson

BBC Scotland's social affairs correspondent

SNP leader Nicola Sturgeon has admitted the party plans to increase borrowing over the next five years, in contrast to proposals from the main UK parties.

Speaking at the launch of the SNP's business manifesto, Ms Sturgeon said the Nationalists proposed modest spending increases which would permit a reduction in the deficit, whilst also allowing investment which would help grow the economy.

Labour's devolution pledge

David Porter

Westminster correspondent

Labour leader Ed Miliband has pledged to widen and deepen devolution throughout the UK.

Launching the party's election manifesto in Manchester, Mr Miliband pledged that a future Labour government would implement the Smith Commission's package of further devolution to Scotland.

The party says it would also give 16 and 17-year-olds the vote and would replace the House of Lords with a Senate of the Nations and Regions.

Anti-Islamic graffiti on Sikh temple

Anti-Islamic graffiti has been written on the wall of the new Central Gurdwara in Glasgow.

Copyright: Glasgow Gurdwara

Members of the Sikh community discovered the green paint with the Islamaphobic message next to a Nazi swastika sign.

The graffiti was discovered two weeks ago and the Gurdwara decided to publicise the incident following the community meeting.

Police Scotland said it was aware of the graffiti.

Holidaymakers lose millions

British holidaymakers were conned out of £2.2m last year through internet-based scams, according to a report by the National Fraud Intelligence Bureau.

Criminal groups have targeted online booking firms in order to swindle money from unsuspecting customers, with one man losing about £60,000 in a bogus timeshare deal.

Speaking on BBC Scotland's Good Morning Scotland programme, Roddy MacPhee, from travel association ABTA Scotland, said: "The scammers have become very adept at cloning what looks to be a very genuine website.

"Customers need to be extremely careful and I would always recommend that people book via an ABTA travel agent.

"We've seen a swing back from the initial move to the internet as people have recognised that there are dangers and inconveniences when booking online."

Fatal bin lorry crash probe

Catriona Renton

BBC Scotland

The scope of the fatal accident inquiry into the fatal bin lorry crash in Glasgow on 22 December has been set out.

The solicitor general, Lesley Thomson, wants it to focus on three main areas:

the driver, his medical background and fitness to hold a licence
the vehicle itself and whether there could have been measures or interventions to bring the vehicle to a controlled stop
the appropriateness of the route the lorry took; time of day, week and year will also be examined.

Lawyers for the families of the victims, the driver, the DVLA and Glasgow City Council were present.

The inquiry is due to start on 22 July and expected to last four weeks. The Crown believe they will be ready to proceed.

The other parties say they will need to see productions and reports before they can advise if they are ready. Another hearing is scheduled for 18 May.

SNP hold pre-election lead - poll

More than half of adults in Scotland who are certain to vote in the general election on 7 May (52%) say they would vote for the SNP, against 24% backing Labour, a TNS poll of 978 adults in Scotland suggests.

The 28-point lead is nearly double last month's figure, when the parties scored 46% and 30% respectively.

The Conservatives scored 13% (down one percentage point), the Liberal Democrats 6% (up three points) and the Greens 3% (down one point).

Support for UKIP in Scotland is "almost negligible", TNS said.

Leaders' debate - Your views

Text using 80295

Ewan Dale, Kiltarlity: This campaign has the women running rings around the men. Jim Murphy is a dedicated representative of the punch and Judy politics of Westminster. I seek compassionate, consensual politics; that was not it.

Tom's view...

@TomEnglishSport

Hibs and Rangers looking over their shoulder; Player of the Year; the untapped potential of the Pro 12.

Read my column here.

Leaders' debate - Your views

Text using 80295

Anon: There is a difference between healthy debate and shouting over your opponents' point of view; or trying to shout someone down.

Body and 'unknown substances' found

The body of a 36-year-old man has been found at a property in an Aberdeenshire village.

Police said "unknown substances" were also found at the address in Portsoy, but they were of no risk to the public.

Emergency services were called to the residential property in Soy Avenue at about 23:00 on Sunday.

Your views: Child vaccinations

Text using 80295

Jack, Glasgow: As with all scientific theory and practice, nothing is 100% absolute but if we consider the complete eradication of at least one terrible disease through the use of vaccinations, saving five million lives alone, we cannot deny this as being a huge medical progression!

Sue, Forres: As an adult with some health issues I do not want to be at higher risk of contracting an illness because I'm surrounded by unvaccinated children. Not to vaccinate is selfish.

Christine, Dingwall: Before mass vaccination, children would be sent to play with others who had measles to catch it, get over it, and strengthen their immune system. Vaccinations are a huge earner.

Grand slam win for Team Muirhead

Eve Muirhead's rink secured their second grand slam triumph of the season by winning the Players' Championship in Toronto.

Image caption: Anna Sloan and Eve Muirhead

Muirhead, along with Anna Sloan, Vicki Adams and Sarah Reid, defeated Russian skip Anna Sidorova's rink 4-2 in Sunday's final.

"It's been a season of inconsistencies but we just really dug in," said Sloan.

"It showed that we are a strong side and that we're here to compete."

Anti-wind farm campaign at beauty spot

A campaign group has been set up to fight against the spread of wind farm developments around Loch Ness.

Copyright: Getty Images / Daniel Sealey / EyeEm

Save Loch Ness has claimed that more than 30 miles of wind turbines are either in the pipeline or already approved for land around the loch.

The group says it has 100 members and more than 2,000 people have signed a petition to the Scottish Parliament.

They want all wind farm developments in the Loch Ness area to be stopped, with remedial work to be carried out on what they have described as "already damaged sites".

About 150 to 200 protestors have been taking part in the demonstration outside the main gates into Faslane naval base.

Dozens have chained themselves together to block the entrances. Police have begun using cutting equipment to release the protestors who've blocked the south gate into the base. One arrest has been made so far.

The protestors say they want to see the trident system of submarines - which each carry 40 nuclear warheads - scrapped and the money used instead for humanitarian work and peacekeeping.

Trident is up for renewal in 2028.

But with a decision being made on its future in 2016, it's become a key election issue. The Conservatives and Labour both say they're committed to renewing the fleet.

However, the SNP and the Greens want to see it scrapped; the Liberal Democrats have suggested they'd keep the nuclear capability, but would reduce the number of submarines from four to three.

Vinyl - Your views

Email: newsonlinescotland@bbc.co.uk

Porty Geoff, Edinburgh: I have a large vinyl collection stretching back 40 years and it's still growing. I recently purchased a 5 Seconds of Summer 45 for my daughter as her first single. Used to just listening on MP3, she was amazed by the sound quality and said it seemed that we were listening to the band live. Is the format dead? Far from it...

'Serious assault' outside pub

A man has been injured in a "serious assault" outside a pub in a Dumfries and Galloway town in the early hours of Saturday morning.

It happened shortly before 01:00 near the Thornhill Inn on Drumlanrig Street in Thornhill.

The 27-year-old man was found with serious facial injuries as a result of the attack.

He was taken by ambulance to Dumfries and Galloway Royal Infirmary for treatment.

The resurgence of vinyl record sales means that, from today, the format will have its own weekly singles and albums charts, published on the Official Charts Website.

Copyright: Getty Images / Nicolevanf

With the arrival of the CD in the 1980s, it was predicted that the 7 and 12-inch black discs would become obsolete but 2015 is set to be the 8th consecutive year marked by increased sales.

Speaking on BBC Scotland's Good Morning Scotland programme, Scottish music journalist John Cavanagh has been discussing the revival. "It seemed to start in New York somewhere around 2006 and the people who wanted turntables were in the 16 to 24 age group," he said.

"There's something wonderful about the sound of vinyl records. It isn't a compromised format like CDs and downloads."

What do you think?

Would you buy a vinyl record? Do you have a cherished vinyl collection at home? Do you still dust them down and get them on the turntable?

Or, has this music format had its day and met its match in the digital format?

Text us on 80295, tweet @bbcscotlandnews or email us here.

Louise White, sitting in for Kaye Adams, is seeking your views on a number of issues today including:

Should there be more pressure applied to get your kids vaccinated?
Does the confrontational style of the TV leadership debates actually get the message across?
We take a look at animal food production and ask how much do people care about where their food comes from?

Listen live to the programme here.

'Get up and go...'

@HannahMiley89

Scottish swimmer Hannah Miley: It's Monday: let's get up and go for it! #motivationalmonday

Your views - leaders' debates

Text using 80295

Ross, Haddington: Politicians? Interrupting each other is a turn off for me. Apart from being impolite, they are putting off women voting. Maybe they like that! It will suit their party. I am fed up with them trying to manipulate us instead of persuading us.

Police identify A7 crash victim

Balls: Spending cuts for Scotland...

@BBCJamesCook

James Cook

Scotland Correspondent, BBC News

Pressure for @edballsmp on @BBCr4today about whether there will be spending cuts in Scotland. "Yes there will be cuts," he says. #ge2015

A look at what's making the front pages in today's papers:

Scottish Sun: A sex offender monitoring chief has sparked fury by claiming paedophiles should be trusted to behave themselves once they are out of jail.

Daily Record: Two children per day are suspended or expelled for drinking or using drugs.

The Scotsman and The Times: Nicola Sturgeon has admitted her government would borrow more money to help make up the funding black hole created by full fiscal autonomy.

The Herald: Ed Miliband will attempt to portray Labour as the party of fiscal competence.

The National: Frankie Boyle and Dame Vivienne Westwood have joined stars demanding the UK scraps nuclear weapons.

Scottish Daily Mail: Record numbers of sex criminals are re-offending within months of being put back on the streets.

For full review, click here.

Time to recognise Queen of the South

@TomEnglishSport

It is fair to say that in the race for the play-offs in the Championship, Queen of the South are flying under the radar, a veritable mile beneath the twin jumbos of Rangers and Hibs.

It's no surprise, given their size that the Ibrox and Easter Road clubs command so much attention, but it's high-time now that James Fowler's team were given the consideration they so richly deserve.

Queens are sitting fourth in the Championship, tucked in behind Hibs and Rangers in the play-off spots and four points ahead of Falkirk with the added cushion of having a game in hand over Peter Houston's team, who they've just beaten 1-0.

In their last three games they have beaten Hibs, Rangers and Falkirk - the two teams directly ahead of them and the one side directly underneath them. They are motoring along serenely while Rangers and Hibs do their split personality routine.

One day Rangers look like they have turned the corner, the next day they don't, the next day they do again.

Read the full article here.

BBC Scotland's Julie Peacock is at the scene of the blockade of the Faslane naval base on the Clyde by anti-nuclear activists.

The Scrap Trident Coalition's Bairns Not Bombs demonstration aims to shut down the base, which is home to the UK's Trident nuclear weapons system.

Image caption: The blockade, which is part of a series of events organised by Scrap Trident, is due to last until 15:00

Image caption: Protesters gathered outside every gate to the base from 07:00 in an attempt to stop workers from entering

Image caption: About 40 police officers were standing in front of the entrance

Your Views - Leaders' debate

Text using 80295

Scotland's main party leaders have met for a third time in five days during, at times, a heated BBC debate.

SNP leader Nicola Sturgeon, Scottish Labour's Jim Murphy, the Conservatives' Ruth Davidson and Willie Rennie, of the Lib Dems all appeared on the BBC's Sunday Politics Scotland show.

You've been giving your reaction:

Peter: The leaders' 'debate' yesterday was a complete and utter shambles.

Laura: That wasn't a "debate" that was a disgrace. I was shouting at the telly, it was so annoying as everyone interrupted.

Ross County boss Jim McIntyre is wary of writing off Premiership bottom club St Mirren and anticipates a reaction from the Buddies in Paisley tonight.

Despite gaining a couple of points on the defending champions, Aberdeen's Derek McInnes still believes this season's title is Celtic's.

Rangers manager Stuart McCall reckons the Ibrox club need to perform better than their display in the 4-0 win against Raith Rovers if they are to secure promotion to the Premiership.

Read what else is making the sporting headlines here.

Your views - leaders' debate

Text using 80295

Peter: Just wanted to say that the leaders' 'debate' yesterday was a complete and utter shambles.

Protestors blockade nuclear base

Anti-nuclear activists are taking part in a blockade of the .

The Scrap Trident Coalition's Bairns Not Bombs demonstration aims to shut down the base, which is home to the UK's Trident nuclear weapons system.

Protesters were due to gather outside every gate to the base from 07:00 in an attempt to stop workers from entering.

The blockade, which is part of a series of events organised by Scrap Trident, is due to last until 15:00.

It is aimed at focusing attention on the UK's nuclear deterrent in the run up to next month's general election.

Gary Robertson

BBC Radio Scotland

Internet scammers con British holidaymakers out of £2.2m. @ABTAtravel Scotland #bbcgms 0745

Listen to BBC Scotland's Good Morning Scotland programme here.

Protestors have begun their protest at Faslane Naval base. Groups have begun chaining themselves together outside the gate ahead of the shift change at the base. About 40 police officers are standing in front of the entrance. Four coach-loads of protestors are expected and between 2-300 people are expected to block the gate.

Sports Direct 'needs power check'

Howard Mustoe

Business reporter

Billionaire Mike Ashley's Sports Direct International has been challenged in Parliament about how the firm is run.

Mr Ashley has been criticised before for the grip he has as a majority shareholder, on the firm - famous for top trainers on the cheap and indestructible oversized mugs.

The Institute of Directors says it has warned already that Mr Ashley holds too much sway and the IoD's senior advisor on corporate governance, Oliver Parry says that there is no "effective check on [Mr Ashley's] power".

Now his firm's handling of the collapse of one of its businesses, fashion chain USC, is also under scrutiny, being described at the Scottish Affairs Committee as "well dodgy".

When approached by the BBC, a spokesman for Sports Direct declined to comment.

Video: SPFL Championship round-up

Jonathan Sutherland

BBC Scotland

Rangers and Queen of the South post wins as the three Championship sides set to face the play-offs is nearly confirmed.

Please note, only available to users in the UK.

To view, click here.

Did you enjoy the bumper weekend of Scottish football action?

Highlights of the games, including's Hibernian's Edinburgh derby win, are available to view here.

Anti-nuclear protest under way

An anti-nuclear protest is getting under way at the Faslane naval base on the Clyde. The Bairns Not Bombs demonstration is attempting to stop workers entering the base, which is home to the UK's Trident nuclear weapons system.

Sex attack on 'taxi' passenger

A 31-year-old woman has been sexually assaulted after getting into a car she believed was a private hire taxi.

The woman was picked up on Candlemaker Row, Edinburgh, near the Greyfriars Bobby's statue, at 03:30am.

She was taken to a layby just past the Hillend Ski Slope, near the Boghall Farm in Midlothian where she was subjected to a serious sexual assault.

She was then left near the Sheriffhall roundabout on the city bypass.

'Rangers control badges' say club

Rangers have reassured fans they are still in control of the club's badges.

It follows claims Newcastle United owner Mike Ashley has the rights to trademarks such as the "Ready" badge and Broxi Bear, the club's mascot.

Ashley's Sports Direct company had been given security over the icons and logos as part of the £5m loan given to the previous board in January.

"Let us be absolutely clear," read a statement. "Rangers remain the rightful and legal owners of their trademarks.

"Interim chairman Paul Murray has clarified this position with Sports Direct. In fact, both parties will come together within the next two weeks for talks."

Election campaign enters third week

Scotland's political parties are entering their third week of formal campaigning ahead of next month's general election.

On Sunday, the four main party leaders clashed on Scotland's finances during a heated BBC debate.

The issue of the economy is expected to dominate the agenda today, as the parties travel the country in search of votes.

Polls suggest there could be a hung parliament following the 7 May vote.

'Touch of frost

@BBCScotWeather

BBC Scotland Weather

Latest

Touch of frost early on, but dry with some hazy sunshine. Patchy rain moving into the south-west during the morning & south-westerly winds freshening. 11/12C. Rain will spread across the west this afternoon, heavy bursts. Some patchy rain for the south. Mainly dry N/E, Caithness & Northern Isles until evening.

Gary Robertson

BBC Radio Scotland

BBC News - Australia to stop welfare cash of anti-vaccine parents. #bbcgms 0715

Listen live to the programme here.

Bars 'hit by new drink-drive limit'

The lowering of the legal drink-drive limit in Scotland has affected business in the hospitality sector, according to a report.

The Bank of Scotland said restaurants and bars were seeing "a changing pattern of spending" because of the new law, which came into force in December.

The comments came in the bank's latest survey of Scottish purchasing managers.

Its PMI report indicated a slight fall in overall service sector activity last month.

Good morning and a warm welcome to Monday's edition of Scotland Live.

News, sport, weather, travel and the latest on the general election campaign; all between now and 19:00.