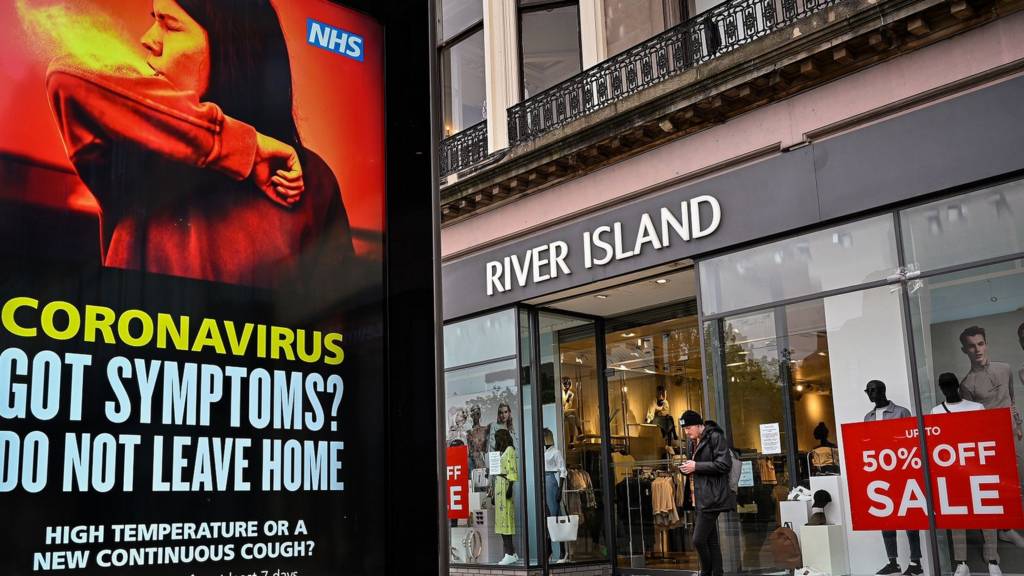 Coronavirus in Scotland - Some shops open & pubs stay shut
Image caption: Outdoor markets will be able to be able to reopen in Scotland on 29 June

That concludes BBC Scotland's live online coverage of the Covid-19 crisis for Thursday.

Live reporting will resume early on Friday.

First Minister Nicola Sturgeon says the conditions in Scotland - including an R number under one - allows the country to move to Phase 2 of lifting restrictions
"Street-access" stores, but not shopping centres, can open from 29 June.
Face coverings will be mandatory on public transport from Monday.
No plans yet for outdoor spaces in pubs and restaurants to open.
Professional sport can resume from Monday - but only behind closed doors.
Factories, laboratories and warehouses will be able to reopen from 29 June - subject to strict safety restrictions.
Those who are shielding now able to go outdoors for exercise and from Friday are able to play golf and take part in other non-contact activities
Those not shielding can now meet with up to two other households outdoors but in a group of no more than eight.
From tomorrow anyone who lives on their own - or only with children - can form an "extended group" with one other household.
Restrictions on moving house will also be lifted on 29 June, with outdoor marriages and civil partnerships allowed.
Bank of England announces £100bn in fresh stimulus to support the UK economy.
At least 130,000 people more than expected have died during the pandemic, the BBC finds.
Two further deaths have been registered overnight in Scotland and 23 people are in ICU with Covid-19.

'We don't want to go backwards like Beijing'

Regarding her cautious approach to reopening the economy and schools, Nicola Sturgeon told Reporting Scotland that "going carefully reaps rewards".

She pointed to the situation in Beijing, which has seen a spike of Covid-19 cases, saying she did not want Scotland to "go backwards".

She also said that new rules for wearing face coverings on public transport "will be law" and therefore mandatory.

This rule will take effect on 22 June and apply to buses, trains, trams, planes, taxis and private hire cabs, as well as enclosed areas on ferries.

Why weren't the restrictions on beer gardens and outdoor restaurants lifted?

The first minister urged patience from outdoor hospitality businesses disappointed that they haven't yet been given the go-ahead to reopen.

Ms Sturgeon said she hoped to be able to give a date for when locations such as beer gardens and outdoor restaurants could begin operating again, within this phase of easing the lockdown.

But she said there was emerging evidence that certain "super spreading" locations posed a greater risk and that's why she was being cautious.

Quote Message: Some locations, and pubs are one of them, where even outside, if it's noisy, if there's music, if there's lots of people there, if you're shouting to make yourself heard, if you're breathing in a different way then the risk of transmission can be greater. And the same applies in gyms - and even places like churchs from Nicola Sturgeon First Minister

Sturgeon: We're looking at ways we might reduce the 2m distance rule

The first minister told Reporting Scotland that the Scottish government is looking at ways it "might" reduce the 2m (6ft) social distancing rule.

Northern Ireland has reduced this cap to 1m (3ft), which will enable schools to return in a more normal fashion.

Nicola Sturgeon said "these things are all under active consideration" but that the government has to "take all risks into account".

She also stressed that as Northern Ireland's school year begins later, they would have more time to suppress the virus.

Glasgow and Edinburgh restart Pro14 with derby games

Rugby Union's Pro14 league will return from a five-month Covid-19 pandemic hiatus with derby matches from 22 August.

It means Glasgow Warriors begin their campaign against Edinburgh as teams from the same nation play against each other home and away.

The season for the competition for teams from Ireland, Italy, Scotland, South Africa and Wales is concluded via semi-finals and a final.

That final is scheduled to take place on Saturday, 12 September, with the venue to be confirmed.

Who will enforce face coverings on public transport?

Drivetime with Fiona Stalker

BBC Radio Scotland

Public transport workers "receive abuse every day", the Unite trade union's Dougie Maguire says as he welcomes news that it will be up to Police Scotland and not his members to enforce the wearing of face coverings.

He backed the Scottish government's decision to make them mandatory from Monday on buses, trains, aircraft and taxis.

"The majority of the bus companies in Scotland and most of our members have been looking for some additional protection for weeks now if not months," he tells BBC Radio Scotland.

"But how do you stop somebody coming on the bus if they refuse to wear a mask? I think the government's view of this is that peer pressure will be enough."

Robert Samson, from passenger watchdog Transport Focus Scotland, says that evidence from England suggests that the wearing of masks has risen from 10-20% to 80-90% since they became mandatory there.

In addition, a weekly survey of 2,000 passengers in Scotland suggests that more than 60% of passengers favoured a requirement for face coverings.

Where R we now on spreading the virus?

Andrew Kerr

Scottish political correspondent

The Scottish Government has published its latest statistics called "Modelling the Epidemic".The R number still stands at 0.6-0.8 up until the 17 June, the same value as the previous week.

The R rate is the number of people that one infected person will pass the virus on to, on average. Anything above 1 rings the alarm bells.

Another useful stat today shows the estimated number of infected people in Scotland. There's good news as it's falling – it stood at around 2,900 on Friday 12 June.

Government scientists say this number will decline over the following two weeks but warn it's still at a level that could cause risk to the health service if onwards transmission rises rapidly.

At Holyrood today, Nicola Sturgeon said if we can suppress the virus more – as close as possible to "eliminating it" – we give ourselves a better chance of not simply controlling clusters but doing so with targeted measures.

Ms Sturgeon warned against frustration leading to a premature easing of restrictions but seeing the latest evidence of the spread of the virus her political opponents undoubtedly think there's a lot more room to go further.

Scottish government 'listened to retailers'

Drivetime with Fiona Stalker

BBC Radio Scotland

Shop owners were relieved to learn they would not have to enforce the wearing of face coverings by customers, the Scottish Retail Consortium's Ewan MacDonald-Russell tells BBC Radio Scotland.

The head of policy says: "That would be difficult for people trying to run shops."

Wearing face coverings in shops will remain only a recommendation, unlike on public transport where it will be mandatory.

Mr MacDonald-Russell also welcomes the relaxing of lockdown that means non-essential shops outside shopping centres will be able to reopen on 29 June.

"That is a move from the original phase two plan, which was only going to be small shops, and we're delighted the Scottish government has listened closely and paid attention to the work being done in grocery and pharmacy businesses to be reassured that they are safe places to reopen," he adds.

'We need a designated shielding hour'

Hundreds of people have backed Natasha Howard's campaign to introduce a "shielding hour".

The idea is to set a time when people who aren't shielding stay indoors, so those who are shielding can leave their homes and know they won't come close to someone with coronavirus.

Around 2.5 million people in the UK were sent letters on 22 March, telling them not to leave their homes because they were most at-risk from Covid-19.

Relaxing two-metre rule and opening beer gardens going hand-in-hand?

Drivetime with Fiona Stalker

BBC Radio Scotland

Image caption: A beer garden has been under construction at Brel in Glasgow

The Scottish government has had "a chicken and egg" choice between reducing the 2m social distance rule and allowing pubs and restaurants to reopen, suggested the executive director of UK Hospitality in Scotland.

Willie McLeod said it was obvious that "the two are going hand in glove" after First Minister Nicola Sturgeon drew back from giving permission for opening outdoor facilities.

"I can understand the anger, especially if people and businesses have spent more money to adapt facilities when revenue is scarce and no money is coming through the door," he told BBC Radio Scotland.

"As UK Hospitality, we were clear to our members that 18 June was the very earliest date on which pubs and restaurants could open out of doors, so at the risk of alienating some of my colleagues in the industry, to have assumed reopening on or immediately after today was perhaps slightly jumping the gun."

Mr McLeod suggested that very few businesses could open on a viable basis at two metres and suggested 2 July would be earliest they would be allowed to do so.

Lockdown rules in Scotland: What can you do in phase two - and when?

Image caption: The construction industry is gradually starting back and further progress can be made with social distancing observed

Scotland will enter the second phase of easing lockdown restrictions on Friday.

Over the coming weeks shops will start to reopen, work will resume in certain industries, and some of the rules about meeting other people will be relaxed.

But not all the changes will take place at the same time - so what can you do in Phase 2, and when?

Economic recovery will not be short

Drivetime with Fiona Stalker

BBC Radio Scotland

Copyright: WPA POOL/GETTY IMAGES

Image caption: Economy Secretary Fiona Hyslop

Fiona Hyslop warns the economy recovery from the pandemic will not be short and sharp.

Scotland's economy secretary says while April is expected to be the lowest point - with figures indicating yesterday there was an 18.9% to GDP - recovery around the world will be slow. She expects it to take on a W-shape rather than a V-shape.

Investments in people and supporting those made redundant will be important to ensure Scotland meets its ambitions for the future.

How to make your own face mask

The widespread wearing of face coverings for travellers is to become compulsory in Scotland from Monday.

While medical face masks and respirators are prioritised for health and care workers, you might want to try making your own face covering, wherever you live.

Here's our guide to different types and step-by-step instructions on how to make them.

Pubs would be 'hot spot' for transmission says economy secretary

Drivetime with Fiona Stalker

BBC Radio Scotland

Economy Secretary Fiona Hyslop accepts the frustrations of the hospitality industry but emphasises the need to reopen safely.

Restarting the economy has to be done in a way that is sustainable and the last thing we'd need is a second wave, she tells Drivetime.

She says it is important to boost consumer confidence and get people to shop in their local areas.

But she says evidence from other countries indicate there are hot spots where the virus is more likely to transmit - such as bars where people are having to shout to be heard, for example.

She says shops do not have the same issue because people would stay longer in pubs.

Image caption: No good news for pubs yet

Route map news a big lift for bra company

Drivetime with Fiona Stalker

BBC Radio Scotland

"We've had customers emailing in daily desperate to get their boobs comfy," Kirsty Lunn tells BBC Radio Scotland as she welcomed the news her underwear factory can restart production from 29 June.

"It's been really frustrating," the managing director of Perthshire underwear firm Molke says. "Everyone wants comfy bras more in lockdown more than ever and we've gained a lot more customers following us on social media.

"I had hoped it would be a bit earlier, I won't lie, but we've got a date now and it's fantastic news.

"We are fortunate that we can spread out our machines and have all our staff in while social distancing. We've had weekly Zoom chats with our team, so they are all desperate to come back."

'Probably cost us thousands in lost revenue'

'Shocked, dismayed and devastated' - pub owners on today's statement

Drivetime with Fiona Stalker

BBC Radio Scotland

Paul Waterson from the Scottish Licensed Trade Association says pub owners are "shocked and dismayed" about today's announcement.

"We all expected that we would have a date for opening our beer gardens," he explains.

He adds: "To be told today that not only we're not getting an opening date, but that we're not getting a review of it until 2 July has been a bit of a shock."

He says many businesses have spent a lot of money to get their outdoor areas ready for today.

Sandy Elrick, who runs the Bennachie Lodge in Aberdeenshire, says he is "devastated" by the news.

"We were all ready to go, we had done everything that was asked of us, we were ready to just push the button and go", he tells Drivetime.

He says there was no indication pubs would not be able to open their beer gardens and he had been expected opening next would would be the worst case scenario.