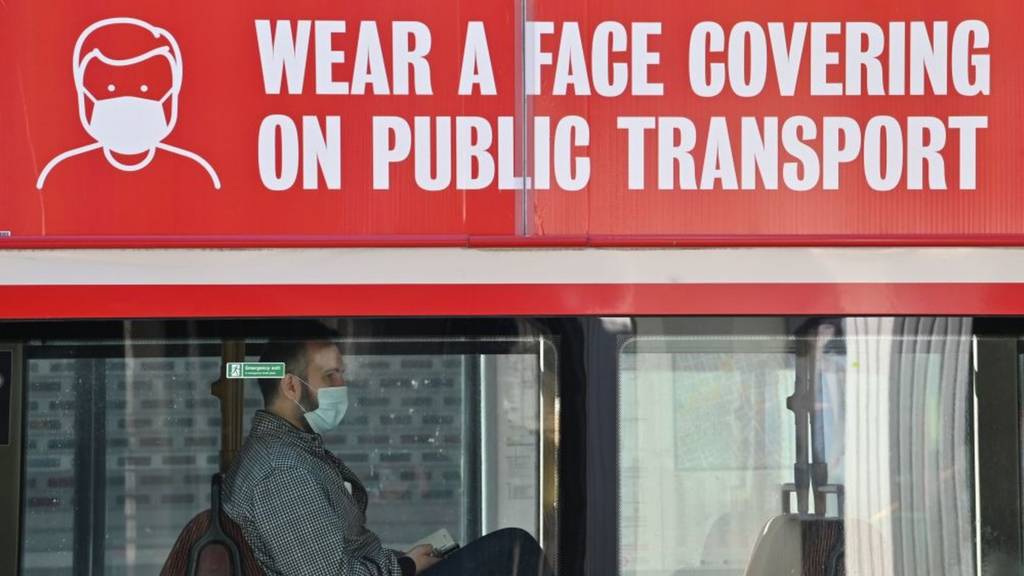 Live
Coronavirus in Scotland - Covid-19 alert level reduced
By The Visual and Data Journalism Team

BBC News

As we conclude our live coverage today, here is a reminder of Friday's main stories:

Six more people who tested positive for Covid-19 have died, taking the total in Scotland by that measure to 2,470.
The UK's coronavirus alert level is downgraded from four to three, but Education Secretary Gavin Williamson warns the pandemic "isn't over" and that people have to remain on their guard.
A further 173 reported deaths takes the UK total to 42,461.
SNP MSP Alex Neil criticises the plan to restart schools in August, saying it is "bleeding education" not "blended"
Scottish Education Secretary John Swinney plans urgent talks with a group of newly-qualified teachers concerned about their employment prospects.
Mr Swinney will also be holding regular conversations with his counterparts in the Northern Ireland and UK governments about safe social distancing in schools.
The Scottish government has replaced its "stay at home" message with "stay safe" as the country enters phase two of its lockdown easing plan.
Nicola Sturgeon also launched a new public awareness campaign called 'Facts' - Face coverings in enclosed spaces; Avoid crowded places; Clean your hands and surfaces regularly; Two-metre distancing; Self-isolate if you have symptoms
The UK government is planning to relax its travel quarantine rules in early July for some countries.

We'll be back with more live coverage in the morning. In the meantime, stay safe and enjoy your Friday evening.

Last orders for Edinburgh's Tower Restaurant

Copyright: Tower Restaurant

Image caption: The Tower opened more than 20 years ago

A well-known Edinburgh rooftop restaurant has closed its doors for the final time amid the coronavirus pandemic.

Owners of the Tower Restaurant at the National Museum of Scotland said the premises was coming to the end of its lease and would not reopen when lockdown eases.

Proprietor James Thomson said he was concerned about how the business could operate under future social distancing restrictions.

Redundancy consultations have started with 37 members of staff at the Tower, which first opened 22 years ago.

ICU staff go extra mile to 'give something back'

Staff at the intensive care unit at Glasgow Royal Infirmary are raising money for a mental health charity to say thank you for the support they've received from the public during the coronavirus crisis.

About 120 nurses, doctors and pharmacists are this week collectively covering the distance between John O'Groats and Lands End, through walking, running or cycling.

So far they've raised nearly £14,000 for the Glasgow Association for Mental Health.

Quote Message: We will never forget the support shown to us and as a huge thank you we would like to do something in return. We are aware that many of the people who have helped us may have challenges of their own to face in time to come. from Sarah Haxton ICU Nurse

Concerns over fate of newly-qualified teachers

Newly-qualified teachers have raised concerns they are not be able to get a job because of the coronavirus crisis.

In a letter to the Scottish government, 30 teachers say opportunities for permanent jobs in schools are currently limited because of the pandemic.

This comes despite calls for extra staff to be hired to help with the new blended learning model of teaching.

Nicola Sturgeon said the country will need to utilise "all talents" to get schools back to normal.

Education Secretary John Swinney told BBC Radio Scotland he plans urgent talks with the group of newly-qualified teachers early next week.

Hillwalkers' 'frustration' at leisure travel limit

A group representing the interests of hillwalkers, mountaineers and skiers has described the continued restriction on travel for leisure activities as "frustrating".

The limit of five miles for journeys for outdoor pursuits remains in place for Phase 2 of easing of lockdown rules in Scotland.

Mountaineering Scotland said it welcomed the "positive progress" made in suppressing the virus, but has asked for greater allowances for outdoor activities.

The group has almost 15,000 members.

Chief executive Stuart Younie said he appreciated the "very difficult" decisions the Scottish government was having to make.

But he added: "While a lucky few who live within five miles or so of mountains have been able to restart their activities in Phase 1, that option remains closed to the vast majority, especially those living in the central belt."

Dundee Utd, Raith & Cove Rangers will 'robustly defend' right to promotion

Image caption: Dundee United were runaway leaders in the Championship when the season was called

Dundee United, Raith Rovers and Cove Rangers say they will "robustly defend" their positions after a petition was lodged that could prevent their promotions.

Hearts and Partick Thistle went to the Court of Session on Wednesday to challenge their respective relegations - and that of Stranraer - after the SPFL ended the season early because of the coronavirus crisis.

The three title winners have all instructed lawyers to act for them and say scrapping promotion would "potentially have catastrophic financial implications" not just for them, but for all other clubs.

Salmon producer to repay furlough cash in full

Copyright: Scottish Sea Farms

Image caption: SSF said there were signs business was beginning to bounce back

Salmon producer Scottish Sea Farms (SSF) has said it will repay all the cash it has received from the UK government's Coronavirus Job Retention Scheme.

Since March, the company has furloughed 36 full-time and part-time staff - about 8% of its 451-strong workforce.

It has received about £106,000 in support until the end of June.

SSF said its move was in response to signs that business was beginning to bounce back.

It added that the furlough scheme had provided "vital support" at the start of the Covid-19 restrictions, and that it would not be making any further claims.

Reduction in distancing would make 'significant difference' for schools return

Drivetime with Fiona Stalker

BBC Radio Scotland

Education Secretary John Swinney will be holding regular conversations with his opposite number in Northern Ireland and the UK government about safe social distancing in schools.

Northern Ireland say their aim is to have all pupils back and observing a one metre distance in mid-August, while the plan in England is to have all year groups fully returned to classroom learning by September.

Mr Swinney stresses that he has to work to the current advice, which is to maintain a two-metre distance, but says the advice could well change over time.

And he concedes that a reduction in distancing would make a "significant difference" to planning.

That planning currently concentrates on a combination of physical space, staffing, transport issues, food and use of toilets, while Mr Swinney says options like the use of church halls, leisure facilities and vacant offices will be considered.

He repeats that he is determined to do everything he can to maximise the amount of formal schooling children receive and to make sure they are supported by high quality digital learning if that is not possible by the 11 August return date.

A 101-year-old woman has raised £12,000 by completing a high speed zip wire challenge.

'We can't do anything that jeopardises safety of pupils and staff'

Drivetime with Fiona Stalker

BBC Radio Scotland

Image caption: Schools returning in other countries have seen teachers and students wearing face coverings

Education Secretary John Swinney does not accept that he was wrong to warn last Sunday that it was unlikely schools would be back to normal before the end of the next school year.

"I can't be absolutely certain about the path of the virus," he says. "All I was saying is that we are likely to be facing a period of disruption.

"I want us to get back to full-time formal education at the earliest opportunity, when it is safe to do so.

"I am acting with my local authority partners, the teaching unions and parents on the basis of scientific advice that is available today. We can't do anything that jeopardises the safety of pupils and staff."

Swinney to talk with worried newly-qualified teachers

Drivetime with Fiona Stalker

BBC Radio Scotland

Education Secretary John Swinney says he wants urgent talks with the group of newly-qualified teachers who wrote to him raising concerns over their employment prospects because of the coronavirus crisis.

"I'm very sympathetic to their position because they have worked hard," Mr Swinney tells BBC Radio Scotland, before adding "I want to do everything I possibly can to help them."

He then goes on to congratulate North Lanarkshire Council, who say they will be taking on all 195 newly-qualified teachers in full-time roles.

"I want to make sure we have all of our talents available to help us through a really challenging situation," says Mr Swinney.

"I don't employ teachers directly but I can be part of the solution."

Schools return plan 'just not acceptable' - MSP

Drivetime with Fiona Stalker

BBC Radio Scotland

SNP MSP and former health secretary Alex Neil has criticised the current plan to restart schools in August, claiming "it's not blending education, it's bleeding education".

"There are too many children being told they are only going back into schools for one-and-a-half days a week, including my own grandchildren, and that is just not unacceptable," he tells BBC Radio Scotland.

Mr Neil reckons there are many parts of the country that could have all pupils back full-time with "a bit of imagination and proper planning".

Planning is being done on the existing capacity of schools, so we need to find other ways of working, says the education committee member.

He says authorities could use empty buildings nearby and portacabins for homework 'hubs' and recruit as many teaching staff as are needed to get as close to 100% education as possible.

"This is not beyond the whit of people to be able to do this," he says, insisting 50% - two-and-a-half days a week - should be the bare minimum any child must have from 11 August.

Covid alert level down - but stay safe

Education Secretary Gavin Williamson says that, despite the downgrading in the Covid alert system to level three, the pandemic "isn't over" and that people have to remain on their guard.

A further 173 deaths among people who tested positive for Covid-19 have been reported (including six in Scotland). This brings the total to 42,461 since the outbreak began in the UK.

In total, 5,030 people are currently reported to be in hospital with Covid-19.

British economy 'remarkably resilient' - PM

Prime Minister Boris Johnson has been responding to the news that the UK's debt is now larger than the size of its economy for the first time since 1963.

It comes after government borrowing surged to help tackle the coronavirus pandemic.

Mr Johnson said: "It matters hugely but we will manage our finances as sensibly and prudently as we can.

"What I will say is I think the British economy is remarkably resilient, we will come out of this well in the end but there will be some difficult times ahead."

He added: "There has been a massive lack of economic activity for a very long time - of course that is going to be painful and expensive to make up. But we are a very creative and dynamic society; we will come back."

UK government briefing at 17:00 BST

Education Secretary Gavin Williamson will lead the daily UK government briefing shortly.

There will be no scientists or experts joining him.

90-year-old set to complete two-month 'ascent' of mountain on stairs

A 90-year-old woman is on the verge of completing a two-month fundraising effort for NHS charities by climbing the equivalent of Highland mountain Suilven - 731m (2,398ft) - on her stairs.

Margaret Payne said on Friday she has seven of the 282 trips upstairs at her Sutherland home remaining.

"I hope to do two more today, and I average between two and four a day as a rule," she told BBC Radio Scotland.

Inspired by Army veteran Captain Tom Moore's 100 laps of his garden, she began her own mission on Easter Sunday, 12 April, and has so far raised around £418,000, including gift aid.

Mrs Payne, from Ardvar, first climbed Suilven, in the west of Sutherland, aged 15, in 1944, and said it is the only mountain she has climbed to the top of.

Her daughter, Nicola, said her mother's effort was "absolutely amazing".

"Mum has got fitter, she is sleeping and eating well, and she has stuck at it," she added. "The whole family is really proud."

Lord Carloway calls for court backlog legislation

Image caption: Lord Carloway said he would not contemplate any measure that might compromise the basic principle of a fair trial

Scotland's most senior judge has called for new legislation to help address the growing backlog of court cases.

The Lord President, Lord Carloway, said measures proposed so far had simply been "tinkering at the edges" of a major problem.

He warned that if things continued as they had been, there could be a backlog of 3,000 jury trials in the high and sheriff courts by next March.

Some cases have now resumed but social distancing has reduced capacity to 30%.

In a strongly-worded statement, Lord Carloway paid tribute to the court service for the speed at which it had developed digitally-based techniques of working, but he said new legislation was needed.

Read more here.

Covid-19 case rise in Dumfries and Galloway due to lab reporting issue

NHS Dumfries and Galloway has moved to clarify the cause of an increase of 10 in the number of positive cases reported in the region by the Scottish government.

It said the increase was down to a "historical issue" with lab reporting which dated back to April.

It stressed it did not mean 10 new positive cases in the last 24 hours.