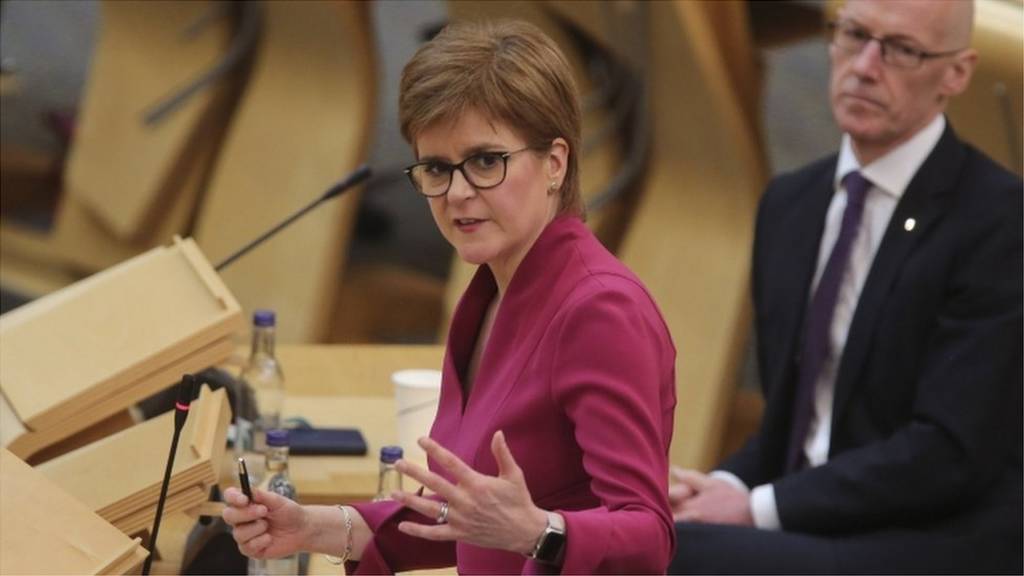 Live
Coronavirus in Scotland: Meeting rules to be tightened
Review of lockdown measures: The headlines

Here are the headlines that emerged from today's announcement on the review of lockdown measures:

The size of groups which can meet in homes, gardens, pubs or restaurants in Scotland has been cut to six people from two households
Nicola Sturgeon announced a "tightening and extension" of lockdown rules
Changes planned for next week have been put back until at least 5 October.

It means that theatres, live music venues, indoor soft play facilities and indoor contact sports for people aged over 12 will not now open next Monday
Spectators will not be able to return to sports stadia and other venues over the next three weeks
the reopening of offices and call centres will "definitely not take place" before October

That's all from us here on the live page today, take care and stay safe.

Could social unrest be a problem with new restrictions?

Scottish Lib Dem leader Willie Rennie says public health expert Prof Linda Bauld has warned the testing system is not working as it should and quarantine is not being followed by everyone.

Ms Sturgeon insists Test and Protect is working well and the government is continuing to work with partners to expand testing. She accepts there are challenges in making sure quarantine rules are "watertight" but insists the government is seeking to address the issues.

Mr Rennie says: "In people's minds we were preparing for recovery, for elimination of the virus. Now we are being taken back." He asks about concerns of social unrest.

The first minister insists elimination is still the objective, before highlighting how important transparency and enforcement is in meeting the challenges of social unrest.

Harvie raises Covid concerns of staff working with ASN pupils

Scottish Green Party co-leader Patrick Harvie asks how many walk-in testing centres are operational in our university towns.

Ms Sturgeon pledges to get information about the sequence of the introduction of the walk-in centres to Mr Harvie later today.

The centre in St Andrews is already open, she points out, and areas around universities are being prioritised, she adds.

Mr Harvie says pupils with additional support needs or ASN are getting inadequate support due to staffing levels.

Coronavirus guidance for teachers whose pupils have additional support needs (ASN) is "totally inadequate", a teacher's union has said.

Ms Sturgeon points out £58m has been provided to help enhance cleaning of schools and increase the number of teachers.

She pledges to continue working with the EIS union and others to make sure further challenges are properly supported.

FM quizzed on CAMHS referrals

Richard Leonard suggests the Scottish government has failed to implement recommendations made by Audit Scotland in 2018 on Child and Adolescent Mental Health Services (CAMHS) referrals.

I accept there is much more to do here, replies the first minister, and offers to write to Mr Leonard with the details of work on CAMHS, including putting emphasis on prevention.

How will we 'calm' the mental health storm?

Mr Leonard says Scotland's children and young people have found the last six months particularly difficult, and he highlights warnings from various experts about a mental health crisis.

"What urgent action is the government taking to calm this perfect storm?" he asks.

The first minister agrees there are "few more important things" than catering to the needs of young people.

She highlights this was a key driver in getting children back to school and the aim to have a counsellor in every school will be delivered by next month. Ms Sturgeon also says the redesign of mental health services, which started before the pandemic, is continuing.

Scottish Labour leader expresses concern about access to testing

Scottish Labour leader Richard Leonard says the science tells us Covid-19 is on the rise in much of Scotland, so his party supports the precautionary approach taken today.

Turning to testing, he says 14,341 tests were carried out yesterday – considerably below the aim to have 65,000 tests per day. He also suggests the system "buckled" when under pressure after schools went back.

Ms Sturgeon says the government is working through these issues to build the capacity and resilience into the testing system. She reiterates the largest part of testing capacity in Scotland is part of a UK-wide network.

We are working with partners around the UK to ensure Scotland receives its share of resting, she says, adding she has "some concern" that rising demands for tests in England may impact Scotland's access.

There has not been an issue in Scotland with people getting rapid access to testing in the last few days, the first minister adds. She says the tests carried out per day is not the same as capacity.

Over 200,000 people have downloaded Protect Scotland app

Scottish government is considering testing at airports

Ms Davidson says only 5% of those coming into Scotland's airports have been contacted by the national contact tracing centre.

Only 631 people were contacted out of the 13,607 people that were required to quarantine, she adds.

The Scottish Conservative leader calls for a package of support for airport testing.

The first minister points out Public Health Scotland contact a sample of those required to quarantine - with a target of 20% or 450 whichever was the greatest.

Additional funding is being provided to contact up to 2,000 quarantining passengers a week from October, she addds.

The Scottish government is considering an alternative to quarantine "in whole or in part" through testing.

'We are working with the UK government to try to advance mass community testing'

Ms Davidson asks if today is a staging post towards mass community testing.

The first minister says: "We are working with the UK government to try to advance mass community testing."

Not all of the technology exists in a developed-enough form, so there is a lot of work to do to get there, she adds.

Scotland continues to increase its testing capacity, like the rest of the UK, Ms Sturgeon points out.

The advice to people in general is you should access testing if you have one of the Covid symptoms.

The first minister highlights the recent publication of Scotland's Testing Strategy.

What is being done to ensure everybody uses the proximity app?

The uptake of the new Scottish contact tracing app must be between 56% and 95% to be successful according to experts, warns Ruth Davidson.

The Scottish Conservative Holyrood leader says she has downloaded it to her phone, but adds perhaps not everyone is as addicted to their phones as she and the first minister are.

"What is being done to ensure that everybody, including the hard to reach, are being helped in adopting this new technology?"

The first minister replies she would appeal to all MSPs to follow Ms Davidson's example.

Ms Sturgeon agrees: "Uptake, of course, is important which is why it is so vital we do encourage people to use it.

"The more people that sign up the better, everybody who signs up is making a contribution."

When the first minister left her office to come to the chamber, the number of downloads had just passed 150,000.

A major advertising campaign starts tomorrow to back the app, adds Ms Sturgeon, but she points out if you don't have a mobile phone you won't miss out on the Test and Protect system.

Scotland's Covid-19 contact tracing app is live

Image caption: The Protect Scotland is simple to use and free

Scotland's new contact tracing app to help combat the spread of coronavirus has gone live.

The Protect Scotland app lets people know if they have been in close contact with someone who later tests positive.

It can be downloaded for free onto a smart phone from Apple's App Store or Google Play.

'Vital' to stop rising case numbers before winter

Ms Sturgeon insists it is vital to stop rising case numbers before winter, with the hope the new measures will achieve this.

The success of these measures depends on all of us, she adds.

She goes on to highlight the FACTS guidelines:

Face coverings should be worn in enclosed spaces
Avoid crowded areas
Clean your hands and surfaces
Two-metre distancing remains the clear advice
Self isolate, and book a test immediately, if you have symptoms of Covid-19

New restrictions 'not welcome' but 'necessary'

The first minister says: "The pause in our routemap and the new restrictions I have outlined today are not welcome. I know that. The Scottish government did not want to have to impose them. But they are necessary.

"And they reflect the fact that Scotland - like the rest of the UK, Europe and the world - is currently in a precarious position.

"However, notwithstanding that, we are in a much better position than in late March."

FM encourages download of new tracing app

Turning to the new Protect Scotland tracing app, Ms Sturgeon highlights it is not designed to replace Test and Protect but to add to it.

She explains: "It will be particularly useful for settings, such as public transport, where we tend to spend time in close proximity to people we don't know."

She emphasises the app operates anonymously and confidentially.

The first minister encourages everyone to download it because it will make it more effective in beating Covid-19.

Face coverings to be mandatory in pubs and restaurants

The limit of six people will apply in pubs, restaurants and bars, says the first minister.

Ms Sturgeon also confirms face coverings will be made mandatory in hospitality settings when moving around and not eating or drinking.

It will also be mandatory for staff to wear a face covering.

"The hospitality industry has put a lot of effort into creating safe spaces for people to meet and we hope these additional protections will help ensure the sector can remain open, with high levels of compliance," she says.

Wakes and wedding receptions can have 20 guests

Up to 20 people can attend ceremonies for funerals, weddings and civil partnerships – which is no change from the current limit.

But Ms Sturgeon says, from Monday, this limit of 20 will now also apply to wakes and receptions, as long as they are in "regulated venues" where strict guidance is in place.

Regulations will be introduced to make this law.

The first minister also highlights that the advice for people living in Glasgow, East or West Dunbartonshire, Renfrewshire and East Renfrewshire remains not to visit other households.

Indoor and outdoor meetings restricted to six people

The first minister says it is necessary to tighten some existing restrictions "to help curb the spread of the virus, especially between and within households".

She confirms a reduction to the maximum number of people who can meet, both indoors and outdoors.

Only six people from two households are now permitted to meet up.

Children under 12 will not count towards the total, and there will be exceptions for organised sports and places of worship.