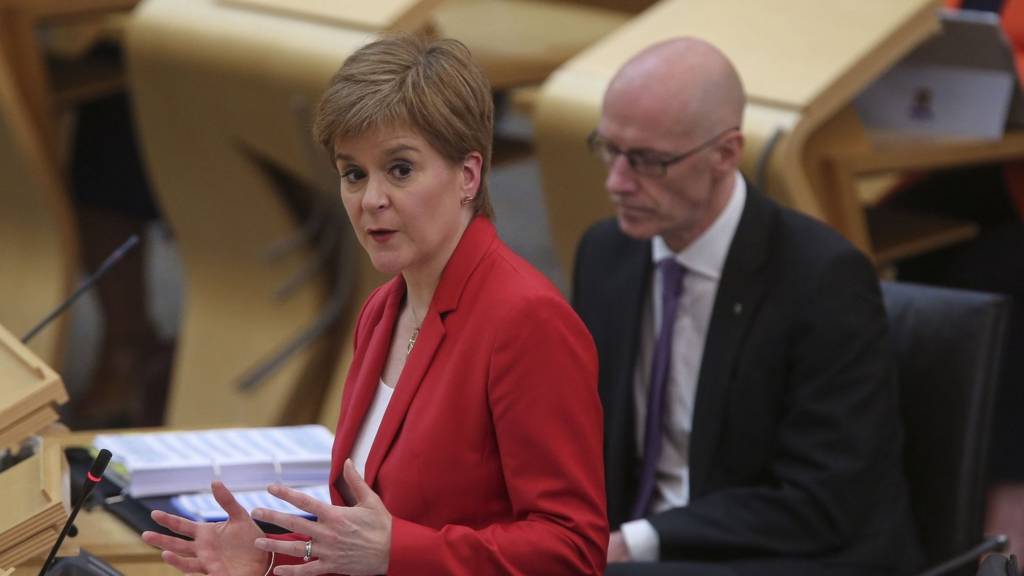 Live
First Minister's Questions & reported virus cases rise
That's all from us here on the live page today. Please take care and stay safe.

'A full-frontal no-holds-barred assault on devolution'

Joan McAlpine turns the debate to Brexit and asks if the UK government's "blatant power grab masquerading as the internal market bill" means critical funding which should be transferred to the Scottish government will instead be controlled by Boris Johnson and the Tories at Westminster, regardless of the spending priorities of the people of Scotland.

Nicola Sturgeon agrees and says she has many and varied concerns about the bill.

She says firstly it breaches international law, something the Advocate General clearly couldn't stomach, and resigned his post.

Secondly, she says it is a power grab on the powers of this parliament and gives the UK government the ability to override or undermine the spending priorities of a democratically-elected Scottish government supported by a democratically-elected Scottish parliament.

What is the row over UK 'internal markets' all about?

Quote Message: The Internal market bill is a full-frontal no-holds-barred assault on devolution. The only way in future, in my view, to protect the Scottish parliament now is for it to become a normal independent parliament which I think will happen sooner rather than later. from Nicola Sturgeon First minister

Rangers administrators case requires inquiry - Murdo Fraser

Image caption: David Whitehouse (left) and Paul Clark handled the administration process at Rangers

Murdo Fraser points out that the Lord Advocate said in court last month that the former administrators of Rangers FC, David Whitehouse and Paul Clark were victims of a "malicious prosecution" by the Crown Office.

He says they have been paid £600,000 in costs and are claiming another £14m in damages, paid by the Scottish taxpayer.

He asks if this "scandal" demands a full public inquiry on conclusion of litigation.

Ms Sturgeon says as a legal professional, Mr Fraser should understand these are still live matters so it would be inappropriate for her to say too much.

She says in general terms, with anything like this, in the fullness of time, it is appropriate to have a full and proper inquiry into the circumstances.

'House parties are a danger...to life', warns FM

SNP MSP Stuart McMillan asks if tougher fines should be introduced for the hosts of house parties.

The first minister replies this is being kept under review and when there are more egregious breaches of the regulations police can take more prosecutorial actions as well.

"House parties right now are a danger, they are a danger to people's health and frankly they are a danger to life," she says.

Police Scotland had to respond to 405 house parties last weekend, adds Ms sturgeon.

Any breaches can lead to fixed penalty notices of up to £960 and, where prosecution is appropriate, the fines can reach £5,000 or more depending on the charge.

Leisure trusts 'close to collapse'

Tory MSP Brian Whittle asks about reports that several of Scotland's leisure trusts that operate sports and leisure facilities are close to collapse.

The first minister says she is in constant contact with local authorities to understand the impact on sport and communities and says the finance secretary has also been speaking to Cosla about a lost income scheme which covers arms' length organisations including leisure trusts.

She said: "We will provide councils with further funding of £49m which they will pass on in full to support services."

'Cathy can't wait any longer, she needs change now'

Mr Rennie points out this has been under consideration for weeks, but "to be frank Cathy can't wait any longer, she needs change now".

The Scottish Lib Dem leader says: "Cathy's mother comes into contact with multiple carers every day and yet the most important carer of all, her daughter is left outside."

He calls for Cathy to be given PPE and tested or even isolated, "but let her in".

"I think Cathy is one of the family members that the health secretary is meeting tomorrow," replies Nicola Sturgeon.

Around 40% of the care homes around the country now allow indoor visiting, she adds.

The balance between allowing visits to be normal and protecting those in care homes is not easy to strike, the first minister adds.

Rennie calls for changes to care home visiting rules

Willie Rennie says yesterday he met Cathy Russell whose mother is in a care home and who has not been able to hug her for five months.

The Scottish Lib Dem leader asks the first minister about allowing a limited number of family carers into care homes, with PPE and proper testing.

Yesterday families lobbied MSPs at Holyrood about improving "cruel" care home visiting arrangements.

Image caption: The Care Home Relatives Scotland group wants more access for relatives in care homes to improve the quality of life for residents

The first minister questions the tone that suggests she is willingly trying to keep loved ones away from families in care homes.

Ms Sturgeon confirms the health secretary will meet the families, "who have absolutely legitimate concerns", tomorrow.

She points out the guidance is under regular and ongoing review and this issue is being looked at.

"We all want to allow families to visit normally as quickly as possible and as safely as possible," she says.

Grouse shooting exemption 'does not exist'

Ms Johnstone brings up her "shock" that the UK government held an emergency meeting earlier in the week to exempt grouse shooting and hunting from coronavirus restrictions.

She asks if it's fair that when children can't play with their friends and families can't visit loved ones in care homes that shooting parties can "load up their shotguns and head for the hills"?

The first minister says she has had no meetings to discuss shooting exemptions and says there are no such exemptions in Scotland.

She says existing outdoor legislation does allow some of these things but it is not a specific exemption.

She says she recognises there are always unintended consequences of restrictions and will continue to look at those and make changes.

Greens ask: 'Is UK testing regime not fit for purpose?'

Alison Johnstone from the Scottish Greens says Test and Protect can't work if people can't get a test and says she is concerned we will pay for this "chaos" in the coming weeks.

She mentions a constituent who cannot get a test for her vulnerable father.

She asks if the current UK-wide testing scheme is not fit for purpose and if the first minister will produce a new testing strategy for Scotland to meet demand.

The first minister says she has tried to be upfront on the challenges and is not trying to politicise the problems with testing.

She says it is important not to suggest that Scotland has a bigger problem with testing than it has.

Quote Message: Demand will be variable and it is not right to say the system is not working in Scotland. We have a capacity constraint in the UK part of the laboratory system that we are working to address and we are seeing improvements in that but we have to see those sustained. It makes sense we co-operate with the UK. I don't want anyone to get anything other than the impression that they should book a test when they have symptoms. from Nicola Sturgeon First minister

Call for 'regular and routine access to testing' for care workers

Mr Leonard raises concerns about routine testing in care homes to avoid a "new wave of coronavirus deaths".

The Scottish Labour leader calls for "regular and routine access to testing for Scotland's heroic home care workers".

The first minister replies that clinical advice guides who is regularly tested.

Ms Sturgeon also points out that the capacity constraints issues around testing must be tackled.

She says home care workers should certainly be one of the groups that is regularly tested and adds that 30,000 are routinely tested weekly.

FM highlights reduction in backlog of test across UK

Mr Leonard says the staff don't have access to PPE or regular testing all the time.

The Scottish Labour leader argues that the Scottish government testing programme has been hampered with delays and difficulties.

He highlights the "growing backlog and a slow turnaround of results" and asks what guarantees Ms Sturgeon has received from the UK government that tests in Scotland won't be rationed or restricted.

The first minister replies: "I think our Test and Protect system is working extremely well."

Ms Sturgeon points out she has spoken to the health secretary and has received assurances the access to testing will not be constrained to try to deal with problems in England.

The first minister adds that she has also received assurances that Scotland's fair share of the laboratory testing capacity will be secured.

There has been a reduction in the backlog, says Ms Sturgeony, and she hopes turnaround times improve as well with the UK-wide network system.

The Scottish government is considering if routine care home testing should be moved into the NHS to alleviate help solve the UK-wide issues.

Leonard raises concerns of workers in residential children's unit

Richard Leonard says he has been asked by workers in a residential children's unit in Glasgow to raise their concerns.

The Scottish Labour leader says they have been told to self-isolate because they have had close contact with a resident who has tested positive for Covid-19.

However, they have also been instructed to go to work, via letters from Greater Glasgow and Clyde Health Board, he adds.

"This is not safe," says the Scottish Labour leader.

The first minister replies: "I will personally look into this as soon as I get out of the chamber. "

Ms Sturgeon points out she is very clear about the guidance and that it is more strict in the Greater Glasgow and Clyde Health Board area.

She says she needs to see the letter Mr Leonard refers to and stresses that all necessary precautions must be taken to limit the spread of the virus.

Davidson: Why are criminals not paying for crime?

Ruth Davidson brings up the Victim Surcharge Fund, created as a penalty on criminals who are ordered to pay a court fine.

She says it is designed to go to a fund to help support victims.She says a third of the money due to be paid is not being collected and asks "why are criminals being allowed to skip paying their dues while the victims continue to suffer?"

Ms Sturgeon says that fund was introduced in Nov 2019 - and she tells the chamber the fund will be open for organisations to bid for grants in the next few months.

She also points out that Covid-19 has delayed the plan and has impacted court business.

She says the government continues to treat these issues sensitively and says action has been taken and changes have been made. She says the voice of victims of crime will be at the heart of decisions.

Should the Victim Notification Scheme be overhauled?

Ms Davidson claims little has been done to help the victims of crime. She says the Victim Notification Scheme, intended to give victims information on those who offended against them is important. She says fewer than 1 in 4 victims of crime are signed up to the scheme and that Victim Support Scotland says the system is "overly complicated".

She asks if the Scottish government will overhaul that scheme.

The first minister replies that she wants to ensure the system is as accessible as possible and as simple as possible.

Quote Message: All victims of crime who are eligible for the scheme are able to make an informed decision whether they want to opt into the scheme. Not all victims want to be informed of a prisoner's release because for some that is re-traumatising for them. It is right they can decide voluntarily to opt into this scheme before they receive any information. We will continue to work with organisations to consider whether improvements to that system can and should be made. from Nicola Sturgeon First minister

Background: Plan to give victims a say in parole process

Image caption: Michelle Stewart was 17 when she was stabbed to death by her ex-boyfriend

Back in December 2019 we reported that victims were to be given more of a say in the parole process under proposals from the Scottish government.

Ministers were considering reforms after campaigns by victims and their families who felt "let down" by the system.

At the time, Justice Secretary Humza Yousaf said the needs of victims should be "at the centre of the criminal justice system".

This followed a meeting with the family of Michelle Stewart, whose family are campaigning for changes to the system in her name.

Michelle was stabbed to death by her ex-boyfriend in 2008.

Ruth Davidson: 'Little action' for family of murdered teenager

Ruth Davidson kicks off questions from the Scottish Conservatives.

She asks about the case of 17-year-old Michelle Stewart, who was stabbed near her home in Ayrshire by her ex-boyfriend John Wilson in 2008.

She says her family has told her this morning there has been "very little action" since they spoke to Justice Secretary Humza Yousaf two years ago.

Nicola Sturgeon replies that a number of steps have been taken and she will continue to listen to the victims of crime and that their experiences will inform future changes in the justice system.

Quote Message: We must make sure we have a system which reflects the needs and experiences of those who are the victims of crime and where changes are required the government will not shy away from making them. from Nicola Sturgeon First minister

FM calls on public to follow the FACTS

The first minister points out the west of Scotland restrictions of not visiting any other household at all remain in place.

Nicola Sturgeon says that in the rest of the country the number of people who can meet in Scotland, either inside or outdoors, has been reduced to six in a bid to stop the spread of coronavirus.

Here is the latest Scottish government guidance.

Nicola Sturgeon stresses again people must follow the five pieces of advice in FACTS: They are:

Face coverings in enclosed spaces
Avoid crowded places
Clean hands and surfaces regularly
Two metre distancing; and
Self-isolate and book a test if you have symptoms

More than one million people have downloaded Protect Scotland

The first minister confirms that more than one million people have downloaded Scotland's new contact tracing app since its launch last week.

Protect Scotland became available to download free on to a smart phone from Apple's App Store or Google Play on 10 September.

The app lets people know if they have been in close contact with someone who later tests positive for Covid-19.

Ms Sturgeon thanks everyone who has downloaded the app.

More than 100 people have already been advised to isolate thanks to Protect Scotland.

FM warns delays in testing can delay contact tracing

The first minister points out the daily figures ideally should represent test swabs taken in the preceding 48 hours.

However, right now more of these daily cases are from swabs taken in the preceding few days due the backlog in UK testing, explains Ms Sturgeon.

She points out that delays in testing can delay some contact tracing taking place.

R number possibly as high as 1.4

The Scottish government will shortly publish the latest estimate of the R number, which confirms the view that it is above one and possibly as high as 1.4.

The first minister points out the new rules that came into effect on Monday will hopefully reduce the rate of transmission.

"We are also considering carefully, obviously on an ongoing basis, whether any further restrictions may be necessary," she says.