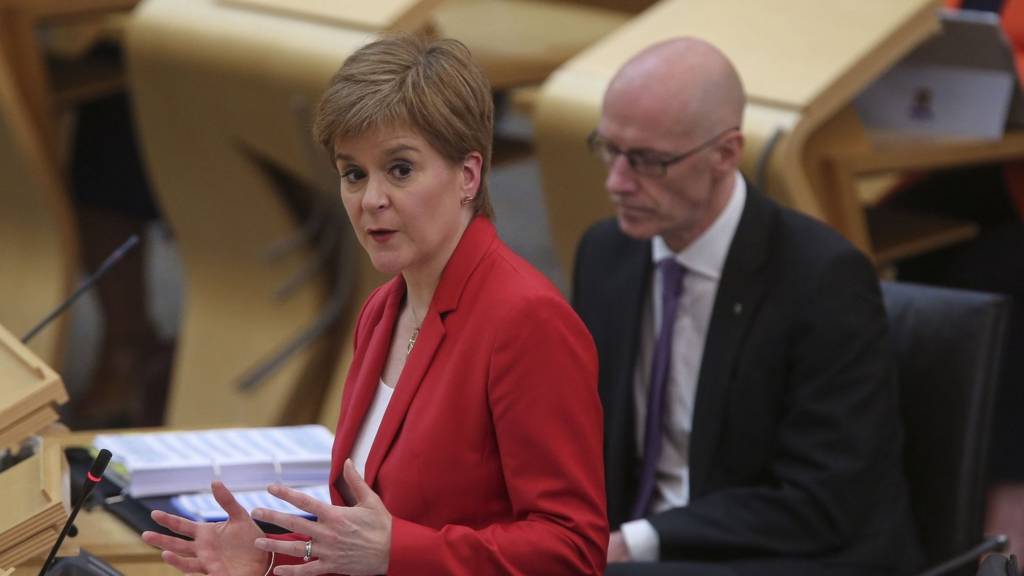 Live
Testing of students dominates First Minister's Questions
FMQs highlights: Student Covid-19 outbreaks dominate proceedings

That's all from BBC Scotland's live team today. Please take care and stay safe.

Plan to routinely test care home residents' family members being considered

Tory MSP John Scott asks about increasing access of key family members to elderly relatives in care homes.

He says that given Ms Sturgeon's comments that there is spare capacity in Scotland's testing system, the Scottish government should consider routine testing for key family members to have them safely enter care homes as winter approaches.

Ms Sturgeon replies: "In short, yes, we are considering possible steps like that."

The health secretary met with representatives from the care home relatives group and discussed a range of their proposals.

Call to create Scottish football taskforce to safeguard future of the game

Image caption: Scottish Premiership games have been played in empty stadiums since early August

SNP MSP Stuart McMillan asks if the first minister will consider creating a Scottish football taskforce that can hep safeguard the future of our clubs.

Ms Sturgeon replies she absolutely recognises the important role sport, and specifically football, plays in communities.

The first minister adds the Scottish government is working very closely with the football authorities and clubs in the Football Joint Response group.

She adds she is happy to consider how best to safeguard Scotland's clubs and is looking at the potential for a financial recovery package for sport.

The SPFL and SFA Joint Response Group has welcomed a Scottish government request for "urgent discussions" with Downing Street on aid for sport.

FM: Chancellor's Jobs Support Scheme a 'step forward' but more needed

Nicola Sturgeon has described a new emergency jobs scheme, announced by the chancellor, as a "step forward".

Rishi Sunak has said the UK government will continue to top up the wages of workers who have not been able to return to the workplace full-time due to Covid-19.

Ms Sturgeon said she had still to see the full details but added: "The snippets I heard suggest it is a step forward but perhaps not far enough to prevent the increase in what I would describe as unavoidable redundancies and unemployment."

Lib Dems criticise decision not to test foreign students on arrival in Scotland

Willie Rennie presses the first minister on the outbreaks among students and warns the window of opportunity for testing international students on arrival has passed.

The Scottish Lib Dem leader says he regrets the government's decision not to test them.

He calls for routine asymptomatic testing.

The first minister points out that international students have the obligation to quarantine, as it is felt it is more effective than testing as they may be in the incubation period.

We are always thinking about our approach to testing and increased surveillance testing is being undertaken, she explains.

'Significant proportion' of Glasgow's total Covid cases are students

Patrick Harvie describes the situation for students affected by the current outbreaks as "heart breaking".

The Scottish Greens co-leader askes what proportion of the surge in new cases is down to student outbreaks.

Ms Sturgeon says that in Glasgow a "significant proportion" are as a result of the Glasgow University outbreak.

The first minister says the current focus on students shows the testing system is working, adding that, "if we weren't testing them we would not know they existed."

Will students be able to go home for Christmas?

Richard Leonard argues students were told they could return to universities safely, but now they are suffering the consequences of systemic failure.

The Scottish Labour leader points out there are no established support networks for students as young as 17, with some self-isolating in cramped conditions and afraid they might not be able to get home for Christmas.

He asks what the first minister is planning to avoid students being confined in accommodation over Christmas and avoid them returning home with the real risk of spreading the virus.

The first minister replies that the Scottish Labour leader talking about students not being able to go home for Christmas is "not helping anybody".

The first minister acknowledges that this is "really tough" for students.

Quote Message: None of this is easy for anybody right now, but the responsibility of government is to make sure we take these issues head on, support those out there on the front line and get through this collectively as a country. Which I believe we will. from Nicola Sturgeon FM

Confidence in the testing system is justified insists FM

Richard Leonard says the student clusters were predicted as was the spike in demand for testing.

He says the director of Universities Scotland, Alastair Sim, told the BBC that neither the UK or Scottish governments has been able to provide enough testing capacity.

Quote Message: This failure to test is a failure to contain the virus. This will cost people their health, their hopes and possibly their lives. from Richard Leonard Scottish Labour leader

Why were you not better prepared, he asks Nicola Sturgeon.

The first minister replies there is a failure by Richard Leonard to understand some of the basics of what the government is trying to do and the basics of how testing works.

Ms Sturgeon says she thinks Mr Sim was referring to the availability of home testing kits and adds there is an issue with their availability through the UK-wide system.

It is not the case that students who need to be tested right now are not being tested, she insists, adding they are being tested.

What did the first minister expect when she gave the go ahead for students to return to campus?

Richard Leonard says there are multiple Covid clusters at universities across Scotland.

"Students are waiting for tests and frontline university staff are at risk of catching and spreading Covid-19."

Is this what the first minister expected to happen when she gave the go ahead to students to return to universities, the Scottish Labour leader asks.

The first minister replies these decisions are not easy for anyone and points out Richard Leonard has been calling for education to be normalised.

If she had decided no students should be at university she suspects Mr Leonard might be asking what the government was going to do to get education back to young people.

"We've got to find the right safe balance," she says.

Contact tracers "are needed now more than ever"

Ruth Davidson raises the issue of contact tracers who she said "are needed now more than ever".

The Tory Holyrood leader pointed to figures showing Scotland has 874 contact tracers available despite a pledge 2,000 would be in place by June.

Ms Sturgeon said it was wrong to suggest there's not enough tracers.

Quote Message: What we said earlier in the summer was health boards were going to create a pool of 2,000 contact tracers that was available to be called on should demand require it. That pool is there. from Nicola Sturgeon First Minister

Extra measures to be brought in to control coronavirus outbreaks at Scottish universities

There are currently 1,000 students self isolating following clusters in Glasgow, Dundee, St Andrews and Aberdeen.

Nicola Sturgeon was challenged on the issue by the Socttish Conservative Holyrood group leader at First Minister's Questions.

Ruth Davidson urged the government to accelerate plans for walk-in Covid test centres in university towns and cities.

Meanwhile...Rishi Sunak announces Jobs Support Scheme

Conservatives call for more walk-in test centres in wake of university virus outbreak

Ruth Davidson says more walk-in testing centres are needed to help university towns and cities cope with increased demand.

The first minister said the walk-in centres are important but "not the only part" of Scotland's testing programme.

Ms Sturgeon responds by insisting there are "no issues" with students getting tested with "capacity available and being utilised".

There are walk-in centres operating in Glasgow and St Andrews, with bookings for two further centres in Edinburgh and Aberdeen set to open in the coming days, Ms Sturgeon says.

In addition, a second walk-in centre in Glasgow and one in Stirling will both open in early October.

WATCH: Ruth Davidson challenges FM on university virus outbreaks

FM: New measures for universities being considered to stem virus spread

The Scottish Conservatives' Holyrood leader Ruth Davidson begins by asking what extra measures are being considered to tackle coronavirus outbreaks at Scotland's universities.

Ms Sturgeon said "discussions are ongoing" with the university sector about the "difficult situation" and further measures are set to be announced later.

She said this would include, "measures about prevention" as well as "making sure all of the guidance is being properly and rigorously implemented."

FM calls on people to limit social interactions 'as much as possible'

Ms Sturgeon urges everybody to stick to the new rules.

She reminds the chamber of the new curfew of 10pm for pubs and restaurants and calls on people to limit their visits to them and any social interactions as much as possible.

Ms Sturgeon asks everyone to download Protect Scotland.

The first minister also calls on the public to follow the FACTS:

Face coverings in enclosed spaces
Avoid crowded places
Clean hands and surfaces regularly
Two metre distancing; and
Self-isolate and book a test if you have symptoms

FM: R number 'possibly as high as 1.6'

The first minister says the R number in Scotland is currently above 1 and possibly now as high as 1.6.

She says the increasing rate of transmission of the virus underlines why the Scottish government toughened the coronavirus restrictions.

Two deaths registered with Covid-19 in last 24 hours

The first minister says that in the past 24 hours two more deaths have been registered of patients who tested positive for coronavirus. That takes the total to 2,510.

The first minister also says the number of new Covid-19 cases for Greater Glasgow and Clyde are accounted for, "in quite a large part", from the cluster related to student accommodation at Glasgow University.

84 people are in hospital with Covid-19, an increase of one from yesterday, with ten people in intensive care.

Breaking

Further 465 people test positive for Covid-19 in past 24 hours

Nicola Sturgeon confirms a further 465 people have tested positive for Covid-19, 7.9% of those tested in the past 24 hours.

This takes the total number of positive cases in Scotland to 25,960.

Ms Sturgeon says the provisional data indicates the breakdown of new cases is as follows:

NHS Greater Glasgow & Clyde: 219
NHS Lanarkshire: 66
NHS Lothian: 73

First minister's questions is next...

Copyright: Scottish Parliament

Image caption: Nicola Sturgeon will provide an update on the pandemic before facing questions from opposition party leaders

Nicola Sturgeon will face questions from opposition party leaders shortly.

The first minister will provide MSPs with an update on the coronavirus pandemic first, getting to her feet in the chamber at 12.20pm.

Ms Sturgeon can expect questions on the student outbreaks, the new Covid-19 restrictions and Scotland's testing system.