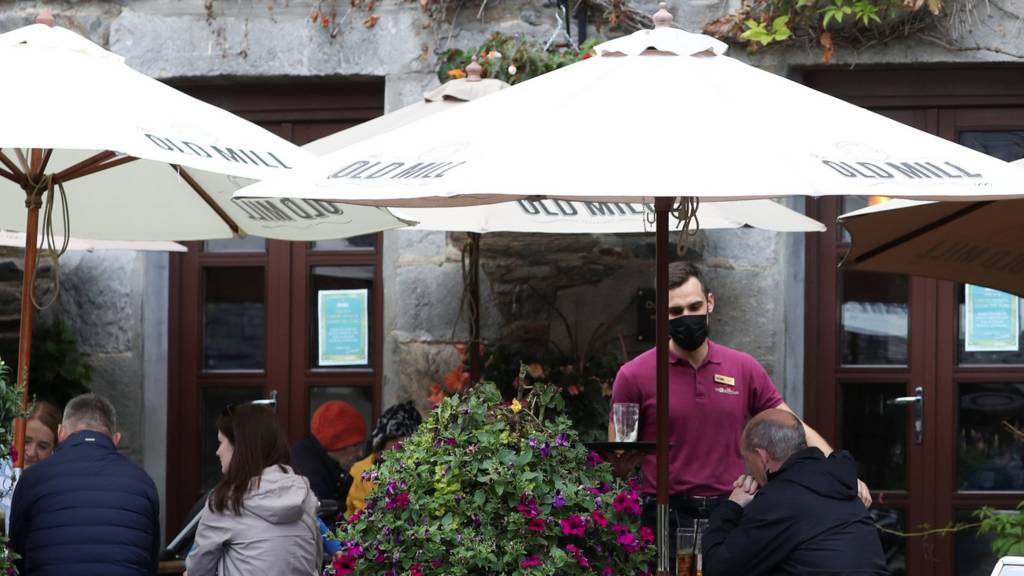 Live
Covid in Scotland: Updates
Covid in Scotland: Today's headlines

Here are the headlines from today's daily coronavirus briefing:

Six more deaths have been registered of those who first tested positive for Covid in the last 28 days
First Minister Nicola Sturgeon says a record 1,246 positive cases were identified in the last 24 hours - that's 16.2% of those newly tested.
440 of them were in the NHS Greater Glasgow and Clyde health board area; 306 were in NHS Lanarkshire, and 192 were in NHS Lothian.
The FM warns of a "ripple effect" between five health board areas in the central belt.
397 people are currently in hospital and 33 are in ICU
The FM accepts there has been a lack of clarity since her statement on Wednesday and defines the difference between a café and a restaurant.
Prof Jason Leitch says the R number is somewhere between 1.3 and 1.7 and the doubling time is believed to be nine days.
Experts estimate there are currently 2,900 new infections every day.
The FM delays announcing full details of hospitality financial support as she says an announcement is expected later from the Chancellor.
Scottish Lib Dem leader Willie Rennie describes the confusion over the last week as a "right guddle".

That's all from the live page team today. Please take care and stay safe.

Rennie: 'We need to have clarity'

Scottish LibDem leader Willie Rennie says today's guidance highlights the confusion generated by the first minister's statement on Wednesday.

He told BBC One Scotland's Coronavirus Update that there should be a "proper package of financial support for those self isolating".

Mr Rennie says Scotland should be mass testing students and called for a timetable to detail when society can return to "some form of normality."

Mr Rennie adds it is incredibly important to get the route map right going forward.

He says: "This chopping and changing of the last week can't be repeated in future.

"We need to have clarity. We need to have debate. We need to have scrutiny.

"We can't have the parliament being bounced, which is what I warned was going to happen this week."

Crowd watching football through window 'shouldn't have happened'

Asked about footage posted on social media which showed a group of people crowded together outside a pub watching football through the window, the first minister said they should not have been crowded together.

"Should that have happened?... No, it shouldn't.

"It's slightly less risky outside but you shouldn't be in crowded places," she said.

"We have to rely on people's personal responsibility."

Nicola Sturgeon added that she could not babysit the whole country to make sure everyone follows the rules.

Watch: FM faces Jaffa cake comparisons over cafe definition

Rennie: 'This week has been a right guddle'

Scottish Lib Dem leader Willie Rennie was asked on BBC One Scotland's Coronavirus Update about the latest daily figures.

He says there is "no doubt" action was required this week and he backed the first minister's call for people to stick with the FACTS guidance.

But Mr Rennie adds: "I think it is unfortunate that this week has been a right guddle.

"I think the late nature of the introduction of the measures, with two days' notice, wasn't long enough for us to be able to scrutinise and pick out the flaws in the guidance.

"That's why we are in this right mess over cafes and restaurants".

But he adds that he hopes it can be cleared up as it is important people know what to do so they can keep safe.

Watch: Jason Leitch warns what will happen without action

Why is Arran included in the central belt restrictions?

The first minister is asked why the island of Arran is included in the new restrictions which apply to the central belt.

She explained: "If we are to exempt islands from restrictions, then... it would come with other trade offs."

That trade off would be that travel restrictions would have to be added, to prevent people from areas with stricter restricions travelling to places with lower restricitons and potentially carrying the virus with them.

"If you want to exempt islands, you have to have that associated with travel restrictions," she reiterated.

'I think people do understand there is a risk'

Prof Stephen Reicher was asked about public compliance amid fears of an increase in house gatherings.

He told BBC One Scotland's Coronavirus Update compliance requires a number of factors.

Prof Reicher says these include "clarity about what we are meant to do" and "practicality".

He adds it is important that there are practical measures to help people in the hospitality sector.

Thirdly he stresses the importance of motivation.

Prof Reicher says: "I think people do understand there is a risk.

"They do understand we have to deal with the pandemic

"They understand that the choice is between doing something now and being forced into a corner in the future and having to be forced to do far, far more."

But he adds that in the coming days the Scottish government must explain "what will be different" so that when the restrictions are lifted we won't simply see another rise in infections.

Prof Reicher also calls for more testing, support for people who are self-isolating and better regulation to make sure public spaces are safe.

'A shambles with jobs on the line'

ITV's Scotland correspondent, Peter Smith, asks the first minister if the cafes situation is "a shambles with jobs on the line".

Nicola Sturgeon says any businesses who are confused should speak to local environmental health officers for clarity.

She said she could not personally give guidance to all businesses, but if "people want us to come down firmly on one side or the other, it will be on the side of closing".

This is because, she explained, that is the only way to minimise social interaction between people and therefore slow the spread of the coronavirus.

No action now will mean 'hard lockdown' later

Prof Stephen Reicher was asked on BBC One Scotland's Coronavirus Update for his assessment of the scale and spread of the virus.

The social psychology expert says: "It does seem pretty clear that we are having a rapid rise in infections.

"At the moment we are a bit above 10% of the rate that we had at the peak in March but at the doubling rate - which, as we heard, was once every nine days - by the end of this month we will be at the same level as we were at the peak in March.

"And, if that were true, then there would be a danger of the NHS being overwhelmed and there would be a need for very stringent lockdown measures."

Prof Reicher, of St Andrews University, adds that the alternative to the measures that have been taken this week is to "wait and waste the opportunity that we have to deal with the infections without a hard lockdown".

FM questioned over 'unfair' distinction between cafés and restaurants

BBC Scotland's David Henderson puts it to the first minister that it is an unfair distinction to allow a café serving light meals to remain open while licensed restaurants doing the same must close.

Ms Sturgeon again stresses her objective is to "reduce the volume of people" who can come together,

She says: "It is not an option to exempt large groups of premises.

"It is not an option to say 'Ok, restaurants just stop selling alcohol and stay open' because that would leave too many premises where people can come together and defeat the purpose of what we are trying to do."

Quote Message: I would simply appeal to people, even if you fundamentally disagree and hate what I am doing right now, at least try and remember that I am not doing it because I want to harm you. I am doing it because I want to keep people safe and strike that balance as best I can. from Nicola Sturgeon First Minister

Watch: FM says she is waiting to hear on chancellor's measures

Without action, Scotland 'would be back to peak by end of October'

Prof Leitch, Scotland's national clinical director, highlights some data to show the scale of the epidemic.

The R number is somewhere between 1.3 and 1.7, he says.

The doubling time is believed to be nine days.

He said experts estimated there were 2,900 new infections every day.

"At this rate, with no further action, we will be at our March peak of new infections per day by the end of October," he warned.

Prof Leitch added that the central belt was responsible for about 75% of new infections in Scotland.

He said the closest international comparison was that we are four weeks behind France and six weeks behind Spain.

FM confirms new definition of 'cafe'

The first minister accepts there has been a "lack of clarity" since the new restrictions were announced in the Scottish Parliament on Wednesday.

But she adds that is the price for "trying to be flexible"

Ms Sturgeon confirms the new definition of a café and says it is based on what a café already does.

She adds: "It doesn't allow a restaurant to now turn itself into a café.

"I think business owners will know whether their establishment fits that definition or not."

She adds any doubts or questions should be discussed with local environmental health authorities.

Ms Sturgeon says: "I know how tough this is and I'm sorry for that.

"But government - all governments - are trying to strike almost impossible balances right now between lives and jobs."

Quote Message: An establishment whose primary business activity, in the ordinary course of its business, is the sale of non alcoholic drinks, snacks or light meals. from New Scottish government definition of a café

Watch: Nicola Sturgeon urges caution over travel

What support will businesses get?

The first minister said the Scottish government is waiting for an announcement from the Chancellor later today on support for jobs as tighter rules are expected soon in England.

Ms Sturgeon then highlighted the additional support the Scottish government was providing.

It includes:

topping up the UK government's furlough scheme (but she says this aspect might be impacted by the Chancellor's announcement),
giving businesses cash grants of between £1000 and £1500 to support the cost associated with closing or reducing their operations,
and a discretionary fund for councils to distribute to businesses that need support but don't fall into the other categories.

Cafe move designed to 'reduce loneliness and isolation'

The first minster explains the decision to order pubs and restaurants to close while cafes can stay open.

She says the reason for the café exemption is to give people who are living alone a place where they can meet someone for a chat.

She says: "We judge that as important to help reduce the loneliness and isolation that comes with some of these restrictions that are in place right now.

"But we are deliberately trying to reduce the volume of places that people might come together so that we can stop the virus spreading, so we've got to draw any exemption really tightly."

Ms Sturgeon adds that to allow premises such as restaurants to stop serving alcohol, in effect becoming cafes and therefore stay open, would "undermine the purpose of these restrictions".

What are the other central belt restrictions?

Nicola Sturgeon then reiterates the other central belt restrictions that will be in place for the next fortnight.

Snooker and pool halls, indoor bowling alleys, casinos and bingo halls will close in the five most affected health board areas.

Contact sports for people aged 18 and over will also be suspended - with an exception for professional sports. Indoor group exercise activities will not be allowed, although the current rules will remain in place for under-18s.

Outdoor live events will not be permitted either.

Those living in the affected areas (Greater Glasgow and Clyde, Lanarkshire, Ayrshire and Arran, Lothian and Forth Valley) are advised not to travel outside the health board area that they live in. They are also advised not to use public transport "unless it is absolutely necessary".

People from elsewhere are urged not to travel to those areas either although no-one is being asked to cancel an October break trip.

Warning of 'ripple effect' between most at risk health boards

Nicola Sturgeon recaps on the new restrictions and and explains why stricter measures will be in place in five health board regions: Greater Glasgow and Clyde, Lanarkshire, Ayrshire and Arran, Lothian and Forth Valley.

She says: "You only need to look at today's figures to see why.

"I mentioned that there are 440 new cases in Glasgow, 306 in Lanarkshire, 192 in Lothian.

"Numbers are lower in Forth Valley and Ayrshire and Arran - at 53 new cases in Forth Valley and 84 in Ayrshire and Arran – but they are still very high for the population of those areas."

Ms Sturgeon adds as people live and work across all five areas there can be a "ripple effect between them".