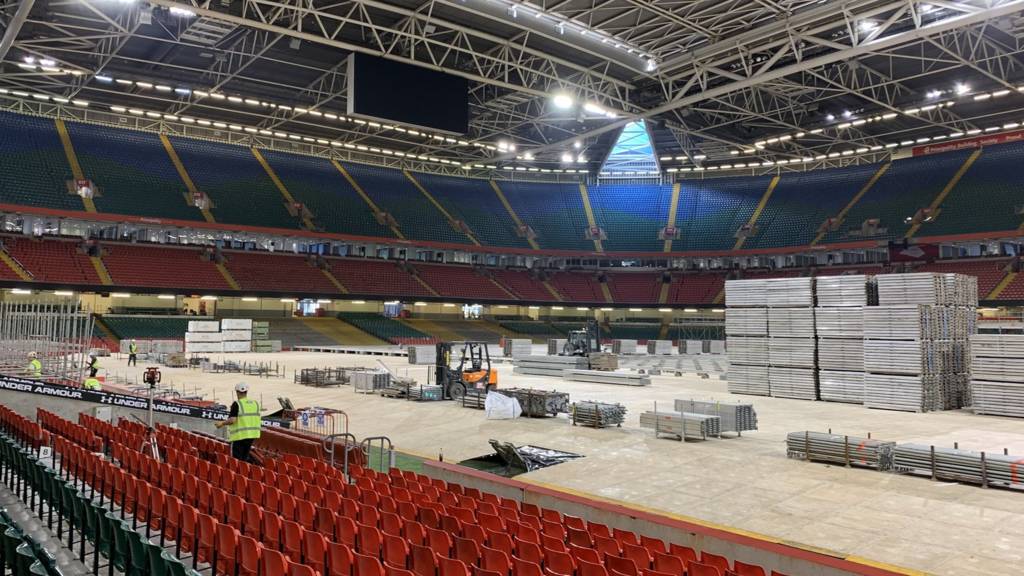 Live
As it happened: Thursday's updates on coronavirus pandemic
Thank you for joining us today for our live updates on the coronavirus pandemic in Wales, we will be back shortly after 06:00 tomorrow.

Tonight many of you took to the streets to clap, hoot and play instruments to show support for key workers.

We also learned:

Another 41 people in Wales have died after testing positive for coronavirus, taking the total number to 286, Public Health Wales has said
Incident director Dr Robin Howe said another 16 confirmed new cases brought the total in Wales to 4,089
Prime Minister Boris Johnson has been moved from intensive care, but remains in hospital for close monitoring
The lockdown in Wales will remain in place for "several more weeks at the very least"
Four inmates at Cardiff Prison have tested positive for coronavirus
With warm weather forecast, police are warning people not to be tempted to break restrictions

Police anger over mountain fire

Police have said those starting grass fires deliberately in the midst of the pandemic need to "have respect".

Officers in Caerphilly tweeted after a mountain fire was started in Cwmcarn.

They said whoever had started it should be at home.

Stars' messages of hope for football fan in intensive care

Sports stars have sent messages of support to a fit football fan in intensive care fighting coronavirus.

Cardiff City fan Jason James, 49, has been in the special ward at the Royal Glamorgan Hospital, Llantrisant, for two weeks.

Friends asked celebrities, including Bluebirds goalkeeper Neil Etheridge, to record good luck messages for him.

The impact of coronavirus on sport - a timeline

The spread of coronavirus around the world has impacted the staging of sporting events.

Disney Plus enjoys lockdown boost

Disney's new video streaming service has reached more than 50 million subscribers since its launch five months ago.

When Disney Plus last announced viewing figures in February it had reached 26.5 million subscribers.

Since then, this has almost doubled as more people are online and stuck at home due to virus clampdowns.

Disney Plus, which rivals Netflix and Amazon Prime, rolled out to the UK and other parts of Europe last month.

All three streaming platforms are enjoying a huge boost in viewing figures as cinemas remain closed and people are forced to stay indoors.

Copyright: Albert L. Ortega

Call for apps to get fake Covid-19 news button

Social networks need a dedicated button to flag up bogus coronavirus-related posts, an advocacy group has said.

The Campaign for Countering Digital Hate (CCDH) said the apps had "missed a trick" in combating the problem.

The call coincides with a study that indicates 46% of internet-using adults in the UK saw false or misleading information about the virus in the first week of the country's lockdown.

Ofcom said the figure rose to 58% among 18-to-24-year-olds.

The communications watchdog said the most common piece of false advice seen during the week beginning 23 March was the claim that drinking more water could flush out an infection.

'I couldn't go up to the coffin and say goodbye'

A woman from Cardiff who could not go to her husband's funeral because of the coronavirus pandemic said she "couldn't hug anybody" after watching his coffin being taken away in a hearse.

Susan Cadogan's husband Peter died from cancer on 3 March, before coronavirus restrictions were imposed, and she said a big funeral service with a "full church" was being planned for him.

But she said plans had to be changed when churches shut to limit the spread of the virus.

Ms Cadogan said: "I couldn't hug anybody, they couldn't hug me. I couldn't go up to the coffin and say goodbye."

People across Wales join clap for key workers

All over Wales, communities have turned out in force for the third consecutive Thursday to show support for key workers.

Here's a selection of footage from across the country

Treorchy street sings national anthem

Clapping at hospital windows

Emergency service workers clapped outside the windows of a hospital run by Aneurin Bevan University Health Board.

Police and NHS workers wearing masks and aprons joined in the round of applause.

High Impact Service User Lead for ABUHB Victoria Goodwin tweeted that the support was "amazing".

'Great clapping, now do the right thing'

A senior Gwent Police officer has urged people to stay at home after clapping for key workers.

In a tweet, Chief Inspector Sarah Davies said: "Well done everyone who clapped tonight.

"Now do the right thing, keep within your homes and gardens this bank holiday."

Children and adults have been digging out instruments to join in this week's "clap for carers" tribute to NHS staff and key workers.

And many used anything to hand to add to the noise.

People banged pots and pans, rang bells, police sounded sirens and children picked up instruments, such as on this street in Seven Sisters.

Caerphilly Castle has been bathed in blue light in tribute to the staff of the NHS.

A simple "thank you" message has also been projected onto its historic 13th Century walls.

Horns echo across Port Talbot

Clapping is not the only way people showed their support for NHS staff and key workers tonight.

In Port Talbot loud horns could be heard, as Tata Steel workers joined in the tribute.

Rainbows have been seen across the country during the coronavirus lockdown as a symbol of hope.

These musicians carried on that theme by playing Over the Rainbow from The Wizard of Oz during the weekly "clap for carers".

Aspiring firefighters from South Wales Fire Service's junior cadet unit in Newport have been showing their appreciation for key workers.

'From our front line to yours'

NHS workers at Ysbyty Glan Clwyd in Bodelwyddan received a tribute from police as they celebrated the hard work of their colleagues and other key workers.

Paramedics clap for hospital workers

Paramedics and police officers clapped for workers at Bronglais Hospital, Aberystwyth, in tribute to their work in the coronavirus crisis.

'Stay safe and stay home'

Newtown Road Policing Unit from Dyfed-Powys Police have joined in the clap for carers, while reminding people to stay at home.