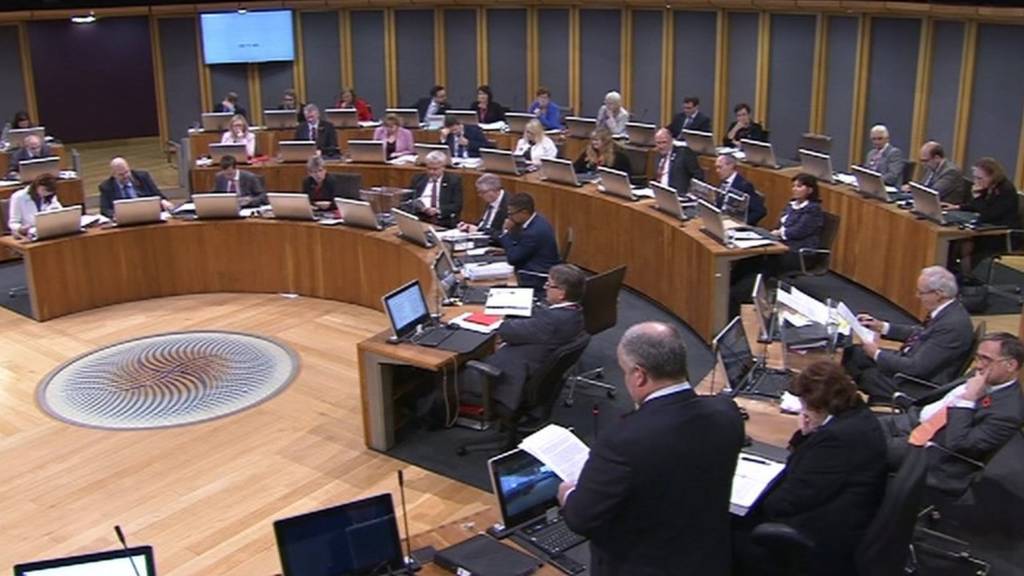 Welsh Assembly celebrates International Women's Day 2017
Summary
Plenary begins at 1.30pm with Questions to the First Minister
Business Statement and Announcement
Statement by the Cabinet Secretary for Health, Well-being and Sport: The Refreshed Stroke Delivery Plan
Debate: The Second Supplementary Budget 2016-17
Debate: The Estyn Annual Report 2015-16
Debate: International Women's Day
That's it for today. 

Senedd Live will be back tomorrow. 

Second Supplementary Budget 2016-17 passed - just

Implications of Brexit for women

Labour's Julie Morgan talks about the implications of Brexit for women, including the value of structural funds, and says that "gender equality has always been a core objective of the EU". 

UKIP's Michelle Brown was not impressed.

'Health-harming misogyny'

Conservative Mark Isherwood says his wife has suffered "health-harming misogyny" as a Flintshire county councilor.   

Healthy relationships lessons compulsory in schools?

Plaid Cymru's Sian Gwenllian points out that "the median hourly pay gap between men and women in Wales in 2015 was 14.6 per cent, and that 29 per cent of women working in Wales earned below the living wage, compared to 20.5 per cent of men, based on the hourly living wage of £8.25 as at April 2016".

Plaid Cymru believes that "gender parity in Wales would be improved if healthy relationships lessons became compulsory in schools".

'The abusers, the sexists and the denigrators of women'

Communities Secretary Carl Sargeant tells AMs, "Men have a duty to speak out on inequality, violence and abuse. 

"We need an International Women's Day because those battles are not yet won. 

"Until that time comes, I'm proud to stand with those who call out the abusers, the sexists and the denigrators of women – whoever they may be and wherever they may peddle their poisonous misogyny."

Women in the economic, political, social and cultural life of Wales

Finally today is a debate on International Women's Day. 

The Welsh Government proposes that the assembly "celebrates International Women's Day 2017 and recognises the role, contribution and achievements of women in the economic, political, social and cultural life of Wales." 

Copyright: TOPICAL PRESS AGENCY

Image caption: Clara Zatkin founded International Women's Day in 1910

'Shocking' findings of Estyn

UKIP's Michelle Brown points out that Labour has been in charge of education in Wales since devolution in 1999, and describes some of Estyn's findings as "shocking".   

Weaknesses in provision, leadership and management

Plaid Cymru's Llyr Gruffydd refers to "the relative poor performance of the pupil referral units inspected in 2015-16, of which none were identified with excellent practice and all four were placed in a statutory category of follow up".

He calls on the Welsh Government to "address weaknesses in provision, leadership and management as a matter of urgency".  

'Not meeting the needs of all learners'

Conservative education spokesman Darren Millar says the education system is still not meeting the needs of all learners.

He notes that leadership is the most significant factor affecting school improvement and calls upon the Welsh Government "to bring forward more detailed information on the establishment of the National Academy of Educational Leadership, including its finances, targets, and how leaders will be able to access its support."

Teachers should be 'lifelong learners'

Education Secretary Kirsty Williams says teachers should be "lifelong learners".   

She describes the latest international Pisa results, which came out in December  as a "source of great disappointment".

Estyn Annual Report 2015-16

The next item in the Siambr is a debate on the Estyn Annual Report 2015-16. 

The quality of teaching in Wales is weak, according to the education watchdog Estyn.

It was the "weakest aspect" of provision across most areas of education in Wales, its chief inspector Meilyr Rowlands said.

Teaching was "good" or "better" in only a minority of secondary schools inspected this year.

Mr Rowlands said too few schools help staff to make the best of professional learning opportunities.

The 157-page report  also found in about a third of primary schools inspected this year, more able children underachieved because their work was not challenging enough.

Image caption: Meilyr Rowlands said there was too much inconsistency although pockets of good teaching exists in schools

Finance Committee's eight recommendations

Simon Thomas, Chair of the Finance Committee, presents the committee's report which includes eight recommendations covering

 Health, social care and winter pressures 
 Education and student loans
 Economy and Infrastructure. 

Debate on the Second Supplementary Budget

We now have a debate on the Second Supplementary Budget 2016-17.  

The main revenue allocations in this supplementary budget are: 

£75.9 million to address forecast overspends by Local Health Boards; 
£50 million to mitigate winter pressures in the NHS; 
£27 million to fund a shortfall in income from the Pharmaceutical Price Regulation Scheme; 
£16 million to meet the Programme for Government commitment to establish a New Treatments Fund; 
£20 million has been allocated to the Higher Education Funding Council for Wales to address financial demands from the recommendations of the Diamond Review; 
£8.5 million to establish Transport Wales to design and let the rail and South Wales Metro franchises. 

The main capital allocations are: 

£47 million to support trunk road projects (including £22 million for M4 Route Development); 
£33.4 million capital grants and loans to deliver economic development priorities; 
£30 million to support the Programme for Government commitment to build an additional 20,000 affordable homes.   

Background: Healthcare Quality Indicators

Figures directly comparing the NHS in the four UK nations were  released for the first time  last month. 

Stroke mortality rates were encouraging for Wales. On the figures involving deaths in hospital from strokes from a bleed in the brain, Wales is at a lower rate than the UK average.

Health officials believe this could be due to the focus in improving stroke care in Wales since 2009 - after it was found to be faring badly - which led last week to the new  stroke action plan being published.

Mr Gething says his own father passed away after having four strokes.

'Best use of finite resources'

"We are in a strong position to move ahead with greater pace", says Vaughan Gething. 

He adds, "We can be confident that some further improvement is possible in stroke outcomes with our current services. 

"However, our stroke services need to be planned in a way to make best use of finite resources to improve outcomes and to aid in the challenges of recruiting specialist staff."   

Statement by the health secretary

The next item in the Siambr is a statement by the Cabinet Secretary for Health, Well-being and Sport, Vaughan Gething: The Refreshed Stroke Delivery Plan. 

Image caption: The Stroke Association estimates that there are almost 66,000 stroke survivors living in Wales

Careers Wales: 60 jobs to be axed

The Welsh Government is aware Careers Wales is consulting on a "voluntary release scheme", says Jane Hutt.  

 A total of 60 jobs at Careers Wales, which employs around 600, are to be axed, the Unison union has said.  

Business Statement and Announcement

Now we have the Business Statement and Announcement where the Leader of the House, Jane Hutt outlines the future business of the Assembly.