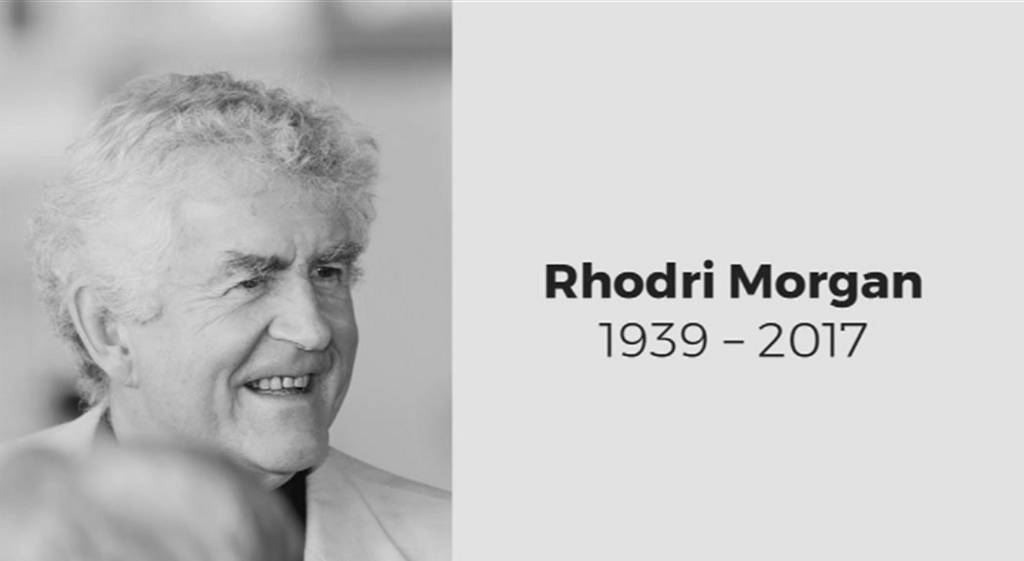 AMs pay tributes to former First Minister Rhodri Morgan
Summary
Plenary begins at 12.30pm with a Statement on the Manchester attack
Tributes to former First Minister Rhodri Morgan
Questions to the First Minister
Business Statement and Announcement
Statement by the Secretary for Economy and Infrastructure: Consultation on the proposed reforms of Taxi and Private Hire Vehicle Licensing
Debate: Social Prescribing
Senedd Live returns tomorrow

That brings today's proceedings in the Siambr to a close.

'Deliver enormous health benefits'

Caroline Jones says UKIP belives that "social prescribing, especially when it comes to mental health, can deliver enormous health benefits".

'So difficult to obtain the evidence'

Dr Dai Lloyd says Plaid Cymru supports the government's proposal and looks forward to "addressing the evidence of its effectiveness, although it is so difficult to obtain the evidence".

Kings Fund definition of social prescribing

Conservative Angela Burns draws attention to the Kings Fund definition of social prescribing, which she describes as a benchmark.

'National approach to social prescribing'

Health Secretary Vaughan Gething says that social prescribing is an important form of intervention that is already used across Wales, considers priorities for the further promotion of social prescribing across Wales, and notes Welsh Government commitments to trial a national approach to social prescribing linked to mental health.

As there have been changes to the agenda following the Manchester attack, the final item today is a debate on social prescribing.

National standards for all taxis and private hire vehicles

Economy Secretary Ken Skates says it is surprising to him that the main legal framework governing the licensing of taxi services (otherwise known as hackney carriages) has not undergone any significant reform for nearly 200 years.

He says there is a "compelling argument for removing the unhelpful distinction between taxis and minicabs or private hire vehicles".

He adds "the arrangements proposed by the Law Commission would, if implemented see the introduction of national standards for all taxis and private hire vehicles.

"These national standards could be set by the Welsh Ministers to ensure that the quality expectations for taxis are universally available to passengers across Wales".

Finally, he said he is "keen to make it easier for providers to work across local authority borders but with the appropriate arrangements in place to ensure that licensing officers have enforcement powers to deal with vehicles and drivers licensed in different areas".

There are currently more than 9000 drivers in Wales licensed to provide taxi and private hire vehicles in Wales, with more than a third of these in Cardiff and Swansea.

Consultation on proposed reforms

The next item in the Siambr is a Statement by the Cabinet Secretary for Economy and Infrastructure Ken Skates on the consultation on the proposed reforms of taxi and private hire vehicle licensing.

Business Statement and Announcement

We now have the Business Statement and Announcement, where Leader of the House Jane Hutt outlines the future business of the Assembly.

100% committed to Wylfa Newydd

"We are 100% committed to Wylfa Newydd", the first minister tells Nathan Gill.

Copyright: HORIZON NUCLEAR POWER

Image caption: The design of the £12bn nuclear power plant has been refined since the company's first stage of consultation

'Never give in to their intolerance'

On the suicide bombing at Manchester Arena, the first minister says "the strongest message that we can sent to those who wish to terrorise our society is that they cannot win",

"They cannot win because we will carry on enjoying our freedoms...We will never give in to their intolerance and their violence".

UKIP leader Neil Hamilton says the "best act of defiance is to resolve our differences through debate rather than bombs or the bullet".

Casualties of Manchester attack

The first minister says he is not aware of anybody from Wales injured or killed in the Manchester attack.

'Stand shoulder to shoulder'

Conservative leader Andrew RT Davies says he won't be asking his three permitted questions as it's important to "stand shoulder to shoulder" and "face down this act of evil" at Manchester.

'Robust' security arrangements for Champions League final

Security arrangements for the Champions League final in Cardiff are "robust", the first minister tells AMs.

Thanks to the emergency services

Plaid Cymru leader Leanne Wood thanks the emergency services for dealing with the suicide bombing at Manchester Arena last night, saying it is worth reiterating how much public service workers are valued.

She says "we will not allow extremists to divide our communities".

Copyright: GOODMAN/LNP/REX/SHUTTERSTOCK

Image caption: The wounded are being treated at eight hospitals around the city

Obesity in the Hywel Dda health board area

Paul Davies raises the issue of obesity in the Hywel Dda health board area.

Health services in Pembrokeshire

We now move on to Questions to the First Minister.

The first of the questions tabled is by

Paul Davies (Preseli Pembrokeshire): What is the Welsh Government doing to improve health services in Pembrokeshire over the next twelve months?

The Llywydd Elin Jones says Cardiff Bay would "never see the like of Rhodri Morgan again".

"For those of us who have served here since 1999, we will not forget his courage and boldness in creating and leading the Welsh Government.

"Rhodri ploughed his own furrow, and did so in order to do what he believed was best for this nation."

She has has now suspended the meeting for a short period.