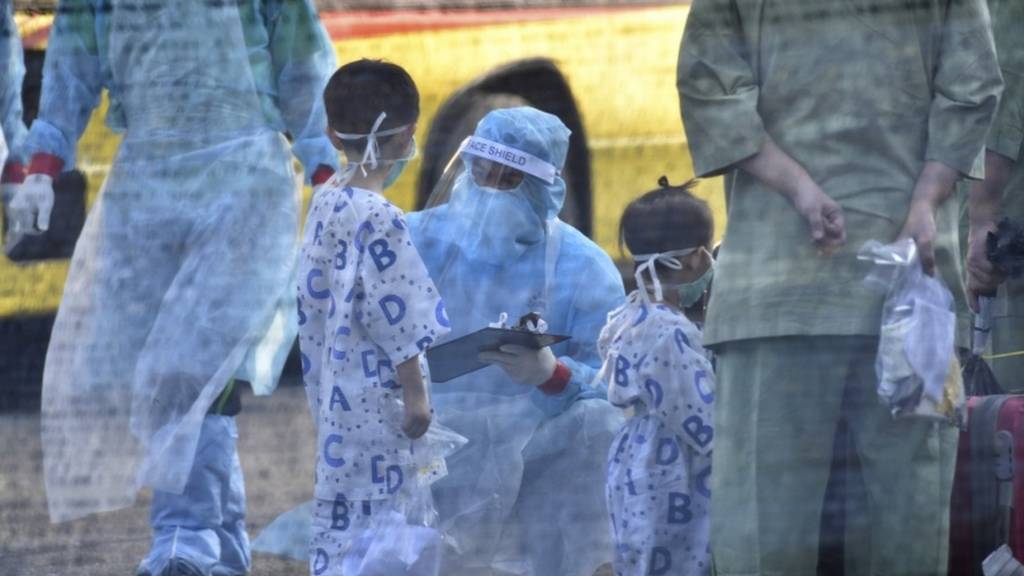 By The Visual and Data Journalism Team

BBC News

We're pausing our live updates for the evening but we'll continue to cover this story across the BBC website.

For the latest updates, follow our main story here, or scroll down the page to read all of today's news as it happened.

Here's a recap of key developments as the coronavirus has continued to spread across the world:

The World Health Organization said that for the first time, more new cases of the virus had been recorded outside China than within the country - but the group's head also said the world was "in a fight that can be won if we do the right things"

In Italy - Europe's worst-hit country - authorities have reported a 25% spike in confirmed cases during the last 24 hours. According official figures, 400 people are now infected with the disease. The outbreak has also killed 12
Austria, Algeria, Brazil, Croatia, Greece, Norway, Pakistan, North Macedonia and Switzerland reported their first coronavirus cases - many of them were people who had been to Italy
More cases were also announced in Spain, France and Germany
In Britain, tests for coronavirus are being extended to include people displaying flu-like symptoms at 100 GP surgeries and eight hospitals across the country. It will mean hundreds more people will be tested for the virus each week

Global markets mixed after days of losses

Trading in global financial markets paused for breath on Wednesday afternoon, after days of sharp losses spurred by fears about the coronavirus and the emergence of new clusters of infections outside China.

The main US indexes were mixed, rising from Tuesday's losses in early trade, before retreating later in the day. In Europe, major bourses were mostly flat.

Three firms in London, including oil giant Chevron, asked staff to work from home as a precautionary measure.

Read our latest coverage of the markets here.

Iraq clamps down on gatherings

Iraqi authorities have temporarily banned all public gatherings amid the coronavirus threat.

They have also suspended schools and universities for 10 days from Friday to 7 March.

Cinemas, cafes and clubs will also be closed for the same period.

Coronavirus: How to self-isolate

The official advice is to self-isolate if you suspect you have coronavirus, if you've been in contact with someone who has it, or if you've been to a place where there are a lot of cases. But what does that actually mean and what's the right way to do it?

The BBC's medical correspondent, Fergus Walsh, explains here the methods to successfully self-isolate:

Norway records its first case

Norway has become the latest European nation to register a case of coronavirus.

The country's public health agency has confirmed the news.

The person returned from China late last week and has been isolated at home.

The person was unlikely to have infected others, the agency said.

Germany 'on cusp of epidemic'

Health Minister Jens Spahn has warned that Germany is facing an epidemic after five new cases were confirmed in the west and south of the country - bringing the national total to about 20.

Mr Spahn said the new cases could not be traced back to the virus's original source in China, meaning the disease appeared to be moving to a new phase.

But he warned against unnecessary panic and said German hospitals were well equipped to deal with any rise coronavirus patients.

What does this all mean for international sport?

European football leagues, Six Nations rugby and Formula 1 have already been hit by fears over the outbreak

But with no ideas of how long, or how extensive, the spread is expected to be, organisers of other major sporting events in 2020 are under the spotlight.

Read BBC Sport's feature on the potential impact.

Italy virus cases spike to 400

Italy has become a frontline in the global effort to contain the spread of coronavirus.

Authorities have reported a sharp rise in the number of confirmed cases during the past 24 hours, most of them in the regions of Lombardy and nearby Veneto.

Latest figures show 12 people have died from the virus, and there are currently 400 confirmed cases around the country.

France coronavirus cases rise to 18

A new case of coronavirus has been confirmed in France bringing the total number of cases to 18.

Minister of Health Olivier Véran said the patient was the wife of a man who had previously tested positive.

"Her state of health is not worrying, but she is obviously hospitalised and isolated," the minister said.

Two people have died.

British Airways cancels Milan flights

British Airways has cancelled dozens of flights to Milan due to a drop in demand.

The airline said it would merge a number of its flights between London Heathrow and Milan's Linate Airport for the next two weeks.

The airline has also introduced flexible booking options for customers who have booked flights to and from northern Italy.

Coronavirus fake news spreading fast

Our technology correspondent Rory Cellan-Jones takes a look at some of the fake news spreading on social media.

One popular conspiracy theory online is that the virus was engineered in a lab and deliberately released.

Many social media sites such as Facebook are having to up their game when it comes to misinformation around the new coronavirus.

So just how worried should Americans be?

Image caption: A man wears a face mask on the New York subway

President Donald Trump says the situation is "well under control" while health officials warn the virus will spread and may severely disrupt daily life.

There are 59 confirmed cases.

WATCH: Five countries, five responses

Several European countries have announced their first coronavirus cases, all apparently linked to the growing outbreak in Italy.

The southern European country is one of three global hot-spots outside China - the others are Iran and South Korea.

Measures employed to slow the spread of the virus around the world range from large-scale quarantine in China to cancelled football matches in Italy.

Brazil takes stock after registering Latin America's first case

Katy Watson

BBC South America correspondent

In Brazil the party is definitely over - carnival has come to an end and coronavirus has arrived. (Brazil - and Latin America - had, until now, not registered any cases of coronavirus, despite several suspected ones over the past month or so.)

There's no panic here - people are still getting back to work after carnival celebrations - but the television networks are covering the story intensely now it's hit closer to home.

The negativity has also set in - São Paulo is Latin America's biggest city, a travel hub and financial capital so it's little surprise that the stock market took a hit.

The question is now how quickly more cases will surface.

The man was treated at a top private hospital in São Paulo - an institution that no doubt was hot on identifying the symptoms. But the concern is how public hospitals will contain the spread.

Analysis: The challenge of playing down panic

Philippa Roxby

Health reporter, BBC News

The focus of the coronavirus outbreak is shifting – from China to the rest of the world, particularly Europe, where a number of countries are starting to see multiple cases.

On the face of it, this seems like bad news. More people are being affected in more countries and clusters of deaths in Iran, South Korea and northern Italy are concerning.

But there are positives too. China appears to be getting on top of the virus with the number of new cases each day reducing.

This suggests that efforts to contain the virus by telling people to stay at home, stopping large public gatherings and preventing travel are working.

The message from officials at the World Health Organization is that containment is still possible and a global pandemic is not inevitable.

This view has been echoed in the UK where the government has warned of the social and economic costs of overreacting in response to the outbreak.

Keeping the public safe is the priority – but so is acting in a balanced and responsible way.

However, with several sporting events being cancelled and postponed across Europe, playing down the panic is a challenge.

How is Iran responding to the outbreak?

With the help of our colleagues in BBC Persian, we've been trying to piece together what is happening in Iran.

They've put together information on Iran's hospital supplies and whether people are leaving the country...

Meanwhile, Iranian authorities have announced domestic travel restrictions for people with confirmed or suspected cases.

"Instead of quarantining cities, we are going to implement movement restrictions for those suspected of infection or those infected," Health Minister Saeed Namaki said in a press conference.

Read more to find out the latest from Iran.

First French citizen dies

More details are emerging about the first French person to die from coronavirus.

On Wednesday health officials said the 60-year-old teacher died overnight in a Paris hospital. He had not travelled to a virus hotspot. He worked at a school north of Paris.

He is the second person to die from the virus in France. The first was a Chinese tourist.

In the past 24 hours, four new cases were reported in the country. Two of those patients had returned from Italy. The total number of cases in France is 17.

What's happening in the UK?

In the UK, tests for coronavirus are being extended to include people displaying flu-like symptoms at 100 GP surgeries and eight hospitals across the country.

Public Health England said the tests would provide an "early warning" if the virus was spreading. It is expected to mean hundreds more people will be tested for the virus each week.

What else is happening in the UK:

·Oil firm Chevron asked 300 London staff to work from home while one employee is tested for the virus

·Several schools have closed or sent pupils home after they returned from skiing trips in northern Italy

·That came after the government updated its advice for travellers returning from Italy on Tuesday

·As of 14:00 GMT on Wednesday, there had been 7,132 tests for the virus carried out in the UK. Of these, 13 were confirmed positive - including four people who returned from the Diamond Princess cruise ship in Japan

Coronavirus cases confirmed in Pakistan

Two cases of coronavirus have been confirmed in Pakistan, the country's health minister confirmed.

They are the first cases to be announced in the country.

Health minister Zafar Mirza said both patients are stable.

Local media are reporting that one of the patients had travelled to Iran.