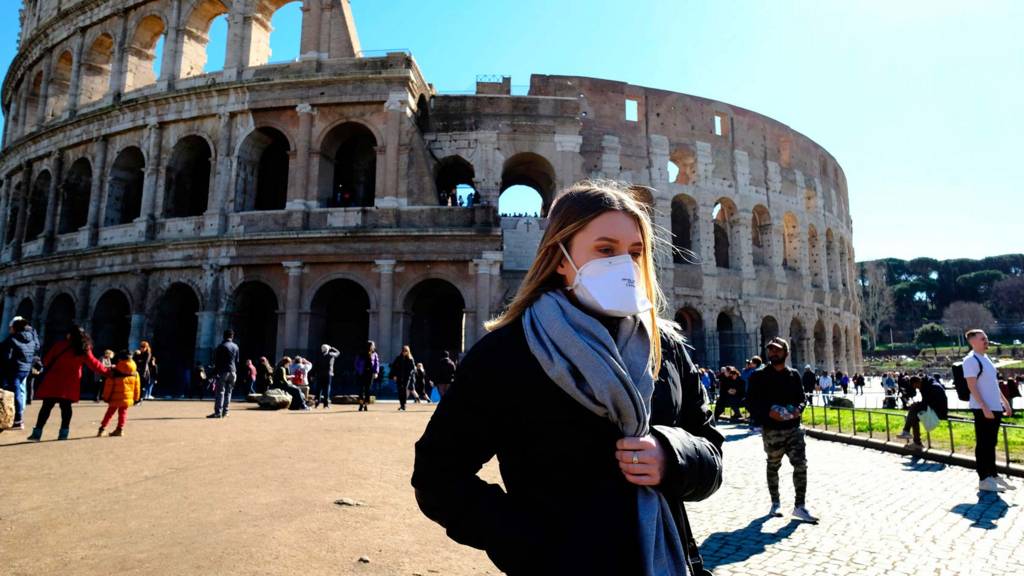 Italy to close all schools and colleges
That concludes today's live coverage on the impact of the coronavirus around the world.

Follow our top stories to keep up-to-date with the latest developments. To understand more about the virus, check out our helpful guides:

Thanks for joining us. We'll be back with more live coverage tomorrow.

Italy's schools to be shut until 15 March

James Bond new release dates - details

More on the decision to postpone the release of the new James Bond film (see our 17:37 entry).

The film - with Daniel Craig's last outing as 007 - had been set to have its premiere in the UK on 31 March 31, before its rollout worldwide in April.

But now the studios behind the film wrote on Twitter: "MGM, Universal and Bond producers, Michael G. Wilson and Barbara Broccoli, announced today that after careful consideration and thorough evaluation of the global theatrical marketplace, the release of NO TIME TO DIE will be postponed until November 2020."

In a separate tweet, the studios said the film "will be released in the U.K. on November 12, 2020 with worldwide release dates to follow, including the US launch on November 25, 2020".

The pause comes after two James Bond fan sites had written to the studios behind the film to ask for its release to be delayed over worries that cinemas could be closed then, Reuters reports.

Outbreak in Italy - more details

Breaking

Death toll in Italy passes 100

The death toll from the coronavirus in Italy has now risen to 107, the authorities say.

They say 2,706 people have tested positive in the country - Europe's worst-hit.

The country's education minister also confirmed earlier reports that schools and universities throughout the country would be closed until mid-March.

Israel to impose tough travel restrictions

Israel is imposing new travel restrictions on five European countries - France, Germany, Spain, Austria and Switzerland - due to fears over the spread of coronavirus.

"We are at the peak of a global epidemic," Prime Minister Benjamin Netanyahu said as he announced the move on Wednesday.

Mr Netanyahu said non-residents arriving from the five countries listed would have to prove they could self-isolate in order to be granted entry.

Israel is also ordering its citizens returning from those countries to self-quarantine in their homes for 14 days.

The country's health ministry said the measures would come into effect "in the coming days".

Northern Ireland's new cases - more details

More on the two new cases in Northern Ireland, which has brought the total number there to three since the testing began.

Both of those infected are adults, with one recently returning from northern Italy, officials say. The second person was in contact with someone in the UK who had tested positive for Covid-19.

The cases are not connected.

The very first case, confirmed on 27 February, was a woman who had returned to Northern Ireland via Dublin from northern Italy.

Chief medical officer Dr Michael McBride said the two new patients were receiving the appropriate care and officials were working to identify anyone they had come into contact with.

Breaking

Two more cases of coronavirus confirmed in Northern Ireland

The first case, confirmed last week, was a woman who had returned from northern Italy.

Lufthansa grounds 150 aircraft

German airline Lufthansa says it is grounding 150 of its 770 aircraft due to "extraordinary circumstances" in the wake of the coronavirus outbreak, Reuters news agency reports.

A spokesman for Lufthansa Group - which includes Swiss, Brussels and Austrian Airlines - told AFP news agency that "25 long-haul aircraft and 125 short- and medium-haul aircraft" will no longer fly.

Lufthansa Group earlier said it planned to reduce the number of flights by up to 25%, largely to virus-hit areas such as northern Italy.

Vietnam Airlines carried infected Japanese passenger - government

The Vietnamese government has revealed that Vietnam Airlines carried a Japanese passenger from Siem Reap, Cambodia, to Ho Chi Minh City, who then traveled on to Nagoya, Japan, where he tested positive for coronavirus.

This happened on Tuesday.

Meanwhile, five fellow passengers who are in Vietnam are now being contacted for self-quarantine.

But 50 others had already gone on their way to London, the government said.

WHO health expert takes questions

The World Health Organization (WHO) has started a live Q&A session with its pandemic and epidemic diseases expert Dr Sylvie Briand.

You can submit questions via Twitter using the hashtag #AskWHO

New York state's confirmed cases rise to six

The number of infected people in the US state of New York has now risen to six, Governor Andrew Cuomo has said.

He said among them were the family of a Manhattan lawyer who had tested positive for the coronavirus on Tuesday.

The lawyer's son is believed to have been studying at New York's Yeshiva University, which has cancelled Wednesday classes as a "precautionary step".

Speaking at a news conference, Governor Cuomo warned that there were going to be "many, many people who test positive".

"By definition, the more you test, the more people you will find who test positive," he said.

IMF warns of threat to economies

The International Monetary Fund (IMF) has warned of the growing economic impact of the coronavirus outbreak, predicting a drop in global growth below last year's modest level.

"[Coronavirus] is no longer a regional issue, it is a global problem [that] calls for global response," IMF boss Kristalina Georgieva said.

She said the epidemic posed a "serious threat" to global growth because of its "sheer geographic spread", adding that its full impact was difficult to predict.

Photo gallery: Living in lockdown in Wuhan

Copyright: AFP/Getty Images

The coronavirus is believed to have originated in Wuhan, the Chinese city of 11 million people that has now been locked down for weeks.

No-one is allowed to leave the city, which is the capital of Hubei province.

The city's normally busy main railway station is now virtually deserted.

...and so are the main streets, where an occasional bike rider in a protective suit can be spotted going shopping.

But residents have been slowly adjusting to the new reality. Here people are seen resting outside their houses in an area blocked by barriers.

Image caption: Laundry is put to dry above boards blocking an entrance to a residential area in Wuhan

Some have made good use of the blocking board to put out their laundry.

Twitter and Facebook to halt 'inappropriate ads'

Twitter has said it "will halt any attempt by advertisers to opportunistically use the Covid-19 outbreak to target inappropriate ads".

In a statement, the company added: "Government entities that want to disseminate public health information will be permitted to promote ads on Covid-19."

Earlier, Facebook's founder Mark Zuckerberg also said the company was removing false claims and ads for fake cures for the coronavirus.

In Tuesday's post, Mr Zuckerberg founder explains that his company has been working closely with health authorities to co-ordinate their response to the virus.

But can Facebook stop coronavirus conspiracies? Here's BBC technology correspondent Rory Cellan-Jones' take on the issue.

'Unlikely Switzerland can avoid deaths'

Image caption: The Geneva International Motor Show in Switzerland has been cancelled due to the Covid-19 epidemic

Swiss government officials say it is "unlikely" that the country will be able to avoid recording some deaths linked to the coronavirus outbreak, the BBC's Imogen Foulkes reports.

The situation in Switzerland was described by health officials on Wednesday as "serious, and becoming more so", our correspondent adds.

Total confirmed cases in the country are approaching 100 - most of them young people who can trace their infection to Italy.

The government is now putting in place more measures to protect the elderly, who are viewed as most at risk.

UAE Tour riders to be held in quarantine until 14 March

French cycling teams who said they were being "held against their will" and "treated like plague victims" in the United Arab Emirates (UAE) will be held in quarantine there until 14 March.

Cofidis and Groupama-FDJ riders had been taking part in the UAE Tour when it was cancelled in the final stages because of two suspected cases of coronavirus and fears the infection may have spread among participants and staff.

On Tuesday, UAE authorities announced six more cases connected to the race.

Cofidis and Groupama-FDJ said all their riders and staff have tested negative for coronavirus, but they have been told by the International Cycling Union (UCI) to stay in isolation until Saturday.

"It's a kind of relief," said Cofidis president Thierry Vittu.