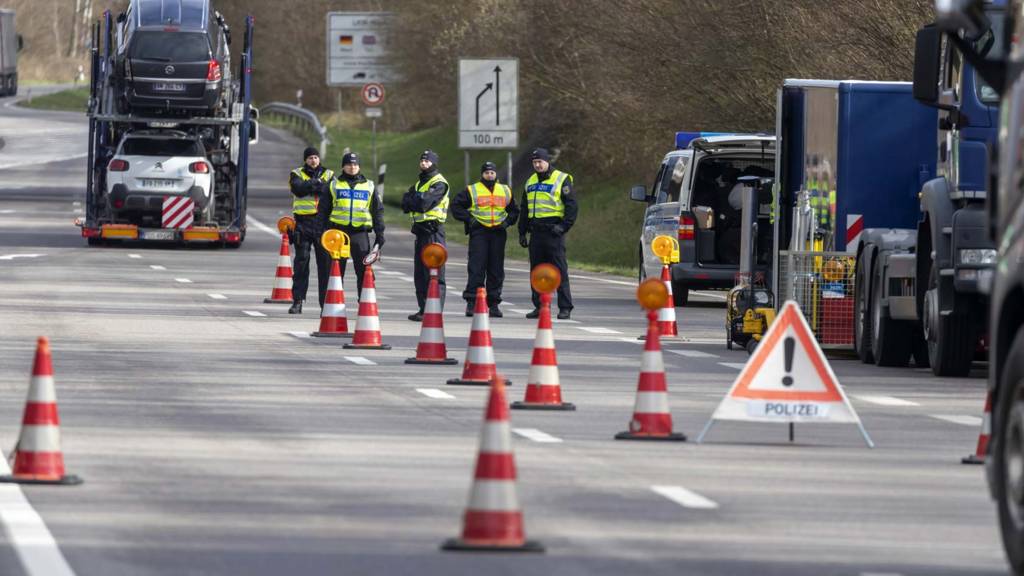 As it happened: Coronavirus on Friday
Our live page is ending - here are the day's events in brief

We're closing the live page shortly, but before we go, here's a round-up of today's developments:

The number of cases globally continues to rise and now stands at a total of 133,500, with 5,000 deaths reported, the World Health Organization says
Europe is now the epicentre of pandemic, with more cases reported every day than in China at its peak, says the WHO
Italy's death toll has increased by 250, bringing the total to 1,266 on its fourth day of lockdown
There is video of Italians singing to their neighbours to keep spirits up
US President Donald Trump announced a state of emergency and a new testing regime, promising millions more tests across the country

The virus continues to have a dramatic impact on travel and freedom of movement globally. A number of governments announced full or partial plans to close their borders to foreigners, including the Czech Republic, Norway, Poland, Denmark, Austria, Turkey, Pakistan and Hong Kong
In badly-affected Iran, the streets are being cleared to prepare all citizens for testing in the next 24 hours
In the UK, local elections have been postponed for a year, and Canada's parliament has been suspended temporarily
More major sporting events continue to be suspended, including the Premier League, Bundesliga, and the London Marathon
Schools in more countries will be closed too - including in Belgium, Switzerland, and most of Germany
After uncertainties early in the day, many stock markets ended markedly up

Trump shuns golden rule - don't shake hands

Rule number one (or at least top five) of coronavirus prevention: don't shake hands.

US President Donald Trump appeared to shun that medical advice on Friday.

Introducing business leaders at a press conference outside the White House, he shook hands with many of them as they took to the podium.

Health experts say "social distancing" is key to prevent the spread of the virus. That means refraining from typical greetings such as handshakes.

At the press conference, one executive avoided the president's outstretched hand.

Bruce Greenstein, CEO of the home healthcare provider LHC, instead gave Mr Trump an elbow bump.

Image caption: Bruce Greenstein offers President Trump an elbow bump

Mr Trump, 73, said he did not need to self-isolate despite meeting at least one person, a Brazilian official he met at Mar-a-Lago, who has the coronavirus.

"I don't have any of the symptoms," Mr Trump told reporters when asked why he has not been tested.

But after a barrage of further questions, the president said he would get tested "fairly soon".

"I didn't say I wasn't going to be tested," he said.

Read more: I don't need to self-isolate, says Trump

US House 'reaches relief package deal'

US House of Representatives Speaker Nancy Pelosi, a Democrat, says she has reached an agreement with her Republican opponents on a package of relief for families affected by coronavirus.

It contains provisions on paid time off for people whose lives have been disrupted by the virus as well as widespread testing for Covid-19 at no cost.

Colorado announces first death

The western US state said a woman in her 80s with underlying health issues had died from the virus, the Reuters news agency reported. It brings the death toll in the US to at least 47.

Second Trump guest 'tests positive'

President Trump told a news conference at the White House Rose Garden earlier that he was "likely" to be tested - despite having no symptoms of Covid-19.

Why? Especially as, one, he's been saying for days that there's no need as he feels fine and, two, he told the same gathering that authorities were not recommending tests for those without symptoms.

But the urgency of a test for the US leader may have become that more pressing after new US media reports suggesting that a second person who visited President Trump's private Mar-a-Lago estate last weekend has now tested positive. The first was a Brazilian official. The second has not been identified.

US summons China envoy over virus tweet

The Trump administration has summoned China's ambassador in Washington over the promotion of a conspiracy theory that blames the US for the outbreak of coronavirus.

Chinse ambassador Cui Tiankai was hauled before the US State Department on Friday in response to online comments made by Zhao Lijian, China's foreign ministry spokesman, a day earlier.

A US State Department source told Reuters news agency that Mr Cui was "summoned with regard to what the Chinese foreign ministry spokesman said over Covid-19".

Mr Zhao had tweeted that the US military could have brought the coronavirus to China.

Coronavirus originated in the Chinese city of Wuhan, where it was first detected in December last year.

In Mr Zhao's tweet, he shared a video clip of Robert Redfield, the director for the US Centers for Disease Control and Prevention (CDC), speaking at a congressional hearing on 11 March.

Mr Redfield said some influenza deaths in the US were later identified as cases of Covid-19.

The conspiracy theory has gained traction over the past few weeks, with numerous Chinese officials and state media repeating it.

You may be interested in:

Fifa urges internationals for March and April be called off

Fifa has recommended that all international football matches scheduled for March and April be postponed due to the coronavirus outbreak.

Football's governing body suggested delaying matches to avoid "any unnecessary health risks" and "potential sporting unfairness".

Stopping short of banning matches, Fifa said the final decision on postponement rested with competition organisers such as England's Premier League and European body Uefa

Fifa rules normally oblige clubs to release players for national team matches, but this rule has been temporarily reversed.

Earlier, all Premier League games in England and Uefa competitions, including the Champions League and Europa League matches due to be played next week, were postponed.

US House Democrats press aid package

The Speaker of the US House of Representatives, Nancy Pelosi, hopes to pass a relief package to help those affected by coronavirus - but President Donald Trump appears to remain opposed to it, despite days of negotiations.

The bill includes free testing as well as a new paid sick leave programme and unemployment benefits. A BBC correspondent says Ms Pelosi has had detailed talks on the bill with President Trump's Treasury Secretary Steve Mnuchin.

But Mr Trump said no agreement had been reached and some Republicans say the bill is expensive and ineffective.

Death toll in Washington state rises to 37

The number of people who have died from coronavirus in US hotspot Washington state has risen to 37 - an increase of six - the state governor says.

All public and private schools there will close from Tuesday, and gatherings of more than 250 people are banned across the state.

"We're going to fight this epidemic as much as we can and the reason is we don't want to see an avalanche of people coming into our hospitals with limited capacity," Governor Inslee told a press conference

Italian neighbours sing to keep spirits high

Videos of people singing traditional songs across alleyways and playing music to neighbours have gone viral on Italian social media, as millions face quarantine in the country. In Siena, residents sang folk son Canto della Verbena - And While Siena Sleeps - to each other as they spent their third day in lockdown.

'Most likely I will be tested' - Trump

Reporters have been continuing to press Donald Trump about whether he will take a coronavirus test after he was photographed standing next to an Brazilian aide who later tested positive. He says he will "most likely" take a test, but "not for that reason".

"I will do it anyway, fairly soon. We are working on a schedule," Mr Trump said.

US government advice is that anyone exposed to the virus should speak to their doctor who will advise about testing.

Dow Jones ends the day up

Wall Street shares rallied on Friday after US President Donald Trump declared the coronavirus outbreak a national emergency, freeing up money to fight the spread of the disease.

As the president spoke, the three main US indexes jumped more than 9%.

Earlier, London's FTSE-100 closed up 2.5%, retreating from an early surge, while other European indexes made similar moves.

The rally comes a day after Wall Street suffered its biggest losses since 1987.

Read our full story here.

Ski resort guests told to leave Zermatt

Imogen Foulkes

BBC News, Geneva

Guests in the Swiss ski resort of Zermatt have been told to leave by Monday. This is because Switzerland's ski resorts are shutting down due to the new government regulations on controlling the coronavirus.

Zermatt's ski lifts and mountain railways will stop on Sunday. Hotels and holiday apartments will then be emptied.

It is not entirely clear if other resorts are asking all guests to leave, but the St Moritz region is closing every public space including all ski slopes, cinemas, swimming pools - and some hotels are closing.

This will be a huge blow to Switzerland's alpine resorts: Swiss hotels have just posted a good year, after struggling for some time with the strength of the Swiss franc and financial downturns in Eurozone countries. What's more, after a slow start to the winter season, the last couple of weeks have seen lots of snow, and thousands of guests had been expected over the next few weeks.

Trump has 'no symptoms' of coronavirus

The US president says he is showing no symptoms of the coronavirus after he met a political aide to Brazilian president Bolsanaro at the weekend, who later tested positive.

"We have no symptoms whatsoever," he told reporters during his press conference in the White House.

There had been speculation that President Bolsonaro had himself tested positive, but on Friday said he did not have the virus. Donald Trump sat next to Mr Bolsonaro at a dinner at his residence in Florida last week.

Anthony Zurcher

BBC North America reporter

Donald Trump said "national emergency" were two very big words, but the declaration sounds more dramatic than it is.

There are currently more than 30 national emergencies in effect, including one Trump declared last year to redirect military funds to build his Mexican border wall.

However, the step does free up considerable funding and administrative flexibility that the White House can use to combat the spread of the virus.

Breaking

Trump 'may add' UK to travel ban

President Donald Trump says that he "may add" the UK to the list of European countries affected by the US travel ban. He said his government is looking at the rise in cases in Britain in the past 24 hours, which he described as "precipitous".

The total number of cases in the UK is now 798, up by more than 200.

President Trump announces new national measures

Image caption: President Donald Trump speaking in the White House on Friday

More now from the White House where President Donald Trump is still speaking to reporters. He has declared a state of emergency across the US.

He also announced new testing measures - here's the latest from his address:

The state of emergency opens up $50billion of funding and "every hospital" will activate their emergency plans
It also waives doctor licensing laws to enable physicians to work across states and relaxes laws about how and where hospitals can treat patients in their hospitals
Rules around telehealthcare will also be waived

Up to 500,000 tests will be available from next week, and the testing locations will be announced on Sunday
The president promised that within a month, 5m tests will be available, as well as drive-through testing facilities
Mr Trump says the government is partnering with Google to develop a website that helps citizens identify how and where to test for the virus
Visitors will be banned to nursing homes nationally, with the exception of end-of-life situations
The president also said interest on student loans will be waived
He said the government will take advantage of the low price of oil to buy large quanities for storage in the US - "We're gonna fill it right up", he promised
"This will pass - and we're going to be stronger for it", Mr Trump said

'Relief flooded through me'

Laura Trevelyan

Presenter, BBC World News America

"I just got the result, and he's negative for Covid-19."

Relief flooded through me, as the family paediatrician relayed the news that our middle son Toby did not have the coronavirus.

It has been a horrendous week - beginning with Toby being hospitalized in Brooklyn with a fever of almost 106F and flu-like symptoms. But he tested negative for flu.

This struck our paediatrician and the ER doctor as suspicious, and both wanted to test our 17-year-old athletic high school senior for the coronavirus. Yet this was no easy matter.

On Monday, the paediatrician had no tests at the practice. In the ER, the protocol is to call the department of health and ask if the patient should be tested.

Until extremely recently, the department of health would only test people who had come into contact with other infected people, or travelled to an area where coronavirus is rampant. I heard several ER doctors complain that for days, people they suspected to be infected were turned down for tests.

Toby and I were put in a negative pressure isolation room at the hospital emergency room, wearing masks, and medical staff who came into contact with us had to wear masks too.

The ER doctor told me that the protective clothing and visors worn by hospital staff were made in Wuhan, epicenter of the outbreak in China. And now there's a shortage of that vital protective gear. We were sent home from the ER awaiting the results of other tests before a request for the coronavirus test could be made.

By Tuesday, our paediatrician had the Covid-19 test, which is a nasal swab - and Toby was tested. On Friday morning, after nearly three days of stressful family quarantine, we found out that Toby's test was negative. He leaped around the apartment like a newborn lamb. He's one of the lucky ones.

With the lag in testing in New York, now it's been scaled up, we'll rapidly see more confirmed cases. The anxiety on the rapidly emptying streets of the city is palpable.

Cyprus limits entry to country

In the last hour, the Cypriot government has announced that only its citizens, along with other Europeans working on the island and people with special permits will be allowed into the country for a 15-day period beginning on Sunday.

President Nicos Anastasiades announced the move in a televised address on Friday.

Nationwide school closures have also been extended until 10 April.