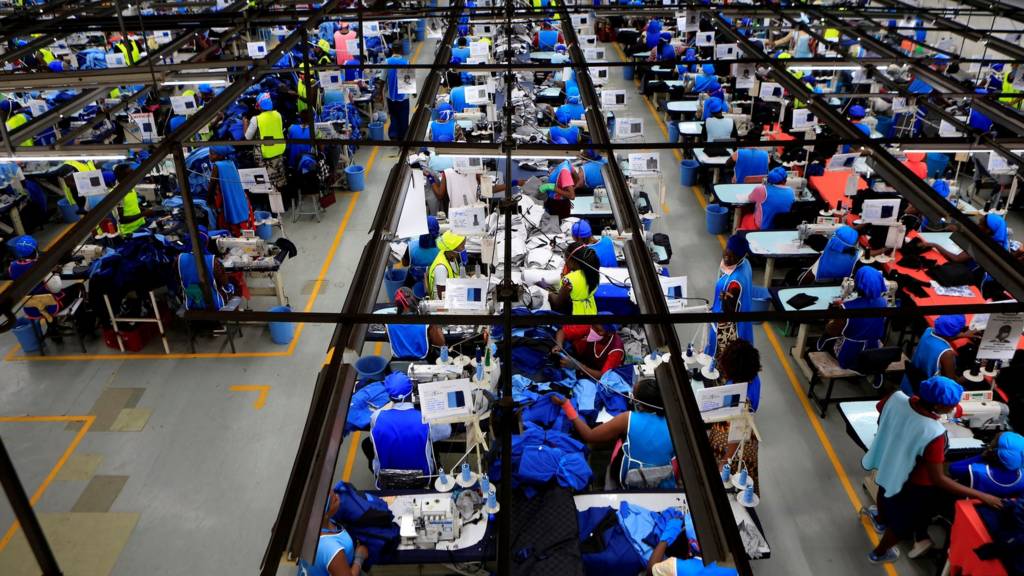 Live
Africa Live: Top Nigerian senator guilty of stealing $19.6m
This is an automated service at nights and weekends.
Further bad weather has been forecast in areas where rain-triggered disasters have already claimed lives.

By James Gallagher

Health and science correspondent

Watch spinner Tabrez Shamsi wow the crowd as he celebrates a wicket during a T20 match in South Africa by performing a magic trick involving a red handkerchief.

Scroll down for Thursday's stories

We'll be back on Friday

That's all from BBC Africa Live for now. There will be an automated service until Friday morning.

Or you can keep up-to-date with what's happening across the continent by listening to the Africa Today podcast.

A reminder of our wise words of the day:

Quote Message: The person who burns his granary knows where ash is worth more than grain." from A Hausa proverb sent by Adamkolo Mohammed Ibrahim, Kuala Lumpur, Malaysia

Click here to send in your African proverbs.

And we leave you with this picture from Ethiopian photographer Maheder Haileselassie:

Tutu 'in good spirits' in hospital

Nobel Peace laureate and former Archbishop of Cape Town Desmond Tutu is "in good spirits" in hospital where he was admitted for treatment for an infection, AFP news agency quotes his successor in the Anglican Church as saying in a statement.

Archbishop Njongonkulu Ndungane said he was "as alert as ever and to me appeared to be well on the road to recovery".

Archbishop Tutu, 88, was taken to hospital on Wednesday.

"I found him to be in good spirits and seemingly responding well to the excellent medical care that he is receiving," Archbishop Ndungane is quoted as saying.

Image caption: Archbishop Desmond Tutu was seen in public last month during the World Cup victory tour by South Africa's rugby team

Boko Haram 'abduct 21 in Cameroon'

Nigeria-based Boko Haram militants abducted 21 people in the north of Cameroon near the border with Nigeria, local officials and police told the AFP news agency.

Four of those taken managed to escape and the security forces are now searching for the 17 others, an official quoted by AFP said.

Boko Haram launched its insurgency in north-east Nigeria in 2009 and killed and kidnapped thousands of people. Its operations have spread to neighbouring countries.

Image caption: The Boko Haram insurgency has forced more than 200,000 people from their homes in northern Cameroon

By Mohamed Fajah Barrie

BBC Sport, Sierra Leone

South Sudan 'gunshot wound patients evacuated'

In South Sudan, 29 people with bullet wounds from communal clashes have been flown by the International Committee for the Red Cross (ICRC) to the capital, Juba, for treatment, the organisation says.

Earlier this week, the United Nations Mission in South Sudan redeployed some of its troops to the affected area, about 500km (310 miles) from Juba, where it said 80 people had been killed.

"The only medical facility in the area is a primary health care unit, which is not equipped to handle high numbers of trauma injuries such as gunshot wounds. Our only option was to evacuate patients by plane," ICRC representative in South Sudan James Reynolds said in s statement.

"We are concerned about this sudden spike in violence," he added.

The fighting is between the Gak and Manuer communities and the two sides have also been looting each other's property and stealing cattle.

Foreign ship crew abducted off Nigerian coast

The Nigerian authorities and a Greek shipping company are searching for 19 crew members who have been kidnapped from an oil supertanker off Nigeria.

The 18 Indian staff and one Turk were seized during an attack on the vessel, the Nave Constellation, on Tuesday evening after it had loaded up at the Bonny Island terminal.

Seven other crew remain on board the ship, which was not damaged.

Experts say that more than 80% of crew kidnappings worldwide now occur in the Gulf of Guinea, with pirates increasingly kidnapping crews for ransom rather than stealing cargoes.

A Nigerian navy official said the ship had not requested an escort away from the terminal.

Lebanese salesman 'could be tried in Mozambique' over mega-fraud

Jose Tembe

BBC News, Maputo

The main defendant in a tuna fishing fleet mega-fraud, who was acquitted earlier this week in the US, could now be tried in Mozambique, Mozambican state television, TVM, reports the Attorney General's office.

Lebanese ship salesman Jean Boustani was acquitted of the accusations that he had paid hundreds of millions of dollars in bribes to Mozambican politicians and officials, and bankers at Credit Suisse, to secure a $2bn (£1.5bn) loan for the Mozambican government.

The fraud case plunged Mozambique into a serious financial crisis in 2016.

US prosecutors got involved after part of the loan was sold to American investors, who eventually lost their money. Three Credit Suisse bankers previously pleaded guilty in the case.

Now, TVM reports, the Attorney General's office says there is evidence for Mr Boustani to be tried in Mozambique.

He has always denied the charges.

He is one of eight people charged in the case but the only one to go to trial.

Three Credit Suisse bankers pleaded guilty and await sentencing. Four others, including former finance minister Manuel Chang, are not in US custody.

By Oluwashina Okeleji

Football Writer, France

Balogun: Racism fight a collective responsibility

Nigeria international Leon Balogun believes tackling racism is a collective responsibility and that more "extreme punishments" are needed.

A recent rise in incidents of racism across Europe has been met with financial penalties and partial stadium closures.

The 31-year-old Brighton defender insists more severe sanctions are needed to send out a strong statement.

He also supports players walking off the pitch, but admitted it is only part of what needs to be done.

Balogun wants those not being targeted on the pitch to fully support their team-mates who feel that leaving the pitch is their only option, so that not too much pressure is put on the individuals.

Croatia 'mistakenly' deports Nigerian table tennis players

Two Nigerian students, who were in Croatia for a table tennis tournament, were mistakenly deported to a refugee camp in neighbouring Bosnia, the UK-based Guardian newspaper has reported.

Three weeks ago, the day before Abia Uchenna Alexandro and Eboh Kenneth Chinedu were due to return to Nigeria, they were stopped in Croatia's capital, Zagreb, by two police officers.

The police thought they were undocumented migrants, the Guardian says.

"We tried to explain who we were and that our documents were in the hostel, but they took us to a police station," Mr Chinedu is quoted as saying. "They paid no attention to what we were saying."

The students were then sent across the border to a refugee camp in Bosina.

Mr Chinedu told a Bosnian website that the Croatian authorities forced him to sign a document that he did not understand.

Eventually, volunteers in the camp managed to contact the table tennis competition organisers who confirmed that they had been in Croatia legally, the Guardian says.

The two men now have tickets to fly back home via Istanbul in Turkey, US-Nigerian news site Sahara Reporters says.

Botswana poll result 'to be challenged in court'

Nomsa Maseko

BBC Africa, Johannesburg

Image caption: The general election in Botswana took place in October

The main opposition party in Botswana, the Umbrella for Democratic Change (UDC), says it has proof that October's general election was rigged.

Party leader Duma Boko told a press conference in Johannesburg that the High Court in Botswana has been petitioned and that a hearing would take place in the next few days.

President Mokgweetsi Masisi's Botswana Democratic Party (BDP) won the election by securing 38 of the 57 parliamentary seats despite party infighting. The UDC obtained 15 seats.

BDP spokesperson Kgalalelo Kentse told the BBC that the poll was free and fair and that President Masisi won legitimately.

Mr Kentse also said that the BDP was a law abiding party which would allow the High Court to make its findings and called on all parties involved to respect the outcome of the court.

Top Nigerian senator guilty of stealing $19.6m

Prominent Nigerian senator Orji Uzor Kalu has been sentenced to 12 years in prison after being found guilty of 39 fraud charges amounting to $19.6m (£14.9m).

Kalu is a member of President Muhammadu Buhari's All Progressives Congress and a chief whip in the federal parliament's upper house.

He was accused, along with a company he controlled and another individual, of diverting state money while he was the governor of the south-eastern Abia state between 1999 and 2007.

The charges were brought by the country's Economic and Financial Crimes Commission (EFCC) and the case began in 2007.

Kalu appeared shaken in court and asked officials not to handcuff him as they led him out, The Punch newspaper reports.

President Buhari has pledged to stamp out corruption, but has achieved mixed success.

SA man pleads guilty after using racial slur in viral video

Copyright: Adam Catzavelos

A South African man, who was seen on a widely shared video using a racist slur, has pleaded guilty to crimen injuria - the wilful injury to someone's dignity.

In August last year, Adam Catzavelos filmed himself on a beach in Greece, saying it was "heaven on earth" as there were no black people there.

In the video, he mentioned a derogatory term used historically by white people to denigrate black South Africans.

As a result of the widespread criticism he was sacked from his family business and later apologised for the "stupid comments".

Catzavelos' lawyer said his client had been drinking before he made the comments, News24 reports. Lawley Shain also said that Catzavelos had been the victim of two crimes perpetrated by black people shortly before he went to Greece on holiday.

"I am not coming to say he is not racist but these are the circumstances that gave rise to the disgusting selfie that he took. He accepts responsibility for his actions," Mr Shain said.

Rwandan rebels confirm commander's arrest in Congo

A Rwandan rebel movement based in the east of the Democratic Republic of Congo has confirmed the capture of one of its top commanders, Asifiwe Nshimiyimana , in Goma city, but disputed the Congolese army's version of events.

An FDLR spokesperson, who goes by the alias of Curre Ngoma, told BBC Great Lakes that the Congolese military was "boasting of capturing him in an operation" but Mr Nshimiyimana was arrested after a tip-off that he was in the city for a medical check-up.

The spokesman said that those who arrested Mr Nshimiyimana were "not the Congolese army", and added that he may have already been transferred to Rwanda's capital, Kigali.

He said the rebel movement "was not deterred" by his capture and that their fight would continue.

There are reports of the Rwandan military being involved in the operation against the FDLR, but both governments deny it.

Earlier, Congolese army spokesperson Maj Ndjike Kaiko said Mr Nshimiyimana was captured on Monday night and that he would be transferred to Rwanda.

The rebel fighter is said to have been the second-in-command of an FDLR elite unit.

Over the past few months, the Congolese army has intensified operations against rebel movements in the east.

Some FDLR members are accused of taking part in the Rwandan genocide 25 years ago.

Ethiopian PM's new party labelled 'illegitimate'

Girmay Gebru

BBC Tigrinya, Mekelle

Image caption: The meeting in the north of Ethiopia brought together delegates from 50 parties

Ethiopia's new governing Prosperity Party (PP) has been labelled "illegitimate" by a new coalition of groups, including the once powerful Tigray People's Liberation Front (TPLF).

The TPLF used to be part of the governing coalition, made up of four ethnically-based parties.

But it has refused to join Prime Minister Abiy Ahmed's new grouping, which was supposed to be a merger of the four parties.

The TPLF is now part of a new alliance of 50 ethnically-based parties which have been meeting in Tigray's main city, Mekelle.

In a joint communique, the alliance warned that Ethiopia is on the verge of disintegration.

Last month, Mr Abiy hailed the creation of the PP as a "crucial step in harnessing our energy to work toward a shared vision".

But the TPLF's refusal to become part of the PP highlighted problems for the prime minister.

He faces his first electoral challenge next year when his vision of a country that is unified on the one hand and ethnically diverse on the other will be tested.

The PP still needs to be registered with the electoral commission.

Read more:

Death toll rises after Uganda landslides

Patience Atuhaire

BBC Africa, Kampala

The death toll in eastern Uganda following the landslides caused by heavy rain on Tuesday has risen to eight as two more bodies have been recovered from the mud and debris.

The number of those missing has been revised down from 50 to 40.

Rescue efforts have been hampered by the region's hilly terrain and damage to roads and bridges leading to the affected area.

In another part of the east, three major roads linking several districts have been blocked by flooding.

Raging rivers have also destroyed farms and washed away animals.

The volcanic Mount Elgon region is prone to natural disasters and this devastating damage happens almost every year.

Heavy rain has fallen across the country, forcing an estimated 30,000 people to leave their homes.