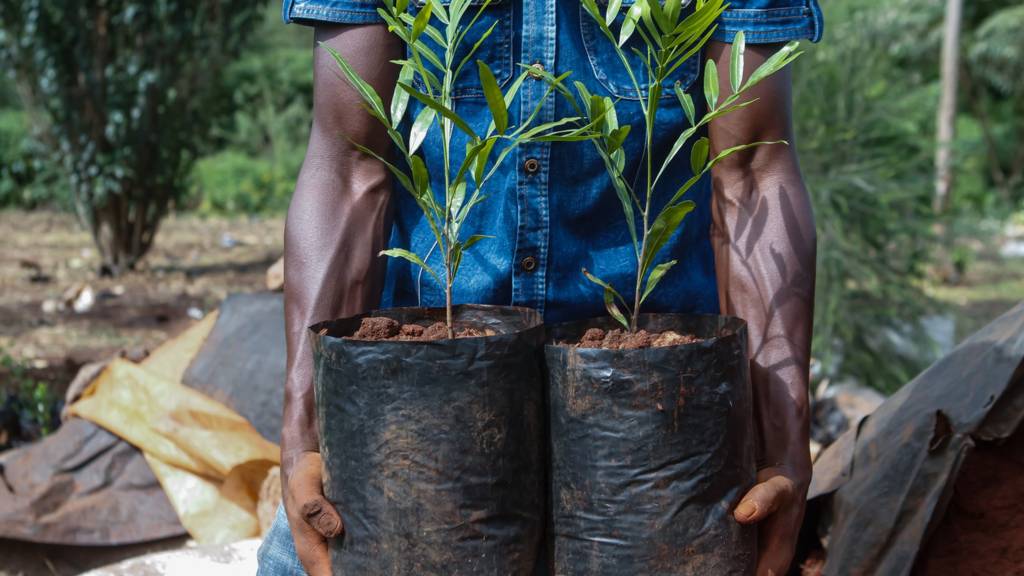 Live
Africa Live: Breakthrough reached on malaria vaccine
Africa urged not to destroy out-of-date Covid jabs

Rhoda Odhiambo

BBC health reporter, Nairobi

Image caption: Many countries in Africa are getting AstraZeneca vaccines through the Covax scheme

The World Health Organization (WHO) and the Africa Centres for Disease Control (Africa CDC) have urged African countries not to destroy Covid-19 vaccines that have expired.

The call comes after Malawi and South Sudan said they would discard more than 70,000 doses of the AstraZeneca jab that were out of date.

"Our advice would be that countries should ensure that they store the vaccines safely as we continue to study and try to get definitive advise on whether the vaccines can be used for longer," the WHO's Africa regional director Matshidiso Moeti said.

The Africa CDC says it has spoken to the manufacturer, Serum Institute of India (SII), and has been reassured that the vaccines are still safe.

"The vaccine landscape is extremely challenging and the advise we got from SII is that the vaccines can still be used even after nine months," John Nkegasong, the head of Africa CDC said.

Many vaccines can be used up to 36 months after manufacture, but because Covid-19 jabs are so new, there is not enough data to prove their effectiveness over longer periods.

Whatever the guidance, the final decision rests with national drug regulators.

However, the issue will further increase the challenges around persuading people on the continent to get vaccinated.

The rollout of Covid-19 vaccines in Africa has been slow, partly because of supply issues and scepticism about the jab.

Out of 55 African countries, 41 have benefitted from the delivery of vaccines via the global-sharing scheme Covax. Seven are yet to receive their first batch.

Angry Ethiopian protesters pull down Abiy posters

Kalkidan Yibeltal

BBC News, Addis Ababa

Image caption: Much of the anger is directed towards Prime Minister Abiy Ahmed

Protests have continued for a fourth day in Ethiopia's Amhara state, with thousands denouncing the government's failure to ensure the safety of civilians.

They started on Monday in Dessie, a town in eastern Amhara, and have spread to all major cities in the region, including Bahir Dar.

There have even been demonstrations in the popular tourist destination of Lalibela.

Angry protesters have torn down election campaign billboards featuring pictures of Prime Minister Abiy Ahmed.

Amhara Media Corporation, which is run by the regional government, posted photos on Twitter showing the scale of the demonstrations in two of the towns:

While the protests have been triggered by recent violence in two areas in Amhara, they are really the result of long-simmering resentments.

Many ethnic Amharas have been killed across Ethiopia since Mr Abiy came to power in 2018.

"Abiy should be tried in ICC," read some of the banners held by demonstrators - a reference to the International Criminal Court.

These protests will further increase the pressure on the prime minister and his administration, already facing the significant challenges of solving the crisis in the northern region of Tigray and quelling ethnic-related clashes across the country.

The general election is due to be held in June.

How new regional currencies will affect Africa

Russell Padmore

Business correspondent, BBC News

Image caption: East and West Africa plan to introduce new currencies

The countries of the East African Community (EAC) and nations in the Ecowas region of West Africa are determined to forge ahead with plans to introduce new currencies for their respective regions.

The idea of replacing the decades-old CFA franc with a new regional Eco currency has been disrupted by political divisions, but the member nations of the EAC are seemingly more organised and committed to their plan to create a single regional currency.

It would make regional trade smoother, by doing away with the constant need for cross-border businesses to change currencies, often losing money in the process.

I have been discussing the policy with African business leaders and economists for World Business Report.

You can hear the programme on the BBC World Service and partner raido stations across Africa and online.

Tunisian hospitals 'run out of intensive care beds'

Alan Johnston

BBC World Service

Image caption: This is a temporary hospital set up in a gym in Tunis - photographed in February - to deal with Covid patients

Hospitals in Tunisia are reported to have run out of intensive care beds as the country struggles to cope with a surge in coronavirus cases.

A member of a scientific committee that advises the government, Amenallah Messadi, said the situation was critical, and that health workers were exhausted.

He blamed the surge in cases on the spread of the Covid-19 variant that was first detected in the UK.

Tunisia has recorded around 10,000 deaths since the pandemic began.

Ghana shuts down 49 illegal TV stations

Thomas Naadi

BBC News, Accra

Image caption: If too many stations broadcast, signals are affected

Forty-nine TV stations operating illegally in Ghana are being shut down.

The National Communications Authority (NCA) says the closure of the unlicensed stations is designed to ensure the efficient use of the country's broadcasting spectrum - so signals do not cut out if it becomes too crowded.

About 146 TV channels are currently authorised to operate.

The NCA says it continuously monitors satellite free-to-air television platforms.

The process of shutting down the stations is being done in collaboration with the police and intelligence agents.

More than 50 radio stations were shut down in a similar exercise in 2017.

Ethiopian parties seek voter registration extension

BBC Monitoring

The world through its media

Image caption: The last general election in Ethiopia was held in 2015

Ethiopian opposition parties have called for an extension of the voter registration exercise that is due to end on Friday.

The parties said only a few people had so far registered to take part in the elections scheduled for 5 June.

Last week, the National Electoral Board of Ethiopia met political parties over the matter when Birtukan Mideksa, who heads the body, said only 25,150 of the 50,000 polling stations were operational - the rest were shut because of insecurity.

Prime Minister Ahmed Abiy has himself made several appeals to people to sign up, saying it would help determine the future of the country's democracy.

The polls were originally scheduled for May 2020, but were pushed to August the same year and then to 5 June 2021 because of the Covid-19 pandemic.

Algerian author gets three years for insulting Islam

Image caption: Said Djabelkhir has argued that traditional texts need modern interpretations

An Algerian author who was accused of insulting the religion has been given a three-year jail sentence.

Said Djabelkhir's case has attracted widespread attention.

The 53-year-old journalist, who has an Islamic studies degree and published two books on the subject, went on trial after a group of seven lawyers and a university professor lodged a complaint against him for comments he made on social media.

He is believed to have called the sheep sacrifice in Islam a pagan ritual.

Under Algerian law, offending the Prophet Muhammad or the precepts of Islam is a crime punishable by up to five years in prison.

Human rights activists and politicians have expressed their support for Djabelkeir, saying his prosecution is an attack on the freedom of expression.

His lawyer, Moumen Chadi, said he was shocked by the severity of the sentence, adding that he was expecting the case to be dismissed.

After sentencing, Djabelkeir was not detained and told reporters outside the courtroom in the capital, Algiers, that he intends to appeal and fight for "freedom of conscience".

Covid in Kenya: Crematorium 'runs out of firewood'

A crematorium in Kenya's capital, Nairobi, is running out of firewood because of a surge in Covid-19 deaths, Kenyan newspaper The Star reports.

The Kariokor Crematorium for the Asian community is appealing for urgent donations of dry wood to burn the dead, the newspaper reports.

"Last week, we appealed to all Indian community members to donate firewood as our crematorium has run out of firewood," a member of the community is quoted as saying.

An undertaker at the facility told the paper that the shortage at the crematorium had persisted for two to three weeks.

Kenya has in the past month been experiencing a spike in deaths, as it goes through its third wave of coronavirus infections.

The country has so far confirmed more than 153,000 cases and 2,540 deaths since the pandemic began.

France backs stability in Chad after Déby's death

Will Ross

Africa editor, BBC World Service

Image caption: Mahamat Idriss Déby Itno, one of the late president's sons, is a 37-year-old four-star general

France's foreign minister has said the immediate priority in Chad is for the military council to ensure the stability of the country.

In an interview with French TV Jean-Yves Le Drian appeared to defend the suspension of the constitution, saying there were exceptional circumstances in Chad following the death of President Idriss Déby.

The military said he died on the battlefield after being wounded by rebels trying to advance on the capital.

Mr Déby's son, Mahamat Idriss Déby Itno - also known as "General Kaka - was named president by the military council.

Many in Chad, including the opposition, will be disappointed by the minister's remarks as they had been hoping France would lead international calls for a fast return to civilian rule.

Chad has been an long-time ally of France and other Western powers in the battle against jihadist groups in the Sahel region of Africa.

At least for now it seems France will not be putting much pressure on the generals to hand the country over to civilians.

Not while rebels are still threatening to seize power.

You may also be interested in:

Sorrow over death of Nigerian comedian Ada Jesus

Image caption: Before her death Ada Jesus apologised to some of those who had been the butt of her jokes

Nigerians have been expressing their sorrow over the death of popular young comedian Ada Jesus.

The 23-year-old, whose real name was Mercy Mmesoma Obi, was known for her skits on social media, mostly in Igbo language - although she had also performed as a stand-up comedian.

BBC Pidgin says she had celebrated her birthday only two days before the announcement of her death on Wednesday.

The comedian, who was diagnosed with a kidney disease in February, was reportedly taken to hospital after suffering a cardiac arrest - which led to her death.

Pulse Nigeria shared a post about Ada Jesus, whose name had been trending on Twitter:

Motorbike gunmen in deadly Nigerian village raids

Ishaq Khalid

BBC News, Abuja

Image caption: Attacks and kidnappings are common in Zamfara

Motorbike-riding gunmen have killed dozens of people and burnt down a number of homes in a series of raids targeting remote villages in Nigeria's Zamfara state, reports from the north-western region say.

A police spokesperson confirmed the attacks to the BBC but could not give any casualty figures, saying a team of officials was on its way to the area to assess the situation.

Residents in Zamfara's Magami area say they have counted more than 50 bodies.

They told the BBC that the gunmen first attacked the village of Yar-Doka on Wednesday.

When local vigilantes from neighbouring villages moved in to help, the gunmen attacked several other communities.

Some of the victims are said to be people displaced by previous attacks now returning home to prepare their farmland for this year's rainy season.

Armed criminal gangs have stepped up violence in the region in recent months - carrying out deadly raids and mass kidnappings for ransom, including the targeting of schools.

On Tuesday, a group of gunmen abducted a number of students and shot dead a member of staff at a private university in neighbouring Kaduna state.

Armed group 'takes control' in Ethiopian conflict

The Ethiopian Human Rights Commission (EHRC) says an armed group has taken control of an area zone in the western region of Benishangul-Gumuz.

The Sedal district in the Kamashi area, which has a population of about 25,000, was under "near full control of an armed group", a statement from the state-linked commission said.

Local security officials had been outnumbered, and additional forces who had been deployed had not yet arrived, it said.

Reports had been received of civilians being killed and civil servants being kidnapped, the EHRC said.

Residents had told the EHRC that the armed group razed and looted property, with many people including the police, fleeing the area.

"This escalation of the insecurity plaguing the area is alarming," the commission said, while calling for an immediate reinforcements.

Image caption: Many people fled their homes after more than 100 civilians were killed in a massacre in Benishangul-Gumuz in December

Benishangul-Gumuz has witnessed a number of deadly attacks since September, with hundreds killed in an ethnic conflict over land and resources.

The controversial Grand Ethiopian Renaissance Dam, which will be Africa's biggest hydropower project, is also located in Benishangul-Gumuz.

Zuma's lawyers withdraw ahead of corruption trial

Image caption: Mr Zuma has denied corruption charges against him

Lawyers for former South African President Jacob Zuma have filed a notice of withdrawal from representing him.

The lawyers have not given reasons for doing so.

The notice filed on Wednesday follows last week's ruling in which the former president lost an appeal against the state's bid to recover money that it had spent on his legal fees.

It also comes before a a corruption trial due to begin on 17 May.

Mr Zuma faces 16 charges over a $2bn (£1.4bn) state arms deal, including fraud, racketeering and money laundering - all of which he denies.

Kenya seeks more vaccines as Covax supply falters

Rhoda Odhiambo

BBC health reporter, Nairobi

Image caption: Kenya has so far vaccinated more than 700,000 people

The Kenyan government wants to acquire two million doses of Pfizer and Johnson & Johnson vaccines to bolster its vaccination campaign.

Health Minister Mutahi Kagwe says the additional doses will be used to supplement the vaccines supplied through the UN-led Covax scheme.

Kenya has so far vaccinated more than 700,000 people with the Oxford-AstraZeneca vaccine.

The East African nation received just over a million doses through Covax in early March.

But pharmaceutical manufacturing giant India recently decided to halt vaccine exports in order to prioritise its citizens – throwing Covax supply chains in doubt.

Many African governments have been forced to look elsewhere for their next batches.

AstraZeneca was an ideal choice for many as it is easier to store. The Pfizer vaccine might prove difficult to roll out in Kenya as it does not have enough cold-storage facilities.

Mr Kagwe says Kenya plans to buy special fridges required to store them once the vaccines have been acquired.

Data from the government shows that more men are taking the vaccines compared to women - though many members of the public are sceptical about being vaccinated.

UN calls for dialogue in Somalia poll crisis

Members of the UN Security Council have urged Somalia's leaders to return to the negotiating table, following the controversial extension of the president's term by parliament.

The members have also welcomed the plan by the African Union (AU) to mediate the talks.

Somali leaders were urged to implement an agreement reached last September under which clan elders are to select delegates to electoral colleges that in turn choose federal lawmakers who then pick a president.

But disagreements between the federal government and two regional states scuppered the plan.

Somalia's President Mohamed Abdullahi Mohamed, who is also known as Farmajo, asked the AU to lead election talks during a meeting with chairperson President Félix Tshisekedi of the Democratic Republic of Congo this week.

The Somali parliament extended the president's term by two years, a move that was rejected by two regional states and the opposition.

Apology after inquiry finds WW1 graves racism

Image caption: Six million soldiers from the British Empire served in World War One

Tens of thousands of predominantly black and Asian service personnel who died fighting for the British Empire were not properly commemorated due to "pervasive racism", a report has said.

The Commonwealth War Graves Commission apologised after it found individuals were not formally remembered in the same way as white troops.

"The events of a century ago were wrong then and are wrong now," it said.

The inquiry found at least 116,000 mostly African and Middle Eastern casualties from World War One "were not commemorated by name or possibly not commemorated at all".

But that figure could be as high as 350,000, according to the report first seen by the Guardian.

It also cited racist comments such as the governor of a British colony saying in 1923 that: "The average native... would not understand or appreciate a headstone".

Between 45,000 and 54,000 Asian and African personnel who died in the conflict were "commemorated unequally", the commission said.

Uganda shuts its only wild rhino sanctuary to public

Patricia Oyella

BBC News, Kampala

Image caption: Southern white rhinos, once thought to be extinct, now thrive in protected sanctuaries

The Uganda Wildlife Authority (UWA) has closed the country's only wild rhino sanctuary to the public amid an ongoing dispute between the owners of the land and Rhino Fund Uganda - the organisation managing the rhinos.

The agency has now taken over the security of the ranch to protect the animals, says the UWA spokesperson, Bashir Hangi.

Some 27 people were arrested on charges of aggravated robbery, theft and malicious damage to property after they went to the ranch on 16 April and destroyed office equipment and documents as the dispute over the sanctuary escalated.

Police say they got into the property posing as tourists.

The UWA plans to relocate the animals from the 16,000-acre (6,400-hectare) sanctuary in the near future.

Ziwa Rhino and Wildlife ranch, located about 176km (109 miles) north of the capital Kampala, is home to 33 southern white rhinos.

It was established in 2006 as a protected area for re-introduction of the white rhino whose population was nearing extinction in the country.