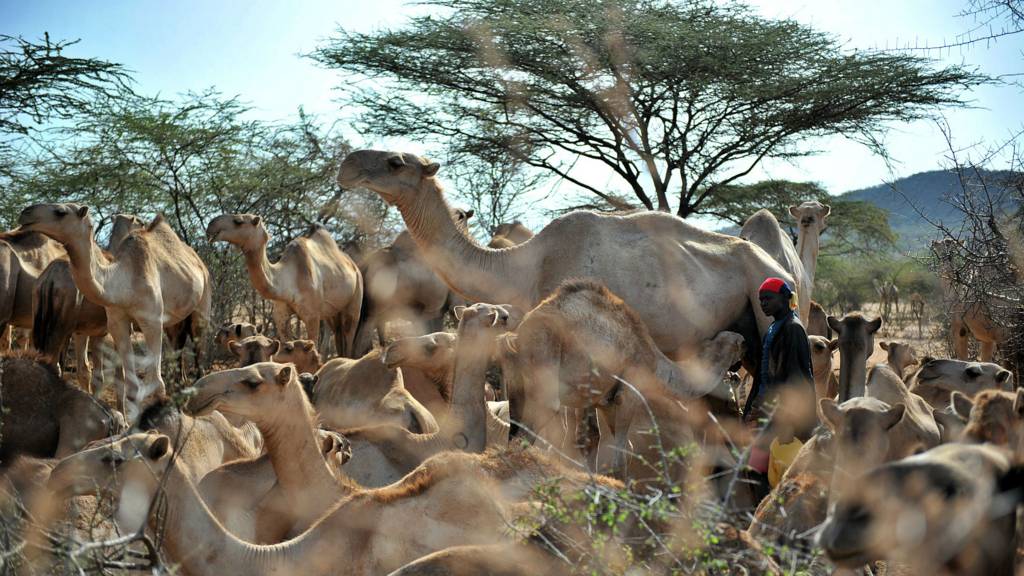 Live
Africa Live: Latest updates from the continent
An automated feed bringing you the latest news from across the continent at bbc.com/africalive
Reality Check team

BBC News

This Nairobi orphanage cares for elephants whose parents have often been killed by poachers.

Oluwashina Okeleji

Football Writer, Nigeria

A donated cup could last a girl ten years - so why is Ebby Weyime facing resistance?

BBC Africa spoke to a Red Cross worker at a screening point in Uganda.

Charlie and Titi want to ask their mothers why they were "shipped back" to Nigeria as children.

Scroll down for Friday's stories

We'll be back on Monday

That's it from us on the Africa live page, we will now leave you with an automated service until Monday morning.

Or you can keep up-to-date with what's happening across the continent by listening to the Africa Today podcast.

A reminder of today's wise words:

Quote Message: Necessities never end." from Kikuyu proverb sent by Kenneth John Kiguru in Nairobi, Kenya

Click here and scroll to the bottom to send us your African proverbs.

And we leave you with this picture of an Africa-shaped tattoo taken by a photographer at an entrepreneurs' forum in Nigeria. It is from our collection of the best pictures from this week.

Heavy rain causes massive damage in Freetown

People have been trapped in their cars and several parts of Sierra Leone's capital, Freetown, are completely under water following heavy rain, local journalist Umaru Fofana has told BBC's Focus on Africa radio programme

Freight containers in the main port have also been washed away by flood waters.

Residents in informal settlements in the capital have been worst hit.

People are worried that the downpour could trigger devastating landslides - like the one in 2017 which killed at least 300 people and destroyed hundreds of houses and buildings.

Nigeria priest's killing sparks protests

Hundreds of Catholic priests have protested against the killing on Thursday of their colleague in Enugu, the capital of Enugu state in south-east Nigeria.

Reverend Paul Offu was killed by unknown gunmen along the Ihe-Agbudu road, as he returned from visiting another priest, Rev Benjamin Achi, the spokesperson of the Enugu Catholic Diocese, told BBC Igbo in a phone interview.

The protesting priests blamed the killing on members of the pastoralist Fulani community and demanded the government does more to tackle insecurity.

There is increased tension in parts of Nigeria following a cycle of violence between mainly Muslim Fulanis, and farming communities who are often Christians.

Ebere Amaraizu, the state's police public relations officer, confirmed the incident, but said the police were still investigating:

"We are on top of the matter and everything is being done to unravel the circumstances surrounding the incident that claimed the life of the priest."

Rev Offu's killing brings to two the number of priests killed in similar circumstances in Enugu state so far this year.

Eritrea marks 25 years of controversial conscription

Samuel Ghebrehiwet

BBC Tigrinya editor

Image caption: National service in Eritrea is supposed to last 18 months but it can continue indefinitely

Eritrea is marking 25 years since the start of conscription, celebrating the fact that 500,000 people have undergone training in that time.

It is now a controversial issue, but that was not the case when national service was introduced after the country gained independence following a three-decade armed struggle.

It was intended to help reconstruct the new nation and every individual between the age of 18 and 40 was expected to serve.

But it was mainly those in their last year of school who attended the remote Sawa military camp.

Rufael Fesehatsyen, a member of the first round of conscripts who now lives in the US, said the recruits were willing participants at the time: "We wanted to contribute to the country's well-being."

Recruits say there was a positive atmosphere in 1994 despite the difficulties faced such as no tents, poor food and harsh treatment from the trainers.

"I do not know that the trainers were instructed to do but they were very abusive toward us; they often used batons to beat us and tried their best to break our spirit," said Yosief Asmerom, who is now a pastor living in the UK.

But the first batch managed to transform the camp into a liveable and functional place and after completing the six months of military training they were dispatched to various military units and government departments for a year.

After that they all went back to their civilian lives.

Until a border war broke out against Ethiopia in 1998, those who had completed their training were sent back to Sawa once a year for a month-long refresher course.

"When I was in training I used to view it as war play. I will never forget the time when I experienced real war where human beings were falling in front of me," recalls Pastor Yosief, who fought in the war.

The two-year conflict over the town of Badme left about 20,000 Eritreans dead, many of them young conscripts.

But Eritrea's military chief Maj-Gen Filpos Woldeyohannes says without them the country would have fared much worse in the conflict.

Image caption: Eritrea remained on a war footing for 18 years

A peace deal was signed in December 2000, yet the two sides remained on a war footing until last year when they re-established diplomatic relations.

That 18-year impasse meant that national service became open-ended in Eritrea and could sometimes go on for years, with little or no pay.

Yonas Geza'i said he decided to flee the country to the US after serving for eight years.

Many others were doing the same and the UN special rapporteur on human rights in Eritrea said in 2013 that between 3,000 and 4,000 Eritreans were leaving each month.

Gaim Kibreab, an Eritrean researcher on refugee studies based in London, says things need to change:"Now that a peace accord has been signed between the two feuding countries, national service should be normalised, and those who stayed in the service for years should be compensated for their services before they go back to their normal lives."

Most of the ex-conscripts interviewed by the BBC acknowledged the need for national service in small countries like Eritrea, but said the system should not be abused or exploited by the authorities - or run at the expense of recruits.

Can peacock diplomacy smooth Tanzania-Kenya relations?

Kenya's President Uhuru Kenyatta has received a gift of four peacocks from his Tanzanian counterpart John Magufuli.

The birds were promised to Mr Kenyatta when he visited Mr Magufuli last month.

"The birds signify the values of love, unity and brotherhood that exist between the people of the two countries," Mr Kenyatta said in a statement.

Mr Magufuli had asked his fellow president to ensure that the birds' chicks are returned to Tanzania.

East Africa political watchers, who may or may not be twitchers, will now be keen to see if there will be less ruffling of feathers between the two neighbouring countries.

Copyright: Kenya's State House

Top Tanzanian journalist 'to face sedition charges'

Copyright: @MariaSTsehai/Twitter

Image caption: A campaign #FreeErickKabendera has been launched on social media

Top investigative Tanzanian journalist Erick Kabendera, who was arrested on Monday, is to be charged with sedition, his lawyer has said.

Jebra Kambol said in a statement that the police first questioned his client over his citizenship even though he holds a Tanzanian passport.

He was then passed over to the cyber crime unit for interrogation, the lawyer said.

Kabendera is now being charged with sedition in connection with an article published in The Economist about the East African nation's president entitled: John Magufuli is bulldozing Tanzania's freedom, Mr Kambol said.

If you search for the article online, it now links to an Economist piece published on Thursday called Another critic of President John Magufuli is silenced.

"Erick has been denied police bail despite the fact that bail is a constitutional right in Tanzania," Mr Kambol said, adding that officers had been sent on Friday to search the journalist's house.

Since Mr Magafuli, nicknamed "The Bulldozer", came to office in 2015, laws overseeing the media have been toughened and a number of newspapers and radio stations have been suspended for "incitement".

He has often warned about fake news in the wake of articles critical of the government, saying there are limits to press freedom.