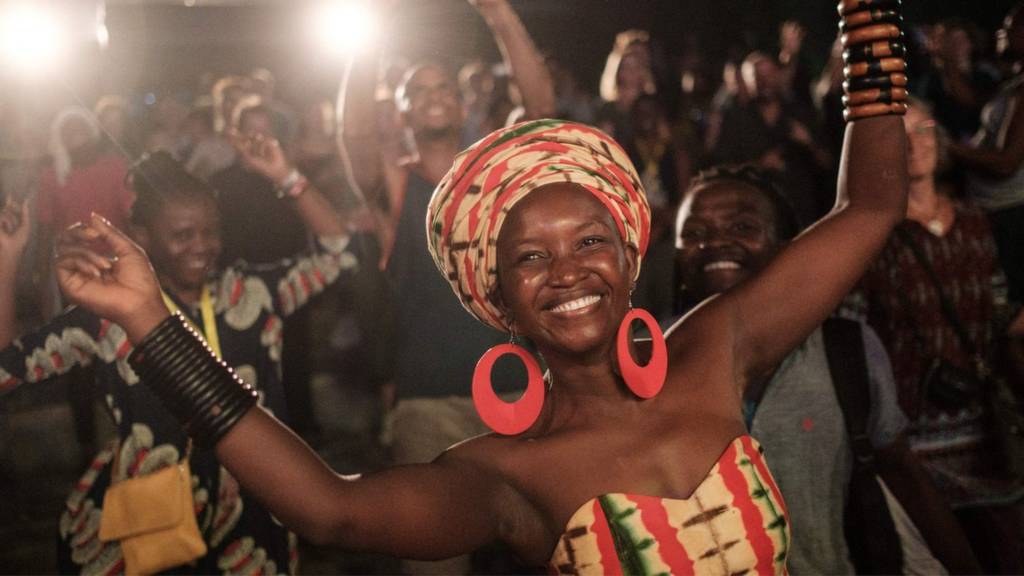 Live
Updates on news from Africa
This is an automates service at night and at weekends.
Liverpool's Igbos are working to rebuild their community centre.

By Nduka Orjinmo

BBC News, Lagos

By Kennedy Gondwe

Football Writer, Lusaka

By Mohamed Fajah Barrie

BBC Sport, Sierra Leone

By Oluwashina Okeleji

Football Writer, France

Scroll down for Friday's stories

We'll be back next week

That's all from BBC Africa Live for today, we will now leave you with an automated service until Monday morning.

Or you can keep up-to-date with what's happening across the continent by listening to the Africa Today podcast.

A reminder of today's wise words:

Quote Message: Promise a poor person a cow and he won't sleep." from A Tonga proverb sent by Habatwa Mweene, Lusaka, Zambia.

Click here and scroll to the bottom to send us your African proverbs.

And we leave you with one of our favourite photos from this week, of dancers performing at the opening ceremony of the Africa Under-23 Cup of Nations in Egypt:

Tunisia names prime minister

Image caption: Supporters of Ennahda hit the streets to celebrate their election win at the beginning of October

Tunisia's moderate Islamist Ennahda party has chosen Habib Jemli as its choice for prime minister.

Mr Jemli, 60, used to be a junior agriculture minister.

President Kais Saied, who was elected in a landslide victory on 13 October, is expected to officially ask him to form a new government later on Friday, reports Reuters news agency.

The moderate Islamist party Ennahda holds only a quarter of the seats in parliament, Reuters adds, so Mr Saied's first task will be to build a governing coalition.

Tunisia sparked the so-called Arab Spring in 2011 with its revolution which ended autocratic rule.

The Resident Presidents tackle toxic air

Algeria's oil and gas giant Sonatrach has a new boss

Algeria's interim President Abdelkader Bensalah has sacked Rachid Hachichi as the head of the giant state-owned oil and gas company Sonatrach.

Kamel-Eddine Chikhi has been named as his replacement.

State spending relies on the success of the oil giant, which provides 60% of government revenue. Sonatrach also accounts for nearly all the country's foreign exchange earnings.

The president's office has not given a reason for Mr Hachichi's sacking but it came just days after a row blew up over the lower house of parliament's adoption of a law aimed at attracting more foreign investment into the oil and gas industry.

Protesters gathered in front of parliament calling for the cancellation of the law, suggesting the current caretaker government had no right to take such strategic decisions.

But the government says the energy sector in Algeria needs to be reformed as the country is facing a decline in oil production.

CAR flood 'destroys 10,000 homes'

Mary Harper

Africa editor, BBC World Service

Image caption: The latest flood adds to the damage from October's flood, pictured.

More than 10,000 homes have been destroyed by severe flooding in Central African Republic (CAR), the Norwegian Refugee Council said.

Aid groups say nearly 60,000 people have been affected by severe flooding in CAR.

Flooding is so bad in some parts of the capital Bangui that the only way to get around is by canoe.

People are seeking refuge in already overcrowded safer areas.

There are fears there could be outbreaks of waterborne diseases such as cholera.

The CAR is one of the world's poorest counties.

More than half the population needs humanitarian support and hundreds of thousands have been displaced by conflict.

By Oluwashina Okeleji

Football Writer, France

By Emmanuel Igunza

BBC News, Nairobi

South Africa 'among the most unequal countries in the world'

Pumza Fihlani

BBC News, Johannesburg

Black South Africans earn on average three times less than their white counterparts, a report into inequality in South Africa has found.

It said that the average monthly salary among black people - who account for 80% of the population - was 6,899 rand ($466,90; £362,60) while the figure was 24,646 rand ($1667,95; £1295,35) for white people.

The report also highlighted how different racial groups are distributed through different social classes:

The Inequality Trends report used data collected by the country's official statistics agency, Stats SA, from 2002 until 2017 which showed black people fared worse in terms of unemployment, access to private medical care, housing and electricity.

It also showed that South Africa has one of the highest levels of inequality in the world:

It's the country's first comprehensive look at the trends around what is often a thorny issue.

One of the main reasons for the huge economic disparities between races is a legacy of apartheid - a system which ensured that the white minority population had access to the best the country could offer.

Aerial images by drone photographer Johnny Miller revealed in 2018 the dramatic divide between rich and poor in cities in South Africa, including this golf course next to high density housing in Durban:

Copyright: JOHNNY MILLER / MEDIADRUMIMAGES.COM

See more aerial photos reveal the stark divide between rich and poor.

Guinea security forces 'shoot protester dead'

Image caption: Police fired tear gas to disperse protesters on Thursday

Sporadic protests have continued for a second day in the Guinean capital, Conakry, against possible plans by President Alpha Conde to seek a third term in office.

The opposition says one person was shot dead by the security forces on Friday and three others on Thursday, when the protests were larger and more widespread.

Officials say one person died.

At least 14 people have been killed since demonstrations erupted in Guinea last month.

The 81-year-old president has asked his government to look into drafting a new constitution which could allow him to run for another term.

Archbishop attacked in South African church

Milton Nkosi

BBC Africa, Johannesburg

Image caption: Foreign nationals fleed to the church weeks ago after xenophobic attacks

A South African Anglican archbishop has been injured in a scuffle in a Cape Town church where refugees had been sheltering.

It is believed that refugees were asked to leave the premises of the Methodist church where more than 200 people had been sheltering for weeks, claiming that they feared xenophobic attacks.

The Reverend Chris Nissen from the South African Human Rights Commission (SAHRC) told local media that the Anglican Archbishop of Cape Town Thabo Makgoba was knocked on the head:

"We were in front and some leaders started to attack us... they pulled us down and the Archbishop has been knocked to his head."

A visibly angry man JP Balous speaking on behalf of the refugees told a local news channel that they have "been treated like rubbish".

"We are human beings, we came here to seek refuge... The human rights commission is actually the human rights abuse in South Africa," he said.

Refugee Alliance for Justice has called for the department of Home Affairs to intervene.