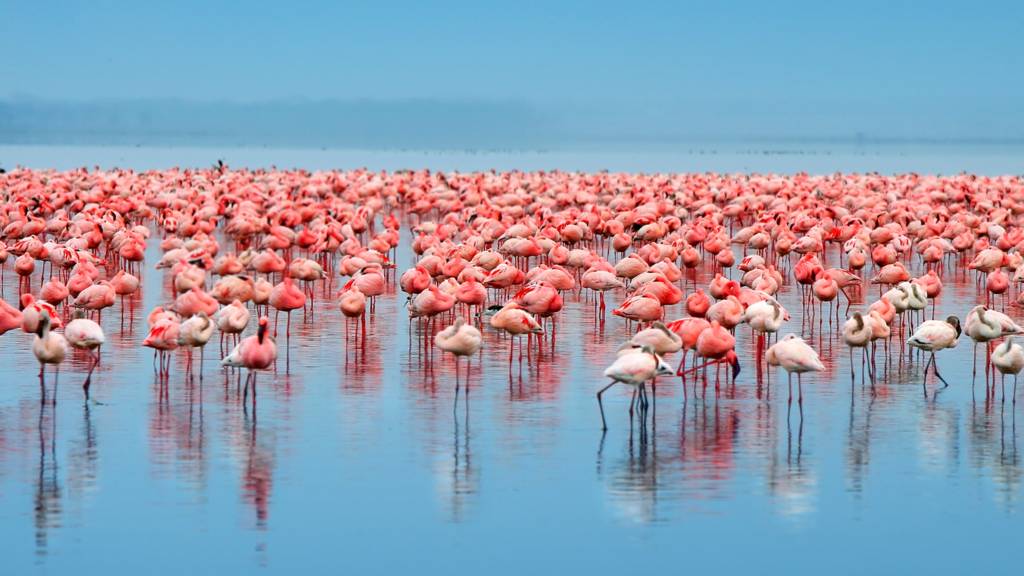 This is an automated service until Monday morning.
By Rita Ray

African music expert

BBC News speaks to some of the people from the UK who have been stranded abroad due to the pandemic.

By Thomas Mackintosh

BBC News, London

By Rana Jawad

BBC News, Tunis

Scroll down for Friday's stories

We'll be back on Monday

That's all from BBC Africa Live for now, we'll leave you with an automated service until Monday morning.

Keep up-to-date with what's happening across the continent by listening to the Africa Today podcast or checking the BBC News website.

A reminder of our wise words of the day:

Quote Message: If you tie a chicken with a long string, it will think that it's free." from An Eritrean proverb sent by Yafet in London, the UK

Click here and scroll to the bottom to send us your African proverbs.

And we leave you with this picture of Gonzaga Yiga, a 49-year-old in Uganda's capital, Kampala, who goes up to tallest building in his area every morning and evening to warn people about the spread of coronavirus. It's one of our favourite shots from this week.

Zimbabwe to start coronavirus lockdown on Monday

Image caption: The president said Zimbabweans couldn't be complacent about the outbreak

Zimbabwe's President Emmerson Mnangagwa has announced that the country will go into lockdown from Monday in an effort to control the spread of coronavirus.

So far, the country has recorded five cases and one death, 30-year-old journalist Zororo Makamba. The low number of cases though "need not induce complacency", Mr Mnangagwa said in an address to the nation.

For three weeks from Monday, Zimbabweans will be required to stay at home, except to buy food and access vital health services.

Security forces will be used to ensure that the lockdown is enforced.

The president's announcement came on the day that neighbouring South Africa began its own 21-day lockdown.

There are 1,170 cases of coronavirus in South Africa and two people have died from Covid-19, the disease caused by the virus.

You can see Mr Mnangagwa's president's speech here:

Earlier, the central bank said people could use US dollars again, reversing last year's ban on foreign currencies - a move aimed at supporting the already struggling economy against the effects of coronavirus.

Read more:

Curfews, currency and khat: Latest coronavirus news

Image caption: A temporary ban on the sale of a potent stimulant has reportedly saved Somalis millions of dollars (file photo)

African nations are taking tough action to restrict the spread of coronavirus and are increasingly taking steps to protect their economies too.

In the latest developments:

South Africa announced its first two coronavirus deaths as the country started a three-week lockdown with the army and police officers patrolling the streets. A few people have been arrested: a cyclist and others found with alcohol - the sale of which is banned. Videos circulating on social media show officers at times using force to get people to toe the line
Zimbabwe is allowing people to use US dollars again, reversing last year's ban on foreign currencies - a move aimed at supporting the already struggling economy against the effects of coronavirus. The country is to begin a lockdown on Monday
A temporary ban in Somalia on the stimulant leaf khat, which coincided with the suspension of international flights to and from capital because of coronavirus, is estimated to have saved people millions of dollars over the last week. Campaigners want the restrictions to be made permanent
The president of Nigeria, Africa's most populous country, has recalled disease control experts from overseas and announced new restrictions, including on shipping, and extra funding for Lagos state, which has registered 44 of Nigeria's 65 cases of coronavirus
A couple in Tanzania have been arrested for spreading false information - after being heard on a bus saying that coronavirus was a hoax. Dar es Salaam's police chief said the husband and wife were ridiculing the government
Kinshasa, the capital of the Democratic Republic of Congo - one of the continent's biggest cities - will start a three-week lockdown on Saturday. Residents will have to stay at home for four days and then be allowed to stock up on food on the following two days
Eritrea, with six confirmed cases, is shutting all schools and all public transport has been banned - as have all commercial flights. Gatherings of more than 10 have also been prohibited
Algeria is bringing nine more of provinces under a daily curfew already in place in the capital, Algiers, and the neighbouring province of Blida. It means residents will not be allowed out of their homes between 19:00 and 07:00 local time
And the BBC has launched a Africa coronavirus live tracker, which shows that there are so far 3,450 confirmed cases on the continent.

Chad imposes state of emergency after Boko Haram attack

Chad has imposed a state of emergency in parts of the west of the country, following an attack by Islamist militants Boko Haram which killed more than 90 soldiers.

The new measures in Fouli and Kaya allow the authorities to enforce a ban on movement, close businesses and search homes.

Earlier this week, President Idriss Déby visited the scene of the attack in Lac province, promising a rapid response.

It was the deadliest assault by Boko Haram since the unrest spread across the border from Nigeria several years ago.

SA police enforcement of alcohol ban ignites debate

Pumza Fihlani

BBC News, Johannesburg

Image caption: People in Johannesburg who were suspected to have alcohol, going against the national lockdown rules, were made to lie down

Police and army patrols in South Africa began at midnight as the lockdown came into effect and continued throughout the course of the day in the townships and suburbs to enforce the new regulations.

No-one except for key workers is allowed to be out in public unless they are buying food or medication.

There has been some resistance to the new normal.

A few people have been arrested - one a cyclist in Johannesburg and others who were found with alcohol in a Cape Town township.

The sale of alcohol has been banned here for the next three weeks – but it hasn't gone down well.

Videos circulating on social media show law enforcement workers using force to get people to toe the line.

In one such video, a man is wrestled to the ground by two police officers. In another, a soldier is seen kicking a man after refusing to part with his alcohol.

The new regulations are aimed at making sure that people are not out socialising, and practice social distancing.

Even so, there's been much talk here about how these rules amount to an abuse of rights.

To that, South Africa's President Cyril Ramaphosa said drastic steps are needed to save lives.

And South Africa – even with its liberal constitution – allows for certain freedoms to be limited for the greater good.

Health experts here argue that preventing a health catastrophe is one of those times.

Currency U-turn divides opinion in Zimbabwe

Analysis

Shingai Nyoka

BBC News, Harare

Image caption: The coronavirus outbreak threatens to weaken the economy

The announcement that Zimbabweans are now allowed to buy and sell in US dollars has divided opinion.

Some praised the move as a way for the central bank to inject foreign currency into the system, allowing it to pay for imports.

But to others it was an admission that the policy launched last year to reintroduce the Zimbabwean dollar has failed.

"The Zimbabwe dollar has failed to get any support or respect from the local population and it is falling in value," economist John Robertson told the BBC.

He added that it merely treats the symptoms of a bigger problem - namely a lack of local goods production and an over-reliance on imports.

The coronavirus pandemic has struck at a time of high inflation. Inflation has risen from 60% over the last year to 540%.

The lowest paid government worker earns 2,500 Zimbabwean dollars (about $100; £82) a month. In January, the country's doctors ended a long-running strike over poor pay.

'Kenyan police tear-gas commuters' ahead of curfew

A Kenyan TV channel has tweeted footage of police officers spraying crowds with tear gas in the coastal city of Mombasa:

The order of events are unclear from the video.

It appears the crowds of commuters could have been trying to make sure they would get a place on the ferry which had restricted services because of a curfew put in place to try and stop the spread of coronavirus.

From Thursday, the last ferry of the day would now be 18:00 local time (15:00 GMT) and new rules for social distancing - keeping a physical distance from other people - were also put in place, reported the news site Pulse Live.

But things haven't gone well.

People flooded onto the ferry and threw stones at the police, the Daily Nation newspaper reported on Thursday.

Mombasa is a city on a small island where land is scarce, so people on lower incomes tend to live on the mainland and take the ferry to work on the island and back again.

The ferry is typically busy with long queues at the best of times.

'Hard-at-work' photo backfires on Nigerian president

Nduka Orjinmo

BBC News, Lagos

An attempt by aides to Nigeria's president to reassure Nigerians that Muhammadu Buhari is well and still at work has backfired.

Earlier this week the presidency said Mr Buhari had tested negative for coronavirus. The 77-year-old, who has suffered health problems in the past, was tested after it was revealed that his chief of staff had contracted Covid-19.

To scotch further rumours, his spokesperson Bashir Ahmed then tweeted a photo, saying: "President Buhari still at work!"

But this just added fuel to the flames spawning the hashtags #whereisbuhari and #buharichallenge - now trending in Nigeria.

The gag sees Twitter users pairing photos of past events with newly dreamt up captions, joking that it's actually happening right now in the present.

One from 1981 taken in London shows Queen Elizabeth II meeting Nigeria's then-President Shehu Shagari with the caption: "Shehu Shagari welcoming the Queen at the Lagos airport earlier today despite the state-wide lockdown".

Another shows US rapper Tupac Shakur, who died in 1996, pictured as a teenager with a caption suggesting he is listening to a song by current Afrobeats star Naira Marley.

President Buhari has been heavily criticised for not speaking directly to Nigerians about the coronavirus pandemic, although he has been active on social media.

Overnight in a series of tweets, he said he had recalled disease-control experts from overseas and urged people not to succumb to panic because of the virus.

He said the government was working to ensure that supplies of food and other essentials would be maintained.

He also announced new restrictions, including on shipping, and extra funding for Lagos state, which has registered most of Nigeria's cases of Covid-19.

Land borders and international airports were closed last week. According to official figures, Nigeria has a total of 65 infections.

Image caption: Mr Eazi (L) and I had to meet up online because we're both in isolation

Mr Eazi and I are both recovering from an illness that looked and felt like coronavirus, but since we're both in the UK at the moment neither of us know for sure that's what we had because we haven't been tested.

We felt unwell at the same time, a few days after having a meal out together, and for this week's edition of This Is Africa on BBC World Service radio, we hooked up from our respective homes – we are both in isolation.

Mr Eazi told me he's been eating loads of ginger and vitamins, bingeing on documentaries, and talking to his mum:

Quote Message: I think when things [like coronavirus] happen you're looking for something, some kind of light within the entire situation… Now I'm speaking to my mom three times a day, which I usually don't. So that's one thing that has happened in this season - I've stayed more in touch with family."

Mr Eazi has also been seeing lots more people using his music to make videos while in quarantine. One of a Lebanese choreographer Sara Karrit, her son and her husband doing a dance routine in their kitchen has gone viral, with over eight million views:

He was astounded:

Quote Message: I've never had anything go that viral on my Twitter before… So, in this time it's beautiful that the music can bring so much happiness. The reaction from people around the world, seeing the families just indoors and dancing to my music - I just think that's been a miracle of this whole time."

And Mr Eazi's message to his fans right now?

Quote Message: Please stay at home, the virus is real. I see a lot of people say 'Oh the virus is not real' - the virus is very real. Wash your hands, and stay away from the older people. Care for them but be careful, because you might not know you have the virus and you don't want to get a lot of people sick."

For more, head to the This is Africa programme page here.

The interview will air on 28 March on BBC World Service and is available online after broadcast.

Somalia's khat ban 'saves millions'

Grant Ferrett

BBC World Service

Image caption: People chew khat for its stimulant properties

A leading Somali campaigner against khat says a temporary ban on trade in the stimulant leaf has saved consumers in the capital, Mogadishu, more than $3m (£2.5m) in little more than a week.

Abukar Awale has called for the restrictions to be made permanent, describing the widespread use of khat by Somali men as a national catastrophe.

The ban was introduced last week - along with the suspension of international flights to and from Mogadishu - to tackle the spread of the coronavirus.

Somalia imports tonnes of khat each day, much of it from Kenya. Its use is illegal in many parts of the world.

Six more cases of coronavirus in Zambia

Kennedy Gondwe

BBC News, Lusaka

Copyright: Kennedy Gondwe

Image caption: Dr Chitalu Chilufya said there were 22 recorded cases of coronavirus in Zambia

Zambia's confirmed coronavirus cases have increased by six, bringing the total number so far to 22.The six new cases come from tests on 72 people, Health Minister Chitalu Chilufya said.

He said two were at the Masaiti Treatment Centre in northern Zambia while 20 were being treated and managed in the capital, Lusaka.

The southern African nation is yet to record a death from the respiratory disease.

Zambian President Edgar Lungu has ordered the closure of gyms, bars, casinos, nightclubs as well as suspending all international flights except those landing and departing form the main airport in the capital, Lusaka, where screenings are able to be properly managed.

Restaurants would now operate on delivery and take-away basis only, he said.

Mr Lungu said all social gatherings would now be restricted to 50 people maximum.

But Mr Lungu has not closed the borders because of fears it would weaken the country's economy.

More about coronavirus:

'We haven't seen the real situation in Ethiopia yet'

President warns coronavirus test results are only part of the picture

Desta Gebremedhin

BBC News Tigrinya

Ethiopia's President Sahle-Work Zewde has expressed her concern that the true scale of the coronavirus outbreak is not yet clear.

"Since many tests are not conducted, we haven't seen the real situation yet and we should be prepared on a national level," she said in a tweet.

There are 16 known cases of coronavirus in the country.

Since 12 March when Ethiopia's first case was confirmed, 718 laboratory tests have been conducted according to the health ministry.

More about coronavirus:

Night curfews extend across Algeria

Nine more provinces in Algeria will be placed under daily curfew from 18:00 GMT (19:00 local time) to 06:00 GMT, starting on Saturday, as the North African country seeks to contain the spread of coronavirus.

A total of 367 people in Algeria are reported as having contracted the virus, 25 of whom have since died.

A large number of confirmed cases are in Blida province, where multiple members of the same family were among the first known cases in Algeria earlier this month.

Both Blida and the capital of Algiers are already under curfew, with a full lockdown in force in Blida according to Reuters.

Tanzanian couple arrested for 'calling virus a hoax'

Police in Tanzania's commercial capital Dar es Salaam are holding a couple for allegedly spreading false information about coronavirus.

Dar es Salaam's police chief Lazaro Mambosasa said that the husband and wife ridiculed the government while they were on public transport last week.

He said that the couple were misleading the public.

"They said that coronavirus was a hoax and that the government had run out of food to feed students, and so it's using the pandemic as a cover up to close schools, colleges and universities," Mr Mambosasa told journalists.

According to the police chief, after hearing those comments, fellow passengers were upset and directed the bus driver to drive towards the nearest police station where they handed over the couple to the police.

Image caption: There are 13 confirmed cases of coronavirus in Tanzania

Mr Mambosasa said that an investigation into Elias Mwita, 29 and Rosemary Elias Mwita, 41, had been completed and that they would soon be brought to court.

He added that since the outbreak of coronavirus, officers had already arrested other individuals for spreading false information about the outbreak.

Last week, President John Magufuli ordered measures to be taken against those who spread fake information.

He said only health ministers, the prime minister or himself were authorised to share information about the status of coronavirus in the country.

So far Tanzania has 13 confirmed cases of coronavirus, eight of the patients are Tanzanians and the other five are foreign nationals. One of the 13 has already recovered.

Quarantined woman 'kills herself' in Kenya

Kenyan media report that a woman who was being quarantined in the western city of Nakuru has taken her own life.

Health workers found her dead at the Kenya Industrial Training Institute facility where she was being held, having apparently hung herself, local media say.

Local government officials also state that initial police investigations are "pointing to suicide".

The woman was said to be in her 20s. Nakuru county officials confirmed she arrived in Kenya from South Africa on Wednesday. They are not naming her until they have contacted her next of kin.

Local media quote unnamed sources as saying the woman had recently complained she was being held in "deplorable conditions" and had asked to be transferred elsewhere.

Many countries have imposed travel restrictions, plus mandatory quarantine for any new arrivals to curb the spread of coronavirus. Kenya's quarantine period lasts for 14 days.

Currently Kenya has confirmed 31 coronavirus cases, one of whom died. Meanwhile South Africa has the highest number on the continent - at more than 1,000.

Managing your mental health amid coronavirus:

Four more cases of coronavirus reported in Ethiopia

Kalkidan Yibeltal

BBC News, Addis Ababa

Image caption: Last week workers disinfected Addis Ababa's public transport network

Ethiopia has reported four additional cases of coronavirus making the country's total number of confirmed cases 16.

The newly confirmed cases include the first one outside the capital Addis Ababa - a 61-year-old man in Adama, 100km (62 miles) east of the capital.

Other confirmed cases are a 71-year-old Mauritian and two Ethiopian women in their 20s.