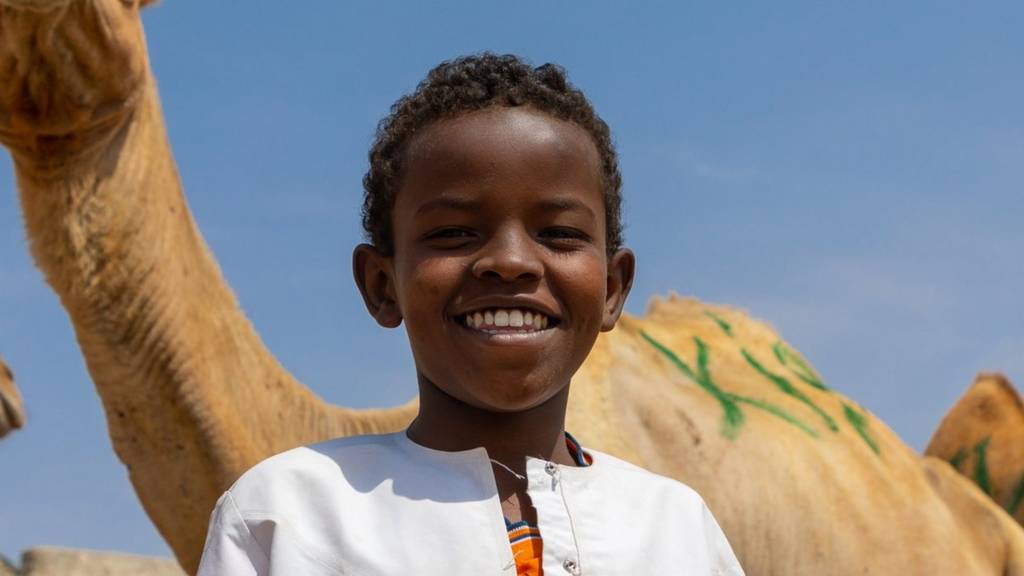 Live
Africa Live: Nigerian art work sells for $1.4m after owners googled signature
Inmates in Kenya say playing the sport teaches them discipline and gives them hope.

This 7ft 5in Senegalese rookie only started playing basketball six years ago.

A Taste of Africa & The Caribbean

A growing interest from buyers and collectors is changing the economics of investing in African art.

Scroll down for Wednesday's stories

We'll be back on Thursday

Ethiopian priests want stolen crown returned to their church

Girmay Gebru

BBC Tigrinya, Mekelle

Image caption: Feudal lord Ras Weldeselassie, who donated the crown to the church, is depicted in a church mural

The priests in a church in northern Ethiopia have demanded that a ceremonial 18th Century crown, that has resurfaced in Europe after being taken from the building 24 years ago, is returned to them rather than go on display in the capital, Addis Ababa.

The crown is thought to be one of just 20 in existence. It has depictions of Jesus Christ, God and the Holy Spirit, as well as Jesus' disciples, and was probably given to the church, Debre Medhanit Slase Cheleqo, by feudal lord Ras Weldeselassie hundreds of years ago.

It had been hidden in a flat in the Netherlands for the past two decades.

Ethiopian Sirak Asfaw, who fled to the Netherlands in the late 1970s, discovered the crown in the suitcase of a visitor and realised it was stolen.

But this month he said it was now safe to return it to Ethiopia.

Image caption: Aba Gebreslassie, who has lived as a monk in the church for 16 years, wants to make sure the crown returns

The question is where should it go?

The church priests told BBC Tigrinya that they want it back in its rightful place rather than being put in a museum in Addis Ababa.

But so far no date has been set for the return of the crown, and nor are there any clear plans about what should happen to it once it goes back home.

Image caption: Earlier this month Sirak Asfaw, seen on the left with the crown, said he was waiting for the Ethiopian government to get in touch

Fresh Nigeria police raid 'frees 500 students from Islamic school'

The police in Nigeria have freed 500 students from an Islamic school in the north of the country, some of whom were in chained up, in the third such incident in less than a month, Reuters news agency reports quoting police sources.

This comes two days after 67 people were found shackled in another school in Katsina state.

Last month, more than 300 male students were freed from a similar boarding school in neighbouring Kaduna state.

Reuters says two witnesses at the scene said the school's owner and five staff members have been arrested.

The police have made no official comment

More than 70 arrested after Mozambique poll

Jose Tembe

BBC Africa, Maputo

Image caption: Vote counting began shortly after polls closed on Tuesday

The police in Mozambique have arrested 73 people for offences connected to Tuesday's general election, a spokesperson says.

Orlando Mudumane said they had been detained in connection with 22 electoral offences, including "creating disturbances in the polling stations".

Nine of those are being held in connection with an attempt to destroy a voting centre in Sofala province.

Mr Mudumane told journalists in the capital, Maputo, that the attackers wanted to grab the ballot boxes from the polling stations in this centre, but were prevented from doing so by the prompt intervention of the police.

He said that 300 supporters of the former rebel Renamo movement were involved.

He urged Mozambicans to remain calm and wait for the results to be announced, which are expected by Friday.

The vote, which includes a presidential election, has been seen as a test of the recently-signed peace deal between the ruling Frelimo party and Renamo.

Eight Guinea protest leaders on trial

Image caption: Protesters had erected barricades in parts of Guinea's capital, Conakry

Eight opposition leaders have gone on trial in Guinea, accused of organising protests against President Alpha Conde's plans to seek a third term in office.

They belong to an alliance of political parties, unions and pressure groups - and face sentences ranging from three to five years.

Activists say that at least seven people have been killed since protests began on Monday in the capital, Conakry, and elsewhere in the country.

Health workers said demonstrators were shot dead by the police. The authorities have denied the security forces used firearms, and say only two people died.

After the upheaval earlier this week, Conakry was quieter on Wednesday, but trouble has been reported in other towns and cities.

Ugandan parents arrested for avoiding immunisation

Dear Jeanne

BBC Africa, Kampala

Image caption: Uganda hopes to reach 18 million children over the next four days

Five people have been arrested in Uganda after they were found hiding their children to avoid the measles, rubella and polio mass vaccination programme.

The authorities are hoping to immunise 18 million children under the age of 15 over the next four days.

The parents were arrested from their homes in the eastern Uganda district of Kamuli after health officials were informed of their resistance to the vaccinations.

The government has said that anyone found trying to prevent their children from being vaccinated will be detained, in line with the sanctions outlined in the immunisation act.

This campaign is in response to a measles outbreak last year.

In the past, mass immunisation exercises have faced resistance from different communities such as religious groups that do not believe in vaccinations and parents who do not understand why their children have to have several different vaccinations.

Liberia teachers strike over two months' pay arrears

Jonathan Paye-Layleh

BBC Africa, Monrovia

Classrooms in government-run secondary schools in and around Liberia's capital, Monrovia, remained empty on Wednesday due to a teachers' strike over salary arrears, among other things.

This kind of strike action to demand the payment of wages has become common in Liberia in recent times.

On Tuesday thousands of students affected by the teachers' action staged street protests and then gathered in front of the presidency and other locations to draw President George Weah's attention to the situation.

As President Weah's motorcade approached his office, protesters tried to get in the way but they were driven back by police.

Many of the student demonstrators were treated for wounds.

The president's office told the BBC that Mr Weah could not meet the students on Tuesday as no meeting had been arranged.

Riot police were seen outside the presidency on Wednesday to deter the students from returning.

The strike began on Monday with the teachers demanding that their August and September salaries be paid.

"Things have become so bad with the educational system that we make students provide their own chalk, paper and even the report cards in which we record their grades," one teacher told the BBC.

Education Minister Ansu Sonii has been trying to persuade the striking teachers to give the government more time to process their salaries.

South African rapist recites poem for victim in court

Nomsa Maseko

BBC Africa, Johannesburg

Convicted rapist Nicholas Ninow has read out a poem he wrote for his seven-year-old victim as he appealed for leniency during a sentencing hearing in a court in South Africa.

The 21-year-old was convicted last month after he was caught naked in 2018 with the child in the female toilets of a popular Pretoria restaurant.

In the poem he said: "She may never forgive, nor even forget."

Ninow detailed his history of drug use and apologised to his victim and her family.

The accused admitted he had been on a three-day drug binge and that he did not care about the consequences of his actions at the time of the attack.

He also disputed the court's finding that the rape was premeditated but later admitted to flushing the child's underwear down the toilet to get rid of evidence.

He was found guilty of rape, drug abuse and defeating the ends of justice, and faces a lengthy jail term.

The prosecution argued against his plea explanation and urged the judge to impose the maximum sentence, EWN news reports.

He is expected to be sentenced later this week.

Morad Dakhil

Football Writer, Libya

Magufuli endorses Tanzanian star to become MP

Tanzania could soon get its own musician-turned-MP. But unlike Uganda's Bobi Wine,Tanzania's Harmonize backs the government.

President John Magufuli has just endorsed the musician, whose real name is Rajab Abdul, for a run at a seat in parliament next year.

The president's support comes as his government continues to ban songs deemed sexually suggestive by some other artists.

Mr Magufuli's blessing came after Harmonize entertained him at a rally, the Swahili newspaper Mwananchi reports.

Harmonize's songs have been spared in the government's moralistic campaign, though his contemporaries Diamond Platnumz and Rayvanny, have been repeatedly summoned by police and at one time banned from performing their "indecent" songs in public.

Harmonize recently released a praise song for President Magufuli, describing him as a hardworking leader with a rich development record.

Liberia ranked number one for helping strangers

Liberia has been named number one in the world when it comes to helping strangers, according to the World Giving Index, an annual ranking of people's generosity.

Helping strangers is one of the three criteria the UK-based Charities Aid Foundation used to draw up the overall index of generosity.

It also looked at how much money people donate to charity and how much time people give to volunteering.

The index was based on a 10-year study that surveyed 1.3 million people across the globe.

In the overall rankings, Kenya was listed as the most generous country in Africa and the 11th most generous in the world.

Liberia was listed as 17th, Sierra Leone 20th and Nigeria 22nd.

But it is in helping strangers that Africa excelled.

Including Liberia, there were seven African countries in the top 10 in that category: Sierra Leone (second), Kenya (fourth), Zambia (fifth), Uganda (sixth), Nigeria (seventh) and Malawi (joint 10th).

South Africa power company 'sorry for blackouts'

Milton Nkosi

BBC Africa, Johannesburg

Image caption: Most of Eskom's power plants run on coal, an abundant resource in South Africa

South Africa's state-run electricity company Eskom has apologised for the latest round of power cuts that began on Wednesday.

The blackouts will affect different parts of the country throughout the day.

In a statement, Eskom said its ability to generate power had been hit by maintenance problems.

"The severe supply constraint being experienced has come about due to high levels of unplanned breakdowns... [for example] five generating units are unavailable due to boiler tube leaks," it said.

"We unreservedly apologise to South African for the negative impact this may have on them," the company added.

It also advised people to use power "sparingly" through the day.

This is not the first time the utility has resorted to load shedding. Similar measures were introduced earlier this year and last year, as well as in 2008 and 2015.

The problems have been caused by a combination of increasing demand, rising costs, falling revenues, crumbling infrastructure, and decades of corruption and mismanagement.

More than half of Eskom's debt is guaranteed by the government, accounting for 15% of the national debt. International banks have described Eskom as the single biggest threat to South Africa's economy.

Eating insects: Testing out the delicacy in DR Congo

Edible insects are often portrayed as something of a sustainable superfood - an environmentally friendly alternative to livestock.

Unlike the production of meat, bugs do not use up large amounts of land, water or feed, and insect farming also produces far fewer greenhouse gases. But who is already eating them and do they actually taste any good?

In the Democratic Republic of Congo, insects are a popular culinary delicacy.

So Joice Etutu, from BBC Africa's Smart Money programme, went to the capital Kinshasa to taste for herself.

Video producer:Andrew Njuguna

Kenya's 'railway to nowhere' questioned

Peter Mwangangi

BBC Africa

Experts are questioning the viability of the latest addition to Kenya's railway infrastructure moments after President Uhuru Kenyatta officially launched the second phase of the Standard Gauge Railway (SGR) line, dubbed phase 2A.

The new 120km (74 miles) stretch is a western extension of the line that already links the port city of Mombasa with the capital, Nairobi.

Unlike the Mombasa to Nairobi line, which was launched to much fanfare in 2017, state activities for the opening of the new line have been low key.

Analysts say that the government is having a hard time justifying the economic benefit of the project because the terminus, Suswa, is a nondescript town in the Rift Valley - hence the derisory nickname "railway to nowhere".

The plans to extend the line to Kisumu, on Lake Victoria, and to Uganda have been thrown into doubt because Chinese finance has not been forthcoming.

At the recent China Africa summit in Beijing, the Chinese government declined to fund what it termed as vanity projects, saying it would only finance those that made economic sense.

Phase 2A of the line was undertaken by the China Communications Construction Company at a cost of $1.5bn (£1.1bn).

Passenger services will start immediately with cargo services to follow, but it is not clear exactly when.

Since its launch, the performance of the existing Mombasa-Nairobi line has also led many to question its viability.

In its first year of operation, the SGR's freight service generated $57m, while the passenger service brought in $16.1m according to the Kenya National Bureau of Statistics, against an annual operation cost of $120m.