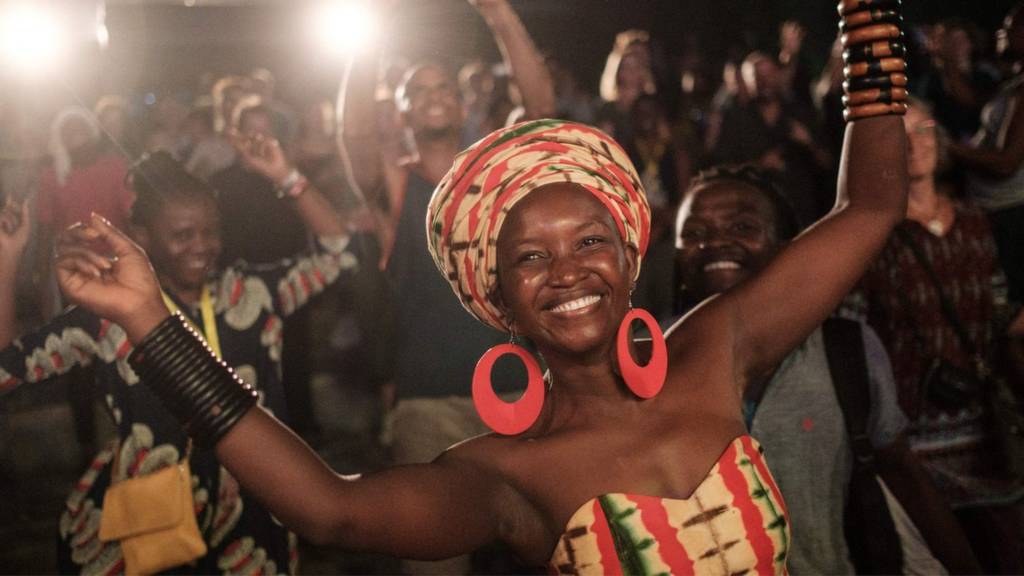 Live
Updates on news from Africa
This is an automates service at night and at weekends.
Scroll down for Friday's stories

We'll be back next week

That's all from BBC Africa Live for today, we will now leave you with an automated service until Monday morning.

Or you can keep up-to-date with what's happening across the continent by listening to the Africa Today podcast.

A reminder of today's wise words:

Quote Message: Promise a poor person a cow and he won't sleep." from A Tonga proverb sent by Habatwa Mweene, Lusaka, Zambia.

Click here and scroll to the bottom to send us your African proverbs.

And we leave you with one of our favourite photos from this week, of dancers performing at the opening ceremony of the Africa Under-23 Cup of Nations in Egypt:

Tunisia names prime minister

Image caption: Supporters of Ennahda hit the streets to celebrate their election win at the beginning of October

Tunisia's moderate Islamist Ennahda party has chosen Habib Jemli as its choice for prime minister.

Mr Jemli, 60, used to be a junior agriculture minister.

President Kais Saied, who was elected in a landslide victory on 13 October, is expected to officially ask him to form a new government later on Friday, reports Reuters news agency.

The moderate Islamist party Ennahda holds only a quarter of the seats in parliament, Reuters adds, so Mr Saied's first task will be to build a governing coalition.

Tunisia sparked the so-called Arab Spring in 2011 with its revolution which ended autocratic rule.

The Resident Presidents tackle toxic air

Algeria's oil and gas giant Sonatrach has a new boss

Algeria's interim President Abdelkader Bensalah has sacked Rachid Hachichi as the head of the giant state-owned oil and gas company Sonatrach.

Kamel-Eddine Chikhi has been named as his replacement.

State spending relies on the success of the oil giant, which provides 60% of government revenue. Sonatrach also accounts for nearly all the country's foreign exchange earnings.

The president's office has not given a reason for Mr Hachichi's sacking but it came just days after a row blew up over the lower house of parliament's adoption of a law aimed at attracting more foreign investment into the oil and gas industry.

Protesters gathered in front of parliament calling for the cancellation of the law, suggesting the current caretaker government had no right to take such strategic decisions.

But the government says the energy sector in Algeria needs to be reformed as the country is facing a decline in oil production.

CAR flood 'destroys 10,000 homes'

Mary Harper

Africa editor, BBC World Service

Image caption: The latest flood adds to the damage from October's flood, pictured.

More than 10,000 homes have been destroyed by severe flooding in Central African Republic (CAR), the Norwegian Refugee Council said.

Aid groups say nearly 60,000 people have been affected by severe flooding in CAR.

Flooding is so bad in some parts of the capital Bangui that the only way to get around is by canoe.

People are seeking refuge in already overcrowded safer areas.

There are fears there could be outbreaks of waterborne diseases such as cholera.

The CAR is one of the world's poorest counties.

More than half the population needs humanitarian support and hundreds of thousands have been displaced by conflict.

By Oluwashina Okeleji

Football Writer, France

By Emmanuel Igunza

BBC News, Nairobi

South Africa 'among the most unequal countries in the world'

Pumza Fihlani

BBC News, Johannesburg

Black South Africans earn on average three times less than their white counterparts, a report into inequality in South Africa has found.

It said that the average monthly salary among black people - who account for 80% of the population - was 6,899 rand ($466,90; £362,60) while the figure was 24,646 rand ($1667,95; £1295,35) for white people.

The report also highlighted how different racial groups are distributed through different social classes:

The Inequality Trends report used data collected by the country's official statistics agency, Stats SA, from 2002 until 2017 which showed black people fared worse in terms of unemployment, access to private medical care, housing and electricity.

It also showed that South Africa has one of the highest levels of inequality in the world:

It's the country's first comprehensive look at the trends around what is often a thorny issue.

One of the main reasons for the huge economic disparities between races is a legacy of apartheid - a system which ensured that the white minority population had access to the best the country could offer.

Aerial images by drone photographer Johnny Miller revealed in 2018 the dramatic divide between rich and poor in cities in South Africa, including this golf course next to high density housing in Durban:

Copyright: JOHNNY MILLER / MEDIADRUMIMAGES.COM

See more aerial photos reveal the stark divide between rich and poor.

Guinea security forces 'shoot protester dead'

Image caption: Police fired tear gas to disperse protesters on Thursday

Sporadic protests have continued for a second day in the Guinean capital, Conakry, against possible plans by President Alpha Conde to seek a third term in office.

The opposition says one person was shot dead by the security forces on Friday and three others on Thursday, when the protests were larger and more widespread.

Officials say one person died.

At least 14 people have been killed since demonstrations erupted in Guinea last month.

The 81-year-old president has asked his government to look into drafting a new constitution which could allow him to run for another term.

Archbishop attacked in South African church

Milton Nkosi

BBC Africa, Johannesburg

Image caption: Foreign nationals fleed to the church weeks ago after xenophobic attacks

A South African Anglican archbishop has been injured in a scuffle in a Cape Town church where refugees had been sheltering.

It is believed that refugees were asked to leave the premises of the Methodist church where more than 200 people had been sheltering for weeks, claiming that they feared xenophobic attacks.

The Reverend Chris Nissen from the South African Human Rights Commission (SAHRC) told local media that the Anglican Archbishop of Cape Town Thabo Makgoba was knocked on the head:

"We were in front and some leaders started to attack us... they pulled us down and the Archbishop has been knocked to his head."

A visibly angry man JP Balous speaking on behalf of the refugees told a local news channel that they have "been treated like rubbish".

"We are human beings, we came here to seek refuge... The human rights commission is actually the human rights abuse in South Africa," he said.

Refugee Alliance for Justice has called for the department of Home Affairs to intervene.

Court upholds Mozambique election result

Image caption: Election officials denied allegations of ballot-box stuffing

Mozambique's top court has dismissed opposition party Renamo's application to have the results of its recent general election cancelled.

Incumbent President Filipe Nyusi and his party Frelimo won the 15 October election.

The written judgement, which the news agency Reuters said was posted on the Constitutional Council's website earlier this week, said that there was not sufficient evidence of electoral fraud.

Renamo leader Ossufo Momade said the annulment could result in violence.

"If one wants to save Mozambique, the election must be annulled," Reuters quoted him as saying on broadcaster STV.

The election has been seen as a test of a peace deal signed in August between the two parties, which fought a bitter 1975-1991 civil war, with renewed hostilities from 2013-16.

SA post office rapist and murderer given life

Pumza Fihlani

BBC News, Johannesburg

Image caption: Uyinene Mrwetyana's murder sparked protests in South Africa

A former post office worker in South Africa has been given three life sentences after admitting to the rape and murder of University of Cape Town student Uyinene Mrwetyana.

On Friday, Luyanda Botha pleaded guilty to the charges and entered into a sentencing agreement in the Western Cape High Court.

The 19-year old student was bludgeoned to death with a metal scale at a post office where she had gone to collect a parcel.

Botha will serve a life sentence for murder, two life sentences on both counts of rape, and five years for defeating the ends of justice.

The five-year sentence will run along with the other sentences. Botha will not be eligible for parole for 25 years.

There were brief cheers and applause from the courtroom as the sentence was being handed down.

Ms Mrwetyana's murder was not only brutal but it was calculated.

The court heard that after killing her Botha left the victim's body in a safe overnight before taking her to field in Lingelethu West the next day where he doused her body with petrol and set it alight, in a bid to get rid of the evidence.

He had first met the student just two weeks earlier when she had gone to the post office to inquire about a parcel she was expecting.

The young woman's death caused nationwide outrage and prompted protests in various cities, and a social media campaign called #AmINext and #IAmNene.

By News from Elsewhere...

...as found by BBC Monitoring

Burundi politician 'was raped and killed'

Samba Cyuzuzo

BBC Great Lakes

Burundi's opposition politician Marie Claire Niyongere was sexually assaulted before being killed and her body dumped in a forest, a local administrator has told the BBC Great Lakes.

Ms Niyongere was the deputy leader of the women's wing of the main opposition Congress for Freedom (CNL) party in Kiganda commune.

Her body was found in a forest on Tuesday with injuries on the neck and genitals, Kiganda commune administrator Celine Ndabubaha said.

Ms Ndabubaha said one man who is suspected to have committed the crime is still at large.

CNL spokesperson Terence Manirambona said the politician was "killed in a shocking way", but that the party is yet to know the motive of the murder.

Ms Niyongere, who has left four children, will be buried on Friday, Mr Manirambona said.

CNL has been denouncing violence against its members ahead of the 2020 presidential elections.

In August, another party member, Nsavyumwami Gregoire, was killed in an attack by a group of people who were armed with machetes. The suspects are facing trial.

A report released in September by the UN Human Rights Council found "serious human rights violations in Burundi against members of the opposition and their families perpetrated by government forces and the governing party's youth wing, Imbonerakure.

Ramaphosa 'not panicking' as SAA strike begins

South African President Cyril Ramaphosa has urged the national carrier South Africa Airways to resolve an industrial dispute with its workers that has led to the grounding of all its planes.

President Ramaphosa, who was interviewed on SABC News, said the strike is a "labour relations issue" that should not cause panic, even as passengers were reported to have been stranded at the country's main airport.

He said the airline's management should come up with a solution to end the strike that started on Friday.

SAA has cancelled all flights scheduled for Friday and Saturday because of the strike.

"This happens all the time in various companies and in various sectors and I don't believe that we should panic," President Ramaphosa told the SABC News.

"In labour relations things do get off the rails from time to time and it really depends on cool heads... and I'm hoping that they would be cool-headed people on both sides," he added.

The airline's workers are protesting against a restructuring process that could lead to the loss of more than 900 jobs.

Eyewitness News reported that passengers were stranded at the OR Tambo International Airport.

The airline's spokesperson Tiali Tiali has said that striking workers will not be paid for the days they will be out of work.

Refugees camping in Pretoria removed

Police in South Africa's administrative capital of Pretoria have started removing refugees who had camped outside the office of UN refugee agency (UNHCR).

On Wednesday, a court order was granted instructing the 300 refugees camping there since 7 October, to vacate the area within three days.

A local journalist has been tweeting about the police operation:

The refugees have been demanding to be sent to other countries because they fear xenophobic violence in South Africa.

South Africa Home Affairs Minister Aaron Motsoaledi told parliament that the refugees had refused to be taken to their countries of origin.

"They don't want to go there, they want to go to another country and that is Canada, nothing more or less," the minister said.

Mozambique man arrested for exhuming dead bodies

Jose Tembe

BBC News Africa

Police in Mozambique are detaining a man in the northern Nampula province on suspicion of exhuming the bodies of his parents and an uncle to extract their bones.

The suspect told police that he was enticed by a businessman who had promised him a motorcycle and over $300 (£234) in cash.

The businessman is engaged in the exploration of mineral resources in Lalaua town within the province, he said.

He confessed to police to have exhumed the three bodies alone in one night.

He was arrested in Ntocol village, on the border between the districts of Lalaua and Mecuburi.

He told the BBC:

Quote Message: The boss told me to look for bones from people who died without getting sick. In exchange, you will get a motorbike. I went to a family cemetery, dug up the bones from my father's, my mother's and my uncle's graves. I left for Lalua. But I failed to meet the boss."

The suspect is being detained at Nampula Provincial Police Command as investigations continue.

Provincial police spokesperson Zacarias Nacute told the BBC that this is the fifth such case in the province this year.

The cases are mostly linked to witchcraft.