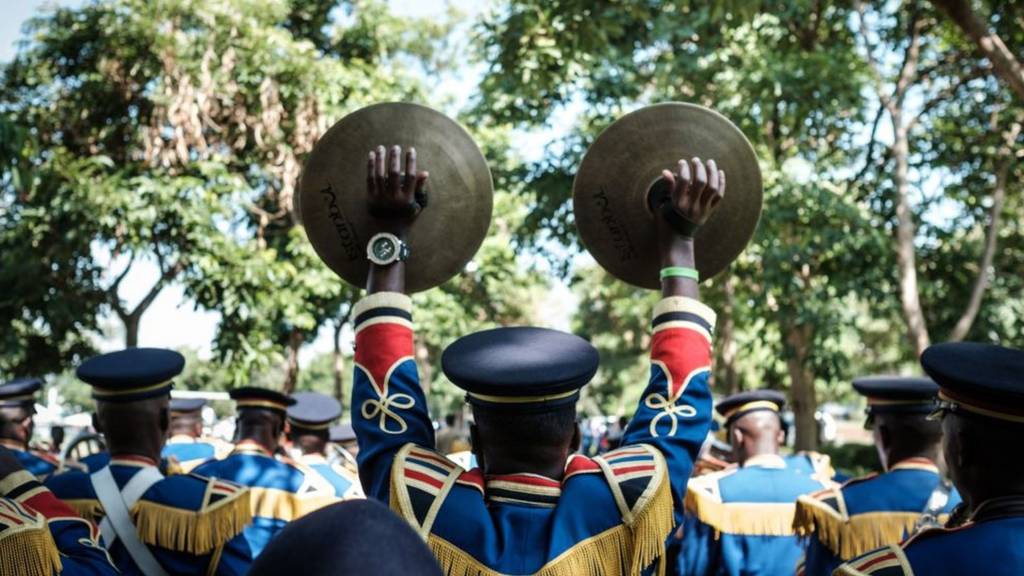 Live
Africa Live: Remains of Ethiopian Airlines crash victims arrive in Kenya
President Cyril Ramaphosa says recent xenophobic attacks were "damaging" to South Africa.

Scroll down for Monday's stories

That's all from BBC Africa Live for today. There will be an automated service until Tuesday morning.

Here's a reminder of our African proverb of the day:

Quote Message: One does not get angry with one's head and therefore use one's cap to cover one's buttocks."

And we leave you with this image by Nigerian photographer Yagazie Emezi:

'Our job is to expand the narrative'

Abiola Oke is the boss of multi-media entertainment firm OkayAfrica.

He tells the BBC that his firm is trying to broaden the coverage of Africans making positive change on the continent.

"Our job is not to change the narrative, it's to expand the narrative. What Africa is, is not singular. So for us, how are we highlighting the people who are actually doing things on the continent to improve the lives of Africans?" he said.

"And more importantly, who are the creatives? Who are the entrepreneurs? How are they creating indigenous home-grown solutions?"

Breaking

Tunisia elects new president

Retired law professor Kais Saied has won Tunisia's presidential election with 73% of the vote, according to preliminary results from the electoral commission.

His challenger in the run-off, Nabil Karoui, won 27%.

Nigeria's first lady returns amid marriage rumours

Image caption: First Lady Aisha Buhari speaks to BBC Hausa

Nigeria's First Lady Aisha Buhari has returned to the country after two months abroad, telling reporters when she arrived on Saturday that "fake news" was a scourge that will "lead us to something unimaginable".

While away, Mrs Bushari had been on pilgrimage to Saudi Arabia and spent time in the UK.

On her return, the first lady appeared to confirm rumours that President Muhammadu Buhari had intended to marry fellow politician Sadiya Farouq, telling BBC Hausa in cryptic comments that the purported bride-to-be was disappointed the marriage hadn't taken place:

Quote Message: The person that promised her [Sadiya Farouq] marriage didn't know it wasn't going to happen. She [Ms Farouq] didn't deny the marriage until the day passed."

Social media was awash with speculation about the wedding, with some claiming it was supposed to have taken place on Friday.

Neither President Buhari nor Ms Farouq has commented.

Mrs Buhari also confirmed that a viral video showing her arguing with her husband's niece at the presidential compound was genuine, but old. The niece, Fatima Mamman Daura, told the BBC she filmed the video herself sometime in 2018 but it had been circulated more recently by "mischief-makers".

More on this topic:

Jailed student activist hopes for presidential pardon

Nomsa Maseko

BBC Africa, Johannesburg

South Africa's justice minister is seeking a presidential pardon for a student activist serving an eight-year jail sentence for setting alight a police vehicle during the #FeesMustFall protests that rocked universities across the country in 2016.

Khaya Cekeshe appeared in court on Monday in a bid to have his sentence and conviction for "malicious damage to property" overturned, but it was rejected by the magistrate.

Although his attempt failed he can still legally approach the Supreme Court of Appeal.

Cekeshe's lawyers argue that there was insufficient evidence against him despite his conviction. The lawyers also said the prosecution failed to produce any video evidence and that the still images being used as evidence against their client provided no conclusive proof of any wrongdoing.

Student activists have in the past called on President Cyril Ramaphosa to grant pardons to all the students who have been convicted for their involvement in protests to scrap tuition fees at institutions of higher learning.

'Climate of fear' for Nigeria's journalists - Amnesty

Mayeni Jones

BBC News, Lagos

Rights group Amnesty International says there has been a rise in threats and attacks on journalists in Nigeria, with members of the press operating under a "climate of fear".

Its new report on media freedom in Nigeria denounces the country's security forces for persecuting journalists who are critical of the authorities.

It says since the beginning of the year, 19 reporters have been detained by law enforcement agents. Journalists and bloggers quoted in the report say they were beaten and tortured during interrogations.

Amnesty has accused the police, the military and the country's main intelligence agency, the Department of State Services, of being behind the clampdown.

In January the Nigerian security forces raided the offices of the Daily Trust newspaper over its coverage of the Boko Haram insurgency in the north-east of the country.

Nigerian security forces have often been accused of human rights abuses. They've repeatedly denied the allegations made against them.

Two killed in Guinea protest

Alhassan Sillah

BBC Africa, Conakry

At least two people have been killed and several members of opposition parties arrested in Guinea's capital, Conakry, during a protest against a constitutional review that many fear would pave the way for President Alpha Condé to extend his time in power.

The homes of the two main opposition politicians - Sydia Touré and former Prime Minister Cellou Diallo - are currently surrounded by police and gendarmes with lorries.

Many shops, schools and businesses have shut and roads are mostly empty.

Several civil society leaders were arrested at the weekend over plans for the protests.

Historic Ethiopia palace opens to the public

Mary Harper

Africa editor, BBC World Service

Ethiopia's 19th Century national palace, from where emperors and a communist leader ruled, has been opened to the public.

The 40-acre compound includes a park, a museum and a zoo which will house black-maned lions.

There is also a banqueting hall with a seating capacity of 8,000.

Critics say the museum makes no mention of the brutality of the palace's founder Emperor Menelik II.

They say Ethiopia has other more important priorities, such as developing infrastructure and lifting the population out of poverty.

Image caption: Unity Park, pictured, is a new addition to the palace compound

Nigerian state enlists hunters in Boko Haram fight

Image caption: Nigeria has stepped up military offensive in the restive northeastern region

The governor of Nigeria's Borno state, the region worst hit by attacks carried out by the Boko Haram Islamist militant group, has enlisted thousands of local hunters to help troops in the fight against the insurgents.

Governor Babagana Zulum says it is part of finding new ways to end the decade-long conflict.

He wants to recruit 10,000 men who are known for their hunting skills and some 2,000 of them have already been enlisted from across northern Nigeria to join the offensive against the militants.

"The hunters are from different parts of the north. They are very familiar with different kinds of forests," Isa Gusau, one of the governor's advisers, told the BBC Newsday programme.

"Governor Zulum thought there is a need to combine approaches. He would continue to support the Nigerian military, but he felt there is need to combine approaches."

Mr Gusau added: "They (hunters) will help in navigation, they will also help in increasing the number of government forces going after the militants. We have reached a stage where we have to apply different approaches; you just have to try whatever means that is necessary so long as it's within lawful means."

Boko Haram's attacks are estimated to have killed 27,000 people and forced about two million from their homes since the uprising began in 2009.

Momodou Bah

Football Writer, The Gambia

Mourners gather as Ethiopia crash caskets arrive

Mourners have been gathering in Nairobi to receive the remains of dozens of Kenyans who died in the Ethiopian Airlines crash in March.

All 157 people on board were killed when a fault caused the plane to crash shortly after take-off from Ethiopia's capital city Addis Ababa.

Our reporter Ferdinand Omondi sent these photos from the funeral home where the coffins are being received:

'Scrap and replace orphanages' - charity recommends

Image caption: US celebritites Kanye West and Kim Kardashian visited an orphanage in Uganda in 2018

A charity organisation is proposing an overhaul of Uganda's orphanages, which are estimated to host 50,000 children, by replacing them with community hubs that would provide education and health services to the wider population.

Instead of looking after 60 children in an orphanage the services could be accessed by up to 5,000 in a community, Child's I Foundation Chief Executive Christopher Muwanguzi told BBC Newsday.

The charity's boss says a majority of children in orphanages have families or close relations they can live with:

Quote Message: Our research has shown us that 80% of children in orphanages actually have families. The reason they are in orphanages is because of poverty, access to education, access to health services and often discrimination - particularly where there are children with disabilities."

Child's I Foundation works to reunite those children with families where possible, and help orphanages provide services to prevent family separation in the first place.

Mr Muwanguzi said poor families opt to have their children raised in orphanages after struggling to cope to fend for them, but added "it's cheaper to look after children in their families, in their homes, than in an orphanage".

Kenya's Kipchoge thanks 'inspiring' Obama

Kenyan runner Eliud Kipchoge has thanked former US President Barack Obama for his Twitter message commending him for his historic achievement over the weekend.

The World and Olympic marathon champion became the first person to cover the 26.2 miles (42.2km) distance in one hour 59 minutes 40 seconds in the Ineos 1:59 Challenge in Austria's capital, Vienna.

It will not, however, be recognised as the official marathon world record because it was not in open competition and he used a team of rotating pacemakers.

"This shows no-one is limited," said Kipchoge after the race.

Kipchoge thanked the former US president for "inspiring" him.

Mr Obama - whose father was Kenyan - also congratulated another Kenyan - Brigid Kosgei - who smashed the 16-year-old women's marathon world record held by Britain's Paula Radcliffe as she retained her title in the Chicago marathon.

Brigid clocked 2:14:04, slashing 81 seconds from Paula's record.

Tanzania's President Magufuli shifts base to Dodoma

Image caption: President John Magufuli confirmed the move to Dodoma was complete

Tanzania's President John Magufuli has announced he has shifted his base from the country's commercial capital and largest city, Dar es Salaam, to the capital Dodoma.

The move was the brainchild of the country's first President Julius Nyerere.

President Magufuli announced the relocation over the weekend while registering as a voter ahead of local elections.

"I was in Kitavi region, but I decided to come to my home city, Dodoma, to register my name because this is now my official address," he was quoted saying by the Citizen newspaper.

All ministries and key government departments have already relocated to Dodoma, the newspaper reports.

Tanzanians are today celebrating the Nyerere Day, a day to honour the nation's founding president.

Remains of crash victims arrive in Kenya

The remains of 28 out of 32 Kenyans who died in the Ethiopian Airlines crash in March have been brought to Kenya.

The victims' families and state officials received the caskets which arrived at the Jomo Kenyatta International Airport in the capital Nairobi from Ethiopia.

Flight ET302 crashed on 10 March shortly after take off killing all 157 people on board.

A local journalist has shared a picture of the victims' caskets being received.

Somalia to set up first blood bank in decades

Farah Yussuf

BBC Monitoring

Image caption: Efforts to save the lives of victims of violence in Somalia are often hampered by the lack of a blood bank

Somalia's government says it is setting up a national blood bank for the first time in more than two decades.

The announcement comes on the second anniversary of the country's deadliest bomb attack in the capital, Mogadishu, which killed nearly 600 people.

The 14 October 2017 blast also wounded hundreds others with no group yet to claim responsibility.

Militant group al-Shabab often launches similar attacks in Mogadishu.

Prime Minister Hassan Ali Kheyre said many Somalis "die of bleeding, with a majority of the victims being pregnant mothers and victims of terrorist attacks".

"This facility would have a storage capacity of 10,000 units of blood. It is one of the lessons learnt from the 14 October bombing incident," the prime minister said in a video message.

He said the bombing had "inflicted indescribable catastrophe on the Somali people" but praised them for being resilient.

"It is truly inspiring that you are today constructing and laying the foundation stone for the national blood bank," he added.

Efforts to save the lives of victims of violence in Somalia are often hampered by the lack of a blood bank.

The country collapsed into a deadly civil war in 1991, which destroyed vital state agencies, after rival warlords forced the military regime of President Siad Barre out of power.

Sudan to begin peace talks with rebel groups

Victor Kenani

BBC Africa, Nairobi

A delegation led by Mohamed Hamdan "Hemeti" Dagolo, a senior member of Sudan's ruling Transitional Sovereign Council, is in the South Sudanese capital, Juba, for talks with rebel groups operating in Sudan.

The talks will open today after South Sudan President Salva Kiir invited both sides.

The talks between the transitional government and the Sudanese Revolutionary Front are aimed at convincing rebel groups that have been fighting the government army in the Blue Nile, South Kordofan and Darfur regions to join the Sudanese political process.

Sudan's Transitional Sovereign Council leader Abdel Fattah al-Burhan will attend the opening session of the talks along with the leaders of Kenya, Ethiopia and Uganda, according to a South Sudanese official.

Egyptian President Abdel Fattah el-Sisi has also been invited to the talks.