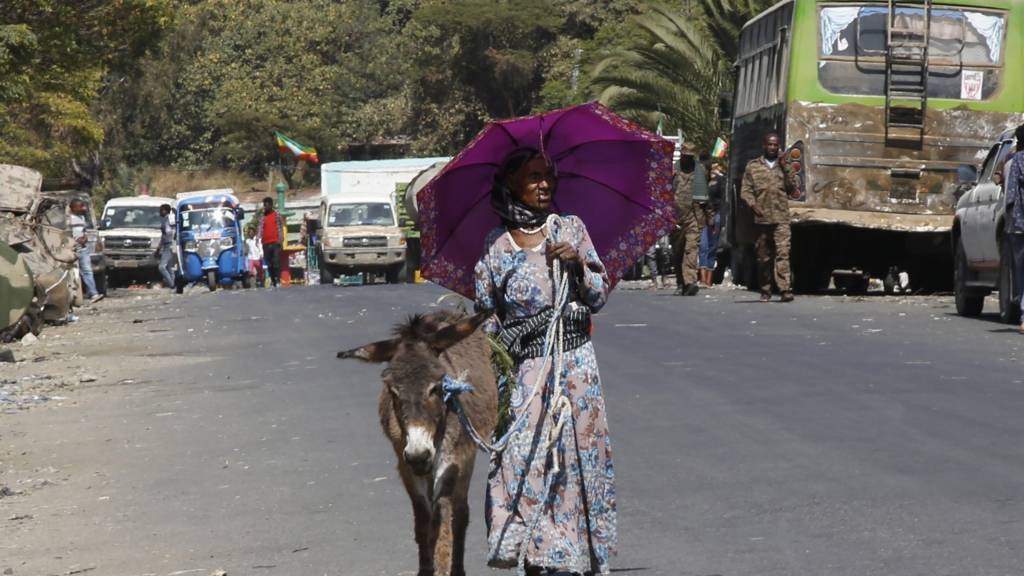 Bringing you the latest news from around Africa at bbc.com/africalive.
By Nduka Orjinmo

BBC News, Abuja

By Peter Mwai

BBC Reality Check

Kenya arrests 91 Ethiopians being held in a house

Mercy Juma

BBC News, Nairobi

Image caption: Thousands of Ethiopian migrants leave their country every year in search of work

Police in Kenya have arrested 91 people believed to be Ethiopian nationals suspected to be in the country illegally.

The Directorate of Criminal Investigations (DCI) says the group was arrested at a house in Kitengela, outside Nairobi, on Sunday evening.

All are men below the age of 25, and had attempted to break out of the house where they were being held.

On Twitter, the DCI said they are believed to have been smuggled into the country onboard a lorry and were being held in the house temporarily as the smugglers sought means to sneak them to another country.

Police are searching for the persons who brought them in.

Undocumented Ethiopians are routinely arrested in Kenya every year after arriving to look for jobs or in transit to other countries.

In October, police arrested 14 Ethiopian nationals, four adults and 10 children, suspected to be in Kenya illegally.

More on this topic:

Missing DR Congo journalist found in bad state

Congolese media are reporting that journalist and academic Samuel Sirasi, who had gone missing last week, has been found alive but unwell.

Members of DR Congo National Press Union want the authorities to grant him protection and find the culprits, reports news site DRC Actu.

The Beni-based journalist went missing in the eastern city of Goma on 4 January, and was found at the weekend near a church in Goma's Karisimbi district. Locals gave him first aid and alerted organisations that had launched a search for him.

Mr Sirasi's health was in "very critical condition" at that point, his colleague Jaribu Muliwavyo at the Semuliki University of Beni is quoted as saying.

The journalist is currently being treated at an undisclosed hospital, according to Congolese media reports.

Aid agencies halt work in Tigray zone after air strike

Image caption: Government forces have been fighting rebels in this part of Ethiopia for more than a year

Aid agencies have suspended operations in a zone of Ethiopia's northern Tigray region where dozens of people were killed in an air strike, the UN says.

"The ongoing threats of drone strikes" left them little choice but to halt activities, the UN's humanitarian agency Ocha has said.

Aid workers over the weekend said that 56 people had been killed and dozens more injured in an air strike on a camp for the displaced.

It came as the Tigray People's Liberation Front (TPLF) spokesman, Getachew Reda, accused Eritrea of launching fresh attacks against the group's fighters. It has not responded to the accusations.

Ethiopian government forces, bolstered by Eritrean troops, have been fighting rebels in Tigray for more than a year in a war that has killed thousands of people.

Deaths and damage as storms hit Mozambique region

Jose Tembe

BBC News, Maputo

Five people have been killed and 15 others seriously injured after heavy rains accompanied by strong winds, thunderstorms and lightning left a trail of destruction in Mozambique's southern Gaza province.

The dead are victims of lightning strikes, said Bonifacio Cardoso, the spokesperson of Mozambique's National Institute for Disaster Risk Reduction and Management in the area.

He asked people to take precautionary measures including by staying indoors during thunderstorms.

The heavy rains that lasted for 24 hours over the weekend also destroyed 5,000 houses and six health centres have been partially submerged, he said.

It is estimated that more than 394,000 people could be affected by floods in the province in the current rainy and cyclone season, which runs until the end of March.

The Mozambican disaster agency has already deployed teams to the area with boats, foodstuff, tents and blankets in readiness for the expected flooding.

Uganda schools reopen after almost two years

Schools in Uganda have fully reopened this morning, almost two years after the coronavirus pandemic started.

This has been one of the world's longest closures since the virus forced governments to close learning institutions back in March 2020.

Students will be promoted to the next class and there will be targeted work to give them a chance to catch up.

Uganda's national planning authority projected that at least 30% of all students who were in school before the pandemic may never return.

Here are some photos of the first day in school taken by the BBC's Patience Atuhaire in Kampala:

Read more:

Eritrea accused of fresh attacks in Tigray

The rebels in northern Ethiopia's Tigray region have accused neighbouring Eritrea of carrying out attacks.

The Tigray People Liberation Front's spokesperson, Getachew Reda tweeted that fresh attacks had been launched against the group's forces.

This comes days after the rebels withdrew from neighbouring regions and the Ethiopian military said it would not pursue them to their region in Tigray.

Eritrea's President Isaias Afwerki told state media over the weekend that his troops would prevent any attack on Eritrea as well as any threats to Ethiopia's stability.

Eritrean troops had been fighting alongside Ethiopia in the war against the Tigrayan rebels which broke out in November 2020. The war has since morphed into a brutal civil war.

Neither Eritrea nor the Ethiopian government has responded to the latest accusation by the rebels.

Mali hit by sanctions as its neighbours shuts borders

Naomi Scherbel-Ball

BBC News

Image caption: Mali's military rulers plan to delay elections by three years

West African leaders have imposed sanctions on Mali after the country's military government announced a long delay to the elections originally planned for February.

The West African regional bloc, Ecowas, which met in Accra on Sunday, agreed to close borders with Mali as well as implement a range of economic sanctions.

Mali's military government in response said that it was closing its land and air borders with Ecowas and recalling its ambassadors from member states.

In a statement, the junta said it "strongly" condemned "illegal" sanctions imposed on the country.

West African leaders have been calling for a return to civilian rule since a group of army officers toppled President Ibrahim Boubacar Keïta following street protests in August 2020.

Mali's military rulers now say elections could take place in December 2025 instead of February 2022 as originally agreed - a delay the West African bloc deems unacceptable.

Sanctions have been seen to be effective in the past, but a second coup last year forced out the interim civilian government, testing the resolve of regional leaders pushing for reform.