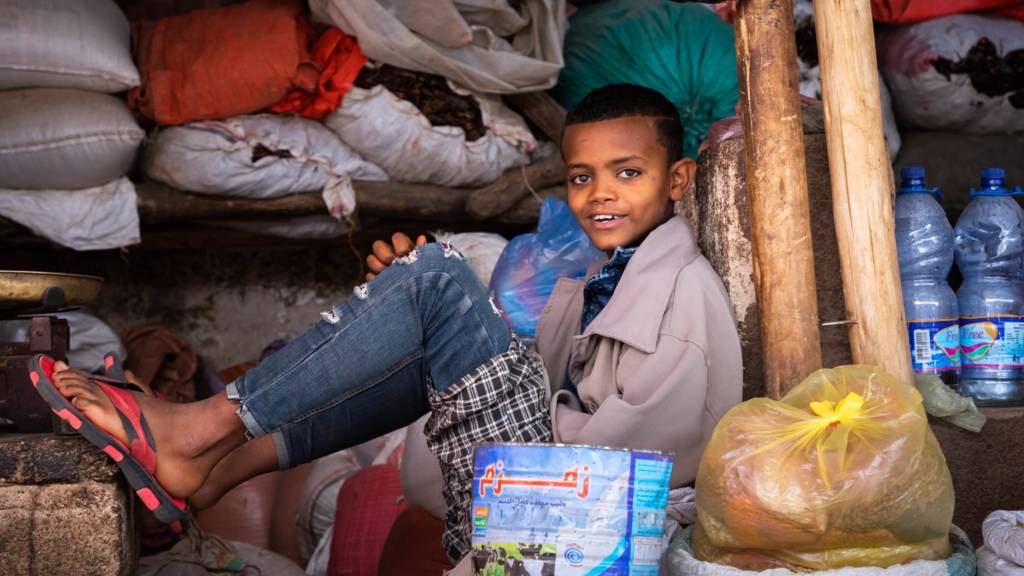 Live
Africa Live: Burna Boy concerts cancelled in South Africa
This is an automated service at night and at weekends.
By Kanika Saigal

Seychelles

Scroll down for Wednesday's stories

We'll be back tomorrow

That's all from BBC Africa Live for now. We leave you with an automated service until Thursday morning.

Or you can keep up-to-date with what's happening across the continent by listening to the Africa Today podcast.

A reminder of our wise words of the day:

Quote Message: A lie is the cousin of the thief." from A Bakongo proverb from Angola and DR Congo sent by Ricardo Lemvo in Los Angeles, the US

And we leave you with this picture by Brian Otieno of boda boda drivers in Kisumu, Kenya:

Somali activist killed in Mogadishu

Ahmed Adan

BBC Africa, Nairobi

A prominent Somali-Canadian activist and former diplomat, Almas Elman Ahmed, has been killed in Somalia's capital, Mogadishu.

She had been working on peace initiatives in the country.

Sources have told the BBC that she was shot while driving a car in Halane, a highly fortified UN compound in Mogadishu.

Ms Almas moved to Canada with her family after her father, Elman Ahmed, a former educational and peace advocate, was killed in the Somali capital in 1996.

People have been sharing condolences online:

Nigeria 'to end open defecation by 2025'

Nigeria's President Muhammadu Buhari has committed his country to being "open defecation free by 2025", according to a series of tweets from his spokesman Garba Shehu.

More than 20% of Nigerians do not have access to a toilet, a statistic that the president described as "disturbing".

Mr Buhari has set up the Clean Nigeria Campaign Secretariat, which will ensure that "all public places including schools, hotels, fuel stations, places of worship, market places, hospitals and offices [will] have accessible toilets and latrines within their premises".

The president follows in the footsteps of India Prime Minister Narendra Modi, who in 2014 pledged that he would end open defecation.

The number of toilets in India has increased significantly, but a BBC investigation found that many of them are not working or are not being used for various reasons, from lack of running water to poor maintenance to deeply ingrained cultural habits.

In Nigeria, an estimated 87,000 children die from diarrhoea every year, AFP reports citing World Bank data.

Nigeria's ex-justice minister arrested in Dubai

The international police agency Interpol has arrested Nigeria's former attorney general and justice minister, in connection with a corruption scandal over an oil deal worth more than $1bn (£770m).

Mohammed Adoke's lawyer confirmed the arrest in Dubai but said it was based on an expired warrant.

Mr Adoke has in the past said he did not personally benefit from the sale of an offshore oilfield in 2011.

In April, Nigeria's anti-corruption agency issued arrest warrants for Mr Adoke, along with a a former oil minister, Dan Etete, and a manager of the Italian oil company, Eni.

It led to several legal cases involving Nigerian government officials and senior executives from Eni and Royal Dutch Shell. Both companies deny any wrongdoing.

Vote counting under way in Ethiopia referendum

Polls have now closed in southern Ethiopia where a referendum was held to decide whether to create a new regional state for the Sidama people - the country's fifth largest ethnic group.

Vote counting is under way.

If the referendum passes as expected, the Sidama will have their own regional government which can make decisions on local taxes, education and security.

Analysts say the referendum will be closely watched by other ethnic groups seeking more autonomy from Addis Ababa.

Read more:

Image caption: Long queues were seen in Sidama's main city, Hawassa

The man taking on South Africa's 'most thankless job'

Vumani Mkhize

BBC Africa Business

The new man who is set to take charge of South Africa's embattled state-owned power utility, Andre de Ruyter, will have to have his wits about him as he embarks on the country's most thankless job.

Eskom's last CEO, Phakamani Hadebe, resigned in May saying that the job took an "unimaginable toll" on his health.

Image caption: Phakamani Hadebe stepped down in May citing health concerns

The heavily indebted company is the subject of public scorn. The anger is fuelled by persistent power outages, allegations of corruption and government bailouts.

Mr De Ruyter, who is only expected to take the reins in January, is currently running the packaging company Nampak and used to work at the oil company Sasol.

He is already facing stiff criticism from unions and opposition parties, who say the appointment of a white man does not aid the transformation agenda in the country. Most middle and senior management jobs in South Africa are occupied by white people, but they represent less than 10% of the population.

Leaving the race issue to one side, Mr De Ruyter faces a mammoth task in turning around the company.

It has a $30bn debt burden on its books and it is not generating enough revenue. Many of the power plants are old and in need of maintenance.

Mr De Ruyter will also have to oversee a major restructuring at Eskom, which the unions oppose.

When he takes over in January, he will be expected to keep the lights on, reduce the debt burden and restructure the company, all while keeping the labour unions happy. His tenure will be defined by how well he manages to juggle these demands.

Read more:

Kenya's Amos Wako: Show me the evidence

Ferdinand Omondi

BBC News, Nairobi

Image caption: Amos Wako, pictured here in 2003, served as Kenya's attorney general for 20 years

Kenya's former attorney general, Amos Wako, wants the United States to provide the evidence that it used to link him to corruption.

On Monday, the State Department barred Mr Wako, along with his wife and son, from travelling to the US, saying it had evidence that he was involved in significant corruption. But it did not provide details.

The former attorney general denies any involvement in corruption.

Speaking to the press on Wednesday, he said he believed the reasons for the travel ban were connected to his term in office, citing a similar freeze by the United States 10 years ago.

He served as attorney general from 1991 to 2011.

Leaked US government cables published by Wikileaks accused Mr Wako of failing to prosecute high-profile corruption cases, as well as thwarting the prosecution of senior government figures.

While he was attorney general, Kenya suffered two big corruption scandals - over security contracts and the export of gold and diamonds.

In both cases senior government officials under Presidents Daniel arap Moi and Mwai Kibaki were implicated, but none were successfully prosecuted.

By Oluwashina Okeleji

Football Writer, France

Tanzania warns media against employing DJs and comedians

Esther Namuhisa

BBC News, Tanzania

The body that regulates electronic media in Tanzania has warned TV and radio stations against hiring people who don't have the "required qualifications" to practise journalism.

"Those who don't heed this warning will be fined or have their licences withdrawn as stipulated in law," the Tanzania Communications Regulatory Authority (TCRA) said in a notice published in the government-owned Daily News newspaper.

According to the 2016 Media Services Act, only those with a minimum of a communication-related diploma (one-two years of study) can be be accredited as journalists.

But media graduates have long complained that they miss out on jobs, as TV and radio stations prefer DJs and comedians.

They say that those not trained in media school are prone to ignoring the profession's ethical standards.

A journalist has shared TCRA's statement and praised the agency for taking action.

"Let us respect the profession, let people go to school if they want to become journalists," the message in Swahili said:

EAC heads summit postponed over lack of quorum

Mildred Wanyonyi

BBC Africa, Nairobi

Image caption: The regional leaders last met in February 2019

The East African heads of state summit scheduled for 30 November has been postponed due to the lack of a quorum.

The official correspondence from the Rwandan Minister of State in charge of East African Community (EAC) Affairs, Olivier Nduhungirehe, said a new date in January or February next year will be communicated after consultations among EAC leaders.

According to the EAC Secretariat, the body's administrative wing, this was in response to a request by "one of the partner states" due to their unavailability on the said date.

The EAC is made up of six partner states - Burundi, Kenya, Rwanda, South Sudan, Tanzania and Uganda.

The rescheduling comes at a time when the EAC Secretariat has expressed concerns about low budget support by member states, which has slowed or halted some development programmes.

Kenya, Rwanda, and Tanzania rank higher when it comes to paying their fees, while South Sudan and Burundi have been listed as the main defaulters.

The regional leaders last met in February 2019 but previous meetings have been beset by a lack of quorum.

The regional bloc has also been riven by trade and border disputes since the last meeting - the most contentious being that between Uganda and Rwanda.

Zimbabwe government 'scared of the people'

Will Ross

Africa editor, BBC World Service

Image caption: Zimbabwe police broke up a rally of opposition supporters

The leader of Zimbabwe's opposition Movement for Democratic Change, Nelson Chamisa, has described the beating of his supporters by police in the capital, Harare, as the behaviour of a collapsing regime.

He said it was further proof that the government was scared of the people, as Zimbabwe's economic crisis worsens.

Mr Chamisa was speaking after police used batons, tear gas and water cannon to disperse supporters who had gathered to hear him give a speech.

On Sunday, President Emmerson Mnangagwa defended his record, saying his administration was opening up political and media space.

Correspondents say the Zimbabwean government appears determined to prevent the opposition gaining political capital from the country's economic problems.

Heavy rain alert issued for eastern Africa

Peter Mwai

BBC Africa, Nairobi

Eastern Africa's regional climate monitoring centre, Icpac, has issued a warning over the possibility of heavy rainfall across the region at the end of the week.

The agency has called on people to be "vigilant for flood risk".

Icpac says the rainfall, ranging between 50-70mm (2-2.75in), is expected on Friday in some parts of the region.

Areas likely to be affected cover a wide band stretching from north-west Somalia, through Ethiopia and western Kenya and then into central Tanzania

Kenya's meteorological agency says heavy rainfall above 100mm (3.9in) may fall in some parts of the country.

Some areas are already receiving higher than normal rainfall.

The Kenya Red Cross says three landslide incidents have occurred in central Kenya, although there have been no reports of casualties.

Heavy rainfall and flooding have affected areas across eastern Africa since July. The rain intensified in October.

Burna Boy concert cancelled in South Africa

Two concerts in South Africa expected to feature Nigerian star Burna Boy have been cancelled following "increasing threats of violence", a statement from the organisers says.

He had been scheduled to appear at what were dubbed the Africans Unite concerts in Cape Town and Pretoria at the weekend.

The announcement that he was going to appear had attracted controversy as in September, during a wave of xenophobic violence in South Africa, Burna Boy had vowed not to go to South Africa again until the government "wakes up".

He tweeted that he had personally had his own "xenophobic experiences at the hands of South Africans " in 2017.

Earlier this month, after changing his mind about going to South Africa, Burna Boy said he would donate part of the proceeds from the concert to the victims of xenophobic attacks.

But the invitation of the Afrobeats star was criticised by some South African artists.

Last weeek, a group calling itself the Tshwane Entertainment Collective wrote a critical letter to the government over the concert, Times Live reported.

"Whoever may have deemed that the country needs a PR exercise of this nature would have done so largely as a result of the callous, misleading and unwarranted incitement by this very artist," the Collective is quoted as saying.

"Not only did he spread falsehoods through his extensive platform, he literally incited violence and hate," it added.

Burna Boy, who had earlier in a now-deleted tweet threatened South African artist AKA, denied that he was inciting violence, and in a tweet called for unity:

Announcing the cancellation of the concerts, Phambili Media said its decision came after the Tshwane Entertainment Collective's call for a a boycott and the "increasing threats of violence from other unfortunate segments of the public". But the company did not specify what those threats were.

"The safety of all attendees, artists and crew comes first," it added.

Trump extends state of national emergency against Burundi

Samba Cyuzuzo

BBC Great Lakes

US President Donald Trump has written to the US Congress to advise that he was extending the state of national emergency against Burundi.

The measure which restricts US travel, business and aid to a designated country was first imposed by Mr Trump's predecessor, Barack Obama, in 2015.

It was introduced after the East African nation plunged into political crisis after President Pierre Nkurunziza sought a controversial third term in office.

An attempted coup against Mr Nkurunziza sparked civil violence that resulted in hundreds being killed and at least 400,000 people fleeing to neighbouring countries.

The White House statement said the situation in Burundi was a threat to peace in the region and to US security:

Quote Message: The situation in Burundi, which has been marked by killing and other violence against civilians, unrest, the incitement of violence, and significant political repression, and which threatens the peace, security, and stability of Burundi and the region, continues to pose an unusual and extraordinary threat to the national security and foreign policy of the United States."

Burundi's representative to the UN Albert Shingiro recently rejected UN investigators' reports that found a "state of alarm and serious violations of human rights in Burundi against members of opposition and their families".

Mr Shingiro said "Burundi issues concerns Burundians as a sovereign country" - a position supported by Russia and China.

Body bag taken to SA insurance firm to claim funeral fee

Milton Nkosi

BBC Africa, Johannesburg

Two women in South Africa have been filmed carrying a large bag, apparently containing a corpse, out of a branch of well-known insurance company Old Mutual.

In a video clip, that has been widely shared on social media, the women can be seen struggling with a large blue body bag before loading it into the back of a car.

It has been alleged that Old Mutual refused to pay funeral costs unless the family provided proof of death, Eyewitness News reports.

In response to complaints on Twitter about the incident, Old Mutual said that the claim was paid, describing the incident as "unsettling":

In a further tweet it added that what happened at one of its branches in KwaZulu Natal province "whilst isolated [was] regrettable".

The National Funeral Practitioners Association of South Africa said it was supporting the family, Eyewitness news reports.

Muzi Hlengwa, from the association, said the insurance company may have to pay more money.

"All the rituals that were conducted to move the body from one place to another were not done," he is quoted as saying.

"The soul of that man is still left at Old Mutual, so they will have to cover the costs of performing these rituals."

Anger at UN after DR Congo rebels kill 12

At least 12 people were killed when rebels attacked the town of Beni in the east of the Democratic Republic of Congo.

Eyewitnesses say men from the Allied Democratic Forces (ADF) used machetes to kill people in the city's Boikene neighbourhood on Tuesday evening.

The Congolese military intervened but the attack has caused a great deal of anger.

ADF rebels also killed 14 people in Beni last week.

People have barricaded roads in the city and have been throwing stones at vehicles belonging to the United Nations, who they accuse of failing to protect them.

Zimbabwe police disperse opposition rally with tear gas

Police in Zimbabwe have used batons, tear gas and water cannon to beat up and disperse supporters of the main opposition party in the capital, Harare.

They were due to hear a speech by Nelson Chamisa, the leader of the Movement for Democratic Change (MDC).

The latest police action comes as the opposition accuses President Emmerson Mnangagwa of adopting the same heavy-handed tactics used by his predecessor, Robert Mugabe.

On Sunday, Mr Mnangagwa defended his record, saying his administration was opening up political and media space.

Police have banned several MDC gatherings.

Correspondents say the government appears determined to prevent the opposition gaining political capital from the deepening economic crisis.

One leading MDC member has posted a video on Twitter of the police action and appealed to regional leaders to intervene.

Case against top Tanzania journalist postponed for eighth time

Sammy Awami

BBC News, Dar es Salaam

Image caption: Erick Kabendera is a renowned investigative journalist

The case of jailed Tanzanian journalist Erick Kabendera has been postponed again until 4 December.

This is the eighth time the case has been postponed.

The reason given for the postponement, like on previous occasions, was that the investigation was not complete

Mr Kabendera was arrested in July and charged with being involved in organised crime, failing to pay taxes and money laundering.

His lawyers have said that he denies the charges, alleging they are politically motivated.

They have also written to the public prosecutor to initiate a plea bargain.

Mr Kabendera, a renowned investigative journalist, has written for many international publications including British papers The Times and The Guardian.

His case has attracted international attention with critics saying it is evidence of a crack down on freedom of expression in Tanzania.

The government has dismissed the allegation.