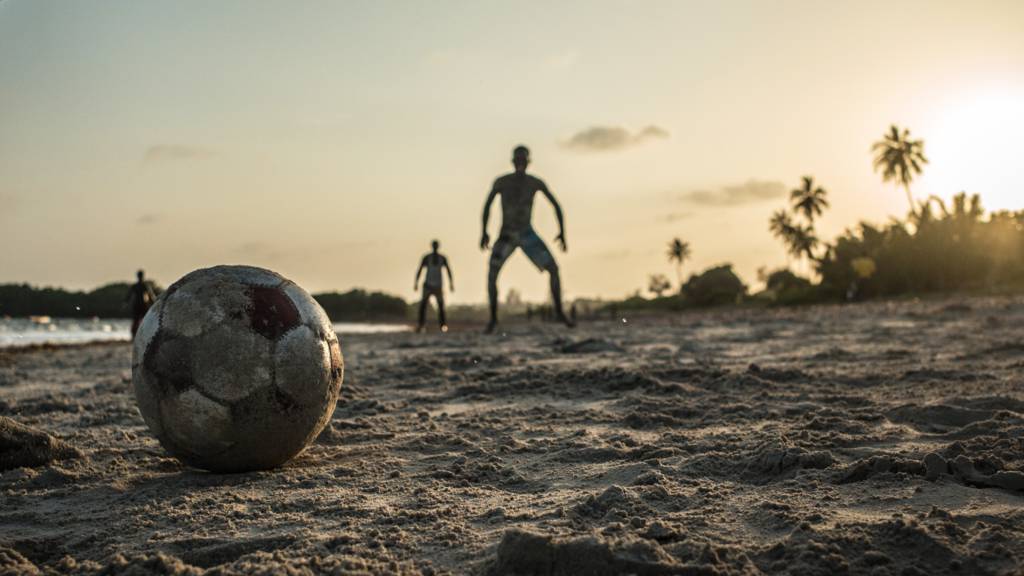 Fresh Ethiopia airstrikes hit new Tigray targets

Will Ross

Africa editor, BBC World Service

The Ethiopian government says the military has launched air strikes on rebel positions in the north and west of the Tigray region - expanding the range of its aerial bombardments.

Previous air strikes over the last week had all been in the regional capital Mekelle, but these ones hit Adwa and Mai Tsebri.

The government said they had targeted Tigray People's Liberation Front (TPLF) facilities but a number of civilians are reported to have died.

A TPLF spokesperson said no military targets had been hit and suggested missiles had struck buildings already destroyed by Ethiopian and Eritrean forces.

With all phone communication cut off in Tigray it will be hard to verify the outcome of the air strikes - especially as they are in fairly remote areas.

They are also far from where the fiercest fighting has been taking place - in the neighbouring Amhara region.

After nearly a year of conflict between the TPLF and pro-government forces, the UN says seven million people are in need of emergency assistance and more than two million have been displaced.

Dozens dead after South Sudan floods - government

Will Ross

Africa editor, BBC World Service

South Sudan's government says some of the worst flooding in decades has left at least 100 people dead over the last three months.

The Humanitarian Affairs minister, Peter Mayen Majongdit, said conditions were still extremely bad with large numbers of families living on islands surrounded by water.

He said the deaths were as a result of the flooding itself and associated waterborne diseases.

South Sudan's government says more than a million people have been affected.

It's trying to move people to higher ground away from the floods.

The UN recently linked what it called the worst flooding since the 1960s with the climate emergency.

By Emmanuel Onyango

BBC News, Nairobi

By Callum Matthews

BBC Sport

By Linda Pressly

BBC News, Copenhagen

Scroll down for this week's stories

We'll be back on Monday morning

That's all from the BBC Africa Live team for now. There will be an automated service until Monday morning.

You can also get the latest news by checking the BBC News website, or by listening to our Africa Daily and Africa Today podcasts.

A reminder of our proverb of the day:

Quote Message: He who hits his neighbour's knee curls up his own legs." from A Fulani proverb sent by Abdullahi Adda'u Turawa in Zaria, Nigeria

And we leave you with this shot of three girls in Togo - one of our favourites taken this past week:

UN suspends flights to rebel-held Ethiopian city

Will Ross

Africa editor, BBC World Service

The UN says its flights to Mekelle in Ethiopia's Tigray region have been suspended after one of its planes had to abort its landing on the same morning as a military air strike was carried out on the city.

The Ethiopian government said its planes had been targeting a training centre used by Tigrayan rebels.

As the UN plane was approaching Mekelle the authorities at the city's airport told the crew not to land.

The fact that airstrikes were being carried out on the same city on the same morning will be of great concern to the UN – as the plane had been cleared for take off by the authorities in the capital, Addis Ababa.

None of this will help repair the already strained relationship between the government and humanitarian agencies.

The security situation continues to worsen. Since June the fighting has expanded to the Amhara and Afar regions displacing an additional 1.2 million people.

Seven million people are now in urgent need of assistance and the UN says malnutrition rates are rising every day.

From UK boy band to Malawi charts: Theo Thomson

DJ Edu

Presenter of This Is Africa on BBC World Service

Copyright: Courtesy of the artist

It all started when Theo Thomson's mum heard him singing in his bedroom. She thought it was Stevie Wonder on the radio and came running in - she had no idea her son could sing like that.

Even though Theo was an introvert as a teenager, his mum persuaded him to enter singing competitions in the UK where they were living at the time. Eventually, he overcame his nerves and got a taste for the stage.

He even auditioned for, and joined, a boy band which had a brief moment of fame when it was featured on British TV.

"I learnt a lot from that actually. I learnt how to share the stage and how to own your section of the performance," Theo says.

But it was a few years later when Theo returned home to Malawi that things really took off for him:

"That was when I connected with my sound, my African sound. My first single there was a song called So Amazing. That had a mixture of what was happening in the States, my writing was very UK and the energy was very Afro. This song was in the charts for 25 weeks.

"I wasn't sure if I was going to be accepted doing this fusion in a territory that was kind of virgin to this urban-meets-Afro genre. But when it did get received the way it did, it was an amazing experience honestly. It made me feel like ok let's go, we can push this."

Theo now has three albums under his belt.

His biggest song to date – Maybe Tomorrow – riffs on the idea of a young man stalling his girlfriend who wants him to propose marriage. But it's not a player thing, Theo assures us - it's because the young man wants things to be perfect before he gets hitched.

Thomson says he owes a lot to his parents, and not just to his mother, who spotted his talent and pushed him. His father, Oscar Thomson was a nightclub DJ and went on to set up Malawi's first independent radio station FM 101 Power.

"He loves music so much," Theo says. "I'd say he's very responsible for everything that's happening in Malawian music right now because he was the first one to give Malawian listeners Malawian music. He has an amazing ear. Whenever I finish a song, he's the gatekeeper."

You can hear more from Theo Thomson on This is Africa this Saturday, on BBC World Service radio and partner stations across Africa, as well as online here.

Head of Islamic State in West Africa killed - Nigeria

Chris Ewokor

BBC News, Abuja

Nigeria's national security adviser says the new leader of a jihadist group in Nigeria linked to Islamic State has been killed.

Babagana Monguno told journalists on Friday that Malam Bako, who recently succeeded Abu Musab al-Barnawi as leader of the Islamic State in West Africa Province (Iswap), was "taken out" by security forces two days ago.

Al-Barnawi's death was announced a week ago.

The reported deaths have refocused attention on the security crisis in Nigeria's north-east, that began 12 years ago with an insurgency launched by the Islamist militant group Boko Haram.

Nigeria is also reeling from devastating attacks by armed gangs who kidnap schoolchildren for ransom.

Police charged with letting Kenyan serial killer escape

Will Ross

Africa editor, BBC World Service

Copyright: DIRECTORATE OF CRIMINAL INVESTIGATIONS - KENYA

Image caption: Masten Wanjala confessed to drugging and killing more than 10 children

Three Kenyan police officers have been charged with helping a self-confessed serial killer escape from custody last week.

Masten Wanjala was then killed by a mob when he returned to his village in western Kenya.

His arrest last July was over the disappearance of two children.

But he then admitted to police that he had killed at least 10 others.

Three officers have denied the charge of assisting his escape. They have been released on bail.

Facebook bans Oromia rebel group

Ameyu Etana

BBC News Afaan Oromo

The social media giant Facebook has told the BBC it's currently removing posts and accounts related to Ethiopia's Oromo Liberation Army (OLA) after it had listed the group under ''dangerous organizations'' and "violent non-state actors".

The group, which broke away from legally registered party Oromo Liberation Front in April 2019, was designated a terrorist group by Ethiopia's parliament in May.

The OLA been accused of killings and massacres mainly in western and southern regions of Ethiopia's Oromia state, which it denies.

It is also in alliance with the Tigray People's liberation Front (TPLF), which is fighting government troops in northern Ethiopia for almost a year.

In response to Facebook's decision, an OLA spokesman claimed the social media company was ''influenced by a propaganda campaign waged by Ethiopian right-wing groups''.

Recently, the OLA had been branded ''an enemy'' by two influential traditional leaders from Ethiopia's Oromo people.

Exiled Burundi politician aiding Congo rebels - president

Alfred Lasteck

BBC News, Dar es Salaam

Image caption: Burundian President Ndayishimiye has been promised support from Tanzania's President Samia

The president of Burundi has accused an exiled politician of uniting with Congolese rebels to cause anarchy in the Great Lakes region.

He said the unnamed politician was working with Allied Democratic Forces (ADF) soldiers who have been launching sporadic attacks, killing people and destroying villages.

Burundian President Evariste Ndayishimiye made the comments on a three-day visit to Tanzania, where his counterpart President Samia Suluhu Hassan promised to co-operate with Burundi and other neighbours to ensure regional peace and stability.

Landlocked Burundi heavily depends on Tanzania's port city of Dar es Salaam, and Mr Ndayishimiye will inspect major projects there as well as the construction of the Standard Gauge Railway - plus he'll visit Kwala Dry Port where Burundi has been allocated 10 hectares of space.

Mali mum's nine babies pictured together for first time

Halima Cissé's nine children, who were born in May, "are getting on very well, and are... getting stronger every day", the Malian told the UK's Daily Mail newspaper.

The newspaper has also published a series of photos of the nonuplets pictured together for the first time.

The record-breaking brood were born in Morocco after Mali's government flew her there for specialist care.

At birth they weighed between 500g and 1kg (1.1lb and 2.2lb) and were kept in incubators.

But as they're now making progress they could be "allowed to leave full-time medical care soon, so that we can take them home", Ms Cissé told the Daily Mail.

Gambian migrants repatriated from Libya

The United Nations says it has repatriated a group of Gambian migrants from Libya, after the authorities there allowed the resumption of evacuation flights.

Nearly 100 people were flown home. Libyan officials had been blocking such flights for months.

The UN has welcomed the permission to re-start the flights, but it says they can only benefit a small number of migrants and has urged the Libyan authorities to address the dire conditions they face in the country.

Rights activists have condemned the treatment of more than 5,000 people who were recently detained in Tripoli. Many are said to have subjected to beatings and other abuse.