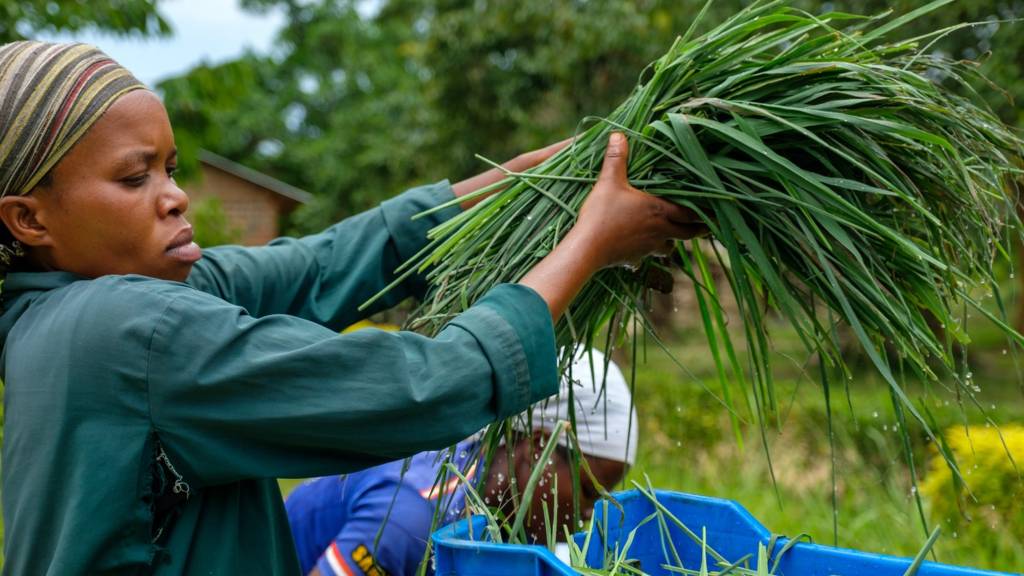 Some Nigerian entrepreneurs who use Twitter to promote their businesses are recording reduced sales.

Scroll down for this week's stories

We'll be back on Monday

That's all for now from the BBC Africa Live page team for now. There will be an automated BBC News feed until we're back on Monday morning.

Keep up to date with what's happening across the continent by listening to the Africa Today podcast or checking the BBC News website.

A reminder of our wise words of the day:

Quote Message: Sticks in a bundle are unbreakable." from A Tshiluba proverb from the Democratic Republic of Congo sent by Patrick Kasenge in Oregon, the US

Click here to send us your African proverbs.

And we leave you with this image from our selection of Africa's best photos of the week of a marching band in Ethiopia's capital, Addis Ababa, taking a break:

Covid vaccine body 'set up with colonial mindset'

BBC Focus on Africa radio

Image caption: Africa has been struggling to get hold of Covid-19 vaccines

The organisation set up to distribute coronavirus vaccines to poorer nations was established with a "very colonial mindset", a top African Union (AU) official has told the BBC's Focus on Africa programme.

Dr Ayoade Alakija, who is the co-chair of the AU's Vaccine Delivery Alliance (Auvda), was speaking on the eve of the G7 summit where world leaders are expected to announce vaccine donations to countries that are struggling to cover their populations.

"The initial problem with [Covax] is that it was not inclusive, it was a very colonial mindset as it was set up," she said.

"They did not come and ask us Africans, they did not come and ask our leadership, they didn't come and ask our people, 'What would you like?'"

Had that been done, Auvda would have said it wanted to vaccinate between 60% and 80% of Africa's population, Dr Alakija said.

But Covax seemed to think that covering 20% of the population was enough, she said. The global vaccine sharing scheme was "not the sole solution".

"I think that has been the root cause of our inability so far to purchase our own vaccines, to source our own vaccines, is the fact that we were being told that Covax is enough. 'You stay there and let Covax deal with your needs.'"

Read more:

'I sing for children caught in Cameroon's crazy war'

DJ Edu

This Is Africa, BBC World Service

Image caption: Tzy Panchak says the secessionist conflict in Cameroon's two English-speaking regions has been tough for his fans

When I asked Tzy Panchak if he had been affected by the instability in Anglophone Cameroon, I had no idea that my question would bring such a heartfelt and moving answer.

I could have anticipated perhaps that this successful musician would have relocated to Douala in the Francophone region because it is a much bigger city than any on the Anglophone side, but Tzy moved there not because of better facilities, but to feel safe.

"It's been really really difficult because our fans are back there struggling, some are in the bush, it's been really tough."

Tzy Panchak's hometown is Kumba. In October last year, men with guns and machetes attacked a school and killed half a dozen children between the ages of 12 and 14.

"I had a concert on the same day they killed those children, so I was actually on my way to Kumba and the show promoter called me and said, 'Bro, have you heard? They just killed children in school, there was a shoot-out.' I asked if any of them had survived, he said, 'Yes." I said, 'Take me to the hospital.'"

Tzy consoled injured children some of whom had jumped from multi-storey buildings, comforted bereaved parents and paid medical bills. As soon as he returned home he went to studio and wrote a song dedicated to the children. He called it I Am Kumba.

The singer told me:

Quote Message: I grew up in that place, I went to school there, I got my opportunities from Kumba. I think they deserved a fair and equal opportunity too, they didn't deserve to die like that just because they wanted an education. I'm very emotional right now."

And this is not all:

Quote Message: I lost my Dad because of this crazy war. On 17 April the ambulance refused to carry him from Kumba to Douala because they were scared, so he died. I wrote a song for him too."

In a twist of fate, the last time Tzy saw his father was in February when he went to Kumba again to do a concert to help the town heal from the school attack.

"He came on stage, I was surprised, like wow, I said, 'Thank you very much, I love you.' He said, 'I love you too' - and that was the last moment we had together. Thank God I went home that day."

You can hear more from Tzy Panchak on This is Africa this Saturday, on BBC World Service radio and partner stations across Africa, and you can listen online here.

Mauritius to reopen to vaccinated tourists

Yasine Mohabuth

Port Louis, Mauritius

Copyright: Yasine Mohabuth

Image caption: Tourism is a key part of the Mauritian economy

Mauritius is set to reopen its borders to vaccinated tourists from 15 July, but visitors will still have to quarantine for 14 days.

From 1 October all vaccinated tourists who have a negative Covid test will be allowed on Mauritian territory without any restrictions.

The borders were first closed more than a year ago.

Tourism is an important part of the Indian Ocean archipelago's economy and many hotels have been closed for months while others have been used as quarantine centres.

The government's announcement follows the acceleration of its vaccination campaign.

The tourist authority said that frontline workers in the tourism industry have been prioritised to get the jab.

Mauritius has recorded 1,566 Covid-19 cases with 265 active local cases and registered 18 deaths since the start of the pandemic.

LGBT activists arrested in Ghana win bail

A group of 21 lesbian, gay, bisexual, trans and gender-diverse activists who were arrested last month while attending a conference in southern Ghana have been granted bail.

They are charged with "unlawful assembly", and at the time of their arrest were accused by police of sharing books and flyers with titles including "Coming out" and "All about Trans".

Human Rights Watch said in 2018 that queer Ghanaians "suffer widespread discrimination and abuse both in public and in family settings".

There is no law in Ghana that says being LGBT is illegal, but same-sex relationships are criminalised.

Last week the UN called for the group's immediate release, saying "all evidence available points to the fact that they were detained while they were peacefully exercising their rights to freedom of expression, peaceful assembly and association."

The group' previous bail application had been denied. Their case will now be heard at a later date, Citi Newsroom reports.

Watch:

Fears for Rwandan fugitive arrested in Mozambique

Copyright: Cassien Ntamuhanga

Image caption: Before his arrest and escape, Cassien Ntamuhanga used to run the Amazing Grace radio station in Kigali

Fears are growing that a Rwandan journalist who sought asylum in Mozambique may have been illegally deported back home.

Cassien Ntamuhanga, who had sought safety in the southern African country after escaping from prison in Rwanda in 2017, was detained on 23 May on Inhaca Island off the coast of Mozambique's capital, Maputo.

The 39-year-old used to run a Christian radio station in Rwanda's capital, Kigali, that was not afraid to criticise government policies.

In 2014 he was arrested and later convicted of terrorism offences and sentenced to 25 years in prison - on what he says were trumped up charges.

He famously escaped from a high-security jail in central Rwanda three and a half years ago - and during his time in Mozambique has set up a political movement in exile, the Rwandan Alliance for the National Pact (RANP).

Earlier in May, he was sentenced in absentia to another 25 years in prison for allegedly planning terror attacks on Rwanda.

"We are still trying all ways to be in touch with Cassien. Unfortunately, nothing yet," his lawyer in Maputo, Simao Henrique Buque, has told the BBC.

After his detention in May, the media in Rwanda reported that he was likely to be deported.

Cléophas Habiyaremye, the Rwandan refugees' representative in Mozambique, says this would be illegal as Rwanda and Mozambique have no extradition treaty.

"In this case it is a decision to be taken by courts, and not police," he told the BBC, adding that the journalist was still a registered asylum seeker.

Rwanda's ambassador to Mozambique, Claude Nikobisanzwe, has dismissed allegations by the RANP that the Rwandan government has been involved in Mr Ntamuhanga's recent arrest.

He told the private paper Canal de Mocambique such accusations were "fake news".

The police in Mozambique have not yet responded to the BBC's request for comment.

A number of prominent government critics have been killed in and outside Rwanda in recent years and others jailed. The government has denied involvement in their deaths.

Copyright: Kizito Mihigo/Facebook

Image caption: Popular gospel singer Kizito Mihigo was arrested with Cassien Ntamuhanga in 2014

Mr Ntamuhanga was arrested in 2014 alongside gospel singer Kizito Mihigo, who was given a 10-year sentence. The pair had often put on shows together and other Christian events.

Kizito, as he was popularly known, had drawn ire for a song that suggested that everyone killed during the 1994 genocide should be remembered whether they were ethnic Hutus or Tutsis.

The singer was pardoned by the president in 2018, but was arrested two years later for allegedly trying to leave the country illegally and was found dead in his cell a few days later.

A government investigation found he had taken his own life, but many dispute this.

Namibian TV anchor Jessica 'will be live again'

There's been a lot of speculation about the future of Namibian broadcaster Jessica Kaimu.

A clip of an on-air mix up with her fellow host Elmarie Kapunda on national NBC TV got a lot of attention.

Kaimu appeared to snap at Kapunda when she handed over to her for the sports bulletin, saying: "No. We are not going to do that. You're just going to greet me and say, 'Take it away.'"

Her colleague responds: "Jessica, we are live."

The clip has been been trending in Namibia and South Africa:

So have the pair still got jobs?

The Namibian newspaper says it has the definitive answer from Kaimu - better known to us as Jessica.

"I did not lose my job. As a matter of fact, I am in my office working right now," she is quoted as saying.

The Nambian also spoke to NBC board chairperson Lazarus Jacobs.

"There is absolutely nothing wrong with what they have done. It's normal, it can happen to the best news organisation in the world. There is no reason for them to be dismissed," he said.

Where are our children? Somali mothers ask

Dozens of Somali mothers took part in demonstrations asking the government to bring back their children who they say were being trained in Eritrea.

The mothers told BBC Somali that they have not heard from their children.

Somalia's Information Minister Osman Abukar Dubbe said the youths were still being trained in Eritrea and that they would return after the training ended.

Parents of the recruits had expressed concern after reports that Somali soldiers were involved in the fighting in Ethiopia's Tigray region.

Eritrea's Information Minister Yemane Meskel has dismissed allegations that Somali troops fought with Eritrean troops in Ethiopia.

Ghana's president plants one of five million trees

Copyright: Ghana Presidency

Ghana's President Nana Akufo-Addo has planted a tree in the capital, Accra, as part of a plan to put five million trees in the ground across the country in a single day.

The Green Ghana Project is supposed to become an annual event and aims to reverse the process of deforestation.

It has been going on across the country's 16 regions and everyone from school children to judges have been taking part, the BBC's Thomas Naadi reports.

Image caption: The BBC's Thomas Naadi joined in the planting exercise

The focus has been on people planting trees in places where they can easily maintain them, Hugh Brown from the Ghana Forestry Commission told the BBC.

In other words, people have been encouraged to put the saplings in the earth in their homes or in places like school, college and church compounds.

Lungu cleared to run for Zambian president again

Image caption: Edgar Lungu won his second election in 2016

Zambia's President Edgar Lungu has been cleared by the Constitutional Court to run for another term in office in August's elections.

This was the second time efforts were made to get him barred over the constitutional two-term limit.

Mr Lungu was first elected president in 2015 in the wake of the death in office of his predecessor Michael Sata. But, in line with Zambia's constitution, he only served the remainder of Sata's term before running and winning the 2016 election.

In other words, 2016 to 2021 is his first full term.

The judge said that the opposition's case had "no merit".

Nigeria 'won't prosecute citizens still tweeting'

Image caption: Many Nigerians have defied the Twitter ban by using virtual private networks

Nigeria's justice minister has told the Vanguard newspaper that the government never intended to prosecute citizens still using Twitter after the micro-blogging site was banned in the country last week.

Abubakar Malami, who is also the country's attorney general, told the newspaper that the government would only go after "anyone, whether individual or corporate institution that enables Twitter to circumvent the ban".

"For the record, let it be made amply clear that Abubakar Malami is not after any Nigerian, tweeting from Nigeria or anywhere in the world but that any Nigerian company or entity that gives a helping hand for Twitter to escape the ban placed on it, will be dealt with," he said.

Last week, the minister's aide had told the BBC that a statement released by Mr Malami threatening to prosecute violators of the ban included Nigerian citizens who defied the order and continued using the app.

Most Nigerians have been tweeting since the ban came into effect last Friday, using virtual private networks to bypass a block on the Twitter site after telecommunications companies heeded the government warning.

But Mr Malami told Vanguard that his initial statement did not call for prosecution against "those using Twitter or any social media platform to express their view".

"But we are going to use the legal instruments at our disposal to go after those who aid and abet Twitter to continue to threaten our corporate existence as a nation," he said.

It is not clear if Mr Malami is referring to the VPN companies that Nigerians have been using to bypass the Twitter ban.

There has been widespread condemnation since the suspension was announced, the latest coming from the United States.

A group of Nigerian human rights organisations had also filed a case with a West African regional court describing the ban as "unlawful".

Read more:

Ten kidnapped from Nigerian college - reports

Chris Ewokor

BBC News, Abuja

At least 10 people have been kidnapped and one person killed in Kaduna state, north-west Nigeria, after an armed gang attacked a polytechnic on Thursday night, reports from the area say.

The news comes after at least 60 women were abducted in neighbouring Zamfara state earlier this week.

Eyewitnesses say the gunmen invaded the Nuhu Bamali Polytechnic, shooting indiscriminately to scare people away.

They reportedly abducted two lecturers and eight students. Two students were shot - one died while the other sustained injuries and is in hospital.

The police in Kaduna confirmed the attack and said the authorities were conducting a head-count to determine if anyone had been abducted.

There has been a sharp rise in mass kidnappings of students in recent months by criminal gangs.

In April, 39 students at the School of Forestry were kidnapped but later released.

A week later, some students of Greenfield University were kidnapped. Their parents said they paid an undisclosed amount of money as ransom before they were set free.

High Namibia Covid deaths 'straining health system'

Namibia is experiencing high numbers of new coronavirus infections and deaths.

In the past week, 91 people have died from Covid, according to government figures.

With a population of 2.5 million, Namibia is experiencing the second highest per person death rate on the continent after Tunisia, according to the Our World in Data website.

Last week, the Namibian newspaper reported that state-run hospitals were running out of oxygen.

"The health system is close to collapse," Namibian infectious disease specialist Dr Gordon Cupido told the BBC's Newsday programme.

He said hospital wards were swamped by cases and there is not enough room for all the patients.

UN concerned about civilians' safety in Mozambique

Jose Tembe

BBC News, Maputo

Image caption: Thousands have fled their homes in Cabo Delgado

The UN Refugee Agency, UNHCR, has expressed concern over the safety of civilians in northern Mozambique as thousands continue to flee over conflict and insecurity.

The agency says there is an urgent need for relief items including food for those affected.

Attacks in the province of Cabo Delgado have continued and UNHCR says people have reported "regular gunfire at night and torching of houses".

Since the 24 March attack in Palma town, some 70,000 people have fled the town, bringing the total of those displaced by insecurity in the north to 800,000, according to humanitarian estimates.

UNHCR says people are fleeing every day to other towns in Mozambique and across the border to Tanzania.

The agency says thousands of people are still stuck in insecure areas of Cabo Delgado with limited humanitarian aid access.

The agency was allowed into some of the areas and has distributed relief to 10,000 people.

Read more:

South Africa expels Lesotho diplomats over illegal alcohol

Image caption: Illegal sales of alcohol increased during the coronavirus pandemic lockdowns

South Africa has given several diplomats from Lesotho 72 hours to leave the country over the illegal sale of duty-free alcohol.

A notice from the South African authorities listed the diplomats and their dependants and stated that they had "abused their diplomatic privileges".

Lesotho has distanced itself from the actions of the diplomats and said that it was working on their return.

The country's foreign affairs ministry wrote that it had learned with "disappointment and embarrassment" of the news.

The South African government has declared all those involved as "persona non grata".

The illegal sale of alcohol in South Africa grew in 2020 during the coronavirus lockdowns that saw stores and bars close to prevent the spread of the virus.