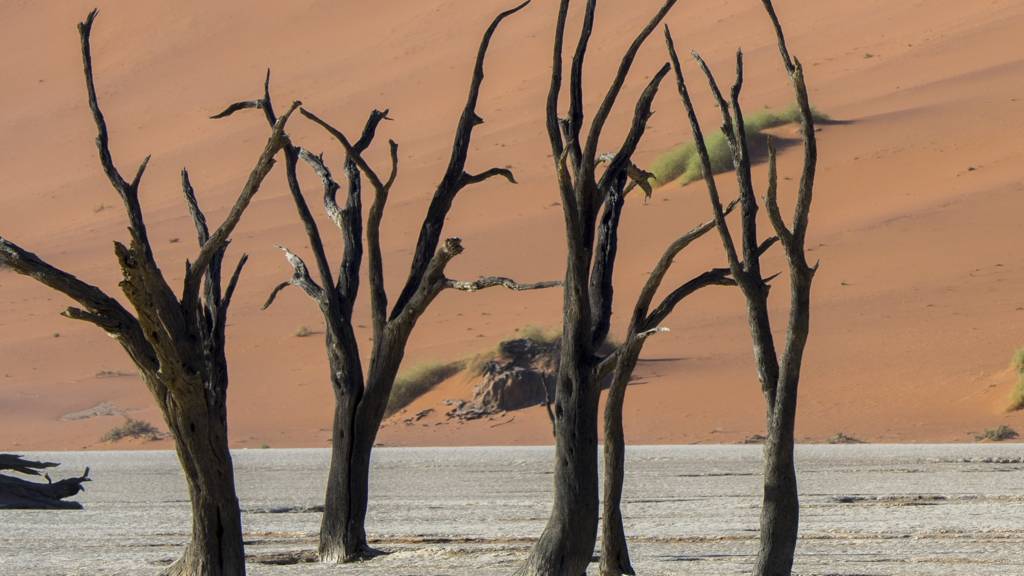 Live
Africa Live: Kenya Covid-19 survivors say virus 'beatable'
This is an automated service until Thursday morning.
By Thomas Mackintosh

BBC News, London

Scroll down for Wednesday's stories

We'll be back on Thursday

That's all from BBC Africa Live for now, we will leave you with an automated service until Thursday morning.

Keep up-to-date with what's happening across the continent by listening to the Africa Today podcast or checking the BBC News website .

A reminder of our wise words:

Quote Message: A villager who wants to eat bread should send bush meat to the city." from Sent by Timmy in Kharkov, Ukraine

And we leave you with this silhouetted picture shared with this poem on Instagram:

As plants for waterCorona, the bitter oneIs turning gardensInto grave yardsShe's stealing the sunIn our big blue skyBut we'll paint it backWith strokes of kindnessAnd countless coloursof Hope, Faith and Love.

Mauritius to stagger shopping days by surname

Yasine Mohabuth

Port Louis, Mauritius

Copyright: Yasine Mohabuth

Image caption: People in Port Louis have been coming out to only shop for essential supplies since the lockdown was imposed on 23 March

People in Mauritius will from now on shop for essentials on allocated days depending on the first letter of their surname as a measure to curb the spread of coronavirus.

Prime Minster Pravind Jugnauth said the measure would avoid overcrowding, adding that shoppers will only have 30 minutes to finish their shopping.

This means that, those whose surnames begin with A-F will shop on Monday and Thursday, G-N on Tuesday and Friday and O-Z on Wednesday and Saturday.

The shops will be closed on Sunday.

That means, I - Mohabuth - will only have to wait two more days to top up on basic food items.

On Tuesday, the island nation reported its fifth death following the outbreak of Covid-19 in the island nation.

The latest victim, a 71-year-old man, had been admitted to hospital on Sunday.

The authorities say 161 people with Covid-19 are being treated in hospitals across the country.

Some 1,709 people are in quarantine in government facilities and private hotels.

The prime minister also announced the extension of a nationwide lockdown, due to end on Thursday, to at least 15 April.

Four countries receive Covid-19 donations

Kennedy Gondwe

BBC News, Lusaka

A pan-African infrastructure and logistics solutions company has donated an assortment of equipment to four African countries aimed at fighting the coronavirus.

Arise, which is based in Libreville, Gabon donated 7m masks, 143,000 sets of protective clothing and 230,000 boxes of disinfectant gel to Ivory Coast, Benin, Togo and Mauritania.

"In the context of global shortages in critical medical supplies, we are providing a large shipment of medical equipment," CEO Gagan Gupta said.

The supplies were mainly manufactured in China.

The Africa CDC, in its latest status reports, says the continent had just over 5,700 confirmed cases.

See the map below for more information.

Analysis: Zimbabwe MDC court ruling adds to confusion

Shingai Nyoka

BBC News, Harare

Image caption: Mr Chamisa has claimed he was the preferred successor to the late opposition leader Morgan Tsvangirai

A decision by the Supreme Court of Zimbabwe to strip main opposition leader Nelson Chamisa of his title as the leader of the Movement for Democratic Change (MDC) has fragmented the party instead of settling a long-running row.

Mr Chamisa, a charismatic preacher and lawyer, thought he had settled the leadership question with his rival Thokozani Khupe after outperforming her in the 2018 general election. The two contested the elections on behalf of separate parties.

Ms Khupe under the name MDC-T (Tsvangirai), and Mr Chamisa as leader of the MDC Alliance, with various splinter groups that founding MDC leader Morgan Tsvangirai had united the previous year to contest national elections before his death.

Mr Chamisa gained about 45% of the vote, narrowly losing to President Emmerson Mnangagwa, while Ms Khupe got less than 1%.

An MDC member went to court to challenge Mr Chamisa's leadership of the party, questioning the process that appointed him as leader, after the death of its founding leader, Morgan Tsvangirai.

Ms Khupe had argued that as an elected deputy to Tsvangirai, the party rules meant she should have taken over as interim leader.

Mr Chamisa has, however, claimed he was the preferred successor to Tsvangirai.

The Supreme Court declared Ms Khupe as the interim leader and ordered her to organise the MDC's congress and internal elections.

In the meantime she was given the right to the party's trademark and assets.

Some analysts believe this includes the right to claim parliamentary seats won by the MDC Alliance in the last election as well as public finances due for the seats.

MDC Alliance Vice-President Tendai Biti, a supporter of Mr Chamisa, said the court ruling had not changed anything and that the "judgement was academic".

Mr Chamisa has not commented publicly - his supporters however believe he can continue to lead the party.

"The MDC- A[lliance] was not before the court and cannot be bound by a judgement to which it is not a party," tweeted the party's third vice-president Welshman Ncube.

The MDC has been blighted by factional fights that have weakened it. It has split and reunited several times since its formation in 1999.

Coronavirus: Nigerians get upfront welfare payments

Nduka Orjinmo

BBC News, Lagos

Image caption: Recipients received a naira payment worth $52

Nigeria has begun handing out four months' worth of welfare payments upfront in three areas of the oil-rich country that have been placed into lockdown to stop the spread of coronavirus.

Beneficiaries of the social security scheme, introduced by President Muhammadu Buhari two years ago, usually receive a monthly payment of $13 (£10).

But to better help the "poor and vulnerable" cope with the new restrictions, a lump sum of $52 is being made.

It will also mean that the recipients will not need to come and collect for the next three months.

On Sunday, President Buhari announced a lockdown in the capital, Abuja, and the states of Lagos and Ogun, affecting 25 million people with a ban on travel and the closure of businesses.

These regions have recorded more than two-thirds of coronavirus cases in Nigeria.

Africa's most-populous nation currently has 140 active cases of Covid-19, the respiratory illness caused by the virus.

The lump sum welfare distribution was kicked off by Humanitarian Affairs Minister Sadiya Farouk, who handed out cash to some households in Kwali, on the outskirts of Abuja, on Wednesday.

Those supported by the welfare scheme, supervised by the World Bank, are registered by local communities and government agencies.

These are often the old and vulnerable, living mostly in the rural areas.

It is estimated that nearly half of all Nigerians live on less than $2 a day.

More about coronavirus:

Share your favourite Afcon moments

Image caption: This week's qualifiers have been postponed

With this week's 2021 Africa Cup of Nations qualifiers postponed because of the coronavirus pandemic, football fans across the continent are feeling the loss of live action.

This is compounded by the suspension of football in Europe, where the English Premier League has been put on hold until at least 30 April, and the cut-off date for the campaign to be completed has been pushed back "indefinitely".

It does, though, give supporters a chance to revisit and debate some of the most iconic Africa Cup of Nations moments of all time.

What stands out in your memory? Is it a goal, a missed penalty, a particular match or a tournament as a whole?

BBC Sport Africa has been looking through the Nations Cup archives - but what would you add to the list and why?

You can contribute your suggestions on the BBC Sports website

Covid-19: Algeria frees thousands of prisoners

BBC Monitoring

The world through its media

Algeria has become the latest country in Africa to release some of its prisoners in response to the coronavirus outbreak.

President Abdelmadjid Tebboune has pardoned close to 5,000 detainees who have 18 months or less to serve of their sentences.

Ethiopia has also freed thousands from prisons.

Amnesty finds US drone strikes 'killed civilians'

Mary Harper

Africa editor, BBC World Service

The rights group, Amnesty International, says it has unearthed evidence that recent US drone strikes in Somalia killed and injured civilians.

Amnesty says an 18-year-old woman and a 53-year-old banana farmer were killed in two separate drone strikes, one in the town of Jilib, the other in Kumbareere village. Three others were injured.

The US acknowledged the attacks but said they killed "terrorists" from the Islamist militant group al-Shabab.

Amnesty analysed satellite images and video evidence, as well as speaking to family members and the victims' communities, who insisted the dead were not members of the militant group.

Amnesty says US air strikes have in total killed more than 20 Somali civilians since it started its air campaign in Somalia more than a decade ago.

But the US, which has significantly increased air strikes against al-Shabab since Donald Trump took office, has only ever admitted to killing two civilians – a woman and a child in 2018.

Analysts say its possible the deaths of civilians will radicalise their family members, pushing them towards al-Shabab.

On Tuesday the US military announced it would from next month publish reports on allegations of civilian casualties in its Africa operations.

The US is involved in counter-terror operations across the continent, principally in the Sahel and in the east and Horn of Africa.

Somalia bans swimming over Covid-19

Abdi Dahir

BBC Monitoring, Nairobi

Image caption: The beach is a big attraction in Mogadishu

The authorities in Somalia's capital, Mogadishu, have banned swimming at the popular Lido beach in a bid to curb the spread of coronavirus.

Hotels and restaurants operating there have also been ordered to enforce hygiene measures to reduce the risk of the virus spreading.

The Lido beach is normally abuzz with swimmers in the afternoons and on weekends.

Somalia, which is slowly recovering from a civil war, has confirmed three cases of Covid-19, but there are fears that if the virus spreads it could quickly overwhelm the country's poor health system.

Nigerian footballer Desire Oparanozieu is keeping fit at home during the lockdown using just shoes.

SA minister warns over coronavirus and 5G link claims

Peter Mwai

BBC Africa, Nairobi

South Africa's Health Minister Dr Zweli Mkhize has warned against a conspiracy theory that links coronavirus to 5G technology.

Dr Mkhize in a tweet said: "5G is a technology issue and Covid is a virus. You cannot link the virus to technology."

Claims that 5G technology could be linked to the spread of the coronavirus have been spreading online for weeks.

They got more traction last month after popular American singer and songwriter Keri Hilson shared the claims with her 4.2m Twitter followers and on Instagram - although she later deleted the posts.

An American medical doctor Thomas Cowan - speaking in Tuscon, Arizona in March - also advanced the conspiracy theory, in a video that has been viewed thousands of times on YouTube.

But to date, there has been no scientific connection between the spread of the virus and the 5G technology.

The South African health minister said people need to use facts to fight coronavirus.

"We have tracked the virus from animals to human beings. Let's tell the truth. We can prevent the spread," Dr Mkhize says.

Read:

Recovered Kenyan patients: Covid-19 is real and treatable

A young woman, who was Kenya's first reported case of Covid-19, has said she has fully recovered after 23 days of treatment.

Identified only as Brenda, she told reporters she had been visiting the US since last December, but suspected that she contracted the coronavirus on her flight back to Kenya from London in early March.

"I had a cough three days into landing in the country," Benda said.

She then went to the government isolation centre in the capital, Nairobi, to begin her treatment, adding that the staff there "treated her well".

"[Covid-19] is something that can be managed and it is treatable," Brenda said about her message to Kenyans.

Brian, the other recovered patient, who said he contracted the virus after interacting with Brenda, said he was also feeling much better.

He said that his experience had made his relatives believe that the disease "is real and treatable".

Brenda and Bran spoke to President Uhuru Kenyatta via video link during the press briefing.

Kenya has confirmed 59 Covid-19 cases since it announced the first one on 13 March.

Coronavirus: Kenya to 'use chloroquine on critical cases'

Image caption: Kenya has confirmed 59 coronavirus cases.

The Kenyan government has approved the use of one of the oldest anti-malarial drugs to treat the coronavirus, according to Citizen TV.

But it will only be given to critical patients, Health Director General Patrick Amoth is quoted as saying.

Dr Amoth said at the moment there were no critical cases to warrant such an intervention. Most cases are mild and the authorities are treating the symptoms for now, he is quoted as saying

The country's Pharmacy and Poisons Board has banned the sale of hydroxychloroquine and chloroquine over the counter at pharmacies.

This was after what the board described as a rush to stock up the drugs after the US President Donald Trump hyped the medicine as treatment for coronavirus.

Medical experts say chloroquine requires further clinical study and might not be the cure of Covid-19.

Read:

Kenyatta apologises for police brutality amid curfew

Image caption: Police officers have been taking a tough line to implement the curfew

Kenya's President Uhuru Kenyatta has apologised to the public after reports of police brutality as officers implemented a curfew to curb the spread of coronavirus.

"I want to apologise to all Kenyans, maybe for some excesses which were conducted or happened," Mr Kenyatta said in a broadcast shared by Citizen TV.

The curfew between 19:00 and 05:00 local time was introduced last Friday, but it was controversially enforced by police officers who were captured on camera using whips, batons and firing tear gas on commuters.

At least two people have reportedly been killed by police action, including a 13-year-old boy who was hit by a stray bullet on Monday evening.

Mr Kenyatta said that the measures introduced by the government were necessary to curb the spread of Covid-19, the respiratory illness caused by coronavirus.

Kenya has reported 59 confirmed cases.

Kenyans pictured 'using plastic bottle for mask'

A Kenyan politician has appealed for information about a woman and young girl who were pictured using cut-out plastic bottles to cover their faces.

Some people, in the picture shared widely online, were wearing face masks.

Nairobi Governor Mike Sonko tweeted that he was "touched" by the photograph, which according to several people online was taken in the coastal city of Mombasa near a ferry crossing.

It has become common to see people wearing face masks in public spaces despite the health ministry advising that only medics, those confirmed to be having the virus, and anyone who has been in contact with a confirmed case, need to wear masks.

The government has been urging Kenyans to protect themselves by staying at home, observing social distance when in public, and washing their hands often.

Coronavirus: Top South African HIV scientist dies

Tributes are being paid to world-renowned South African scientist Gita Ramjee, who died on Tuesday of Covid-19 complications.

Prof Ramjee had recently returned home from a trip to London and was admitted with pneumonia to a hospital in Umhlanga, in KwaZulu-Natal province, the Daily Maverick news site reports.

Her research, which focused on ways to prevent HIV transmissions in women in South Africa, earned her recognition around the world.

She was chief scientific officer at the Aurum Institute and former chief specialist scientist and director of an HIV research unit at the South African Medical Research Council (SAMRC).

Glenda Gray, SAMRC's president and CEO, said:

Quote Message: She was tireless in this pursuit. Her tenacity will never be forgotten. I have tremendous respect for her contribution and her passion to find solutions for women in our country."

Prof Gavin Churchyard, CEO of the Aurum Institute where she worked, said:

Quote Message: "Her ground-breaking research in HIV prevention contributed to the global response to HIV and Aids."

And Winnie Byanyima, the executive director of UNAids, tweeted that she was deeply saddened by the news, saying Dr Ramjee's death was a "huge loss at a time when the world needs her most".

Burundi and Sierra Leone report first cases of virus

Burundi and Sierra Leone, which were part of a handful of African countries yet to confirm cases of the coronavirus, have recorded their first positive results.

There had been doubts over Burundi's claim that no-one in the country had coronavirus. The president's spokesperson said the nation was an exception because it put "God first".

Health Minister Thadée Ndikumana announced on Tuesday that two nationals had tested positive for the virus after travelling from Rwanda and Dubai.

In Sierra Leone, a 37-year-old man who had arrived from France was found to have Covid-19 at the end of his quarantine period.

The government said it would not announce a total lockdown yet but a year-long state of public health emergency has already been declared, commercial flights suspended and schools ordered to close.

Image caption: Earlier last month, Burundians arriving at the border were made to wash their hands as part of preventative measures against coronavirus

Read:

Zimbabwe opposition leader removed as party head

Shingai Nyoka

BBC News, Harare

Image caption: Nelson Chamisa remains hugely popular among MDC supporters

Zimbabwe's main opposition leader has lost a court appeal to remain president of the biggest opposition party, the Movement for Democratic Change (MDC).

Nelson Chamisa's appointment as MDC leader in 2018 followed the death of Morgan Tsvangirai, a former union leader who had founded the MDC in 1999.

The Supreme Court ruled that that appointment was illegal as Mr Chamisa had not been elected by a congress as per the party rules.

Despite the internal leadership wrangles, Mr Chamisa won close to 45% of the national presidential vote, losing narrowly to President Emmerson Mnangagwa in 2018 amidst claims of electoral fraud.

The MDC must now hold a congress within the next three months.

Thokozani Khupe, the former vice-president and Mr Chamisa's main challenger, will lead the party till then.

Both claim to be the legitimate leaders of the party. Mr Chamisa has more supporters and a control of the party's assets.

Analysts say his options now will be to appeal the ruling or form another party.

The MDC has split many times since its formation more than 20 years ago - in nasty power struggles that have weakened its performance at elections.