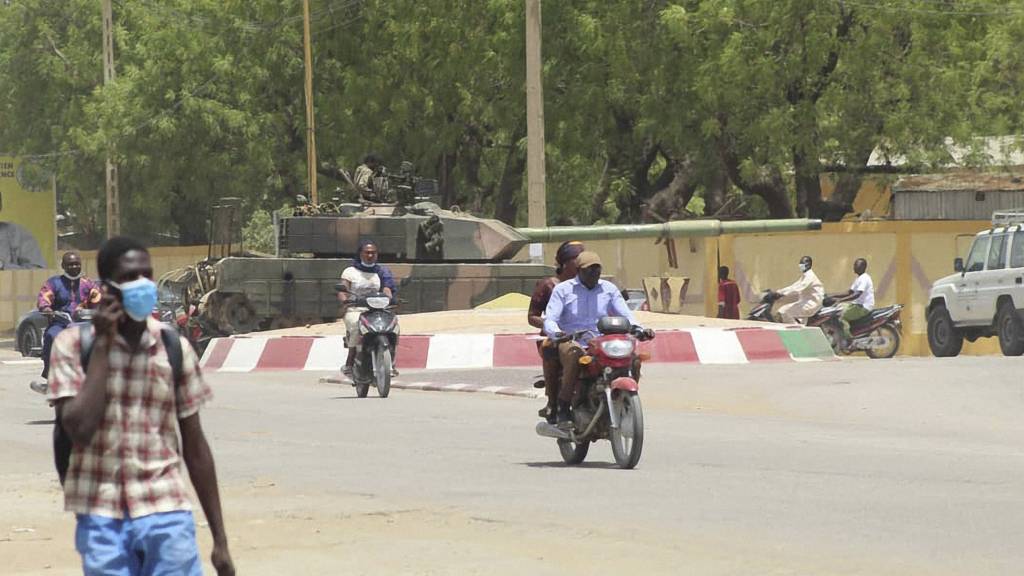 Live
Africa Live: Updates on President Déby's death
By Paul Melly

Africa Programme, Chatham House

Chad's President Idriss Déby spent more than three decades in power and was one of Africa's longest-serving leaders.

Scroll down for Tuesday's stories

We'll be back on Wednesday morning

That's all from the BBC Africa Live team for now - there will be an automated news feed until Wednesday morning.

Keep up-to-date with the latest news from Chad and across the continent by listening to the Africa Today podcast, or checking the BBC News website.

A reminder of our wise words of the day:

Quote Message: The testes of a snake are only seen if you decide to skin a snake." from A Lunda proverb sent by Patrick Kaleng'a in North-Western Province, Zambia

Click here to send us your African proverbs.

We leave you with this photo of Mahamat Idriss Déby Itno, the son of Chad's President Idriss Déby - a four-star general also known as Mahamat Kaka, who has been named Chad's interim leader after his father's death on the battlefield.

Fifteen generals appointed to govern Chad

Details have been announced about the Transitional Military Council which is to lead Chad for the next 18 months following the shock death of President Idriss Déby.

The army has already said Déby's son, Mahamat Idriss Déby Itno, also known as Mahamat Kaka - a 37-year-old four star general, will lead the council.

Now he has issued a statement naming the 14 other generals who will make up the new governing body.

A BBC Monitoring journalist has tweeted a copy of the notice:

Déby rivals demand dialogue and civilian rule

BBC Focus on Africa radio

Rival political leaders in Chad have spoken to BBC Focus on Africa, following the announcement of Idriss Déby's death just hours before he was poised to win a sixth term in power.

Many, including Saleh Kebzabo of the UNDR party, had boycotted the polls because of violence by security forces in the run-up.

"For us in the opposition, though the army has announced fresh elections, we still think an inclusive national dialogue is imperative to address all the problems that have plagued this country... We must follow the constitution," he said.

Transformers of Chad Party's Succès Masra, another opposition leader who was prevented from standing in the polls - in his case after he was declared too young - said he had met Déby a month before the election.

"I told him it was time to step down because the people of Chad want change."

It has been announced that a military council led by Déby's son Mahamat Idriss Déby Itno, also known as Mahamat Kaka - a 37-year-old four star general - is to govern for the next 18 months.

"The role of our army - and Mr Kaka - is to continue to help us fight terrorism, the army should be backing the people of Chad... This is a coup d'etat. We want to organise a civil transition," said Mr Masra.

Funeral plans announced for President Déby

A state funeral is to take place on Friday for Chad's President Idriss Déby, who has died after clashes with rebels in the north of the country.

The published order of ceremony begins with a military march-past, then includes a speech by his son and the army's named successor Gen Mahamat Kaka.

It says that other heads of state are invited to attend.

The sequence of events has been circulated in a letter signed by the presidency:

Copyright: Chad's presidency

Copyright: Chad's presidency

Déby's death an immense loss - Cameroon's president

The president of neighbouring Cameroon is the latest leader to pay tribute to Chadian President Idriss Déby.

Paul Biya called his death "an immense loss for Chad, central Africa and the continent" which he had served "tirelessly".

He also sent his condolences to Mr Déby's widow, First Lady Hinda Déby:

Rebel tactics haven't changed in decades - expert

Author and journalist Celeste Hicks, formerly the BBC's correspondent in Chad, told the Newshour programme that the rebel group Fact "had been sporadically threatening to attack N'Djamena and attack Déby but up until now hadn't done anything too serious".

"Déby has long been known as somebody who will go and direct the fighting himself if he feels things were not going well. So the fact that he went there in the first place suggests that the narrative we were given just a few days ago - that this was over - was not really true."

She added that in 1990: "Déby himself came to power through a rebellion very similar to what they [Fact] have just done... What's most interesting about this is, this is how he came to power himself, so he knows absolutely what the strategy of the rebels is.

"What's very striking is that it hasn't changed in all these years - you still have these groups of 'technical vehicles' as we call them, which are Toyota with the roofs sawn off and mounted with machine guns and rocket-propeller grenades. And they just drive like crazy into each other and engage in head-on battle with the Chadian army."

She said that despite the Chadian army gaining "enormous amounts of new equipment - attack helicopters and planes" it nonetheless "sounds like there was this face-on-face battle between two groups of technicals, [between] the Chad army and the rebels.

"Déby knew how to fight that kind of fight so it's no surprising at all that he was there."

Déby defined how Sahel battles are fought

Copyright: Idriss Déby/ Twitter

Idriss Déby nickname was "The Great Survivor".

A French-trained officer and pilot, he headed the army during the Chadian 1980s under the notorious regime of President Hissène Habré, before the two fell out.

He fled the country, ending up in Libya where he did a deal with Col Muammar Gaddafi - a Habré foe - who helped him launch his rebellion in return for information about CIA operations in Chad.

He and his rebels marched into the capital, N'Djamena, in December 1990 - but he has faced numerous challenges and many coup plots over the last three decades of his rule.

In 2006, rebels were right outside his presidential palace lobbing grenades over the wall - and in 2008-2009 as other fighters advanced he dug a massive trench around the city and cut down all the huge trees lining the avenues to prevent them penetrating the city again.

Déby also seems to have defined how battles are fought in the region - when he led Chad's forces against the military might of Libya in 1987.

In what became known the "Toyota War" he used high-speed pick-up trucks armed with missiles and heavy machineguns to defeat the Libyans, a tactic now often used across the region.

Sudan's Hemeti mourns Déby

A senior Sudanese military official has sent his condolences to Chadians, and praised President Idriss Déby for the "great role" he played in strengthening relations between Sudan and Chad.

Mohamed Hamdan Dagolo, known by his nickname Hemeti, said people will remember Déby for his contribution to serving the African continent".

Gen Hemeti grew up in a Chadian Arab clan, fleeing war to live in Sudan's western Darfur in the 1980s.

He played a key role in the 2019 ousting of former Sudan President Omar al-Bashir.

Relative calm in Chad's capital city

A former BBC journalist in Chad's capital, N'Djamena, told us a short while ago the situation there seemed relatively calm:

"The news is filtering through to people, but the city is calm and people are just shocked to hear that actually, because many people didn't even know that he [President Idriss Déby] was wounded or he was at the frontline," said Mahamat Adamou.

"In the street in downtown there are armoured vehicles that are posted at key road junctions. Of course there is a sense of 'what is going to happen?' But not more than that."

Déby was 'key ally' in fight against Islamists - France

France's defence minister has mourned the loss of Chad's President Idriss Derby calling him a "key ally" in the fight against militants in the Sahel, AFP news agency reports.

Chad, Niger, Mali, Burkina Faso and Mauritania are part of a combat force known as the G5 Sahel - which alongside French forces have been fighting Islamist militants in the expansive desert Sahel region.

Déby was no armchair general

Andrew Harding

BBC News, Johannesburg

Copyright: Maréchal Idriss Deby Itno

Idriss Déby was known as that rare thing - a true warrior president.

For 30 years he clung to power in Chad - a vast nation, straddling the Sahara, and surrounded by some of the continent's most protracted conflicts.

Déby had a hand in every one of them. From Darfur, to Libya, Mali, Nigeria and the Central African Republic.

His troops were among the most battle-hardened on the planet.

And Déby - a former rebel, and a trained pilot - was the opposite of an arm-chair general.

So, this weekend, as a new rebel group moved towards Chad's capital, Ndjamena, the president headed, once again, for the frontlines.

Then came the announcement on national television that the president had been injured on the battlefield, defending his country, and had later died.

Déby had become an increasingly autocratic figure, his latest election victory saw him claim nearly 80%.

It is unclear if the poor, feuding, brittle state he leaves behind can now manage anything like a smooth transition.

And there are wider concerns too.

For years President Déby was the West's indispensable ally in the war against Islamist militants. In Mali, Niger and beyond.

His death leaves a vacuum that many may now fight to fill, across the arid, contested plains south of the Sahara.

Macron pays tribute to 'brave friend'

French President Emmanuel Macron has paid tribute to Chad's late President Idris Déby, calling him a "brave friend" and "a great soldier", news agency Reuters reports quoting the president's office.

Mr Macron also said Chad needs stability and peaceful transition, news agency AFP reports.

Chad's late President Idriss Déby had gone to the front line, several hundred kilometres north of the capital N'Djamena, at the weekend to visit troops battling rebels belonging to a group calling itself Fact (the Front for Change and Concord in Chad).

The group was founded in 2016 by disillusioned former army officers, who accused President Déby of repression in the run-up to the election.

They built up their base in Libya in the Tibesti mountains, which straddle northern Chad and part of southern Libya.

On election day on 11 April the group mounted an attack on a border post and gradually advanced on the capital, N'Djamena.

What was a president doing on the frontlines?

Though some say it's unusual for a president to have been on the battlefield in the first place, the BBC's Beverly Ochieng points out that President Idriss Déby was a field marshal and had often been at the frontline with his men.

About a year ago, Déby led an operation where 1,000 Boko Haram fighters were reportedly killed.

He began his career in the military and trained as a pilot in France.

Déby was promoted to army chief-of-staff under President Hissène Habré, who he toppled in a 1990 coup becoming president himself.

This is a coup - expert tells BBC

Chadian political scientist and professor at the Universty of Ndjamena, Evariste Ngarlem Toldé, has told BBC Afrique that the announcement that a military council will take power following the death of the president amounts to a coup.

"This is a coup d'etat. This is not provided for by the texts. So it is an anti-constitutional regime.

"Our fundamental law provides that in case of vacancy of power, it is the president of the National Assembly who should lead in the interim until the new elections. This transitional military council has no place. So for me, it is a coup d'etat."

BBC Monitoring analysts say that article 70 of Chad's constitution states that in the event of the death of one of the two leading candidates in an election, a fresh election should be held.

And according to article 81, in the event of the death of the president or if the president is indisposed, the president of the National Assembly should take office and fresh elections should be held between 45 and 90 days of the vacancy.