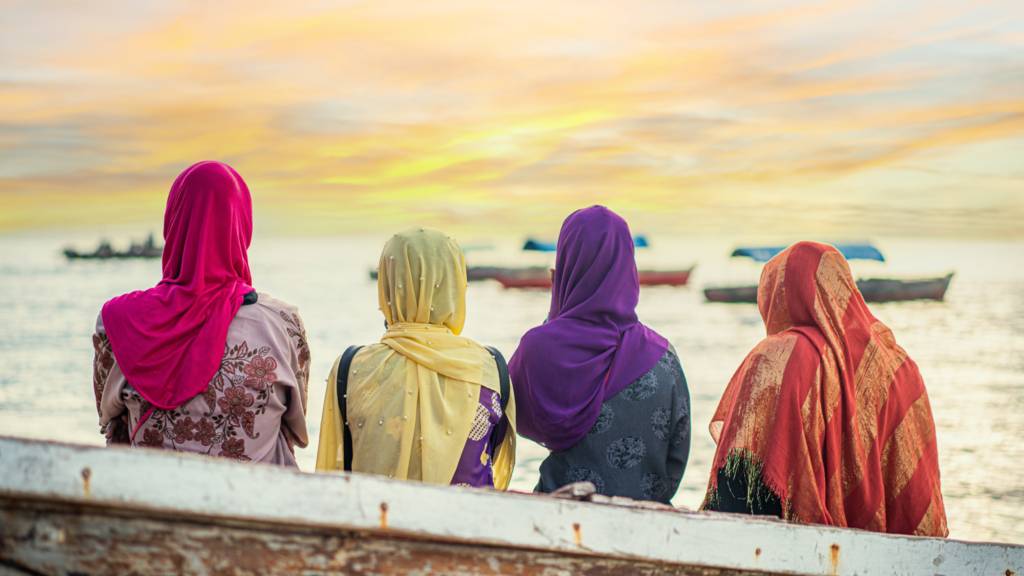 Live
Africa Live this week: 4-10 April 2022
Bringing you the latest news from around Africa at bbc.com/africalive.
Guinea gives stern warning to foreign mining firms over inequality

Image caption: The country is the world's second biggest producer of bauxite

Guinea's military junta has told foreign mining companies they must share profits equally with the country, and must comply with a deadline set for May to present plans to build local refineries.

The West African nation is the second biggest producer of bauxite - a mineral used in the manufacture of aluminium - and wants to benefit more from the post-mining process of turning the raw material into alumina.

In a statement posted to Facebook, the presidency said a more equitable partnership with foreign firms was a "win-win".

If the end of May deadline is not met, Guinea's leader Mamady Doumbouya has also reportedly said penalties will follow.

Senior Islamic State-linked commander killed - Nigeria

Will Ross

Africa editor, BBC World Service

The Nigerian military says a senior jihadist commander and 19 other fighters linked to the Islamic State group have been killed during a multi-national operation in the north-east of the country.

The BBC has been unable to independently verify this news.

According to the military, Abubakar Dan-Buduma and the other fighters were killed in a co-ordinated attack not far from the shores of Lake Chad, involving fighter jets from neighbouring Niger and ground troops.

In recent months the Islamic State West Africa Province (Iswap) militant group has grown in strength.

It has been taken control of parts of rural north-east Nigeria – imposing taxes in areas that used to be held by rival Islamist group Boko Haram.

The Nigerian military has been on the offensive in recent months but it has also had to deal with banditry in the north-west and attacks blamed on secessionists in the south-east.

US demands Ethiopia access amid ethnic violence report

Kalkidan Yibeltal

BBC News

Image caption: Ethiopia has called the allegations "unhelpful" but pledged to "examine" them

The US has called for the release of thousands of ethnic Tigrayans who reportedly remain "detained arbitrarily" in Ethiopia, and wants access to be granted for international monitors.

It follows a joint report by rights groups Amnesty International and Human Rights Watch, accusing Amhara forces of waging "a campaign of ethnic cleansing" against ethnic Tigrayans in disputed areas that they have taken control of since the early days of the civil war that broke out seventeen months ago.

The accusations include unlawful killings, mass detentions and forceful expulsions. The two rights groups also claimed that the federal government have approved or possibly participated in the alleged atrocities.

The US on Friday expressed "grave concern" over what it called "ethnically motived atrocities" against Tigrayans in western Tigray.

Ethiopia has called the humanitarian report "unhelpful" but pledged to "examine" the allegations.

Welcoming a humanitarian truce agreed between government and Tigrayan forces last month, the US urged warring parties to ensure the cessation of hostilities and seek a negotiated resolution to the conflict.

While active fighting has decreased significantly following the truce, the two parties have continued to trade accusations about the blockade of aid into Tigray where millions are in need of assistance.

More about the war in Ethiopia:

Conflict halts cancer treatment, says Tigray hospital

Image caption: Doctors say they've resorted to using expired drugs because they can't resupply nor send patients to other regions

One of the biggest hospitals in the Tigray region of Ethiopia says the conflict there has prevented people with cancer from getting life-saving treatment.

More than 1,700 cancer patients are at risk of death due to a scarcity of everything from laboratory tests to chemotherapy drugs, doctors at Ayder Comprehensive Specialised Hospital tell the BBC.

The facility serves nine million people in Tigray, and its medics say months of war have led to a "near collapse" of health systems in the region.

Ayder Comprehensive Specialised Hospital has called on Ethiopia's health ministry to send essential medical supplies to help ease the crisis and improve treatment for cancer patients.

In the meantime, the hospital says it is no longer able treat its paediatric and adult cancer patients despite only launching its cancer care unit five years ago.

Voting begins in Gambia's parliamentary election

Image caption: Gambians use marbles to cast their votes - which are then counted on boards like this one

Voting is under way in The Gambia, where the electoral body has assured citizens of a free, fair and transparent process.

A total of 53 parliamentary seats are up for grabs.

Of the 245 candidates in the running 19 are women - that's the highest number in the country's history of legislative elections.

Five legislators, including the Speaker, will also be appointed by the president, then approved by parliament.

The Gambia's Independent Electoral Commission told the BBC it had taken steps to ensure adequate security ahead of Saturday's poll.

Gambians famously use marbles to vote in elections, and the candidate with the highest number of marbles at the close of polls will be declared the winner.

Results are expected on Sunday. One of the main tasks facing the new legislative will be to vote for a new constitution - AFP reports that this is seen as essential by The Gambia's international partners to strengthen its democracy and limit the president's powers.

President Adama Barrow won the presidential election in December last year ahead of his rival and political mentor Ousainou Darboe.

That presidential vote was the country's first since the departure of former ruler Yahya Jammeh in 2017.

More about The Gambia:

By Emmanuel Onyango

BBC News, Nairobi

Scroll down for this week's stories

We'll be back on Monday morning

That's all for now from the BBC Africa Live team. There will be an automated news feed here until we're back on Monday morning at bbc.com/africalive.

You can also keep up to date on the BBC News website, or by listening to the Africa Today podcast.

A reminder of our wise words of the day:

Quote Message: A naughty child will be dead by the time he grows a beard." from A Bemba proverb sent by Watson Kabwe in Lusaka, Zambia

Click here to send us your African proverbs.

And we leave you with this picture of a watermelon seller in Somalia's capital, Mogadishu - our favourite from our gallery of the week's best photos.

Asa's Afrobeats challenge: All groove, less lyrics

DJ Edu

Presenter of This Is Africa on BBC World Service

Image caption: Asa's debut album went platinum - and following it has been tough

Nigerian singer songwriter Asa tasted international success right at the start of her career when her debut album, Asa, went platinum in 2007.

Following on from that was tough she admits:

Quote Message: People still want that album after over a decade."

But more albums followed: Beautiful Imperfection, Bed of Stone, Lucid in 2019, and she's just dropped her fifth studio album entitled simply V (five).

Born in Paris, where her Nigerian parents were working and studying cinematography, her family returned to Nigeria when she was two.

She grew up in Lagos and returned to France 18 years later to study jazz and to begin her career as a recording artist.

Quote Message: My father played a lot of music at home, and of course there was the church influence. But then as I grew, I started listening to soul music and jazz, and I think it was a combination of all of this."

But then her mum threw down a challenge, pointing out that Asa was singing all these other people's songs:

Quote Message: 'But who are you? How do we know who you are?'

Quote Message: That was when I started to listen to the radio and try to do my own collaborations. Such and such a person featuring Asa... just to find my voice."

The new album V has a more electronic pop vibe compared to her previous one Lucid, which drew heavily on her experience as a woman.

Quote Message: Lucid was a period where I was in a relationship, and it ended. That was such a new experience for me. And also I was learning more about life, growing up. Lucid was really about that experience."

Asa's new album has collaborations with The Cavemen, Amaarae and most notably Wizkid on the track IDG (I Don't Go).

Quote Message: You know he's an amazing person. I've only met him a few times. But I think he's very kind. You know you could tell that from his heart. I enjoy his melodies. I think he's brilliant."

The new album was made in lockdown, which Asa quite enjoyed.

Quote Message: Everything was quiet, you could hear the birds. It was a beautiful thing to see. Not the suffering of people but just the way the world was. There was such a newness. It just felt like the beginning. Lagos skies were blue for the first time in a very long time and the water was still."

Asa says it was also a time of introspection, fear and uncertainty with the coronavirus pandemic.

Quote Message: Writing V was all of this, fear and excitement that I am injecting."

Writing in the Afrobeats genre has been a challenge for Asa because it's more of a vibe than writing songs in the traditional way.

Quote Message: It's less lyrics, but more groove. It doesn't make it bad.

Quote Message: You just don't know how the songs come. I think that's why when you ask artists where does the inspiration come from, they say, 'Oh it came from God.' We're talking about Afrobeats here, it's groove. We're not talking about lyrics here.

Quote Message: People want to forget. People want to enjoy. You know because that's all they have. Groove."

To hear my full interview with Asa as well as an acoustic rendition of IDG, listen to This is Africa on BBC World Service radio and partner stations across Africa.

Russia denies mercenaries involved in Mali massacre

Russia has rubbished allegations that Russian mercenaries were involved the alleged killing of hundreds of civilians in the central Mopti region.

Earlier this week, Human Rights Watch alleged that about 300 people were executed during a recent operation in Moura village.

But Russian foreign ministry spokeswoman Maria Zakharova said it had been a successful operation by Mali's army alone in which around 200 jihadists had been killed.

"We would like to congratulate Malians on this important victory in the fight against the terrorist threat," she said.

Mali has been battling a decade-long insurgency, with France playing a major role until February when French President Emmanuel Macron announced their withdrawal.

"It should be noted that this success was achieved by the Malian military against the backdrop of the ongoing withdrawal from Mali of the French troops," Ms Zakharova added.

Relations between France and Mali deteriorated after the military seized power in 2020.

The former colonial power has also been angered by a decision to use fighters from the Russian company Wagner to help in the fight against jihadists, though the junta has denied they are in the country.

Ms Zakharova said accusations against Russian mercenaries was part of a disinformation campaign against Russia linked to Ukraine, where its troops are accused of involvement in war crimes.

By Emeline Nsingi-Nkosi

BBC Sport Africa

Burkinabè army base attacked by suspected jihadists

Will Ross

Africa editor, BBC World Service

Image caption: Burkina Faso has been battling an Islamist insurgency in the north since 2015

The military in Burkina Faso says at least 12 soldiers and four volunteers have been killed in an attack on a military base by suspected jihadists.

It says 21 troops were also injured in the attack on the Namissiguima military detachment in the north.

Islamist militants started carrying out raids in Burkina Faso from bases in neighbouring Mali in 2015.

Since then 1.8 million people have been displaced by the violence.

A military government seized power in January and ousted President Roch Kaboré, blaming him for failing to tackle the jihadist insurgency.

Last month at least 10 soldiers were killed in Burkina Faso's eastern region.

You may be interested in:

The man behind South Sudan's first comedy festival

Image caption: Akau Jambo says no joke is off limits

Since 2018, South Sudanese comedian Akau Jambo dreamt about his country hosting its own international comedy festival.

He was inspired by all the comedy shows he had seen on a visit to South Africa, and how it can attract tourists.

"I felt like I needed to do something like that in my own country", he told BBC Newsday presenter James Copnall.

Now his dream has come true. South Sudan will host its first ever international comedy festival this weekend, featuring comedians from other African countries like Kenya, Uganda and South Africa.

Jambo wants to show people another side of South Sudan, outside of the everyday news stories depicting violence and insecurity.

"People think that we're out here dropping bombs every night like music albums, but yet we have time to laugh", he said, describing South Sudanese people as "happy".

Jambo remembers one incident in South Africa which stuck with him. He was out at a comedy gig when a fellow comedian asked him: "Dang, do people also laugh in South Sudan?"

It was sarcastic, but it affected him - and strengthened his resolve to launch Juba's international comedy festival.

South Sudan, which is home to more than 60 different major ethnic groups, has faced ongoing conflict. Recently, there had been tensions over the implementation of a peace deal signed in 2018 following five years of civil war.

What distinguishes South Sudanese comedy from other forms is the dark sense of humour the people have, Jambo says.

They use humour to navigate around the "really crazy" things that happen there as well as navigating round the "very different cultures" within the country, he adds.

When it comes to jokes, nothing is off limits.

"If I find it funny I'm gonna drop it right there, even if it's politics," he says.

You can listen to the full Newsday programme here.

Nigeria court drops some charges against separatist

Chris Ewokor

BBC News, Abuja

Image caption: The separatist leader Nnamdi Kanu was first arrested in 2015

A high court judge in Nigeria has dismissed eight out of the 15 charges brought by the government against separatist leader Nnamdi Kanu.

His camp see the ruling as a step in right direction - though he still faces the serious charges of terrorism and treason.

Mr Kanu is the leader of the Indigenous People of Biafra (Ipob), a group that wants a breakaway state in south-east Nigeria where mainly Igbo people live, and which has been outlawed by the government.

He was initially arrested in 2015 - fleeing the country in 2017 while out on bail.

Last June, he was captured abroad and repatriated, which his lawyers have argued breaches international law.

But on Friday Justice Binta Nyako ruled that any rendition would have been legal as Mr Kanu had skipped bail and was regarded as a fugitive at the time.

She also refused to grant him bail.

The 54-year-old has been held in solitary confinement, in the custody of the Nigerian secret police, since June.

He faces life imprisonment if convicted of terrorism and treason - charges he pleaded not guilty to in October.

Call to protect civilians in Sahel jihadist fight

Will Ross

Africa editor, BBC World Service

Image caption: Hundreds were killed in recent operations in central Mali

The People's Coalition for the Sahel called on the governments of Mali, Niger and Burkina Faso to protect civilians during the fight against Islamist militants.

It highlighted a recent operation in central Mali where residents said around 300 people were killed by soldiers and Russian mercenaries.

Some of those detained in the village of Moura were reportedly ordered to dig a mass grave before being shot dead.

The coalition of non-governmental organisations wants this and other atrocities investigated.

It says impunity feeds the population's distrust of the state and fuels recruitment by armed groups.

Egypt opens probe into Coptic priest's beach murder

BBC World Service

Newsroom

Image caption: Father Arsanios Wadid, 56, was ordained in 1995

Egypt's prosecutor-general has opened an investigation into the murder of a Coptic Christian priest in the Mediterranean city of Alexandria.

Father Arsanios Wadid, of the Church of the Virgin Mary, was stabbed on Thursday outside a popular beach club.

An elderly man was later arrested by police.

Image caption: Alexandria has lots of popular beaches

Coptic Christians - who make up around 10% of Egypt's population of 95 million - have long complained of being frequent victims of violent hate crimes.

You may be interested in:

Madagascar-Russia military deal 'nothing special'

BBC Monitoring

The world through its media

Image caption: Madagascar said it had military co-operation deals with various countries

A military co-operation deal agreement between Madagascar and Russia, signed in January, is nothing out of the ordinary, Malagasy Defence Minister Leon Richard Rakotonirina has said

"There is nothing special about this agreement, just as there is nothing special about the other military co-operation agreements Madagascar has concluded with other partner countries."

He was responding to questions about the deal during a meeting with a Chinese defence attaché and the Indian ambassador.

Earlier, United News of India had reported that it was "five-year agreement with the possibility of extension on military and technical co-operation, which includes arms supplies, training of military personnel and maintenance of equipment".

Africa ambivalent on Russia's HRC suspension

Image caption: Before the vote, Ukraine's ambassador to the UN accused Russia of "horrific" abuses

The UN General Assembly voted to suspend Russia from its Human Rights Council (HRC) on Thursday following allegations of war crimes by Kremlin troops in Ukraine - but African diplomats did not widely back the move.

Compared to the vote on the resolution to condemn the invasion that was held in early March, more African countries abstained and voted against the decision this time.

Out of 54 nations on the continent, 24 abstained, including Angola, Egypt, Ghana, Nigeria, Senegal and South Africa.

Nine voted against the move, including Algeria and Ethiopia, which have both had historically good relations with Moscow. Another 11 had no vote recorded.

Only 10 countries backed the suspension of Russian from the 47-member HRC. These were Chad, Comoros, the Democratic republic of Congo, Ivory Coast, Libya, Malawi and Seychelles.

So why is Africa seemingly staying on the fence or backing Russia?

Comments from South Africa, the continent's largest economy that has abstained twice from voting against Moscow at the general assembly, explain some of the ambivalence.

"The conflict has exposed the inability of the UN Security Council to fulfil its mandate of maintaining international peace and security," AFP quoted South African President Cyril Ramaphosa as saying on Thursday.

He said that the membership of the UN Security Council, which has five permanent members (China, France, Russia, the UK and the US), was "outdated and unrepresentative".

South Africa's Foreign Minister Naledi Pandor also defended her country's non-aligned stance, saying the conflict had shown "the glaring double standards of the international community".