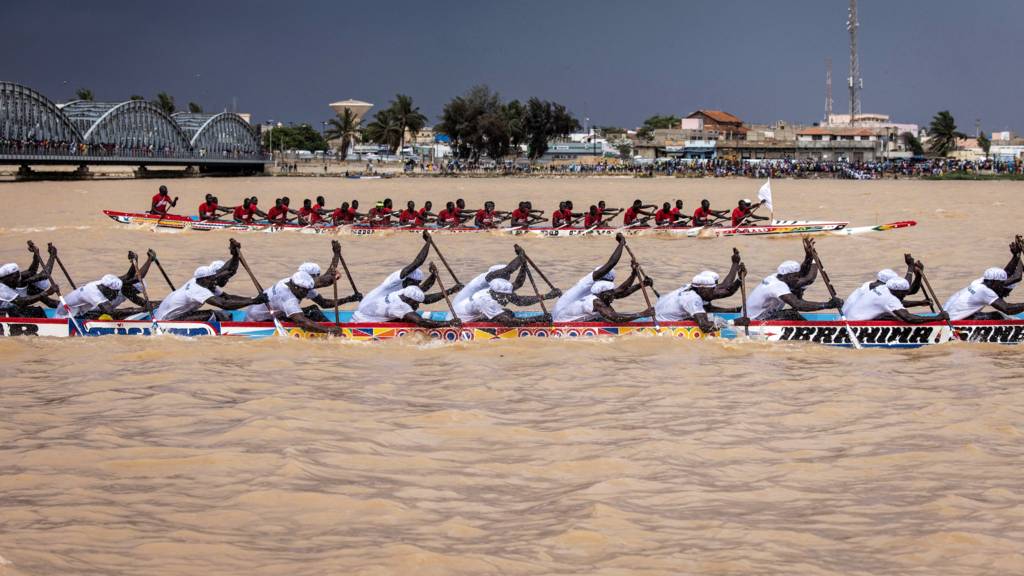 Live
Africa Live this week: 1-7 August 2022
Bringing you the latest news from around Africa at bbc.com/africalive. This is an automated news feed at the weekend an overnight.
Blinken starts Africa tour to counter Russian influence

Will Ross

Africa editor, BBC World Service

US Secretary of State Antony Blinken has arrived in South Africa at the start of a three-nation African tour aimed at countering Russia's efforts to boost its influence.

Last month Russia's Foreign Minister Sergei Lavrov visited four African countries as he tried to gain support for the war in Ukraine.

South Africa has remained neutral in the Ukraine war, refusing to join Western calls to condemn Moscow.

After Pretoria Mr Blinken will visit the Democratic Republic of Congo and Rwanda.

Tensions between the neighbouring countries have flared in recent months amid an escalation of conflict in eastern Congo.

Somali MPs approve ex-militant's cabinet appointment

Image caption: Mukhtar Robow defected from al-Shabab almost a decade ago

Somalia's parliament has approved the appointment of a new cabinet which includes the former spokesman of militant Islamist group al-Shabab, the state-owned news agency Sonna has reported.

Mukhtar Robow's appointment as religious affairs minister was announced by Prime Minister Hamza Abdi Barre on Tuesday.

He had defected from al-Shabab in 2013, and had been placed under house arrest by the former government.

Some analysts saw his appointment as an attempt by the new government to wage an ideological war against al-Shabab.

Others saw it as condoning the crimes of the al-Qaeda affiliate, which has waged a brutal insurgency in Somalia for more than a decade.

The former al-Shabab spokesman is part of a cabinet of 25 ministers and 26 deputy ministers appointed by the premier after a new president took power in Somalia earlier this year.

The new cabinet was endorsed by 229 MPs, with seven opposing it and one abstaining, Sonna reported.

The UN office for Somalia said it looked forward to working with the cabinet to achieve stability, reconciliation and development.

By Evelyne Musambi

BBC News, Nairobi

Nisha Popat looks back 50 years to when dictator Idi Amin forced her family out of Uganda

By James Cook in Scotland & Karen Schoonbee in South Africa

BBC News

By David Cowan

Home affairs correspondent, BBC Scotland

Scroll down for this week's stories

We're back on Monday

That's all from the BBC Africa Live team this week. There will be an automated news feed until we're back on Monday morning at bbc.com/africalive.

You can also keep up to date on the BBC News website, or by listening to the Africa Today podcast.

A reminder of our wise words of the day:

Quote Message: A bird that perches on a rope has to be ready to dance with the rope." from A proverb sent by Ezeh Ifeanyi to BBC News Pidgin

Click here to send us your African proverbs.

And we leave you with a picture from our selection of some of the best images from the continent this week. It's of Nigerian discus thrower Chioma Onyekwere competing in the Commonwealth Games:

My generation could use therapy - Ethiopian DJ

DJ Edu

Presenter of This Is Africa on BBC World Service

Image caption: Rophnan said Ethiopia's civil war had had an impact on him, but his music provides therapy

A DJ who pioneered electronic music in Ethiopia has told the BBC's DJ Edu that he makes music to "uplift people" because the current turmoil in the country is affecting people's wellbeing.

"I truly believe that my generation could use the therapy," Rophnan, who is also a singer-songwriter and sound engineer, said.

There is currently a civil war in Ethiopia, which started in the country's northern Tigray region over tension with the federal government.

"Not being able to talk with my friends and family from there was very depressing," he said.

Rophnan - who is the first Ethiopian to be signed to Universal Music and just released his second album, Sidist VI - started making waves on the club scene in Addis Ababa at the age of 16, and combines electro music with the use of traditional instruments and rhythms.

He said he is happy with Sidist VI's reception and finds it "overwhelming". "It's everywhere in the country. I'm so blessed. We worked really really hard for this, but what we're receiving is crazy."

At 16 Rophnan put out his first mix tape which got him noticed on the club scene in Addis Ababa.

"I grabbed a guitar when I was about 17, but I realised that the type of music that I was producing was not something that I could play live. Back in the day, people didn't look at DJs as musicians. DJs were just Disc Jockeys."

But as time went on he noticed DJs started having their own shows and built their own sounds. Then he realised that DJs were the new musicians.

"Now we are the pianists or guitarists of one element in music."Rophnan started pushing his music through clubs and worked in radio for three years."I had one of the top shows in the country and I started taking off from there."

But his fascination with making music started off much earlier - in his childhood. "I started by recording my mother when I was 10 years old. Just the love I have for my mother, and wanting to keep her around me all the time."

That family love is reflected in the new album, especially on the track Wegahta which he wrote for his mum.

"If it wasn't for her I probably wouldn't be in this business at all."

You can hear the full interview with Rophnan this weekend on This Is Africa on BBC World Service radio and partner stations across Africa, and online here.

By Mo Allie

BBC Sport Africa, South Africa

Kenya election run-up marred by sexist violence - rights groups

Marcus Erbe

BBC World Service News

Image caption: There are no women in the running to become president but Martha Karua hopes to become Kenya's first female deputy-president

Human rights campaigners say the run-up to next week's elections in Kenya have been marred by unprecedented levels of violence against women.

All presidential candidates are men but many female politicians and activists have suffered assaults, including rape, activists say.

The International Federation for Human Rights said women also faced aggressive sexist language, online abuse, gender stereotyping and sexual harassment.

They say such tactics are used in a deliberate attempt to prevent women from participating in politics.

Related stories:

By Dickens Olewe

BBC News, Nairobi

Two young Kenyans are trying to break barriers by going into politics without money or influence.

All private schools struck off in Nigeria's Plateau state

Rhoda Odhiambo

BBC West Africa correspondent, Lagos

Local authorities in Plateau state, Nigeria, have de-registered all private schools - saying 90% were operating illegally.

Plateau's education chief Elizabeth Wampum said that about 5,000 schools did not have licenses, and said many were employing secondary school graduates to teach instead of people who had a minimum of a Nigeria Certificate in Education or a degree.

School principals have been urged to validate their licenses at the education ministry before the beginning of the school calendar in September. A list will be published in local daily newspapers.

Parents have also been advised against taking their children to schools that are not recognised by the state government, as they risk being barred from sitting for national exams.

Poll station training begins ahead of Kenya election

Dickens Olewe

BBC News, Nairobi

Copyright: Dickens Olewe/BBC

Image caption: Some visitors have come to check that their names are on the voting register

Thousands of polling clerks are undergoing training across Kenya today ahead of the country's general election next week.

The two-day programme involves verifying voters using biometric gadgets, handing over ballot papers, as well counting the votes when polling closes.

Some 515 clerks were being trained in several classrooms at Kilimani primary school in Nairobi, which will be used as a polling centre, when I visited.

Two armed policemen were in the compound as well staff from the electoral commission.

Small groups of people have also been walking into the centre, some out of curiosity others to check if their names are in the voting register which has been displayed on the school's main gate.

"I can't see my name, but I'm determined to find it," one man, who said he was a mechanic and would be voting for the fifth time, told me as he ran his finger down the list.

Several people I spoke to said they were looking forward to the elections, and most of them said the state of the economy was their number one issue.

Casamance peace deal is a win for Sall and Embaló

Analysis

History has been made in Senegal today for two reasons.

Firstly, the presidential party failed to win a parliamentary majority for the first time ever, according to provisional poll results.

But secondly, rebels in the southern Casamance province have accepted the call to lay down arms, and bring a peaceful end to one of Africa's oldest active rebellions that has claimed several thousand lives since 1982.

This breakthrough is regarded a boon for President Macky Sall, who made achieving "definitive peace" in Casamance a priority for his second term.

Rebels from the Movement of Democratic Forces of Casamance (MFDC) have over the years broken into factions and the conflict was mostly dormant, until Senegal launched a major offensive to drive out the rebels in March last year.

Thursday's peace deal - signed in Guinea-Bissau by an Senegalese presidential envoy and one of the MFDC rebel leaders Cesar Atoute Badiate - remains confidential for the time being.

However two regional experts are critical, telling the BBC they question this new development in the Casamance conflict.

Last year, Guinea-Bissau's President Umaro Sissoco Embaló denied any involvement of his nation in the conflict between Senegal's army and the Casamance rebels, saying:

"This speculation must stop. Everyone knows what my relationship is with the Senegalese President."

As the new chairman of Ecowas, this agreement looks like a very positive start for Mr Embaló.

Casamance is Senegal's southernmost region, almost separated from the rest of the country by the tiny state of The Gambia, with a distinctive culture and language derived from its past as a former Portuguese colony.

Gambian President Adama Barrow says he's "constantly in touch" with President Sall to ensure peace prevails in Casamance, mentioning its "impact on communities" and that "schools have been disrupted, families separated and property destroyed".