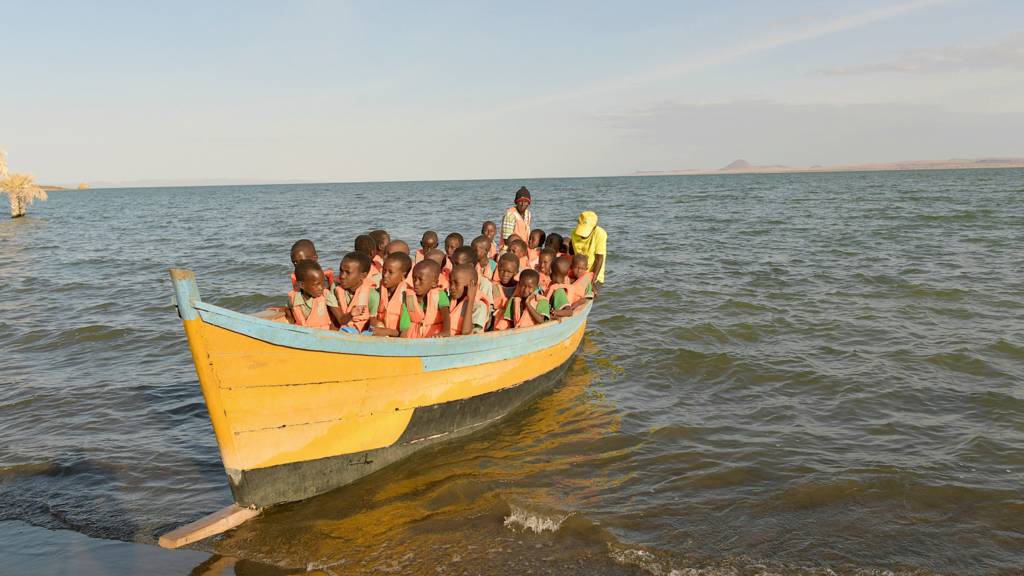 Live
Africa Live this week: 15-21 August
Bringing you the latest news from around Africa at bbc.com/africalive.
By Evelyne Musambi

BBC News, Nairobi

By Randy Joe Sa'ah

BBC News, Bamenda

By Leo Sands & Damian Zane

BBC News

International prosecutor back in Sudan over Darfur

Image caption: Karim Khan first went to Sudan in August 2021

The prosecutor of the International Criminal Court is in Sudan for the third such visit since 2019.

The previous time was a year ago, when the current office-holder Karim Khan held talks about outstanding arrest warrants for crimes committed during the war in Darfur in 2003.

One of those wanted is former President Omar al-Bashir, who was ousted three years ago and is held in custody in Khartoum.

He is wanted for genocide, war crimes and crimes against humanity.

Sudan has been facing deepening unrest after a military coup last year.

Ex-Angolan president's body flown home amid controversy

The body of former Angolan President José Eduardo dos Santos has arrived back in Angola after his death in Spain last month.

His coffin was greeted on Saturday by a small crowd of supporters and family members, including his widow, Ana Paula.

A Spanish court had approved the repatriation of the remains of Angola's long-time ruler following a dispute within the Dos Santos family.

His daughter, Tchizé dos Santos, had wanted a burial in Spain.

There's concern that a state funeral in Angola may influence the 24 August elections.

Tchizé dos Santos has accused current President João Lourenço of using her father's body as a campaigning tool.

Read more:

In Zulu, Amapiano literally means "the pianos" and it's a blend of house, kwaito, jazz, and lounge music.

By Vumani Mkhize

BBC Africa Business, Umthatha

Thousands gather for the traditional Zulu coronation, which saw Misuzulu ka Zwelithini become king.

By Nomsa Maseko

BBC News, KwaNongoma

Zimbabwe's first gas production could be lead by a new well being drilled in the north of the country.

Al-Shabab has claimed responsibility for the attack involving two explosives and gunfire at Hayat Hotel in Mogadishu.

Scroll down for Friday's stories

We're back on Monday

That's all from the BBC Africa Live team until Monday morning Nairobi time, but in the meantime you can keep up with the latest stories on the BBC News website.

Plus you can listen to the Africa Today podcast.

Here's a reminder of our wise words of the day:

Quote Message: He who refused advice made a boat of clay." from A Rukiga/Runyankole proverb sent by Mathias Nowamaani in Kabale, Uganda.

And we leave you with this picture of the crowning of the new Miss South Africa 2022, Ndavi Nokeri, in Pretoria from our week in pictures.

Al-Shabab claims responsibility for Hayat attack

Abdi Dahir

BBC Monitoring, Nairobi

The al-Qaeda-allied al-Shabab militant group has claimed responsibility for a complex attack on a hotel in the Somali capital, Mogadishu.

The militants said they had detonated explosives and then stormed Hayat Hotel, which is a place sometimes visited by Somali government officials.

In a statement, the group claimed to be in control of the hotel and said it was "shooting everyone".

Private local media sources said several explosions involving suicide bombers and heavy gunfire were heard.

Somali government security forces are reportedly exchanging gunfire with the gunmen.

The Somali security forces have not yet commented on the incident.

Breaking

Gunmen attack Mogadishu's Hayat Hotel

The Hayat Hotel in Mogadishu is under attack after gunmen stormed the vicinity.

The hotel is located in the important green zone, as it is near the airport and is sometimes frequented by government officials.

It is not currently clear who is behind the attack or the status of the people inside.

"Two car bombs targeted Hotel Hayat. One hit a barrier near the hotel and then the other hit the gate of the hotel. We believe the fighters are inside the hotel," Reuters news agency quotes a police officer called Ahmed as saying.

There are reports of eyewitnesses hearing explosions and heavy gunfire, however, the BBC has not yet been able to independently verify these accounts.

Ukraine wheat will ease Ethiopia hunger - WFP

Kalkidan Yibeltal

BBC News, Addis Ababa

Image caption: Grain has been difficult to source from Ukraine after the outbreak of the war there

The World Food Programme (WFP) says 30,000 tonnes of Ukrainian wheat bought for its operations in Ethiopia is expected to arrive in neighbouring Djibouti next week.

Claire Neville, the WFP's spokesperson for Ethiopia, has told the BBC that the wheat will support the organisation's efforts to feed millions of people affected by food insecurity as a result of protracted conflicts and severe drought.

The food will support the body's operations across the country, where it aims to target 3.4 million people in the northern regions of Tigray, Afar and Amhara that that have been impacted by a brutal civil war that broke out 22 months ago, Ms Neville added.

An additional 2.4 million people are expected to be reached in the eastern Somali region, where people have been hit by consecutive seasons of low rainfall.