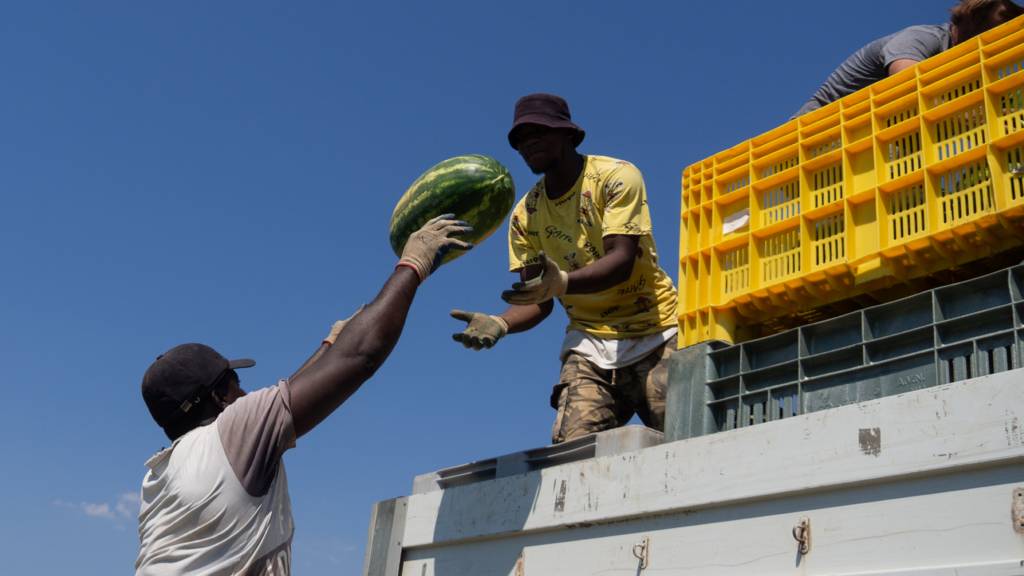 Live
Africa Live this week: 24-30 October 2022
Bringing you the latest news from around Africa at bbc.com/africalive. This is an automated feed overnight and at weekends.
By Esme Stallard

BBC News Climate and Science

By Yusuf Akinpelu

BBC News, Lagos

By Osob Elmi & Ali Vowles

BBC News

By Farouk Chothia

BBC News

By Georgina Rannard

BBC News Climate and Science

By Nomsa Maseko & Nobuhle Simelane

BBC News, Durban

Car bombs target Somalia education ministry

Two large car bombs have targeted the education ministry in the Somalia capital, Mogadishu.

A police spokesman said there had been casualties.

Reports say one of the car bombs was driven into the building followed by another blast in the same area.

Eyewitness speak of massive damage, blown-out windows and a lot of smoke near the ministry.

The Islamist group al-Shabab frequently carries out such attacks but it has yet to say if it was responsible for today's explosions.

A British Nigerian artist is using pure gold to paint portraits depicting the stories of African diaspora women.

By Emmanuel Igunza

BBC News, Nairobi

Scroll down for this week's story

We'll be back on Monday

That's all from the BBC Africa Live team for now. We'll leave you with an automated service until our team returns on Monday morning Nairobi time at bbc.com/africalive.

Until then you can find the latest updates on the BBC News website, or listen to our podcasts Africa Today and The Comb.

A reminder of our wise words of the day:

Quote Message: Clothes maketh the man." from A Beti proverb from Cameroon sent by Gertrude Onana in London, the UK

Click here to send us your African proverbs.

And we leave you with this shot from backstage at South African Fashion Week - one of our top picks of the last few days:

Aid ambulance driver killed in Ethiopia

Ethiopia's Red Cross Society has condemned the killing of one of its ambulance drivers in the north of the country, calling it a moment of "deep sorrow" and blaming armed forces for the attack.

It's not clear whether their statement is accusing the federal army or the Tigrayan forces they are fighting for the death of their colleague, Mengistu Menyel.

They say the 40-year-old leaves behind two daughters.

The International Committee of the Red Cross has also shared its condolences:

Malawi arrests dozens at corruption protests

Peter Jegwa

Lilongwe, Malawi

Image caption: A botched government deal to buy fertiliser is behind the grievance

At least 33 people have been arrested at demonstrations in Malawi, including the organisers, after police accused them of inciting violence.

People frustrated with rising living costs and government corruption joined the protests, which began in the cities of Blantyre and Zomba on Thursday, before spreading to the capital city of Lilongwe on Friday.

They say cabinet ministers and senior government officials already under corruption investigation must be investigated, not just fired or forced to resign.

Earlier this week Agriculture Minister Lobin Lowe and his deputy, Madalitso Wirima, were sacked for alleged incompetence and negligence by the president.

According to the presidency, the agriculture ministry had failed to follow correct procedures when trying to source fertiliser from a British firm, which has since demanded a commission fee of about $725,000 (£627,000) from Malawi despite the contract being cancelled.

The government is now paying this sum even though they are getting nothing in return. Multiple newspapers in Malawi - including the Nyasa Times and the Times of Malawi - allege the government was duped. The company has not commented publicly on the claims.

Despite the arrests of protesters on Friday, more anti-government rallies are planned in the northern city of Mzuzu.

Mnangagwa confirmed as Zanu-PF election candidate

Shingai Nyoka

BBC News, Harare

Zimbabwe's ruling Zanu-PF party has endorsed President Emmerson Mnangagwa as its leader for the next five years.

It means that he will also be the party's presidential candidate in next year's general elections - in what will be his second and likely final term as party leader.

There was little surprise at the news that his endorsement was unanimous. Mr Mnangagwa's was the only name put forward by provincial branches.

Addressing thousands of officials at the party congress on Friday, Mr Mnangagwa pointed out their achievements since ousting former leader Robert Mugabe in a coup in 2017.

The country faces serious economic challenges, and increasing outrage among Western countries over escalating violence and arrests of opposition members ahead of the 2023 polls.

By Kevin Hand

BBC Sport Africa

Trailblazing Egypt author dies aged 87

Mike Thomson

BBC World Service News

The prize-winning Egyptian novelist and short-story writer, Bahaa Taher, has died aged 87.

Born in Cairo in 1935, he wrote a number of critically acclaimed books - some turned into TV dramas.

In the mid-1970s the author became active in left-wing literary circles and was banned from publishing under President Anwar Sadat's government.

In 2008 Taher won the first-ever International Prize for Arabic Fiction, for his novel The Oasis of Sunset.