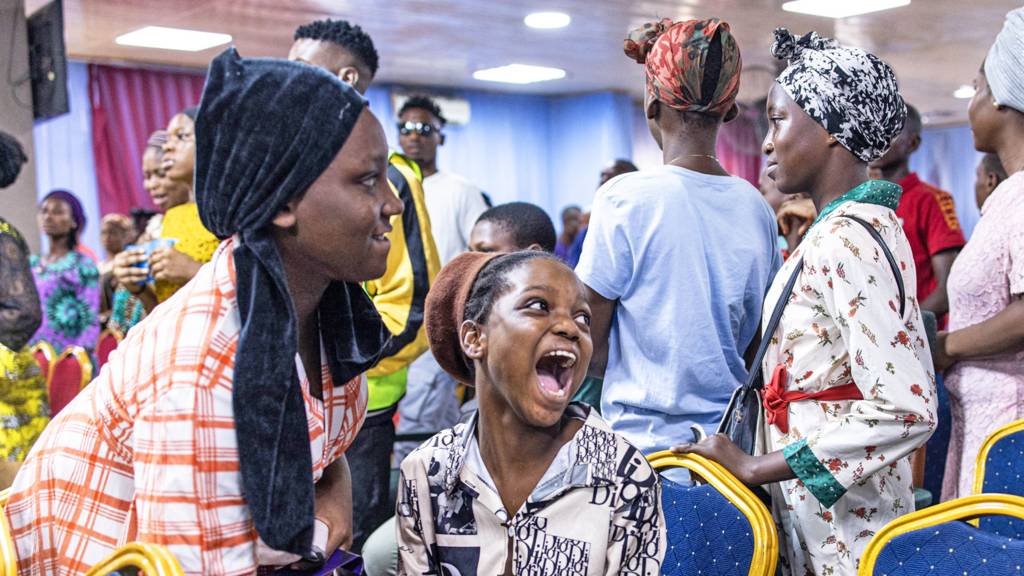 Live
Africa Live this week: 20-26 March 2023
Bringing you the latest news from around Africa at bbc.com/africalive. This is an automated feed overnight and at weekends.
By Anne Soy

Senior Africa correspondent

By Cecilia Macaulay

BBC News

By Catherine Byaruhanga

Africa correspondent, BBC News

By Mary Harper

Africa editor, BBC World Service News

By Antoinette Radford

BBC News

Scroll down for this week's stories

We're back on Monday

That's all from the BBC Africa Live team for now, but we'll be back on Monday morning, Nairobi time at bbc.com/africalive

There will be an automated news feed here until then. You can also get the latest on the BBC News website and listen to the Africa Today podcast.

A reminder of Friday's wise words:

Quote Message: A person you help in their time of need may turn out to be your worst enemy." from A Luo proverb sent by Onyango in Nairobi, Kenya

Click here to send us your African proverbs.

And we leave you with this picture of a girl celebrating independence day in Tunisia, taken from our selection of the best pictures from Africa this week.

More than 30 migrants die off Tunisia coast

Officals in Tunisia say that at least 34 African migrants - including babies and children - are missing after their boat capsized off the Tunisian city of Sfax.

It's the fifth such shipwreck in the past two days.

A total of 67 people have been reported missing.

Tunisian officials say there's been a sharp rise in boats carrying would-be migrants towards Italy.

The coast guard has reportedly also stopped more than 50 boats leaving in the past two days.

Funeral for woman who died after Asake concert crush

Copyright: Family Handout

Image caption: Rebecca Ikumelo died following the crush at the O2 Academy Brixton in December

The funeral has been held for a woman who died after a crush at a concert in London for popular Nigerian singer, Asake in December last year.

Rebecca Ikumelo, 33, died from her injuries after a large number of people tried to enter the O2 Academy Brixton.

Hundreds of mourners paid their respects to the nursing graduate and mother, as silence fell on the street of Ms Ikumelo's family home in Stratford, east London, as her coffin arrived in a carriage led by white horses.

Another woman, Gaby Hutchinson, 23, also died after the incident.

"She was such a special person," Ms Ikumelo's sister, Mary, told the BBC.

"It has been so, so difficult to comprehend what we've been through as a family... we only just got Rebecca's body back.

"Why did it take so long? We are a patient family and we will fight as we wait for justice."

Ms Ikumelo's family have been unable to bury her until now because her body was held by the coroner.

A police investigation into the incident is due to conclude next month.

Afrobeats' success has only just started - Killertunes

DJ Edu

Presenter of This Is Africa on BBC World Service

Copyright: Courtesy of the artist

Image caption: Killertunes has worked with some of Nigeria's biggest music stars

A Nigerian producer, now artist, has told the BBC that the success of the Afrobeats music genre has only just started.

"I feel like we're just starting. We're not even there yet. Give us time," Otaniyen-Uwa Daniel said.

"For me, my measure of success is that I want to hear the songs in Mexico, in China and Korea, everywhere. Everyone knows reggae music. I want people to listen to us like that," he continued.

Killertunes was born in Benin City and has gone on to produce top artists such as Wizkid, Mr Eazi, and his mentor Timaya.

His production skills are also self-taught: "Back then in Benin there was no internet, to go on YouTube. I didn't even know there was something like YouTube where I could learn to produce."

His first big hit came when he was producing for Timaya on a track called I Concur.

He says on his current project he is blending RnB with jazz and is particularly excited about an as-yet unreleased track he has recorded with Patoranking and Davido.

"Whenever that song drops, trust me... it's over!"

You can listen to his full interview here.

By Mo Allie

BBC Sport Africa, Cape Town

Chad nationalises assets belonging to Exxon Mobil

Image caption: Oil exporting is a major part of Chad's economy

The Chadian government has nationalised assets belonging to a subsidiary of Exxon Mobil.

It's the latest development in a dispute between the authorities of the Central African country and the US oil giant over the sale of its assets in Chad to a third party.

The vast majority of Chad's revenue comes from exporting oil. So when it disagreed with the terms under which Exxon sold its Chadian assets to British company Savannah Energy last year, it promised to go to court to block the purchase.

Now the Chadian authorities have gone one step further - they've nationalised Exxon's assets, a move which could potentially spook foreign investors.

Savannah Energy has said it will challenge the move legally. The assets involved include a 40% stake in Chad's Doba oil project - seven oilfields with a combined output of 28,000 barrels per day.

By Celestine Karoney

BBC Sport Africa

Behind Nigeria's governorship elections

Yūsuf Akínpẹ̀lú

BBC News, Lagos

Image caption: The vote was held on 18 March

With 26 of the 28 Nigerian governorship results in, the All Progressive Congress (APC), which won the recent presidential election, has also won the most state races.

The party won in 15 states, taking its tally to 19 as it already controlled four other states.

The party came into the election controlling 21 states, meaning it lost two states.

One of those states was Kano won by the New Nigeria People's Party (NNPP), formed just months before the polls.

The opposition People's Democratic Party (PDP) won in nine states, taking their tally to 12. Before the election, it controlled 14 states.

The Labour Party of Peter Obi gained only its second governorship seat ever, sparking scenes of celebration in oil-rich Abia.

In all, six states have been flipped, including the north-west state of Zamfara, where an incumbent lost - the only one so far.

Both the APC and PDP will now have their eyes on Kebbi and Adamawa, where elections were declared inconclusive.

Nigeria has never had a female governor, but it could still happen. Aisha Binani of the APC is set to enter a rerun with the incumbent in Adamawa.

Voter turnout slightly improved to an average of 29% compared to 27% during the presidential polls.

Not all governorships were won by the parties which control state parliaments, potentially sparking more robust democratic scrutiny often missing in the past.

You can find an election map here.

Mozambique's top sugar firm halts exports over floods

Jose Tembe

BBC News, Maputo

Image caption: Thousands of hectares of farmland have been affected by floods

Mozambique's largest sugar company has suspended sugar exports for at least two months due to flooding of its cane plantations.

Açucareira de Xinavane cited the difficulty of transporting sugar by rail to the port of Maputo, with the Limpopo line not in operation.

A company official explained that the suspension would guarantee the availability of sugar in the local market.

The announcement comes at a time when some sugar factories have been paralysed due to the flooding of farms.

Xinavane has lost about 2,000 hectares of sugar cane, some of which belong to small-scale farmers

The company produces about 340,000 tonnes of sugar annually, including 90,000 tonnes of white refined sugar, exporting 10,000 of it to European markets.

Ghana finance minister praises 'positive' China meetings

Ghana's finance minister has been visiting Beijing and praised the "positive and encouraging" meetings between the two parties.

The purpose of the trip was to meet Chinese counterparts to talk about Ghana's debt struggles, the Reuters news agency reports.

The country is currently facing high levels of inflation and has sought help from the IMF, which agreed a preliminary $3bn ($2.4bn) loan for the country in December.

Finance Minister Ken Ofori-Atta said on Twitter that he looked "forward to securing external assurances very soon" from China regarding the country's debt.

Part of the IMF deal requires Ghana to get "necessary financing assurances" from its creditors.

'Uproar' over shooting of pet dog Roxie in Lagos

Image caption: The shooting down of dogs in Nigeria is not a common practice, Jackie Idimogu says (Library picture)

A Nigerian dog rights activist has told the BBC's Newsday programme that there is "uproar" over the killing of a pet dog called Roxie in her owner's estate.

"Roxie was a beautiful well-bred pet dog," Jackie Idimogu, who runs a dog charity called My Dog & I Group, in Lagos said.

She "happened to stray out of her home in the middle of the night", Ms Idimogu said, after which her owner alerted the estate security.

Roxie was later found on someone else's compound and her owner was on the way to collect her, but an estate security officer then allegedly proceeded to shoot her "three times" right "in front of" the owner.

People are upset over Roxie's death and have been "rising up" and want justice.

The estate management were not available for comment at the time of Newsday's interview.

The estate's rules said that a dog can be killed if it is dangerous or had attacked someone, but Ms Idimogu said this did not apply to Roxie.

You can listen to the full Newsday here (scroll 49 minutes into the audio).