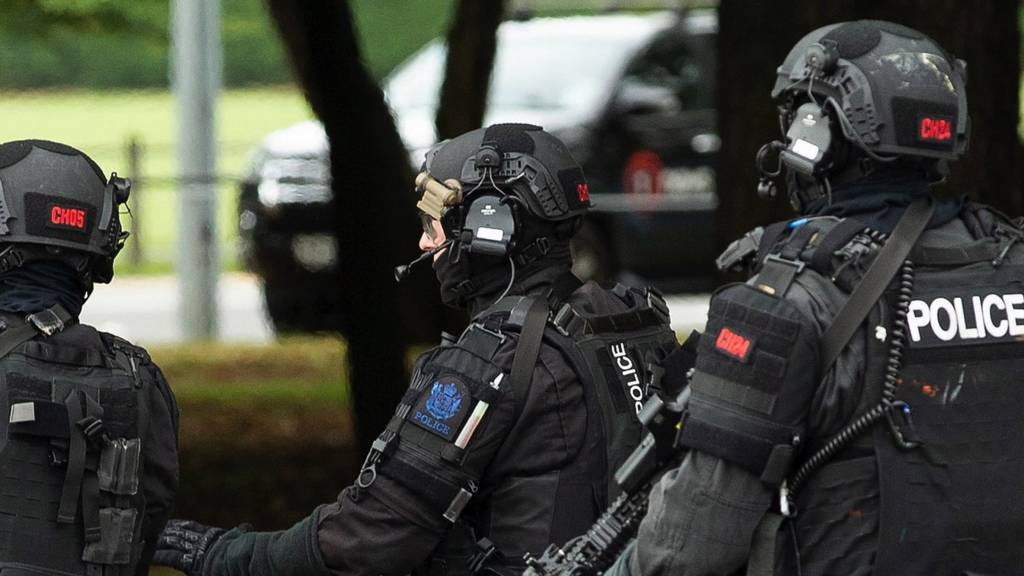 Where did the shootings take place?

Attack will call for 'deep reflection', says ex-PM

Image caption: "New Zealand is in shock," said former Prime Minister Helen Clark

New Zealand's former Prime Minister Helen Clark says the attack will call for "deep reflection".

Speaking to the New Zealand Herald, she said: "New Zealand is in shock that the things we see on TV from other parts of the world, could happen in peaceful Christchurch.

"There are many unanswered questions in people's minds, but right now the key issue is that we all grieve with the people who have been personally, deeply and tragically hurt by this."

She added that she hoped New Zealand would look at its gun control laws as "while we do have gun control, we can do better."

'We must stand united against anti-Muslim hatred'

On Twitter, UN Secretary-General António Guterres has condemned the "shooting of innocent people as they prayed peacefully".

Witness: 'We were in a state of panic'

Srinivas Chandrasekharan was with the Bangladesh cricket team when the shooting at the Al Noor mosque started.

"As soon as we reached near the entrance to the mosque, we heard firing, shooting. Then we saw a woman fainting just outside and falling down," he told the BBC's Hindi service.

"We were going to help her when we saw 10-15 people with bleeding and blood stained clothes running out of the mosque and shouting 'firing'. "It was only then we realised that the firing was happening here."

The team arrived on a bus following a news conference ahead of a now cancelled third Test. "[We] didn't know what we should do. We felt cornered. We were in a state of panic."

What is known about the suspects?

The Christchurch mosque attacks were live-streamed on the internet by a man posting online under the name of Brenton Tarrant.

Police said three people were in custody and that a man in his late 20s had been charged with murder.

Mirror shouldn't have run footage from gunman, editor says

The Mirror website should not have run footage filmed by the gunman in Christchurch, the publication's group editor says.

In a tweet, he says it is "not in line with our policy relating to terrorist propaganda videos".

The video has since been removed from the site of the UK newspaper, he said.

A spokeswoman for the UK prime minister had urged all media companies to remove terrorist content from their sites.

Flags at half mast in London

Watch: 'They should be safe to pray'

Kensington Palace: 'Senseless' and 'horrifying' attack

The Duke and Duchess of Cambridge have issued a joint statement with the Duke and Duchess of Sussex describing the attack as "senseless" and "horrifying."

"Our hearts go out to the families and friends of the people who lost their lives in the devastating attack in Christchurch," they said.

"We have all been fortunate to spend time in Christchurch and have felt the warm, open-hearted and generous spirit that is core to its remarkable people. No person should ever have to fear attending a sacred place of worship.

"This senseless attack is an affront to the people of Christchurch and New Zealand, and the broader Muslim community. It is a horrifying assault on a way of life that embodies decency, community, and friendship.

"We send our thoughts and prayers to everyone in New Zealand today. Kia Kaha," they added, using a Maori expression which means "stay strong".

New York mosques with extra security

The New York Police Department has sent extra officers to mosques during morning prayers on Friday.

It said on Twitter: "The NYPD is committed to the safety of all houses of worship, and the freedom to practice your religion freely without any fear."

In pictures: Tributes and reaction around the world

Copyright: Munir Uz Zaman/AFP/Getty Images

Image caption: Muslims in Bangladesh condemned the attacks with a protest in the capital, Dhaka

Copyright: Munir Uz Zaman/AFP/Getty Images

Image caption: The protest took place before Friday prayers

Copyright: Indranil MukherjeeAFP/Getty Images

Image caption: Muslims in Mumbai held posters condemning the attack

Copyright: Sabir Mazhar/Anadolu Agency/Getty Images

Image caption: Protesters also took to the streets in the Pakistani city of Karachi

Copyright: Marty Meville/AFP/Getty Images

Image caption: In New Zealand, flowers were placed outside the Masjid mosque in the capital, Wellington

If you're just joining us, here's a recap of what we know about the shootings in Christchurch, New Zealand:

Forty-nine people have been killed and at least 20 wounded in shootings at two mosques
The attack happened at a time when people were gathered for Friday prayers and was the deadliest in the nation's history
A man in his late 20s was charged with murder and will appear in court on Saturday morning
Prime Minister Jacinda Ardern said this was a terrorist attack and one of New Zealand's "darkest days"
Security has been stepped up around mosques in several cities around the world

Merkel: Attack on 'Muslims, democracy and tolerant society'

German Chancellor Angela Merkel said this was a "perfidious assault on people praying in a place of worship".

She added it was "an attack directed against Muslims but it is also an attack on New Zealand's democracy and the open and tolerant society".

"We share these values ​​with New Zealand and with it we share the horror and the condemnation of this terrible act. And my sincere condolences of course in this hour go to the victims' families and the injured to whom I wish a speedy recovery.

"I would like to say to the people in New Zealand we stand at their side at this difficult time."

Deputy PM: End of 'age of innocence' for New Zealand

Image caption: "We've never known that sort of level of terror," says Winston Peters

New Zealand's deputy prime minister says the attack marks an end of an "age of innocence" for his country and its "strict" gun control laws will "all be open for review".

"We've watched abroad while these terrorist attacks have happened. But we never, though prepared for them, contemplated they would emerge in the shape they have today in New Zealand," Winston Peters tells BBC Radio 5 Live.

"The reality is that we've never known that sort of level of terror in a place like Christchurch of all places, or anywhere in New Zealand for that matter."

Asked what action he thinks should be taken, he says: "It would be naive to think that we'll not be looking very hard at how it is that they acquired these automatic weapons."

As well as reviewing the country's gun control laws, he says spending on security will have to increase and cross-country engagement on terrorism should be stepped up.

Senseless acts of violence, says Pope

Pope Francis says he is "deeply saddened to learn of the injury and loss of life caused by the senseless acts of violence".

In a telegram sent by his secretary of state, the Pope said he "assures all New Zealanders, and in particular the Muslim community, of his heartfelt solidarity in the wake of these attacks".

The Pope added that he was "mindful of the efforts of the security and emergency personnel in this difficult situation".

White House condemns 'vicious act of hate'

Image caption: Police cordon off the area around the Al Noor mosque

A statement from the White House said: "The United States strongly condemns the attack in Christchurch. Our thoughts and prayers are with the victims and their families. We stand in solidarity with the people of New Zealand and their government against this vicious act of hate."

Rugby star in emotional message

New Zealand rugby player Sonny Bill Williams sent a video filmed from his car after hearing about the attack.

The player, the first Muslim to play for the All Blacks, told his followers on Twitter: "I can't put into words how I'm feeling right now. Just sending my love to the families."

Charles 'utterly horrified'

The Prince of Wales says he is "utterly horrified" to hear about the "barbaric attacks" on two mosques in Christchurch.

In a message to the people of New Zealand, Prince Charles says: "It is beyond all belief that so many should have been killed and injured at their place of worship and our most special and heartfelt sympathy goes out to all the families and loved ones of those who have lost their lives.

"This appalling atrocity is an assault on all of us who cherish religious freedom, tolerance, compassion and community.

"I know that the people of New Zealand will never allow hate and division to triumph over these things they hold dear.

"Our thoughts and prayers are with the victims' families, the first responders, the people of Christchurch and all New Zealanders at this most heartbreaking of times."

Horrible massacre, says Trump

President Donald Trump said on Twitter the shootings in Christchurch were a "horrible massacre", adding that the "US stands by New Zealand for anything we can do."

Bangladesh cricket team manager: 'We're very lucky'

Bangladesh cricketers were minutes from being inside one of the mosques attacked, said team manager Khaled Mashud: "We're very lucky."

Speaking to the BBC's Bengali Service, he said: "We were very close. We could see the mosque from the bus... If we had arrived three-four minutes earlier, we would probably have been inside the mosque by then.

The team arrived at the mosque on a bus following a news conference at the Hagley Oval - the venue of Saturday's now cancelled third Test.

"We saw everything from outside like a video, just as you see in the movies. We saw from the bus people coming out with blood pouring. Quite a few people were able to come out. For eight to ten minutes we remained on the bus, we kept our heads low in case there was firing outside."