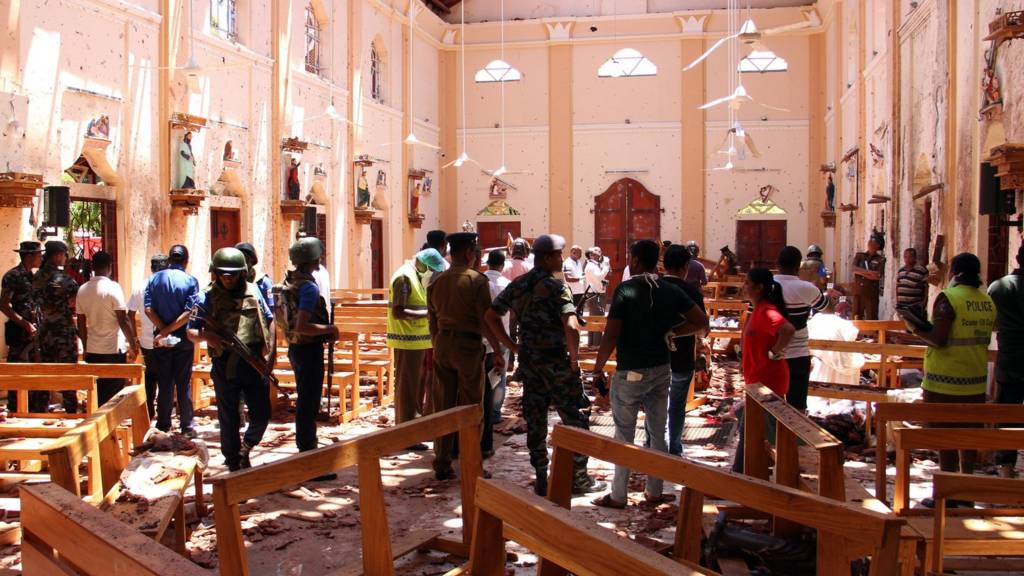 Sri Lanka reels from deadly attacks
By Anbarasan Ethirajan

BBC South Asia analyst

By Jill McGivering

BBC News, Colombo

Six months after one of the world's worst recent terror attacks, this town is fighting to recover.

By Anbarasan Ethirajan

BBC News, Colombo

By Anbarasan Ethirajan

BBC News

We are pausing our live coverage

As night falls in Sri Lanka, we are pausing our live coverage of the deadly Easter Sunday bombings. Here's what we know:

Officials say 290 people were killed and another 500 injured in the suicide attacks
Most of the dead are Sri Lankan nationals, but 31 people from other countries are believed to have been killed
No-one has admitted carrying out the bombings. The government has blamed a local jihadist group known as the National Thowheed Jamath which it said had the support of an "international network"
Police have so far arrested 24 people in a series of raids
There was another blast on Monday near a church in the capital, Colombo, as security forces tried to defuse explosives inside a vehicle used by the attackers

Prime Minister Ranil Wickremesinghe has said authorities were "aware of information" of possible attacks but the intelligence was not acted upon
A nationwide emergency, which will give police and military extensive powers to detain and interrogate suspects, will be declared from midnight (18:30 GMT) on Monday

Read the latest information on the attacks here.

And for more information on the victims, you can read our piece here.

Trump calls Sri Lanka's PM

US President Donald Trump called Sri Lanka's Prime Minister Ranil Wickremesinghe this morning to express condolences.

Mr Wickremesinghe reportedly appreciated the president's concern and updated him on the progress of the investigation into the attacks.

Mr Trump also pledged US support to Sri Lanka in bringing the perpetrators to justice, and the leaders reaffirmed their commitment to the fight against global terrorism.

Muslims left nervous and afraid

The BBC's Anbarasan Ethirajan writes from the capital, Colombo:

Sri Lankans are yet to come to terms with this wave of unprecedented bomb attacks.

It is believed some Muslim youths were radicalised after clashes between the majority Sinhala Buddhists and Muslims last year in the central district of Kandy.

There have been videos on social media showing hardline Islamists and Sinhala hardliners promoting hatred after that violence.

But very few expected such massive attacks a year later. And why were Christians targeted? They are also a minority in Sri Lanka.

The country experienced suicide attacks by Tamil Tiger rebels during the civil war that ended in 2009.

But the ruthlessness with which the latest attacks were carried out show that the country's task this time will be challenging.

It is a different kind of battle. In the meantime, Sri Lankan Muslims are left nervous and afraid.

Image caption: Kandy in the centre of the country was the focus of clashes last year

British man confirms family killed

Image caption: Anita Nicholson and her children Alex, 14, and Annabel, 11, died in the Shangri-La hotel bombing

A British man has confirmed that his wife and two children, aged 14 and 11, were killed in the attacks.

"My family and I wish to confirm that my wife Anita, our son Alex (age 14) and our daughter Annabel (age 11) were killed in the bombing of the restaurant of the Shangri-la Hotel, Colombo on Sunday morning while sitting at our table," Ben Nicholson said in a statement.

"Mercifully, all three of them died instantly and with no pain or suffering."

Mr Nicholson added that he was "deeply distressed at the loss of my wife and children."

He described Anita as a "wonderful, perfect loving and inspirational mother" and his two children as "amazing, intelligent, talented and thoughtful".

"We would ask that the media now respect our privacy and allow us to grieve together," the statement said.

According to a social media profile, lawyer Anita Nicholson was based in Singapore, working as a managing counsel at mining and metals company Anglo American at the time of her death.

British Royals 'deeply saddened' by attacks

The Duke and Duchess of Cambridge, Prince William and Catherine, have shared a message for the people of Sri Lanka.

"We have been deeply saddened to learn of the devastating attacks in Sri Lanka this Easter Sunday.

"Senseless acts like these in places that people would expect to be at their safest are truly horrifying.

"Our hearts go out to the families and friends of those who have lost their lives, to the Christian community, and to the people of Sri Lanka at this tragic time. You are all in our thoughts and prayers."

Asos billionaire loses three children

Image caption: Anders Holch Povlsen is one of Denmark's richest men

Three of the four children of Danish billionaire Anders Holch Povlsen died in the attacks, a spokesman has told the BBC.

The family were visiting Sri Lanka over the Easter holiday. The names of the children have not been made public.

Mr Holch Povlsen owns the international clothing chain Bestseller.

He is also the biggest single shareholder in clothing giant Asos and is the UK's largest private landowner, according to the Times newspaper.

Video: Moment bomb explodes in van

More information has emerged about the number of Indian nationals killed in the attacks.

The death toll has increased from seven to eight. All of the victims were from the southern state of Karnataka, the Indian embassy in Sri Lanka says.