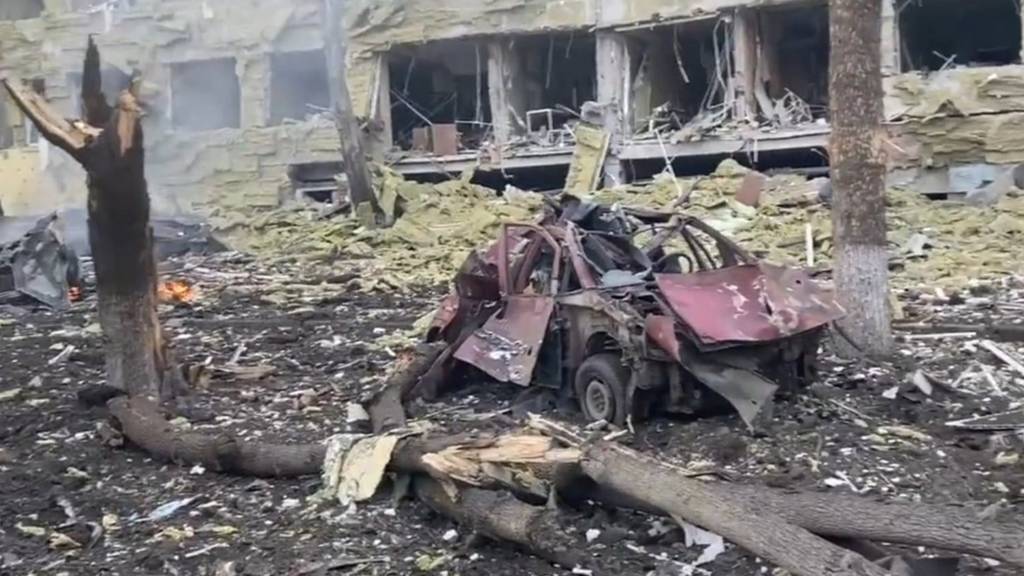 Live
As it happened: Zelensky: Children's hospital attack a 'war crime'
Updates from BBC correspondents in Ukraine and the region: Jeremy Bowen, Orla Guerin, Lyse Doucet and James Waterhouse in Kyiv, Sarah Rainsford in Poltava, and Fergal Keane and Joel Gunter in Lviv
Please continue to follow our live coverage

Russia not abandoning plans to encircle Kyiv - Ukraine

Image caption: Members of Ukraine's territorial defence train in Kyiv

Russia is "not abandoning its plans to encircle" Ukraine's capital Kyiv, Ukraine's military has said in its latest update on the key battleground developments.

In its bulletin at 24:00 local time (22:00 GMT) on Wednesday, the General Staff of the Armed Forces of Ukraine said its "defence forces are repelling and holding back" the Russian offensive "in all directions".

In some sectors "the occupying forces lost their combat capability" and were now bringing in their reserves, the statement said.

Ukraine also accused its northern neighbour, Belarus, of helping Russia with fuel and lubricants, and also allowing Moscow to use the country's railways and airfields.

Russia and Belarus have not publicly commented on the Ukrainian statement, which has not been independently verified.

IMF approves $1.4bn for Ukraine

The International Monetary Fund (IMF) has approved $1.4bn (£1.1bn) in emergency funding for Ukraine to meet "urgent balance of payment needs".

The Fund's executive board said Ukrainian authorities would work with the IMF "to design an appropriate economic programme aimed at rehabilitation and growth, when conditions permit".

IMF Managing Director Kristalina Georgieva added: "Once the war is over and a proper damage assessment can be performed, additional large support is likely to be needed to support reconstruction efforts."

Zelensky: 'Europeans! You saw. You know'

In his nightly video address, Zelensky called on European citizens to do more to pressure their governments to intervene in Ukraine.

"Europeans! You won't be able to say that you didn't see what happened to Ukrainians, what happened to Mariupol residents. You saw. You know," he says.

He calls for the West to increase sanctions on Russia, and to "put pressure" on Moscow to force it to negotiate and end the war.

"We have not done and never would have done anything similar to this war crime to any of the cities of the Donetsk, Luhansk or any other region," he says, referring to eastern breakway regions of Ukraine.

"To any of the cities on earth."

He added that the evacuation of civilians was continuing, with 35,000 people rescued so far. Wednesday's evacuees were departing from Sumy, Kyiv and Enerhodar.

White House: Russia could use chemical weapons in Ukraine

Image caption: Press Secretary Jen Psaki said "we should all be on the lookout" for Russia using chemical weapons

Russia could possibly use chemical or biological weapons in Ukraine or create a "false flag" operation that uses them, White House Press Secretary Jen Psaki has said.

Writing on Twitter, Psaki criticised Russia for spreading "false claims" that the US is developing chemical weapons in Ukraine.

She said Russia could possibly be laying the groundwork for the use of chemical or biological weapons in Ukraine, though she did not provide any evidence.

"Now that Russia has made these false claims, and China has seemingly endorsed this propaganda, we should all be on the lookout for Russia to possibly use chemical or biological weapons in Ukraine, or to create a false flag operation using them," she says.

Earlier on Wednesday, the Russian defence ministry said Ukrainian forces had transported about 80 tons of ammonia to Zolochiv, Kharkiv.

On Tuesday, Undersecretary of State Victoria Nuland told a congressional hearing in Washington the US was helping Ukrainian authorities protect biological research facilities in the country from potentially being seized by the Russians.

UN watchdog loses touch with Russia-seized nuclear plant

Copyright: Energoatom/Reuters

Image caption: The Zaporizhzhya plant was taken by Russian forces last week after it was hit by shelling

The UN's nuclear watchdog, the IAEA, says it has lost touch with remote systems that monitor nuclear material at the Zaporizhzhya nuclear power plant in southern Ukraine.

The Zaporizhzhya plant - the largest in Europe - was seized by Russian forces last week after the site was hit by shelling.

The development comes a day after the IAEA lost remote data transmission from Chernobyl, the site of the world's worst nuclear disaster in 1986.

Both plants are held by Russian forces but are being operated by Ukrainian staff.

IAEA chief Rafael Grossi says he is "concerned about the sudden interruption of such data flows" from the two sites.

The reason for the disruption in the transmission of safeguards data was not immediately clear, Grossi adds.

Ukraine launches website to track Russian 'crimes'

Copyright: Ukraine Military/Reuters

Image caption: Ukraine's president accused Russia of comitting an "atrocity" by bombing a children's hospital in Mariupol

Hours after accusing Moscow of an "atrocity" by bombing a maternity and children's hospital in the city of Mariupol, Ukraine's president has launched a website to track alleged "crimes and human rights violations" committed by Russia in Ukraine.

The site, https://humanrights.gov.ua/, will "collect and process information on human rights violations by the Russian Federation" during the war, says the head of President Zelensky's office, Andriy Yermak.

The site asks people to fill out a form with the "the fact of human rights violations by the aggressor" and attach pictures or videos.

Copyright: Ukraine Government

Image caption: A screenshot from the Ukrainian government site asking people to "send evidence" of possible violations

"The collected facts will be used as evidence for the defence and representation of Ukraine" in the European Court of Human Rights (ECHR) and the International Court of Justice (ICJ), Yermak says.

The ICJ, the UN's top court, said on Monday it would decide "as soon as possible" on a Ukrainian demand for an emergency order that Russia halt hostilities immediately.

Seperately, the International Criminal Court (ICC) is investigating possible war crimes committed by Russia during the conflict.

Zelensky: Maternity hospital bombing 'evil'

More from Zelensky's address about the Russian air strike that hit a maternity and children's hospital in the city of Mariupol, injuring at least 17 people.

"What kind of country is this - the Russian Federation, which is afraid of hospitals and maternity hospitals and destroys them?" President Zelensky asks in his latest video address from Kyiv.

"Did someone in the maternity hospital abuse Russian-speakers? What was that? Was it the 'denazification' of the hospital?" he continues.

"It is beyond atrocities already. Everything that the invaders are doing to Mariupol is beyond atrocities already," says Zelensky.

"Today, we must be united in condemning this war crime of Russia, which reflects all the evil that the invaders brought to our land."

He goes on to call the attack on the maternity hospital "final proof... that the genocide of Ukrainians is taking place."

Read more on the hospital bombing here.

Breaking

Zelensky says hospital attack a 'war crime'

Ukrainian President Volodymyr Zelensky denounces Wednesday's attack on a children's and maternity hospital in Mariupol as a "war crime".

The latest on hospital bombing

A maternity and children's hospital in the besieged city of Mariupol has been hit by a Russian air strike, Ukraine says.

President Volodymyr Zelensky said people were trapped under the wreckage, and called on Western leaders to impose a no-fly zone.

No deaths or injuries have yet been confirmed, but Ukrainian officials say the attack occurred during an agreed ceasefire with Russian forces.

"We don't understand how it's possible in modern life to bomb a children's hospital," Mariupol Deputy Mayor Serhiy Orlov told the BBC.

"People cannot believe that it's true."

Read more: Maternity hospital hit by Russian air strike

What are the risks of 'lost power supply' at Chernobyl?

Ukraine's government says the power supply to the former nuclear plant at Chernobyl's been cut after fighting at the site, with only limited fuel for backup generators.

The electricity is used to cool spent nuclear fuel at the scene of the world's worst nuclear accident in 1986.

The UN nuclear watchdog, the IAEA, says there's no critical threat to safety.

But Oleksandr Harchenko, an advisor to the energy minister, told Newshour's James Menendez that the Ukrainian government takes a different view.

What's been happening today?

If you are just joining us, or want a recap, here is a summary of the latest key developments:

A children's and maternity hospital in the southeastern port city of Mariupol was reportedly hit by a Russian air strike; at least 17 people have been wounded.
The city's residents are said to be without access to food, water, electricity or gas. Mass graves have been dug for the dead.
The hospital bombing has drawn strong condemnation from many corners, including the United Nations, World Health Organisation and the Vatican.
At a joint news conference, the US and UK foreign ministers again resisted Ukrainian pleas for a no-fly zone, saying their "goal is to end the war, not expand it".
More than 500 Ukrainians have died and over 900 are injured, according to the latest estimates from the UN's human rights office.
The US has rejected Poland's proposal to transfer its fighter jets to Ukraine via a US air base in Europe as "high risk".
The British army says a small number of its soldiers have disobeyed orders and gone to fight in Ukraine.

Zelensky urges West to act or 'millions' could die

Ukrainian President Volodymyr Zelensky has said "millions of people" could die if the world does not help Ukraine before it is "too late".

In an interview with Sky News, Zelensky repeated his demand that Western leaders impose a no-fly zone over his country.

Appealing for world leaders to act faster, he said: "Don't wait for me ask you several times, a million times. Close the sky."

Western countries including the US and UK have ruled out a no-fly zone as it could bring them into direct conflict with Russia.

Zelensky said Western countries would eventually make a no-fly zone, but only once "World War Three" had begun, and by then "it will be too late".

He added: "Believe me, if it's prolonged this way, you will see... they will close the sky but we will lose millions of people."

US rejects 'high risk' transfer of Polish jets to Ukraine

Image caption: Pentagon Press Secretary John Kirby

The Pentagon has said it will not enable the transfer of Polish fighter jets to Ukraine, but is open to working with allies on other ways to boost Ukraine's air defence capabilities.

Spokesman John Kirby said that US Defence Secretary Lloyd Austin conveyed that message to his Polish counterpart Mariusz Błaszczak earlier on Wednesday.

Kirby lauded Ukraine's strategic use of its current capabilities to curb the Russian advance, but said "adding aircraft to the Ukrainian inventory is not likely to significantly change [its] effectiveness".

He noted that deploying the Polish-owned fighter jets from the main US air force base in Germany, as Warsaw had proposed, is "high risk" and "could be mistaken by the Russians as an escalatory step".

"That is not only not good for Nato, it's not good for the United States and our national security," he said.

Much-needed medical aid hampered by driver shortage

Mark Lobel

BBC News Correspondent

Image caption: Fergus Drake is overseeing aid heading to Ukraine from Poland

Ukraine's health ministry is calling out for medical trauma kits to stem shelling wounds, desperately needed oxygen for patients, and protective armour for doctors and nurses.

But a key supplier says bringing those much-needed essentials across the border is being hindered by a lack of Ukrainian drivers.

Many of them have been called up to fight - and those that remain face the threat of Russian attacks on aid convoys, and have no easy routes into besieged cities, like Kharkiv and Mariupol.

But Fergus Drake, who is overseeing around £1m worth of humanitarian aid into Ukraine for a medical supplies distributor, says there has been "a tidal wave of humanity we haven't seen since World War Two".

His non-profit company has been working in Ukraine for 25 years and he describes seeing "astonishing acts of kindness" from people at the Polish border.

His Ukrainian staff who have left their homes have been offered accommodation, food and phone credits and welcomed, as Drake puts it, "using language like 'you are Polish now'".

Russia detains 400 people in Kherson, Ukrainian army claims

Image caption: Two Rosgvardiya troops on patrol

Turning now to the occupied southern city of Kherson.

The Ukrainian Army's General Staff has claimed that hundreds of people have been detained by Russian security forces during protests in the city.

In an operational update posted to Facebook, officials claimed that Rosgvardiya officers - a sort of highly militarised police now seemingly deployed in Ukraine - have arrested some 400 people in the southern city.

The BBC cannot independently verify these claims and it is unclear when the arrests occurred, though social media footage verified by the BBC showed residents taking part in vocal protests against Russian troops over the weekend.

Rosgvardiya, or National Guard officers report directly to Putin and are tasked with tackling organised crime, gun running and controlling protests.

"Due to the fierce resistance of the residents of Kherson, the occupiers are trying to impose an administrative-police regime, for which units of the rossian guard were deployed in the Kherson region, which illegally detained more than 400 citizens of Ukraine," officials in Kyiv said.

UK sanctions against oligarchs 'too slow to make difference', says envoy

The UK's ambassador to Ukraine, Melinda Simmons, has criticised Britain's sanctions against oligarchs - saying they've "proven just too slow to make a real difference".

"What this invasion has done is impress on more of the right people that it needs to move more quickly," she tells the BBC's Newshour programme. "And that is what is now happening."

She also spoke about the UK's visa scheme for Ukrainians which has been criticised for not going far enough both in the number of people eligible and the number of applications processed.

"At the moment, it's struggling with capacity. I don't think we should confuse capacity with intent," she says.

Asked about the higher barriers the Home Office seem to have erected compared to other countries, Simmons says: "Those are the security-based considerations that the Home Office deem to be important."

Staff at the UK embassy in Ukraine left on Monday and have relocated to Poland.

Outspoken royals don't hide sympathies over Ukraine

Sean Coughlan

BBC News, Royal correspondent

With flowers, prayers, colour co-ordination and a few verbal punches, the Royal Family have been unusually outspoken about the Ukraine war.

They've made a blue-and-yellow flurry of appearances and interventions, with less of the typical neutrality or diplomatic politeness.

Prince William and Kate, the Duchess of Cambridge, have publicly backed President Zelensky and Ukraine's people as "they bravely fight".

When the royal couple visited the Ukrainian Cultural Centre in London on Wednesday they were literally not hiding their colours, both wearing badges with the Ukrainian flag and dressed in shades of blue.

Satellite pictures show Mariupol before and after Russia's invasion

Maxar satellite imagery shows grocery stores and shopping malls in Mariupol before and after Russia's invasion of Ukraine.

Image caption: Grocery stores and shopping malls in Mariupol before the Russian invasion

Image caption: The same stores after the invasion

'Health facilities should never be a target' - UN

The United Nations and the World Health Organisation are calling for an "immediate halt to attacks on health care, hospitals, health care workers, ambulances".

"None of these should ever, ever be a target," said UN spokesman Stephane Dujarric at his daily press conference.

Dujarric said the UN was following up "urgently" on details of the reported "shocking" attack on a children's and maternity hospital in the port city of Mariupol. At least 17 injuries have been reported.

The World Health Organization has so far verified at least 18 different attacks on health facilities since the Russian invasion of Ukraine began.

It said those attacks have caused at least 10 deaths and 16 injuries.

"These attacks deprive whole communities of healthcare," WHO chief Dr Tedros Adhanom said earlier.